Memorial Day in Canton, Georgia
Don't Forget the Reason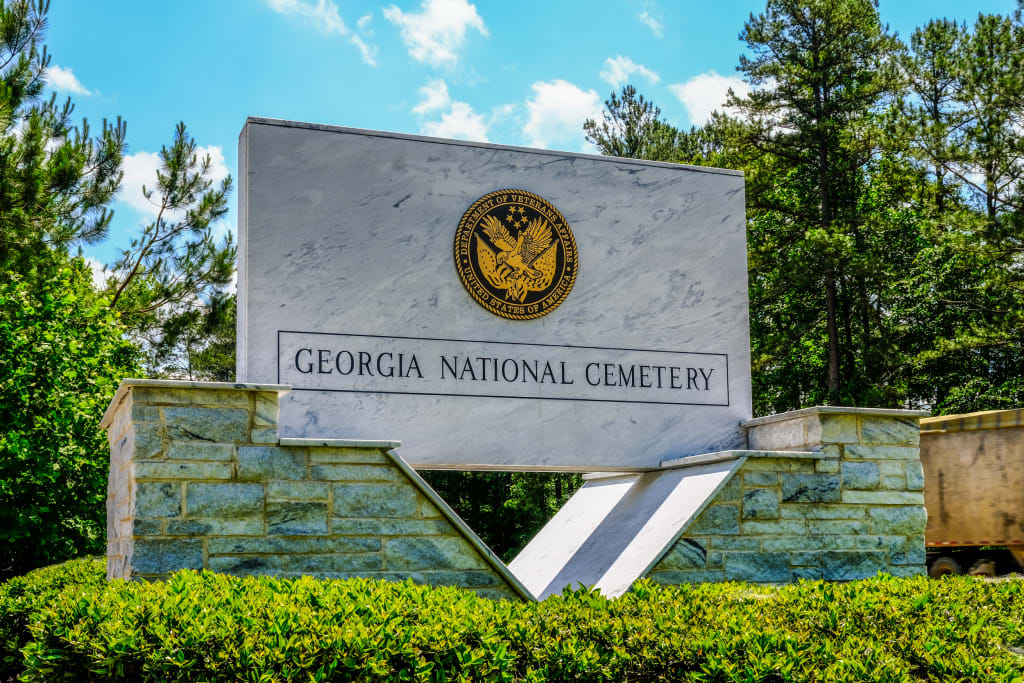 Georgia National Cemetery - Image by Author
About a year and a half ago, I rode through Canton, Georgia with a friend and neighbor on our way to Old Car City. As we were about to pass the Georgia National Cemetery on Hwy 20, he asked if I minded taking a brief detour. Knowing he was a Vietnam Veteran and wanting to see this relatively new memorial, I gladly complied. The entrance road wound through about a mile of wild and natural forest before you come to the second, and real, entrance to the cemetery. A large ornate marble wall and wrought iron gate flanked with American flags greets you as you enter the hallowed grounds.

We stopped at the welcome center and he went inside for a few minutes. When he came back out, we rode around and stopped at several of the massive fields full of markers. After a while, I realized he was looking for something specific. It was then that he showed me the piece of paper where he had written down the names of his fallen comrades from his time in the service. It showed the field, row and column of each of his lost friends.
We spent about an hour driving and walking through the beautiful grounds paying respects to fallen soldiers from World War I and II, Korea, Vietnam, and the War on Terror. It was sobering to see just how many stones there were and how much room they had left for future growth. The 775-acre national cemetery will apparently serve veterans for the next 50 years. I can only hope it never gets full, but more than likely, it will at some point.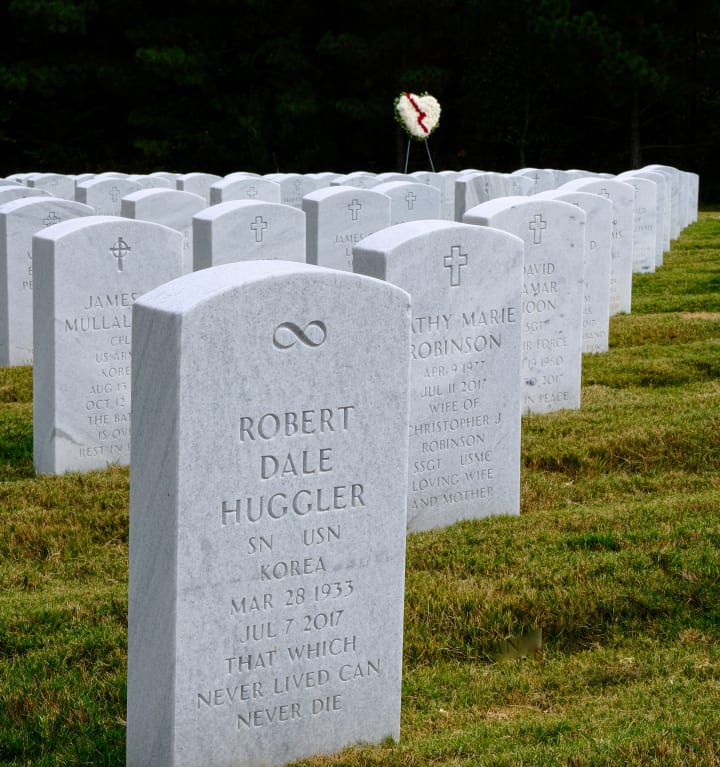 At capacity, the cemetery will have 33,000 full-casket gravesites, 3,000 in-ground sites for cremation remains and 3,000 columbaria niches for cremation remains. 39,000 in this one cemetery alone. I know of at least three more just in the state of Georgia. I have no idea how many are across the country, but it's a safe bet there is one close to where you live.
We continued on our way and had a nice time photographing old cars in White, Georgia, then later that day returned home. The pleasure of wandering around the old cars was tempered by the memory of the graves of fallen heroes.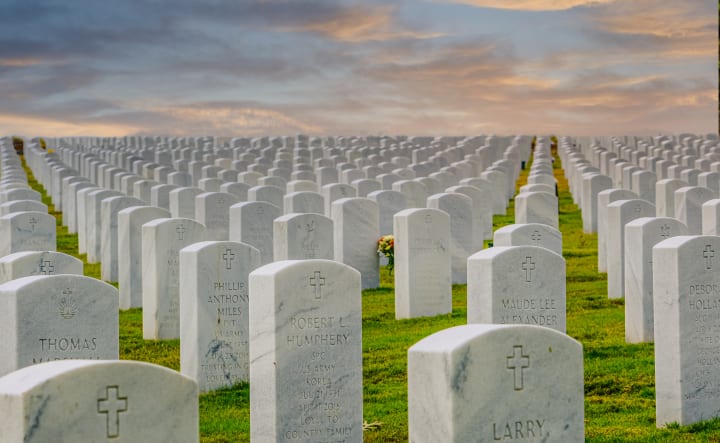 Last week, I was in the area again on a different task and stopped by the cemetery again, this time with my wife. I have been to and photographed several veterans cemeteries around the country, but this was her first. As my friend did in 2019, I stopped by the visitor's center and inquired about a certain grave.
With my little paper in hand, we proceeded to drive around looking for the right place. She was in speechless awe at the sight of all of those grave markers. We stopped in each field and walked among the tombstones, reading the names of the fallen and the conflict in which they had served.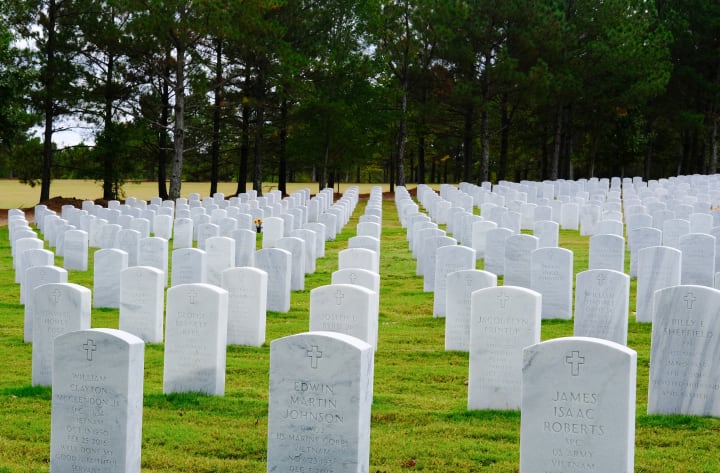 Finally, I found the grave of the friend I had visited there with just 18 months ago. He had succumbed to a long battle with Leukemia and was interned there just a few weeks prior. Goodbye old friend and thank you for your service.
The Georgia National Cemetery is located on Hwy 20 just a few miles west of Canton, Georgia and is open for visitation every day from sunrise to sunset. Office hours are 8:00 am to 4:30 pm, excepting federal holidays. If you are in Georgia, please stop by at some pont. If not, locate one near your home and pay a visit. It will make Memorial Day a completely different holiday. And if you have served in this country's military, I thank you for your service.
More to the point, if a loved one of yours has passed that served our nation, I salute you.
Happy Memorial Day.
"May we never forget our fallen comrades. Freedom isn't free." ~Sgt. Major Bill Paxton
"As we express our gratitude, we must never forget that the highest appreciation is not to utter words but to live by them." ~John F. Kennedy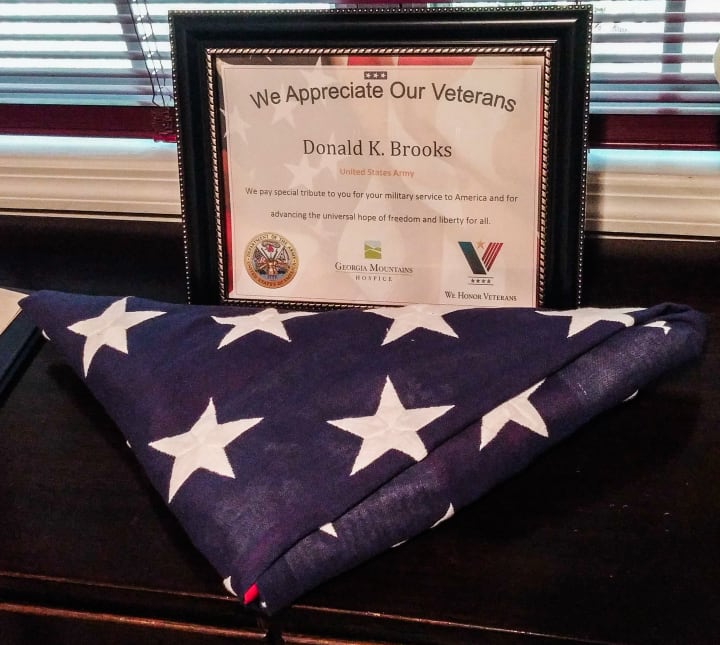 veteran
I am a writer with over 16 years of experience and hundreds of articles. I write about photography, productivity, life skills, money management and much more.
Receive stories by Darryl Brooks in

your feed