Marine Corps Stories: The Pin
A gunny is on the hunt.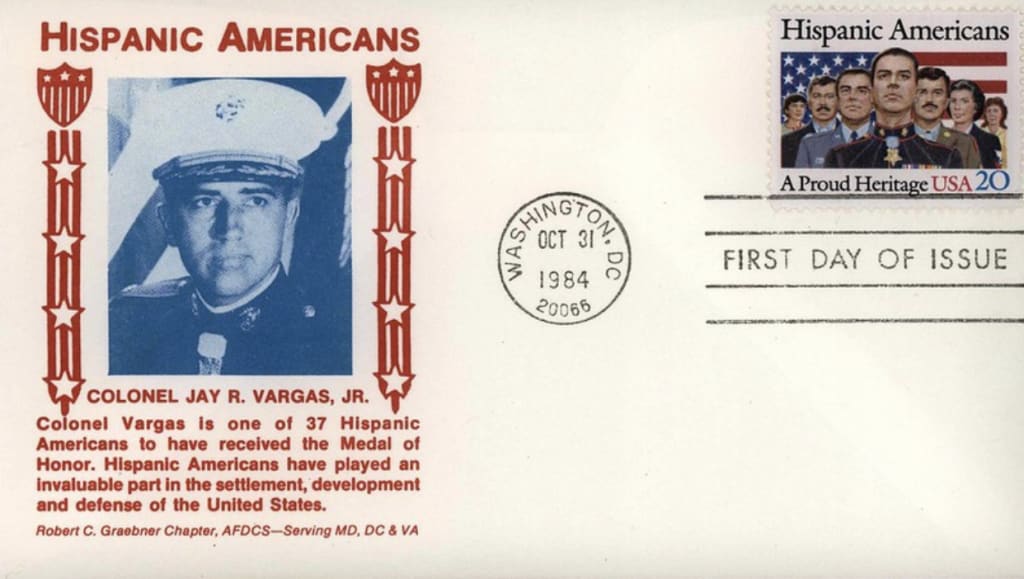 At a home in Newark, Delaware, a Marine gunnery sergeant desperately searched. He rummaged through a box in the basement. He kept coming up with baseball trophies, baseball cards, and actual baseballs, none of which mattered on this Sunday afternoon.
"Honey!" Pedro Céspedes called.
"Yes?" His wife Feliz responded.
"Did you go through my stuff again?"
"Again?! I don't rummage through your stuff."
The pin he was searching for represented the last piece of hardware the United States Marines had conferred upon Alejandro Céspedes, who had just died at age eighty-eight. The son was searching for it in preparation for the funeral. The younger Céspedes found all of his father's ribbons, awards and uniforms, but this pin could not be found.
He looked through his father's chest, which had memorabilia and mementos from his time in the Corps. He discovered pictures of his father with old war buddies. The photos had begun to wither and curl at the edges, and the colors had begun to fade. Still, he could make out his father's thousand-watt smile.
He looked at his father's Rosary. He'd kept it even though he and his son had pledged to be nonbelievers; They didn't like to let go of mementos like this from fallen Marines.
The box held shotgun shells and shot glasses. Little yellow bottoms, and red tops colored the former, and scenes from tropical locales painted the latter. He let the shells jingle between his fingers, while the glass tapped against his thumb and forefinger.
He then shoved another box out of the way and pulled the next one closer to him. He was like a NASA engineer, hunting signs of life on the planet Mars. Desperately, he wanted to find this pin. It was not something he had earned in battle, or even for excelling in his position as an 0311 Infantryman. It was just a last token of acknowledgement from the Marines for his father whose last wish was to have it pinned to his collar in his casket. Céspedes promised him the funeral director in Delaware would receive not just any pin the Corps could issue, but the exact one he had earned over fifty years ago.
Sure enough, this box didn't have anything in it either except some postcards and a photo album. He flipped through pages and saw pictures of Alejandro at Thanksgiving and Christmas, carving turkeys and ham respectively. He also discovered a few letters his father had written his mother before she died. They all showed the love and dedication the two of them shared. He opened up a crate of more Marine effects, and this time he sensed he was getting a little warmer. He stuck his hand in the crate and came up with piles of more pictures. Except these seemed to be from when his father was about to enter the Marines. Alejandro was only thirteen when he'd lied about his age, and fell in line with the rest of the Leathernecks.
These photos painted a picture of the young private who would one day be a sergeant major.
Feliz came downstairs to the basement where her husband was trying to locate his father's pin.
"You know after the funeral, we're going to have to hurry back to base."
"Hurry? My leave is still approved for another week. What happened?"
"Caulder just called and said he's headed to Virginia to help train officers coming from Quantico pistol and rifle fire."
Cèspedes' eyes lit up. "That's it babe -- He hung it on a lanyard around his rifle!"
He wasn't talking about his father's combat rifle, but the hunting rifle his father had kept in a case like a guitar. In the corner, the case stood alone. Céspedes leapt at it, and opened expectantly, but the case only contained the hunting rifle. No lanyard. No pin. Feliz tapped his shoulder.
"Are you looking for this?" She held the pin, polished to a high sheen, with the Eagle, Globe, and Anchor emblem looking pert. Céspedes got up from his knees and kissed his wife. Then he tightened his grip around her arms, incredulously, and said, "Why didn't you say you had it?"
"You never asked."
"That's true," he said with a smile.