Marine Corps Stories: So Much for the Myth
Two Marine PFCs visit a local club.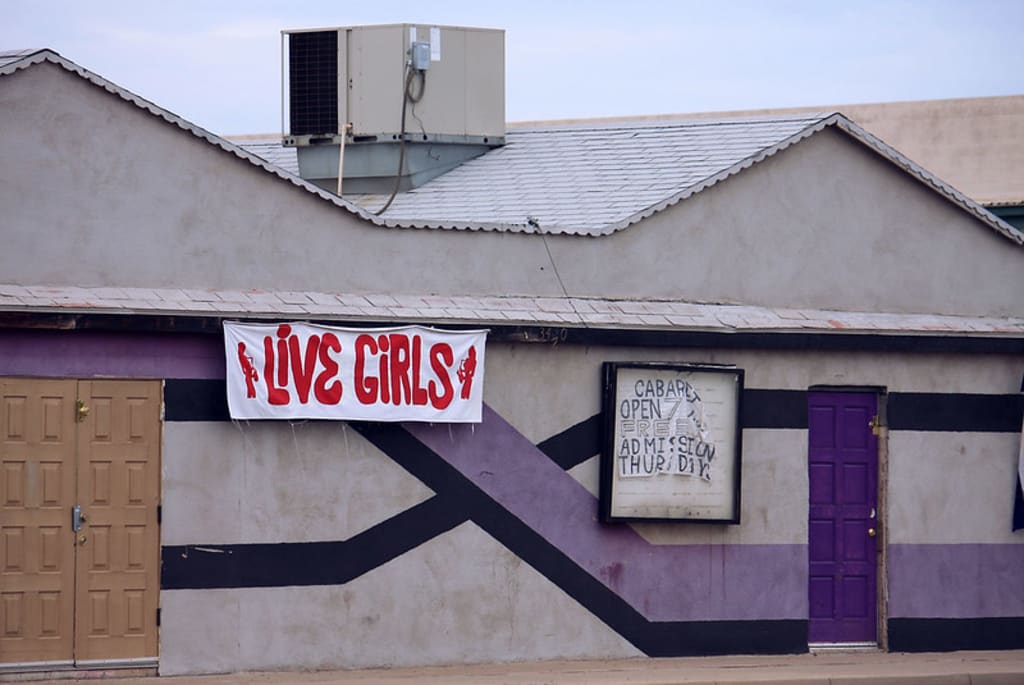 The ride sharing vehicle pulled up to the strip club in the desert in the daylight. The breeze over the sand seemed to hold onto the two PFCs who stepped out of the car. Even in the hours of light, chilly conditions descended on the Arizona inhabitants.
"I'll see you in another twenty minutes or so," PFC Redden Halifax said.
PFC Conroy Nell shrugged. "Do what you have to do."
As Halifax entered the establishment, Nell pulled out his smartphone and tapped some Christmas gifts to send home to his folks back in Delaware. With the holiday almost two weeks away, he figured that he could send them some presents ahead of time. That way, they would all be ready once he got back to the state for holiday leave.
Like his Marine brother who just slid into the adult bouncy castle, Nell donned immaculate white sneakers, pressed khakis and a button down sky blue shirt. The only difference was that Halifax sported a red shirt. Unlike his Marine comrade who possessed skin the color of balsa wood, he had high cheekbones and dark flesh, a chiseled chin and a robust figure. Right when he began to make a purchase, a fine specimen of the female persuasion exited from the bar. She wore a deep, dark brown and red and blue wig and a navy blue light coat over her body. She stood adjacent to the door, puffing on an e-cigarette. She had green-gray eyes, a welcoming face and a petite build. She possessed chocolate skin that looked as soft as baby powder.
Nell's phone rang. He looked at the caller ID. he answered. His recruiter bellowed on the other line thousands of miles away. He seemed to shout into the receiver. "How's it going out there, Nell?" "Merry Christmas, Sar'ent." "I hope you're alright. Your dad keeps on calling me wondering about your condition. Please tell me that you haven't gotten an NJP." "No. Nothing like that Sar'ent. My motivation has been pretty high these past few days, oh with almost everyone being able to drink and get into booby bars except this lowly PFC." "It gets better. It's only a matter of time. You'll be twenty-one in two years, now, right?" "That's right, Sar'gent." "Alright, Nell. You continue to do your best. You're a Marine now and no one's going to hold your hand." "Roger that Sar'ent." "Merry Christmas, Nell." "You too, Sar'ent."
Nell ended the call and walked even closer to where the young lady with the colored hair and coat stood.
"You wouldn't happen to have another one of those would you?"
"No."
"Are you a dancer?"
"Yes, but not here. I like to bounce around the clubs to get the vibes."
Nell looked dumbfounded. "What's your name?"
"Berries."
"Beautiful."
"Yours?"
"Conroy."
Berries giggled.
"What? What?" Nell asked with a smile.
"You're a baby."
"You can tell from the–. Yes, I'm with a–"
"Battle buddy, I know."
You know, huh?"
"I've been married to three Marines already. I'm working on a fourth." She held up her left hand with a sparkly band on her ring finger.
"Wow."
"Wow is right. I've had semesters at college paid for by Devil Dogs. I've received big tips, gotten my fair share of BAH, gotten plenty of gifts, and not to mention trips. I just got back from TJ."
"Tijuana and Marines go together like spiked eggnog and ugly Christmas sweaters at an office party. So, where's your club?"
"It's right around the corner, not too far from here." Berries puffed some more cobalt vapor into the air.
"You've really been married three times? All Marines?"
"Yes, sir."
"I'm a lowly PF–" he started but suddenly relished the boost in rank from a civilian. "A gentleman never asks a lady her age…."
"I'm twenty-eight."
Nell put his hand to his head. "You look younger than I do."
Berries blushed. "Okay, you do know that I'm also not a streetwalker, right?"
Nell, somewhat embarrassed, said, "No, no, I didn't mean to imply…."
"You're funny," Berries said.
Nell flashed a smile. "You know I don't try to be, it's just that I'm stupid like that. You mentioned college...."
"Yes."
"So, you're bucking the stripper myth that you all are in it for school money on the front end but never actually step into a classroom? I mean you really are in school, right?"
"I'm in my second year at Arizona Institute of Technology."
"Impressive. What're you studying?"
"Political science. I've been working on a project with local officials to further the education of all dancers and to promote the protection of our individual rights."
"I'll take your word for it. So much for the myth."
Then, Halifax burst out through the door grinning like a toddler with a toy.
"What the hell, Nell?" He then turned to Berries. His grin widened. "Oh, I see. Don't let me interrupt anything," he said with a slight slur in his words.
"It's not like that Red.' Berries this is Redden, Redden Berries. And we'll soon be on our way."
"Yes, I called the driver about ten minutes ago, so he should be arriving any...there it is. He's here. Great to meet you, Berries. I hope your Christmas and New Year's are wonderful." Halifax said. "C'mon, Conroy unless you expect Miss Berries over there to take you back to base." He shut the door but the car remained idle.
"It was a pleasure to meet you PFC Conroy Nell."
In a matter of moments, his brain did the calculations of how Berries could have pieced together his full name and rank and then arrived at the solution.
"I enjoyed your company, Berries. May you do well in any endeavor you choose. Merry Christmas."
She puffed out vapor and then blew a kiss to Nell. He entered the vehicle and Berries returned to the club.
marine corps
I am a forever young, ego-driven, radical hipster from Delaware. Investor. Objectivist for life. Instagram: @skylerized
Twitter: @SKYLERIZED
Receive stories by Skyler Saunders in

your feed