Marine Corps Stories: PRASP
A pair of new Marines encounter a retired Devil Dog.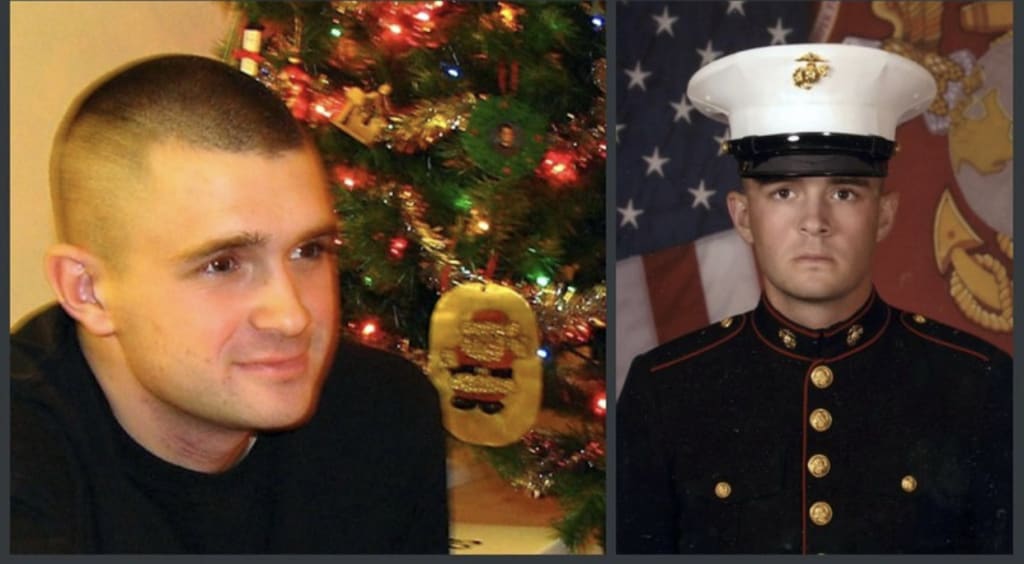 The newly minted Marines expected to be treated like less than nothing by anyone outside their family and friends. With all the graduation celebrations of the last few days, the heady sense had to level off in some way. The two privates of...other privates, Vernon Pattinson and Derio Sales, felt the heights of having endured thirteen weeks on Parris (Paradise) Island, and transformed into hardened killing machines. Instead, they acknowledged the sobering reality that they'd achieved the status of being virtually worthless, powerless, and the lowest of the low. They didn't even have any chevrons on their sleeves.
They did, however, have Christmas. Permissive Recruiter's Assistance Program, or PRASP, took place right in the middle of the holidays, so Sales and Pattinson had the ability to stay home a few weeks before being further massaged by the green weenie. They just had to help their recruiters nab a few warm bodies to join the ranks of Uncle Sam's Misguided Children.
They reported to the recruiting station in Newark, Delaware where Sergeant Ken Debicki sipped an energy drink and coffee.
"Alright you Trainees Under Rigorous Duresses. You're going out there to find us some motivated individuals to add to our Corps, you understand?"
"Yes, Sergeant," both of them said in unison.
"Alright, first though, it's still the holiday season, and we've got some folks over at VA who would love to see you in your Blues and bearing gifts. I'm going to drive you over there to meet at least one patient there, okay?"
"Yes, Sergeant," They said again, still in recruit mode even though they bore the title of Marine. So Sales and Pattinson changed into their Blue Dress uniforms, and traveled into Wilmington, Delaware to the Veterans Affairs Medical Center, clutching gift-wrapped packages of socks, nail clippers, snacks, and gift cards. They toted these goodies like the famous poster of the Marine Santa Claus carrying gifts showing that he rated wearing an Eagle, Globe, and Anchor on his belt. The two Marines walked to the Community Living Center.
Nurse Mary Cain met and briefed them for their visit.
"Okay, great, you're in your Blues. He'll love 'em. Now, I have to warn you about Mr. Aaron Heaton. He was in a devastating explosion. This was after he got out of the Marines. He was working at a chemical plant, and an explosion killed his fellow worker. He was severely burned and confined to an electric wheelchair. He got a million dollar settlement, but most of that was used for his various surgeries and treatments. So be careful what you say and do, you two."
"Yes, ma'am."
"And don't call me ma'am. Call me Mary."
The Marines walked into the room. They saw stuffed teddy bears with Marine uniforms, and signs that Mr. Heaton was a sergeant major. He had his back to them, and the entrance to his room. He was watching TV.
Sales and Pattinson went around to face Heaton, and totally forgot about his rank.
"Merry Christmas, Sir," the two of them chimed.
"I ain't no sir."
"That was our fault. Excuse us, Sergeant Major," Pattinson.
"That sounds better. What have you got for me." He moved his mobile chair. His burns stood out the most. His scarred tissue had attempted to heal but didn't quite get there. He showed the Marines two seats.
Pattinson handed him the bundle of gifts.
"You're good Marines," Heaton said, holding a pair of new socks. Sales got a text message from Sergeant Debicki calling them to come down to his vehicle.
"We have to go now, Sergeant Major," Sales said.
"But we'll be back," Pattinson said. Sales shot a glance at him and mouthed words "Shut up!"
"Again, Merry Christmas, Sergeant Major. And enjoy your new year," Sales said.
"Same to you both," Heaton began to tear up just then. "Go. Just go. Merry Christmas."
Pattinson and Sales left swiftly and ran into Nurse Cain.
"How was he?"
"He seemed to like his gifts."
"Well, that's good. You know I was an Army medic, and had the chance to work with Marines. Don't let anyone tell you but," she whispered with the back of her right hand on the other side of her mouth, "You guys are the very best."
Pattinson and Sales grinned as they left the Community Living Center, and headed straight to the sergeant's car.
marine corps
I am a forever young, ego-driven, radical hipster from Delaware. Investor. Objectivist for life. Instagram: @skylerized
Twitter: @SKYLERIZED
Receive stories by Skyler Saunders in

your feed