Marine Corps Stories: Police Call
A major general does the work of junior enlisted warriors.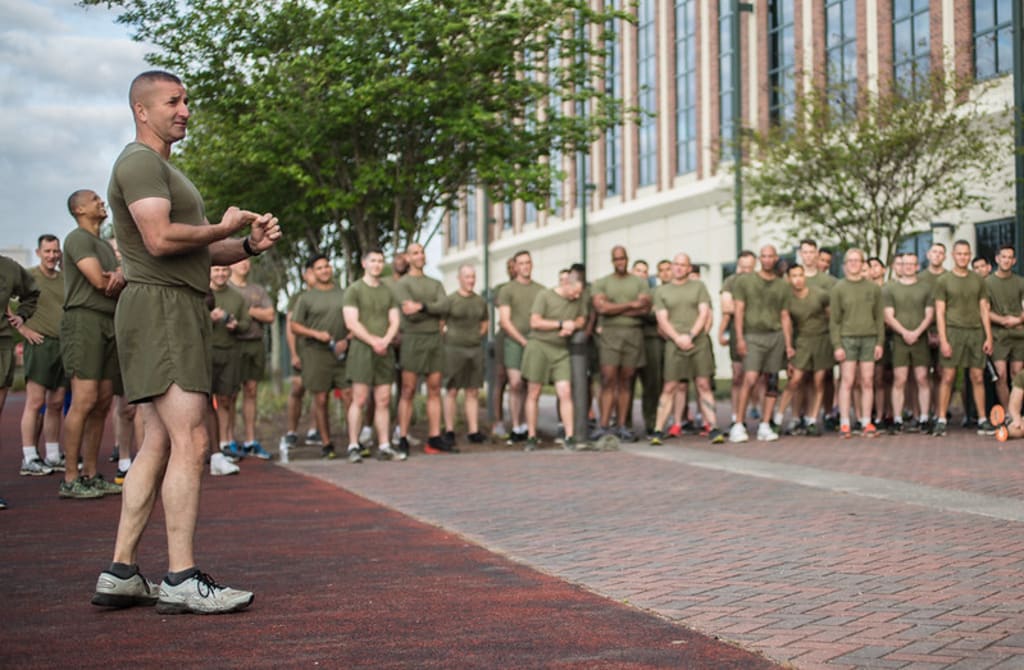 This December morning brought iciness. This East Coast United States Marine Corps base provided a haven for improvement. Around the barracks, the Marines had decorated their living spaces with lights and wreaths. Still, with all of the wonderful adornments, there remained some untidy places around the base. One such area was the parking lot to the chow hall. As he wore a grayish-tan jacket with two stars tacked to his each of shoulders, Major General Jaysuvius Gambon, command general of this particular Division, bent down and picked up a water bottle employed for discarding used dip, a boot band, three cigarettes, two receipts, and four energy drink cans.
"Do you see what I see?" Sergeant Cameo Spall said to Sergeant Nadia Terkel in a sing-songy voice.
The two of them could view from their car in the parking lot the major general retrieving raw garbage from in front of the hall.
"I'm getting this on Inclined," Spall said.
"No," Nadia said. "You don't want to be the one known for putting on blast the highest ranking officer in the Division. It may be weird to see this and some people might appreciate it but that would be an unsat move, Cam'."
"Nadia, I think that the world is ready to see a major general acting as a PFC. It may shock some. It may delight others. But this is just a diamond mine worth of material."
"I'm getting out of here, then."
"Oh, come on."
"No, I'll get out of this car and help the major general before I allow for his image to be plastered all over the Internet for doing something that a private or PFC should be doing anyway. I know a few sergeants and staff sergeants who could be more conscious of keeping the areas clear of debris, too."
"Alright, goddamnit. But it would've went viral."
"That's just too damn bad."
Spall shot a glance at Nadia and then got out of the car. They had been in their cammies. Each of them possessed starched uniforms and expertly affixed rank insignia.
"I wasn't serious!" Nadia said. By the time she had said this, Spall had already secured his cover to his head and walked towards Major General Gambon. Nadia got out of the vehicle as well with a cover on her grape. She trotted over to Spall headed directly for the major general.
"Good morning, sir," the two sergeants said with straight faces and sharp salutes.
The general had taken a knee but soon stood to his feet. "Good morning, sergeants." He returned their salutes. Did you get tired of watching me grab trash almost since sunrise?"
"Well, we were just–" Spall started. He and Nadia remained at parade rest.
"Save it. I'm setting a standard." The major general smiled and turned to Nadia. "Do you know that I saw a junior Marine in this chow hall with a barracks cover on backwards, Dress Blue Coat, service Alpha trousers, and go fasters?"
"How did he even get into the hall with a cover on in the first place, and looking that nasty, sir?"
General Gambon shook his head, closed his eyes and sighed. "I can only imagine. But hey, we're out here. Why don't we finish policing this area?"
"No, sir. We're not going to let you bend over again if we have anything to say about it," Spall said.
"Sir, we'll take it over from here."
"That's alright. I never blew up about it but some junior Devils failed to even recognize a Major General of Marines at this chow hall. One didn't even pick her head up she was texting so much. The other one was spouting profanities into a hands-free device. Once I approached them, they finally snapped to but they didn't realize that I had been there for about thirty seconds." General Gambon said this like a grandfather imparting wisdom to his grandchildren. "What I think is so amazing is that we can do better than this. Thank you both for being hard chargers amidst a sea of disappointment," Gambon said.
"Thank you sir," Nadia and Spall said and saluted the officer.