Lost at Sea
The temptation to leave your military husband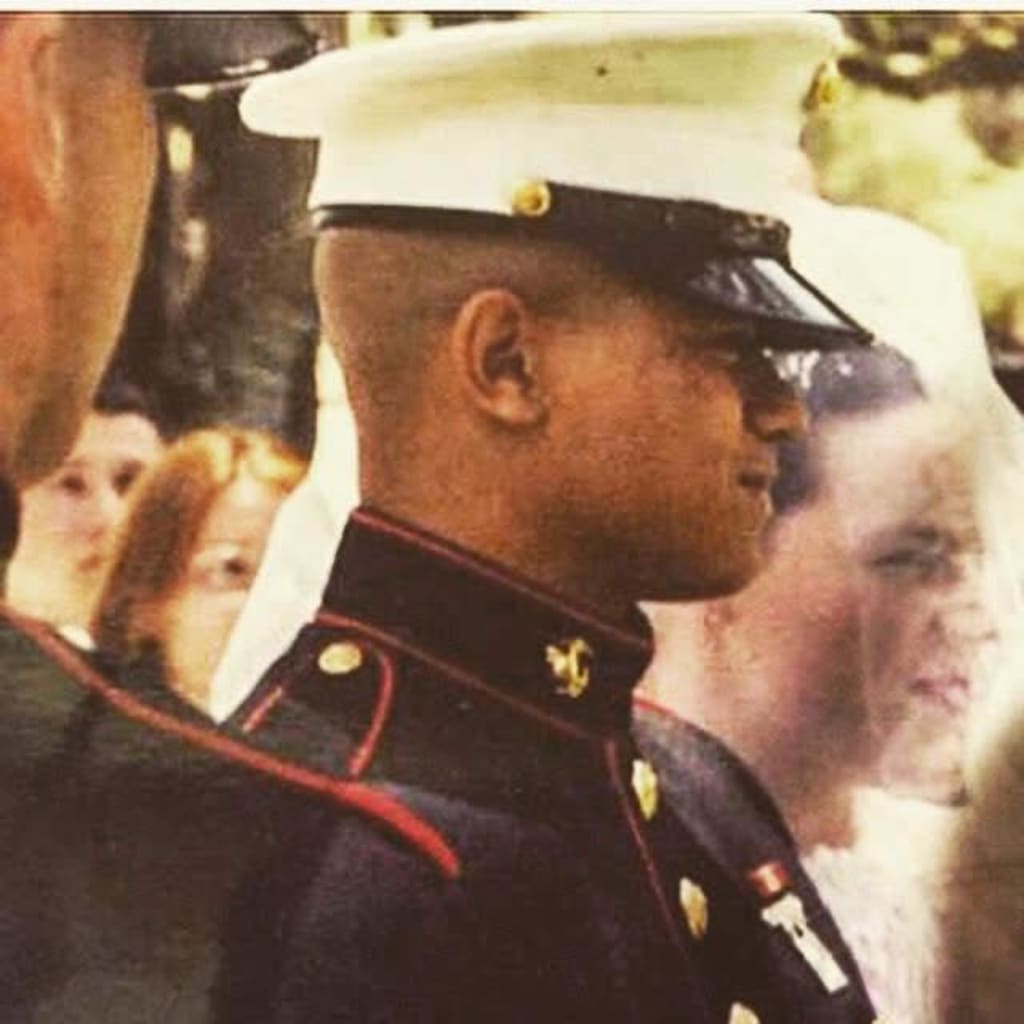 It was during one shipboard phone call to Kenny, as we briefly tried to keep whatever we had going, that he dropped a bombshell. Just as my twenty-minute time card was about to expire and we were saying our goodbyes he said, "Oh, I forgot to tell you. I re-enlisted yesterday."
"What? How could you?" I demanded.
Whenever I began my deployment he and I had agreed that he was going to leave the Marine Corps. He hated his job and I loved mine. I was amazing at what I did and held a good position in the building. I loved living on the ship and we were ready for children. One of us needed to get out. The phone call ended as I ran out of time and I felt betrayed. This would not only mean that I would be forced to leave the Navy, but also that Ken would be returning to Iraq at some point. I had told him months earlier that I did not get married to spend all my nights alone. I emphatically expressed to him that I could not handle another deployment. Now, suddenly, at the end of a phone call when I was so far away and so many things were happening already in my life -- this.
I sent him an email that said, "You clearly don't care how much I love the Navy. You clearly don't care that I said I couldn't stand for you to return to Iraq. I can't believe you made this choice without me. This forces my hand and throws me out of the Navy that I love. Don't pick me up from the airport when I return. I'm going to my mother's house when I get back. I'm leaving you."
Turns out there was no 'mother's house' to return to. Everything was gone in my parent's divorce by the time I got home. I lost everything at sea, it seems.
Ken ignored my email and picked me up from the airport when I returned. I was happy to see him. He spent the whole ride home proving that he had no other option than reenlistment. By the time we arrived home, I was convinced that he reenlisted because he loved me, not because he didn't. He pointed out that he joined the military straight out of high school. When he looked into becoming a local police officer he found that he would need a bachelors degree. When he looked into the jobs in the area that would provide us the income to which we'd become accustomed, he did not qualify. His only option was at the factory and why would a man leave the Corps for a factory job? He did know how much I loved the Navy and he did understand that after five years of marriage we should have a child. But how would he provide for that child? His only option, he said, was to reenlist. "And it won't be that bad," he promised.
A year later, Ken and I had our first child -- a son. Three months after Jaiven was born, Ken was stationed in North Carolina, seven hours away from us. Two months after that, he was returning to his second tour in Iraq. As per his mandatory checklist items, we needed to talk about where we'd like to be buried in the event of a tragedy. I thought back to what I knew about burial decisions. I thought back to the discussions I'd heard my grandparents have.
Death jokes had swirled around my grandparents who found themselves together after they were both widowed and had raised their children. I don't think they ever expected to be married to one another longer than they were married to their first loves, but so it was. My Granny was looking for companionship, I guess. My Papa was looking for a cook and a cleaner. What he got, however, was what Washington Irving referred to as "a tart temper [that] never mellows with age." Papa Ted was a deep bass Gospel singer who loved to tease Granny that if she went before he did, he was going to sing a special song at her funeral. At this, he would wink at us all and solemnly pretend to stand at the church's podium and start his rendition of, "The Lord has taken my burden away and left me here with a song."
Granny always laughed and said, "Oh, Ted!" as she walked back into the kitchen shaking her head. He would smile at us grandkids and wink. We all laughed.
In the end, Papa Ted went before Granny did. He didn't want to be attached to machines, he just wanted to go when he went and so, as he prepared for surgery (to give him some relief before his death) he told the doctor "not to be a heel snatcher."
"What's that, Mr. Moss?" the Indian doctor had asked.
"Don't snatch my heels back to earth if the Good Lord is taking me up to Heaven! If I start to go during surgery, let me go."
I've spent much of my time at the small cemetery in our little town. I found my Granny's headstone and footstone in place, though she's still very much alive. Granny was readying her plot to be buried beside her first husband, Don. There was a stone made to explain that after Don died, she'd married Ted. Her footstone read, "Construction Done." I was perplexed. Was this a mistake, per chance? Had construction workers left behind a stone? Did she buy this discount?
"No," my mother explained. "I guess she's joking that Jesus was finally done with her and let her go on."
When I came upon Papa Ted's tombstone and found him laid to rest with his first wife and mother of their children, a new footstone had been added to Mrs. Dot. "Proverbs 31 Woman," it said.
Ken, knowing that his family had always moved around and were likely to just pick up and leave Florida too, said, "No place feels like home." He wrote on his will that he chose to be buried in the National Cemetery in D.C.
I, on the other hand, had always expected that my husband and I would be buried together. The thought that he would rather be buried as a hero in D.C. than laid to rest beside his wife in Jackson cemetery made sense to me, but it still hurt.
I asked him, "Ken, wouldn't you like to be buried with me?"
Ken looked very calmly into my eyes and unemotionally said, "Randi, if I die you may think you'd never be able to get over me, but you will. You will go on to marry someone else and have other children. You will want to be buried with him. We're newly married; we're so young. If I die, please, just put me in D.C."
I couldn't believe he'd been so forward about it. I wanted to shake my head 'no' and pledge my undying allegiance, but he was right. It was at that point, in the despair of my soul over the very real danger that my husband may never come home and over the new idea that he could be replaced just as quickly as I could, that I flippantly, almost spitefully, chose to be cremated and just "tossed somewhere." "No use," I said, "taking up a plot of land no one will visit."
I mentioned recently to my mother that Ken and I had a decade-long, running argument that concerned the answer to "Where are you from?"
"Well, that's easy!" chuckled my mother. "I tell people I'm from East of Egypt."
"What?" I asked. "I've never heard that expression."
"Come on, Randi," she said, "it means out in the middle of nowhere: East of Egypt."
All these years later I've been East of Egypt. One deployment has changed my life forever. Three deployments have altered my husband and his emotions. Our country has been at war for a decade and yet the general population still believes that East of Egypt is another world, it doesn't affect us, it's really 'nowhere.'
I assure you, it's somewhere -- and after being there, we'll never be the same.
About the Creator
Randi lives on the GA/SC line with her husband and four children. She has lived in Mexico, been in the Navy, served refugees, taught English, and traveled to Cuba. Randi loves adventure!
For Business Inquiries:
Reader insights
Be the first to share your insights about this piece.
Add your insights