I Wait
The Truth of Military Relationships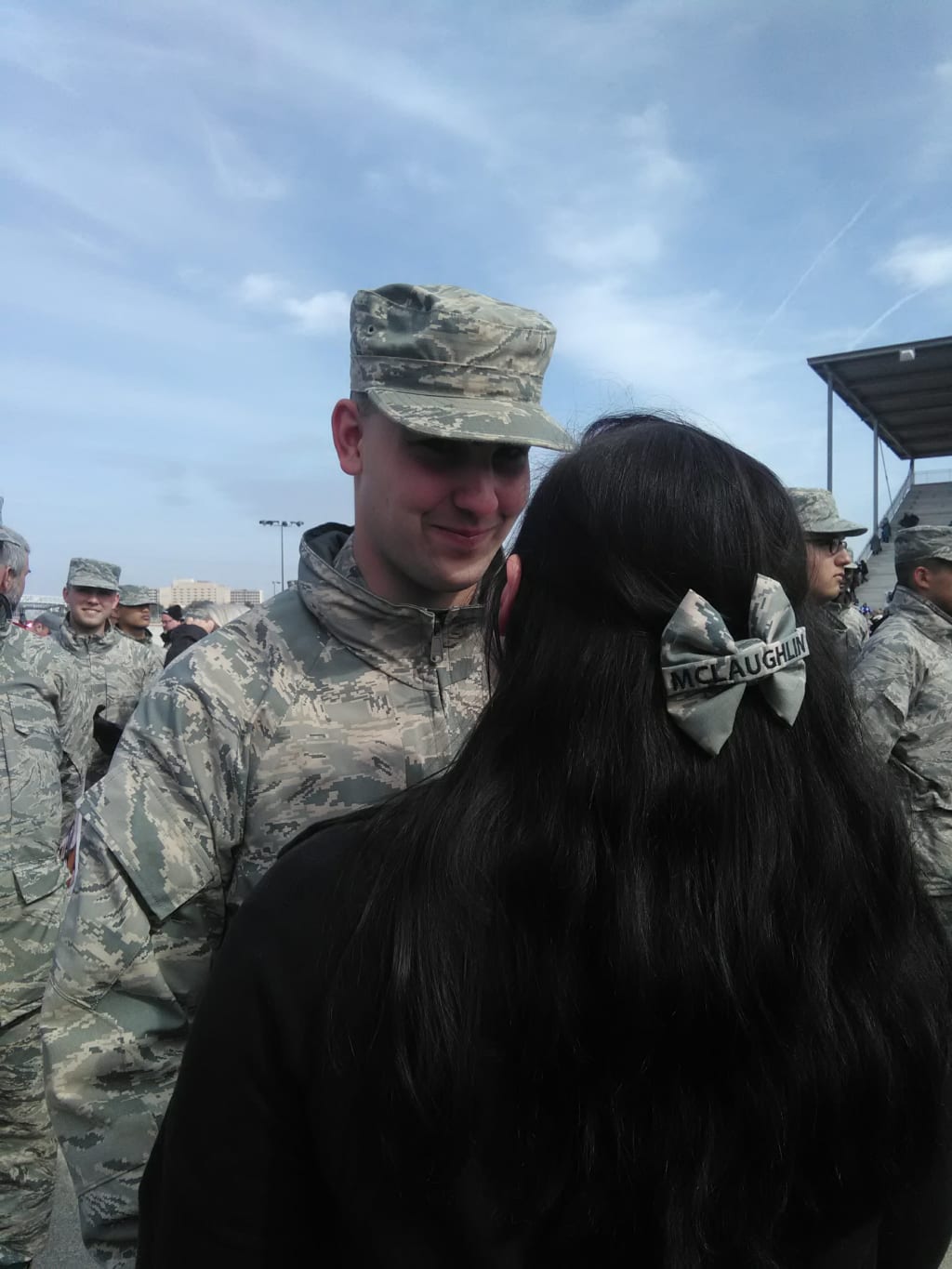 The day that my now Fiancè left for Basic Military Training, the waiting began.
I waited for his bus to leave before I allowed myself to break down in tears in the front seat of my car. I waited half an hour to start the long drive home just so I could stop crying (I never did, though).
I started making countdowns until the day I could see him again, and I waited by my phone every second of the next few days for his first phone call. Then I waited every afternoon at 1 PM for the mail to be delivered, hoping I would finally get a letter. I waited and waited for what felt like forever. I waited for weeks on end without hearing anything at all.
Every night I waited for my heart to stop worrying before I could close my eyes. After 51 days of waiting, I drove down to Texas to finally see the love of my life. It was an early Thursday morning in February, and I waited out in the freezing cold for three hours just to hug him. My body was shivering, my teeth chattering, my fingers numb, but I kept waiting.
I remember when I ran into his arms for the first time in so long, and his own arms wrapped around me so quick and he hugged me tighter than ever before. I remember that moment when all of the waiting had payed off.
Now I was waiting to be able to kiss him and hold his hand. Many aren't aware, but PDA is strictly not allowed while in uniform. Finally we were alone, just the two of us. Everything was perfect.
I waited every morning for the next three days for him to come out of his dormitory and spend the day with me. During one of those days, I waited patiently while he proclaimed his love for me, and asked me to be his wife. I said yes, of course!
Eventually we had to say goodbye again, and once again, I cried in the car the whole drive home. Now I was waiting for him to call me, again. I was waiting to hear anything from him at all.
A week later, he got his phone back and got on a bus to Biloxi, Mississippi. I waited all day just to FaceTime him for a few hours each night. The days dragged on for what felt like forever, and the nights never seemed long enough.
Now I was waiting until the day I got to move to Mississippi to live closer to my man in uniform. That month dragged on, but I finally made it. Once I got down to Mississippi, I waited for him to finish his duty before I finally got to go see him.
Once I saw him again, I was waiting to finally be alone with him. When we were alone again, everything was perfect. We were just waiting for the time to slow down.
Now I will wait all day just to hear from him for 20 minutes each night. He's gotten very busy, and the Military must come first. I wait until the weekends, so that I can finally be with him again, and feel as if we have a normal relationship, even for just a few days.
I wait to find work, because this lifestyle of constantly moving around makes it hard to find a job. I wait to find out where we will go next; Alaska, Hawaii, Germany, Italy, Utah, the possibilities are endless. I wait to know anything.
I wait to marry my Airman, and finally be able to live with him, just the two of us, and see each other almost every day.
I wait for the dreaded deployments that I know will happen eventually. I wait just to hear from him and know that he's okay. Everytime he puts on that uniform, he puts his own life at risk. I wait for the news to come on every evening, and I wait for a sign that the world is getting just a little bit better. It scares me to death knowing that this all could affect our lives so personally.
And of course, I wait for the future, 20-30 years down the line, when finally, I will come first. I wait for the day when there will have to be no waiting anymore. I wait for the day when I will never have to say another goodbye to him again. I wait for the day when it is just he and I, and no one, not even the Military, can separate us.
I wait. I wait. I wait. Yet somehow it is all worth it. At the end of the day, or the week, or the month, or the deployment, when I will finally be reunited with my soul mate again, that's when it is all worth it.
I wait, and I would never wait like this for anyone other than him.