How To Survive Basic Training as an Army Significant Other
First, remember to take it one day at a time.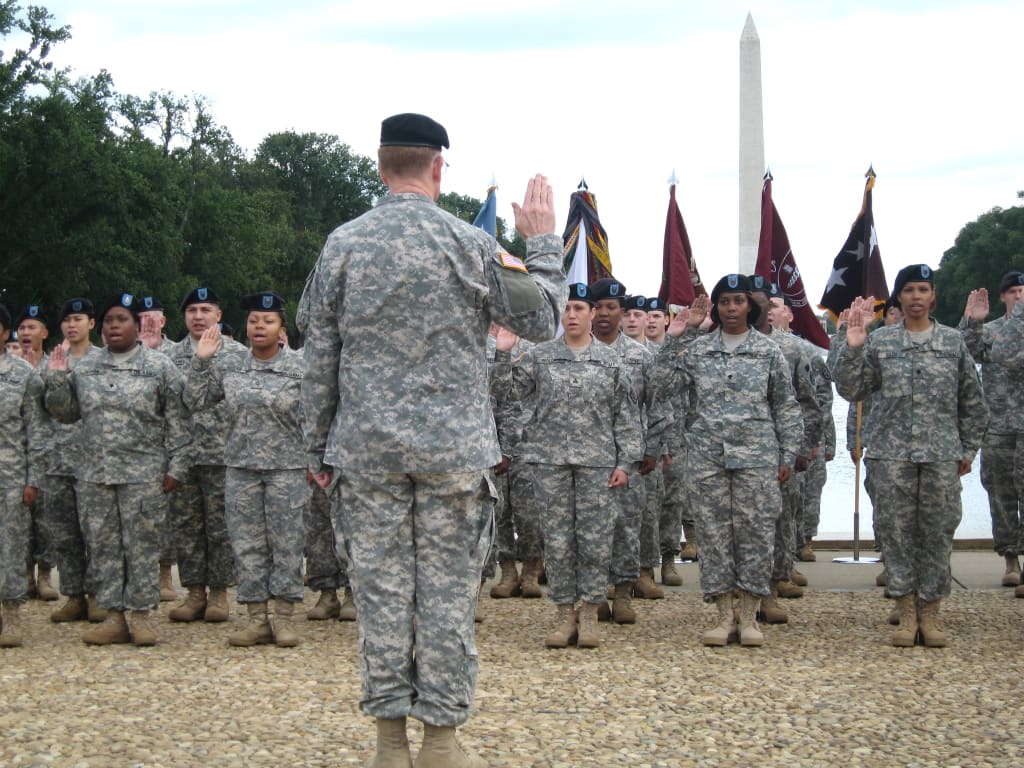 The day you've been dreading is coming, or maybe it's already here. Your recruit is leaving home to start his new life as a member of the U.S. Armed Forces. Whether you're married, engaged, or in a steady relationship, these tips will help these next two or three months go by a little bit easier.
Rekindle both new and old friendships.
Losing your significant other for ten, twelve, or even thirteen weeks will leave a big gap in your life, and we've all thought about what we're going to do without them for so long. Fill up your free nights and weekends with friends, new, old, even ones that you haven't seen or spoken with in a while. Not only will it fill up all that free time you have now that he's away, you'll also have a chance to take your mind off your S/O and how long he'll be gone. Bonus for friends that know your S/O and your relationship — they'll be especially sensitive and, if they're good friends, help you feel better.
Find people going through a similar situation.
Connecting with your friends is great, but there's nothing like talking to someone who knows exactly what you're going through. There are a ton of social media groups, blogs and forums where spouses, girlfriends, and fiancés are connecting, sharing their experiences, and offering support. Talk to people that are going through similar situations and you might make a friend that's going through the exact same thing you are. This gives you someone to vent with, someone to comfort you, and someone that you can comfort back. You might find that supporting someone else helps you feel better about yourself and what you're going through. Not to mention, when you go to your S/O's graduation, you might meet your new friends in person and become friends for life.
Reconnect with your hobbies.
Sometimes, in relationships, hobbies tend to fade away in favor of time with each other. This is the perfect time to reconnect with those hobbies or maybe even find some new ones. Start writing. Pick up a musical instrument. Renew that gym membership.
Speaking of the gym, exercise is a great way to let out pent up emotion, release endorphins in your brain to make you feel better, and get in better shape for your S/O's return. He or she will be working out like a fiend as well, so dropping those couple extra pounds or putting on some muscle tone yourself could be great!
Write letters. Lots of letters.
The main way you'll be able to talk to your S/O for the next couple of months is through writing them letters. So write them as often as you can — every day if possible. You might find it romantic to sit by a picture of you and your S/O and just talk to him. Don't worry too much if you're not sure what to say — your recruit will appreciate just about anything that you write to him, including something as simple as what you did that day, what you're looking forward to the next day, or your plans for the weekend. Even just a hello and an "I love you" will send him over the moon. That "I love you" is extremely important, too. Make sure they know you're in their corner and you're thinking about him as much as you can — tell him your proud of him, he's on your mind, and even describe what you want to do as soon as you see him again. He's going to need all the positivity you can give him. Just write, and write often.
Don't be afraid to cry.
There's nothing wrong with shedding a few tears. Sometimes, there are emotions that tie your chest up in knots and it's the only way to let them out. You might find that just breaking down for a bit will help you feel better.
Finally, remember why you're here.
If you're still with your recruit while he's training, there's definitely a reason for it. You made a big commitment to stay with him or her, so sometimes it's just a good idea to think about why you made that commitment. Don't forget, he's doing this to become a better person, to further himself, and to gain a steady career. Whether you're married, engaged, or in a steady relationship, he'll be able to better both of your lives. Just think about the person that he'll become when he graduates basic training — a person with self-discipline, drive, and direction in life. That's something we can all look up to.
Whether you're a week in, a month in, or you're about to say goodbye to your recruit, remember these tips and you can make the most of your time away from your significant other. He's learning a lot, growing, and having a lot of experiences that will change him inside and out. This is a great time for you to grow as well. Become more independent, build better friendships, and have new experiences. Start checking off a few things on your bucket list, and when you sit down to write him a letter, you'll have plenty to take about! Most importantly, just think about how great it will feel to be reunited once again.
Stay strong. You've got this.
family
Full time graduate student, writer, Army girlfriend. Taking it one day at a time.
Receive stories by Lindsey Allen in

your feed