How to go from zero to Hero...
...So as to potentially earn a beret w/ similar insignia.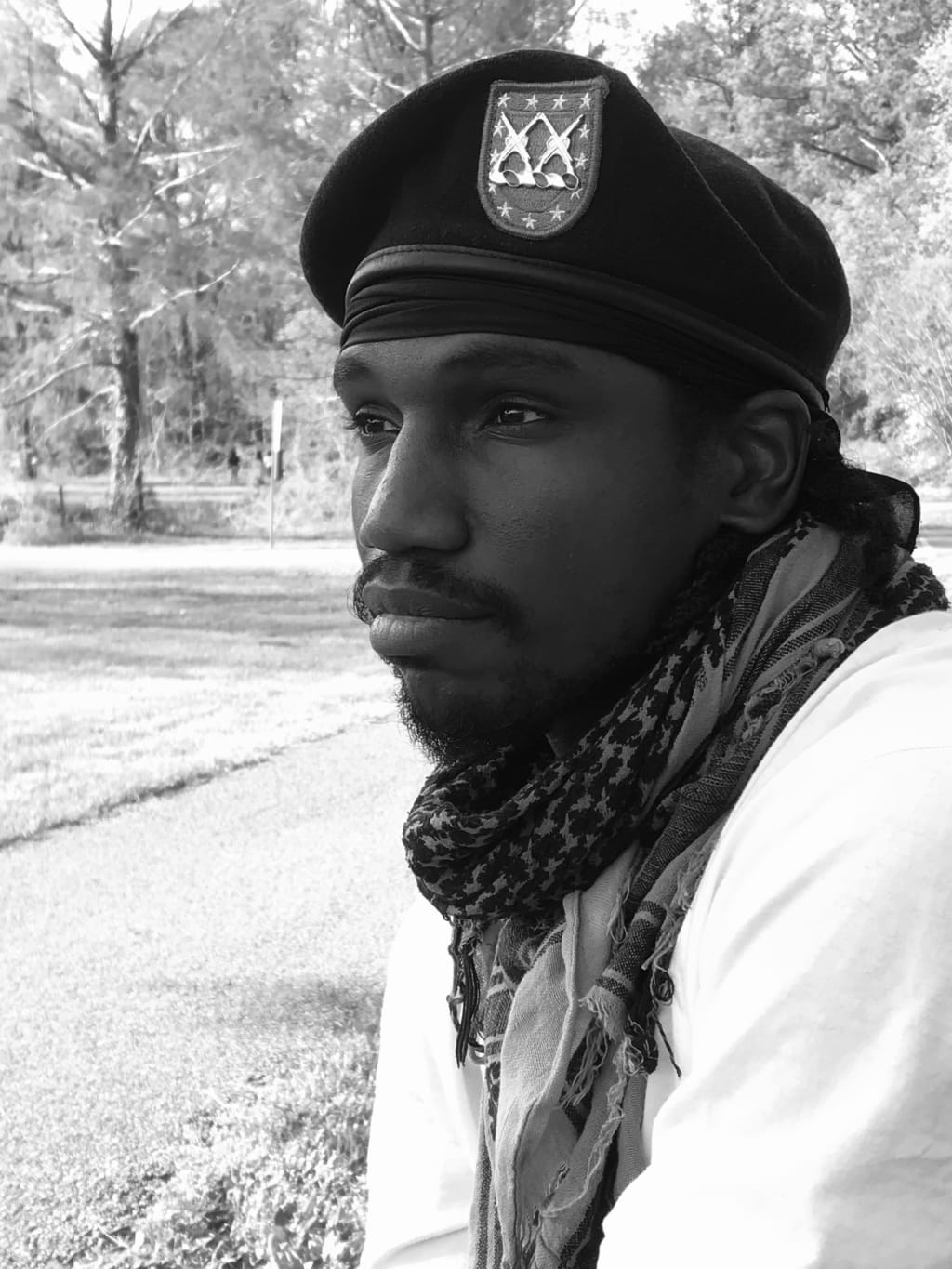 P/c: My fav Auntie; sometime last spring. "You know who you are", as a local living legend once sang. One Love.
15MAR2023; 1056, WED– Maryland, USA
Seeing as this is my 150th "story", or blog post; I figured why not share some advice that got me thru being U.S. Army recruit #150? That's of the Echo Company, 2nd Battalion, and 54th Infantry Regiment; FYI.
I spent many a round down there in Ft. Benning, GA. That's rounds as in bullets, and hand to hand combat training; haha.
Keeping it a stack, as the young folks say: I don't think that I will ever forget Sand Hill; the Stairway to Heaven; nor the FTX (Field Training exercise). Even if I really reach my goal of 120 plus years on this Big Blue Ball.
Before I forget: I was a roughly 120 pound nobody, with a little bit of upper body from before, when my recruiter; his colleagues; and the Drills (Drill Sergeants) started referring to me as "Hero". Don't get too, too excited for me; we all earn the title after swearing in.
Maintaining it tho... In any event, that's enough of an intro; I figure like a bigger swigger.
Without further ado, a cannonball from an OG formerly known as canon fodder:
That's a perfect segue for the obvious: Be prepared for degradation. Rumor has it that the Army's Drills are transitioning from yelling and name calling; to teaching how to bench press and curl dumbbells.
Back in my day, we barely missed having to shine boots and press uniforms. I'm feeling where J. Cole was coming from on 2019's "Middle Child"; "actually factually" and "truly duly".
I missed the "morale boosting" beatings; as well as the arguably laughable "stress cards". I'm somewhat reliably informed that the cards in question were a saving grace of sorts; and the aforementioned punches/kicks to the gut didn't have any pull back to them.
Moving right along, and another no-brainer: Be prepared to move; a lot. Especially if you go to The Home of the Infantry.
Doubly so dare you to desire avoiding early dementia; and/or a daily cocktail of pills. That is not to miss a perfectly decent dovetail from lobotomies to the benefits of practicing self-care.
Speaking of which, however: Don't forget to Love yourself; your fellow recruits/Service Members; and the Famo "holding down the fort" back wherever you're from.
Got no Fam? Not even a single friend to see you off to Basic (Training [aka Boot Camp])?
No stress. You have a new Family now.
"Just stand"; as the famous Donnie McClurkin song goes. Go thru a little pain now, to get to the, "glory; gold; and glitter" (-MF DOOM [Rest In Power]), on the back end.
That's "reimbursement", plus "profits"; for the non-Bizz savvy reading. If you push your limits a smidge; put in the "sweat equity"; and get back up when you fall/are knocked down...
That's not to say that you won't need help! There's a reason why it's expressly prohibited, forbidden, and unforgivable for a recruit to be caught anywhere by his/herself.
Wanna see if you can convince random Drills to lay a smack down on you? Just be brave enough to break away from your Battle (Buddy).
That's no funny; no cap; and no question. You can stamp that; and/or bet the entire, odiously bloated Department of Defense budget on it, almost.
Last but certainly not least of my advice to potential U.S. military personnel: Be the Grey/Gray Man. Don't stand out any more than required; at all.
Never finish at the very front of the pack, nor the absolute rear; if even remotely feasible to avoid. I'm not saying that you wanna "sandbag"; and/or overexert yourself to the point of becoming a "sham artist"/heat casualty.
Just remember these two unofficial mottos of the U.S. mil:
1.) "Drink water; change your socks; and drive on!"
2.) "Improvise, adapt, and overcome."
Keep those in mind; maintain a clear/level head; and retain your integrity. You're all but guaranteed to get glowing recs (recommendations) and/or beautiful commendations if you do.
Best of luck; you can do it; and don't forget some semblance of faith. "There ain't no atheists in foxholes..."
***
***
Prayerfully, you gained something pertinent (re: useful) from this post. If so, then please think about considering a show of support; however you may see fit.
Additionally, I'm easily reachable via Twitter. That's for private and/or public convos on the works written by me, my fav writers, as well as my other influences too.
The link in my bio will "counterintuitively" have that unmistakable tab in its main menu. Invariably, there's a tab in the very same menu cyclically returning you to my profile on this unfathomably superb site for writers.
Shoutout to all Vocal's inventors/staff/readers/writers. "[Y'all] the real MVP."
Lastly, if you're in the market for an incredulously original article of clothing or such: There's copious amounts at the link in my bio. Please don't believe for a NY minute that I'll be even remotely unappreciative of any all who "look out for the cookout".
***
About the Creator
I'm a Grunt who's been stuck in traffic for the past few decades or so. From DC to Seattle & Iraq; to back in "The Swamp". Also, I Love my Progeny more than life. Born Day: 4/20. Lastly, my apparel brand, War 'N' Tees is live! One Love.
***
Reader insights
Outstanding
Excellent work. Looking forward to reading more!
Top insights
Compelling and original writing

Creative use of language & vocab

Easy to read and follow

Well-structured & engaging content

Excellent storytelling

Original narrative & well developed characters
Expert insights and opinions

Arguments were carefully researched and presented

Eye opening

Niche topic & fresh perspectives

Heartfelt and relatable

The story invoked strong personal emotions

On-point and relevant

Writing reflected the title & theme
Add your insights