How to Get Married in Proper Military Fashion
A guide to dealing with frustrating circumstances and getting hitched.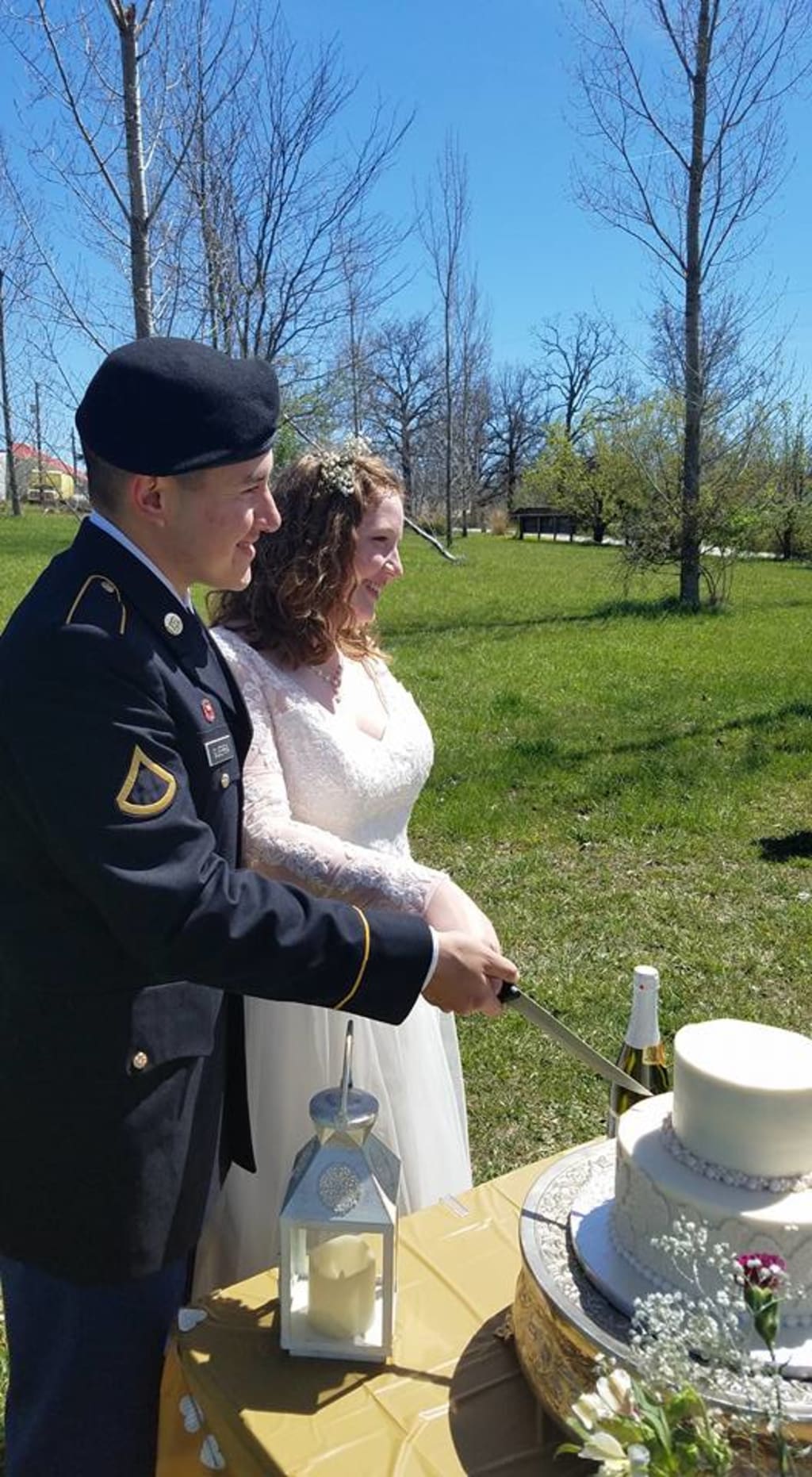 Step One: do not make definite plans.
I should have kept this in mind from the very beginning, but I still allowed myself to get my hopes up when it seemed that things were going our way.
Your wedding is not on the Army's to-do list. They don't care if your plans are months in the making, or that "it would be incredibly convenient if _____ happened".
My now-husband Alex and I wanted to have our wedding at home, in south Texas, where most of our friends and family were located and everyone else was planning to travel to. My mother and I met together with bridesmaids and friends to discuss wedding ideas and themes and decorations. We planned to have our ceremony in the evening, right before sunset, so that by the time we said "I do" and Alex kissed the bride, our pictures would have a beautiful background. Because I worked at Chick-fil-A, we planned to have them cater the wedding, storing rows of nuggets and sandwiches in big, fancy chafing dishes.
We had it all figured out, but the Army had other plans.
I do realize that it was all for a reason and that military superiors have more important things in mind than weddings and parties. It was just so difficult to constantly have our plans put on hold or canceled because the Army paid no mind.
We thought of every possible alternative after that. We thought about waiting until after Alex was stationed in Hawaii for a while and getting married when he could come home on leave. We discussed courthouse weddings and online marriages and even proxy weddings. (Did you know that you can get married without actually attending the wedding? Well, that option was up for serious consideration for a while.)
Finally, after tears and agony and months of indecisiveness, we all decided on a destination wedding.
At the time, Alex was in Fort Leonard Wood, Missouri for AIT, and he was due to graduate in less than 2 weeks. So in that amount of time, my mother was determined to make it the nicest impromptu, out of state wedding possible. Some might ask what the rush was and why we couldn't just wait until my fiancé was stationed and settled. To that I say: we were impatient and in love, and we had already been separated for months. We were ready to be married and to get on with our lives.
Our first roadblock came early on when it was time to decide how to actually get to Missouri. My mother is afraid of flying, and we knew we would be traveling with a lot of baggage anyway, so we decided to rent a motor home for the trip. We then spent the next week preparing for the journey: packing everything from my wedding dress, decorations, food/snacks/drinks to stock the RV with, and supplies/ingredients for the wedding cake that my mother agreed to decorate on site.
We had so many loving friends help us and incorporate so much, even though they wouldn't be in attendance. A kind friend hand-made the most beautiful bouquet for me; another family agreed to watch our many pets and animals while we were away. It was heartwarming to see that so many people had my back and were so encouraging through the difficult process.
The real MVP was my mom, who was being so incredibly supportive even though I know she would have much rather we waited to have a big wedding at home. I know she was disappointed, but she made the best out of the situation by making phone calls galore and contacting potential wedding venues and gathering as much information as she could.
When it finally came time for us to ship out, it was clear in the first hour of the trip that the next two days would be hard. Regardless of the several comfortable places to nap and sit comfortably, the RV rode very roughly in the winds and on the harsh roads. We were buffeted all over the place, making us all miserable and anxious.
Luckily, we made it to Missouri in one piece, just one day before my fiancé's graduation and our wedding was set to take place. My mother stayed up at least half-way into the night working on my beautiful little two-tier wedding cake, and we, along with my Aunt Kim, enjoyed a mini bachelorette party eating pints of ice-cream in bed and watching Shark Tank and NCIS re-runs.
The next morning, I woke up quite early with my aunt, so we made a quick run to Wal-Mart for some last minute items: plates, forks, and napkins for serving cake, and glasses for mine and Alex's sparkling cider toast. We then headed to the local Waffle House where she shared stories and nuggets of wisdom with me over huge plates of hash browns.
Alex's mother and grandparents, who had traveled separately, came by the RV park to pick me up for Alex's AIT graduation, which was small, short and sweet. We spoke at length with his chaplain, who had actually been in contact with my mother throughout this whole process and had become quite invested in our crazy situation. He offered us some very sage words of advice and wished us the best as we headed off. Thankfully, we were able to take Alex off base, which had been a concern from the very beginning: you never know with the military.
We headed then to the local courthouse to pick up all the documents that we needed to get married. It was a surprisingly quick and painless process; we were in and out of there in less than 15 minutes. From there, we went back to the RV park, where I ran straight to our motor home to get into my dress. Outside, everything was already set up and ready for our little ceremony; Alex's family was all seated, along with my dad's parents who had arrived in the last hour for the wedding. There were picnic tables laden with flowers and painted mason jars, and there was fabric hanging from a lone tree in the field, the tree we would be getting married under.
When I was all ready, the owners of the RV park were on standby with a little two-seater recreational vehicle. They drove me up the hill where the ceremony was taking place, quite gloriously if I do say so myself.
My father walked me down the aisle where my fiancé and grandfather, who would be performing the ceremony and marrying us, waited. Alex looked so fancy in his dress blues, and I could hardly believe it: after all the problems we had run into and all the issues we had encountered trying to plan this wedding, I was finally here. I was marrying the man of my dreams, and we were surrounded by family. The weather was wonderful and everything had come together so beautifully; the day couldn't have turned out more perfectly.
So maybe the way I did it wasn't the best way possible. Maybe there was a way for me to have my dream wedding in my hometown surrounded by friends and yummy Chick-fil-A. I do know that this wasn't the first time that the Army had messed up my plans, and it won't be the last. I know that I will probably always be frustrated by the Army and its timing, and I know that I'm just going to have to get over it, because there's nothing I can do to change it. However, I would say:
Step Two: if you see a chance, take it.
Step Three: make the most out of it.
Step Four: be willing to let go and compromise.
Step Five: enjoy the crazy ride that the military is sure to take you on.
About the Creator
I'm a 20-something year old Army wife living in Hawaii and loving it. I spend my time reading, writing, watching films and binging Netflix, while occasionally going on a crazy adventure with my husband.
Reader insights
Be the first to share your insights about this piece.
Add your insights