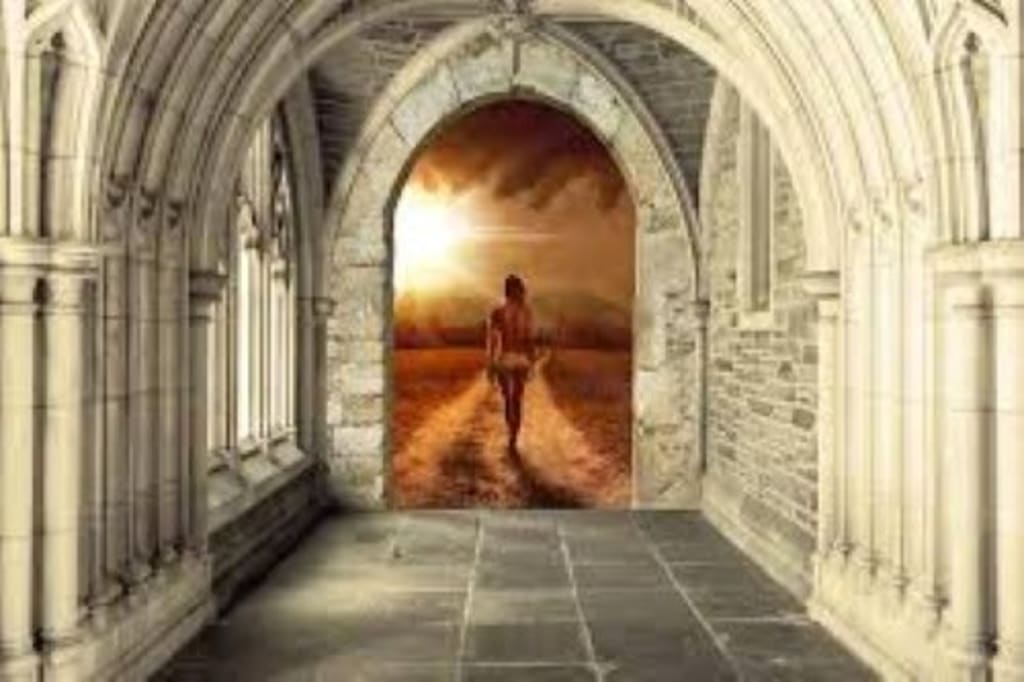 I am a very weary soldier. We have been through hell and back these last two interminable years fighting for king and country. Now the war is over, and we are slowly making our way back home. I cannot help but think of a couple of stanzas of the song Going Home.
Going home. Going home, I am going home, quiet like, some still day, I am going home. Morning star light the way, restless dreams all gone, shadows gone, break of day, real life has begun.
As I am thinking of this, I finally top the hill close to my home.
In the valley is a long lake. At the top of the hill is the cairn of stones that has been there for what seems forever. As the sun rises it plays with the shades of yellow and pink in the clouds just before turning into the solid blue. The shadow left on the lake makes an interesting contrast to blue of the water were the sun hits it.
Down on the shore are the houses of everyone I know. It is comforting to see them hugging the hill side. They may not be a rich men's house but for a weary soldier they a sight for sore eyes.
I know my Lena is waiting. She of the reddest hair and blue eyes with freckles. A tall lanky lass she is. My precious children Peter and Mary. God, I wonder how tall they have gotten over the last two years. I hope that the schooling that was started a couple of years ago has continued. The times are changing, and my children will need the reading, writing and arithmetic. Our little valley seems unconnected to anything, but I know that eventually the children will have to go to bigger schools and leave our little valley that will be a sad day and what awaits them from here who knows.
It will be good after two years to just be able to catch fish in the lake and bring them home to cook instead of the gruel and sometimes complete meals on the battlefield.
I do not know how they will react. It has been hard to get messages out to let them know I am coming.
As I start down into the valley, I think I see Peter with one of the boats heading toward the middle of the lake, sometimes you can get a good catch there but not often. The fish prefer the weeds near the shore. Our lake is not deep as deep lakes are measured but it has a good source of moving water beneath it.
I also see the other men heading out into various parts of the lake which means I ought to be able to surprise Lena for sure.
I finally reach my house and do not find Lena in the house but out in the back hanging the wash. I approach her silently and gently grab her waist and say hello Lena, the start she had was quite apparent but when she turned to face me and gaze in my eyes the look of love from those blue eyes was something I will not forget for a while.
I had forgotten how soft her hands and her body was. To feel a women's soft hands stroking your face after nothing but wind and rain for two years can be a little unnerving. A soldier never cries but in an instant like this between a man and wife it is all you can do. Words just will not do.
After the longest hug I can remember, the questions started coming. I told her we were walking back from the war and not every town had the invention called telegraph. Also, for as many towns as the troop was from it would have cost a lot in runners to announce our coming.
I asked her if Peter were out on the lake and she said yes, he was and would be back soon. Mary was out in the town closest to ours about an hour's walk over a couple of rises to pick up some supplies.
My homecoming with my wife was more passionate than I had expected it to be. As the saying goes absence makes the heart grow fonder plus a few other things.
Once Mary and Peter arrived home, I can say the looks of astonishment and joy were something to behold. I saw the children as very small when I left maybe it is just two years of not seeing them at all that they have grown into a young man and woman. After supper it was it was a soldier's joy to sit around the table and listen to tales of what happened in the last two years. I told them what I could of the battles, some things are difficult to retell and some you want to forget.
It seems the long column of men who were moving through the territory did not go unnoticed. The next morning friends and neighbours started knocking on the door checking to see if I was back. There is a camaraderie that comes from being with like- minded soldiers but the love and companionship of family and friend is something else. When my brothers and sisters with their children started showing up it got a little crowded in our place to say the least. I do not remember much of the day and not because of the drink but it was just so many faces.
By the third day home I can truly say that the song has been fulfilled and I can say I am home, I am home.
family
I have been writing on and off for about 16 years now.