Crossing Over
A Cross-Cultural Experience in Southeast Asia: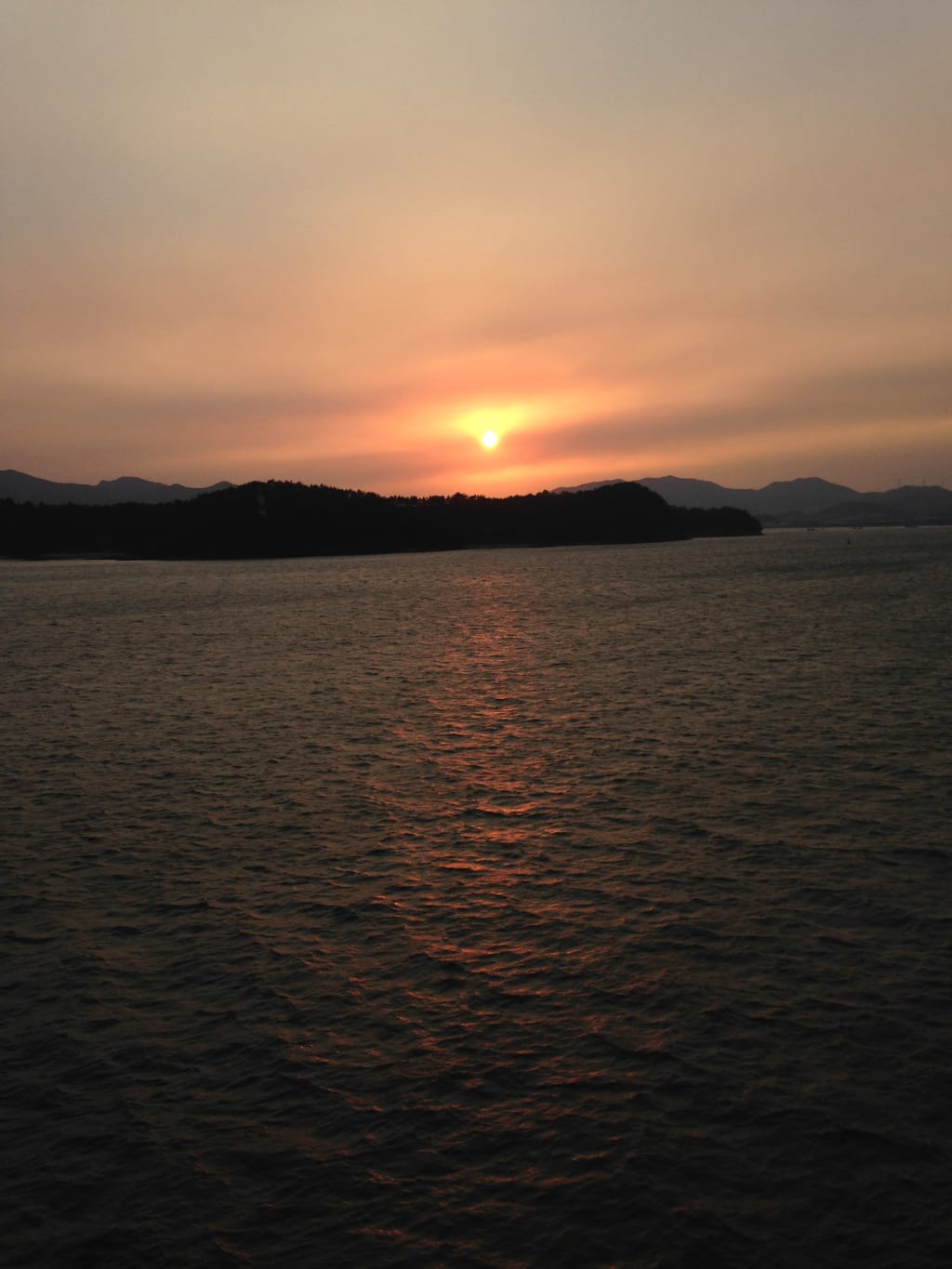 Looking toward the evening sun off the coast of Okinawa.
As a young Marine, I was both excited & nervous to go to another country. Of course, as a member of the armed forces, there is a potential for being put in a dangerous environment which heightens the anxiety. Okinawa, Japan, was ordered to be my home for the next three years of my life. While going to a tropical island seems like a paradise, this was not a vacation but a workplace. We were allowed time to enjoy the island on our off time while still adhering to specific guidelines. "You are an ambassador!" was drilled into our heads from before leaving to go overseas. During this allotted free time, there seemed to be some tensions between the Okinawans & U.S military in some places. Others knew that the American army had money which made them all the friendlier. Until now, I did not fully understand these tensions. After reading multiple historical accounts, literature and speaking with some of the locals, I understood the impact of some of the past atrocities. This is why I chose to write about my time in Okinawa versus my other travels. My time spent overseas was the most intense cultural change I've experienced yet. With that, I also found it necessary to raise a bit of awareness regarding cross-cultural experiences.
Growing up in the United States, very contrasting customs were made apparent almost immediately, especially regarding linguistic & customary differences. After a grueling 12 hour international flight, we landed in the very hot & humid Okinawan International airport. There were no native English speakers or signs anywhere around us that were recognizable. This initial shock caused some anxiety in the group as we shuffled around the airport, looking for our contact. We were approached by a Marine in uniform who was already waiting to give the apparent group of wandering Americas with military bags their orders. The Marine instructed us to wait for our transport to the base & permitted us to wander the airport until then. Hungry & a bit jet-lagged, I found some food & cigarettes to alleviate some of the tension. There was a small market in the airport, restaurants, gift shops, & a currency exchange like any other airport. However, since we had debit cards, there was no need to exchange any currency at the moment.
My first formal encounter with a local was with a cashier at the market. Since cigarettes were behind the counter, it was a bit of a challenge to tell the young woman which ones I wanted. Since there was no Japanese word for "Marlboro," it was communicable but still required some direction on my part. So, along with the cigarettes, I picked up a sandwich which I had no idea what was in it & a Japanese beer! As the cashier rang up the price, I prepared my debit card when the cashier politely declined it as she pointed to a sign. Perhaps the sign said cash only or something similar. I suppose this is why a woman in the lobby directed some folks toward the currency exchange place when we landed. Due to my stubborn nature, I, of course, ignored the gesture while proceeding to do my own thing.
I left the market and proceeded to make my way toward the currency exchange, where an ATM was available. I was able to withdraw yen-¥ directly without using the currency exchange, making life a bit easier! But, of course, the language of the ATM was in standard Japanese with caused another surge of frustration. Standing there at the ATM, puzzled, an Okinawan man assisted in helping me change the language to English. I was then able to use my first Japanese phrase; "arigato gozaimasu-ありがとうございます! (Thank you very much)". I'm glad that we were taught some essential words during our short cultural introduction class back in Virginia. I can't recall how much ¥ I received from the ATM, but it was enough to make some necessary purchases during my time at the airport.
Heading back to the market, I was able to purchase & taste my first Japanese cigarettes, beer, & prepackaged sandwich, making official my first cross-cultural experience! After an hour or so, the transport van arrived. We were taken to a base for our intake, where we would eventually be shipped to our respective units.
To fast forward past the intake process. Now we were able to explore the island on our off time several months into my new unit. Different experiences in restaurants, bars, various cultural attractions such as temples & preserved battle sites helped build my cultural knowledge & rapport within the community. Linguistic differences always made it hard to communicate with the locals, but I seemed to manage eventually. Also, as mentioned, many of the locals were after our money. This is to be understood after looking into the socioeconomic status of many of the locals. Okinawa is currently the poorest prefecture in Japan, with the highest rate of happiness. While I'm not much for clichés "money can't buy happiness."
After about a year of being in Okinawa, several friends and I took a short vacation to the largest island of mainland Japan, Honshū. Initially, I anticipated the experience to be similar to my first arrival at the Okinawan International airport. However, with many similarities in customs & language, the demeanor of the people changed significantly. A larger island gave us more opportunities to explore as well as to run into potential issues. Tokyo was much different than Okinawa, where the differences after studying at my university have become much clearer.
When entering a new place, it's essential to keep an open mind. Many differences regarding customs & courtesies, general behaviors, language and much deeper cultural elements such as spiritual practices & economic drivers are all factors that will change what is 'normal' from person to person. It takes time to become accustomed to these factors. Doing a little preliminary research can provide some relief when first arriving in a new place. Even crossing a state border can show significant customary differences with my travels between Okinawa and the mainland.
I found it necessary to briefly mention the trip to the mainland because of these very intense differences. While there were many linguistic & customary similarities, distinct differences were there as well. I found it necessary to mention this fact because it's possible to offend someone or get caught up in a situation that may not have been an issue before.
A final note to the reader is a word of caution. While exploring another culture can be enlightening, going outside of the tourist areas can also be dangerous. So with that being said, do so with caution & in a group. Always remember that despite some of the cultural differences that may make you feel out of place, the best thing you can do is understand those differences, making you a better person. Be safe out there!
travel
As a former veteran who served overseas I have some interesting stories to tell. I am now an aspiring anthropologist & philosopher. Many of my writings will involve culture, philosophy, as well as some short stories & poems. Enjoy!
Receive stories by Jeffrey A. Sapp in

your feed