Colonel Henry Montauk
The Thomas W. Lawson Sr. & Thomas W. Lawson Jr.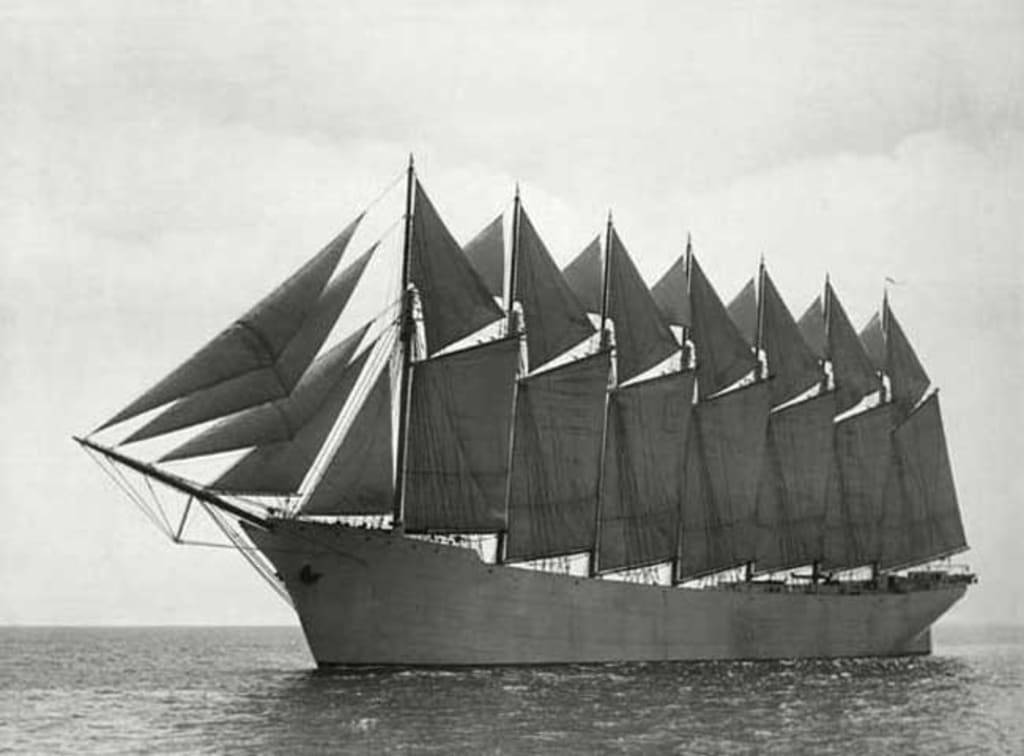 Thomas W. Lawson on her maiden voyage in 1902 - Wikipedia (13 October 2020).
"Settle down, Settle down people. This a first in history that our late and greatest treasure, the Thomas W. Lawson Schooner of 1901 has been replicated with modern technological advances. So, I understand the excitement. I see your hand, Jim – your question." Colonel Henry Montauk postulates. "Yes Colonel, can you please explain why you think this ship will last the distance crossing the Atlantic? Some say it's a suicide mission." "Certainly, Jim, first, we must know the facts:
1) Our reports of the incident tell us that only 6 masts (not 7) were in operation before they set sail for their voyage to London from Massachusetts. Thomas Senior was built to carry coal and oil along the East Coast of the U.S., not across 41.1 million square miles of the Atlantic Ocean.
2) The original Thomas Lawson, was a seven-masted, steel-hulled schooner that was built in the steam age in an attempt to prove that sail could still be competitive.
3) She was designed with a fore-and-aft rig and donkey engines at each mast to raise her enormous canvas measuring approximately 40,000 square feet total, equivalent to one acre.
4) She was 395 feet in length and was under-occupied having only 18 crew members, when other steamboats, her size, required no less than 50 crew members.
5) At the time of the accident, she was hauling over 2, 225,000 gallons of paraffin oil for the ports of London.
6) She was destroyed off the uninhabited island of Annet, in the Isles of Scilly, in England in a storm on December 14, 1907, killing all but two of her eighteen crew members and a harbor pilot already aboard.
7) Her cargo of 58,000 barrels of light paraffin oil caused perhaps the first large marine oil spill – ok, I see hands, Michelle."
"What makes this scenario different?" The Colonel smiling, "I'm glad you asked, Michelle:
First, Thomas Senior was designed by naval architect Bowdoin B. Crowninshield who was famous for his fast yachts.
Second, at a cost of approximately $250,000, she was the largest, and only seven-masted schooner and seven-masted sailing ship in her time, and the largest pure sailing vessel, in terms of tonnage ever built.
The Thomas W. Lawson Junior was designed by America's greatest naval architects to date who specialize in submarine and ship engineering, including the consultations from the tech giants, Bill Gates, Mark Zuckerberg, and Elon Musk. The cost for this operation is well over $100 million of private capital investments from private citizens interested in this venture, one, in particular, being business magnate, Sir Richard Branson. We also have the support of both the U.S. Government and that of England. We will be traveling the same route, transporting various goods to the same port Thomas Senior was supposed to make. Let us just say, we want to finish what was started."
During Montauk's speech, a beautiful tall brunette, with long hair down her back, wearing a black business suit, sitting behind the Colonel, stands up and whispers in the Colonel's ear, interrupting his speech, "Dad, tell them about the soiree for the christening celebration, tonight at 7 pm." The Colonel, leaning into the microphone, calmly divulges to the audience of hungry journalists and photographers, saying, "There will be an evening soiree, tonight, at the Mastro's Ocean Club Seaport at the Boston Harbor, to celebrate the private christening of Thomas Junior that was already held last week. That'll be all."
Turning to his daughter, the Colonel asks, "So will my stubborn son-in-law be attending this party tonight?" "Yes Dad, you know how much he's looking forward to tonight and the trip, he's been training for months along with the 250 other men going with you," Heather responds. "Well, this trip will not be easy. Are you prepared for the soiree? I hope your friends are going to attend." Montauk inquires. "Yes, father, some of my friends and their husbands are attending." Heather answers. "Very good." Delighted to hear that his daughter would be supported by family and friends, Montauk, walks hand-in-hand, with his daughter. "You know dad if only mother were here, I know she would be so happy for you." "Well darling, I believe she's been with me the entire time, from the conception of this project to its fruition." "Ring, Ring!" Heather immediately looks around and begins searching for her cell phone in her purse. Pulling it out, she whispers, "Dad, I'll have to catch up with you later, it's John." Montauk replies, "Certainly, I hope everything's alright." Heather replies, "I'm sure everything's okay, I'll let you know if it's not."
Montauk proceeds to his car walking out of the double doors of the U.S. Military Entrance Processing Station. Going home, Colonel Montauk fidgets with his radio, "and this 106.1 KLUV Oldies for the Oldies… "My Girl" by the Temptations," The Colonel, begins to chuckle, saying this one's for you, Suzie, as he looks at his empty passenger seat.
Arriving home the Colonel, sets his hat and key on the entryway console and turns his radio on, and begins to dance, singing along with the music, removing his decorated military jacket, while unbuttoning his collared shirt, moving towards his bedroom to his bathroom entering his shower.
An hour later, wrapped in his terry cloth robe, he turns the radio off and turns his television on in the kitchen as he prepares a light dinner-snack, for himself, before the grand celebration, pulling out an assortment of deli-sandwich ingredients to make his favorite "Colonel Montauk Super-Sub". "Tomorrow's forecast shows high winds around 25mph, with a 95% chance of precipitation…" He quickly grabs his remote that's resting next to his plate and turns the television off, noticing the time, 6:15 pm, he hurriedly finishes his sandwich and heads back to his bedroom to finish the grooming process for the night's special occasion.
While getting ready, he gazes at his deceased wife's vanity while fixing his collar and cuffs, puts on his formal military jacket decorated with an array of military medals and ribbons, and heads towards the door to his car. Getting in, he begins to speak facing the passenger side, "This ship is very capable of withstanding any storm we may face during this journey. You just have to have faith, that we will not meet the same fate as those before us." Arriving at the entrance, he gets out of his black 2021 BMW 5-Series and hands the keys to the valet, and walks the red carpet. He looks swiftly behind himself as if waiting for someone, and begins his walk down the red carpet as paparazzi continuously takes his picture, stopping at the step-and-repeat. "Colonel Montauk, are you all set for your voyage?" a journalist asks. "Just about," the Colonel replies as he leaves the step-and-repeat and advances inside the 5-star restaurant.
"Dad, over here!" Heather motions to her father. As she hugs her father, she says to him, "What took you so long dad, people keep asking me questions about the ship. You know I don't do engineering; you do. I'm just the PR person and fundraiser, by the way, you look great, as usual." "Yes, darling, your mother always told me she loved looking at me in this suit. Don't worry about the questions, where's your husband, shouldn't he be with the most beautiful woman in the world, and where are your friends?" Heather smiles, "Thanks dad, you know John, he saw someone he had to talk to. Mandy, Sarah, and their husbands saw people they know, too. You know these events, they're the best places to network and promote personal interests." "Tell your friends I said, "hello"." Heather replies, "Sure dad, by the way, what time do you all leave tomorrow?" "Sunrise," he replies, as he slowly fades into the crowd heading to his table.
"Colonel! Colonel!" Major Smith rushes up to Montauk. "Major Smith, good to see you, looking sharp," the Colonel replies, "Thank you, sir. Sir, did you get the weather report for tomorrow?" "Of course. Look, it's not 100%, there's nothing to worry about and this is why, we could leave tomorrow and the sky could be clear, but starting the trip with clear skies doesn't guarantee a trip with little to no precipitation, rocky seas, nor high winds." "Good point sir, I will let the team know." "Are they all here?" the Colonel asks. "No, not all sir. "I see," the Colonel replies with dismay. "I was hoping they would all come out for a night of fun," the Colonel adds. "I understand, sir. They did not want to risk oversleeping," Major Smith informs him. "The trick to defeating fear and anxiety before deployment is to celebrate. You know you all don't sleep before departure anyways, "the Colonel begins to laugh." "Very well sir, I and the rest of the team will see you in the morning," replies Smith. "Definitely."
Montauk sees John, "Major, I see someone I need to talk to, urgently, enjoy the rest of your night." Heading towards his son-in-law, he cuts in between John and the couple he's talking to. "John, looking sharp. I need to speak with you," Montauk reports. "Dad, sure," John replies. "How's it going. I have to apologize for not making it to the press conference, the ER was swamped with patients. There was no way I could leave, and I had to take the extra shift to be excused for this volunteer trip we're taking, you know, our sea bonding trip," John says affectionately. "Here's the thing son, I don't mind the bonding time, but I had a thought earlier today, and I don't want you coming on this trip anymore. You're not military and there is always a possibility that something could happen; and, I don't want my daughter alone for a month or more," I understand dad, so what will I tell her? "You're not going to tell her, you two are going to have the best night of your life, you have a driver, you two get drunk, go home and wake up late. Get to the harbor, and we just won't be there. Do you understand?" Reluctantly, John, obliged Colonel Montauk, replying, "Yes sir, where is she?" "She's where you left her, and son, don't ever leave my daughter alone by herself, again," Montauk stares into his son's eyes pointing his index finger into his chest and walks into the abyss of party-goers. "Yes sir," the trauma surgeon replied.
As the Colonel approaches his table, a woman from Heather's public relations firm, tells him that it's time for his speech. As the Colonel approaches the stage, tapping on the microphone, he addresses the crowd, smiling:
"Good evening everyone, I would like to thank you all for your support and for coming out tonight in honor of the late Thomas W. Lawson Senior and her crew members and celebration of our hybrid, the Thomas Junior and her crew members accompanying me on this journey. Please show them how much you appreciate their hard work. Without them, this vision would not have been possible." As a roaring applause encapsulates the entire room, Montauk leaves the stage, ending his speech saying. "Enjoy the rest of your night."
The next morning… John and Heather, still adjusting their clothes, as if just getting dressed, frantic, and running to the harbor begin to yell for the ship to allow John to board. Heather screams with tears in her eyes, "Dad! Dad, wait, John, is coming!" "Excuse me, Ma'am, but who's your dad?" A seaman recruit asks. "My father is Colonel Henry Montauk." "Ma'am the Colonel has already left, this is "The Garland," your father is over there," the seaman points. Heather asks, "Where?!" "Over there, don't you see the sailing ship, far away on the horizon?"

Rev. Nnedi
Rev. Nnedi, is an ordained minister through the IMM, a licensed celebrity massage therapist, dream interpreter & entrepreneur, holding two degrees in Psychology and in Metaphysics, from Austin College and the University of Metaphysics.
See all posts by Rev. Nnedi →