Best Military Surplus Online Stores
Looking to know which military surplus stores have the best top-quality military equipment? Check out these awesome military surplus online stores to get yourself some military gear.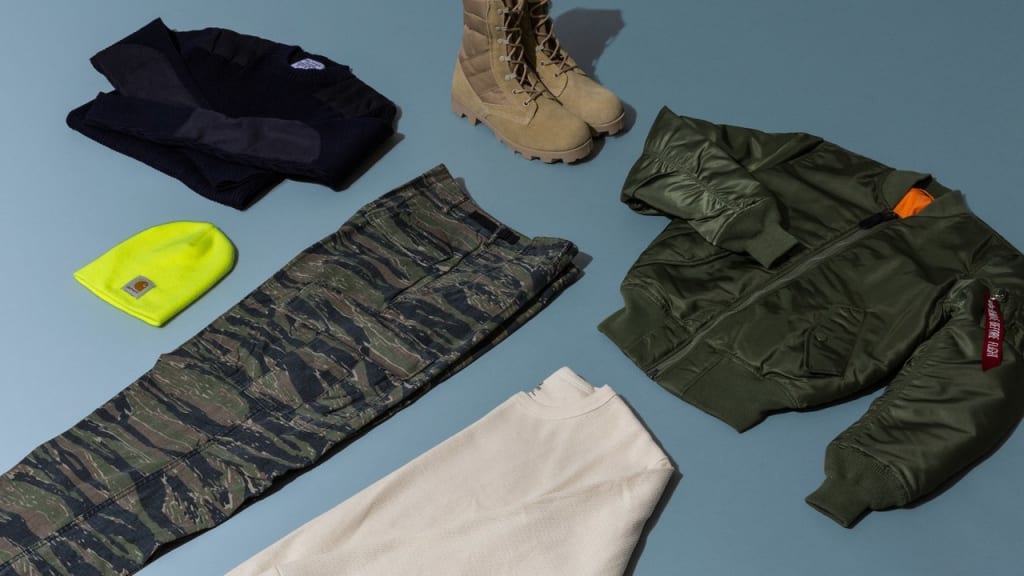 There are so many stores that sell military/army-inspired clothing as a form of fashion, like camo-designed shirts, hats, jackets, combat boots, coats with army patches, and anything else that's related to the military. Stores use the military style as fashion to sell their pieces to customers. However, there are people who want to buy genuine military clothing and equipment—not the fake shit. These customers want to get their hands on actual military jackets, their hefty and durable tactical combat boots, and even some of the equipment that soldiers use on the daily, like backpacks and duffle bags.
Rather than searching through regular clothing stores that will only have the imitation of military clothing and equipment, there are actual military surplus stores that sell the real deal. And believe it or not, many of their pieces are super affordable and in the best quality ever. Soon, you can have your very own army clothing after checking out any of these really cool military surplus online stores now.
Ranger Joe's
A military surplus store located in Columbus, Georgia, Ranger Joe's is a well-known military store that sells a wide range of army clothing equipment for those who are interested in buying anything that's inspired by the military. They've been active since 1963, and they provide a wide range of clothing from uniforms to belts, jackets, vests, sweatshirts, and even clothing for kids!
Aside from their great quality clothing, Ranger Joe's also sells field gear you can use for yourself, gear that the military uses on a day to day basis. And it's not anything fake, but genuine gear, like durable bags, navigations, radios, and much more. Plus, they have uniform accessories to sew and pin on your coats like badges, medals, buttons, and others.
Sportsman's Guide
From the greatest military surplus online stores, Sportsman's Guide is a surplus store that sells military clothing, boots and shoes, tactical gear, and even really cool military collectibles. It's also a surplus gear store that delivers across the globe. So if you're living out of the country, Sportsman's Guide has you covered. And their low prices will make you want to splurge on their online store for amazing military equipment and other awesome items.
This online military surplus store offers the greatest material and items for your outdoor adventures. They don't just sell army equipment, but equipment that will benefit your time spent outside like camping, hiking, fishing, hunting, etc. From their genuine tactical gear to the military shoes and boots, you'll also get a free gift with a purchase! And if you're looking to buy any emergency supplies, don't look past Sportsman's Guide.
Army Surplus Warehouse
Army Surplus Warehouse is seen to be one of the best military surplus online stores ever. While they're still a pretty young company, they're also providing and selling top-quality military clothing and gear to those who are looking for genuine material. Located in Butte, Montana, this military surplus store strives to offer honest, no-nonsense customer service, and they only give real materials and top-quality equipment to all of their customers.
From fine-material duffel bags to tactical and law enforcement, this online store also has outdoor and camp material when you're on the hunt for strong and heavy-duty equipment. Plus, they also sell ammo cans and containers for hunting. So, it's no surprise that Army Surplus Warehouse is a fantastic military surplus online store.
Coleman's Military Surplus
While they've been in the military surplus business for over 30 years now, Coleman's Military Surplus is known to be a trusted source for authentic US military surplus. Offering a wide selection of US military equipment, this surplus online store is also beginning to provide customers with European military items, as well! For extreme cold weather gear, survival gear, camping gear, combat boots, ammo cans, and so much more, Coleman's is the ideal source for unique and awesome items.
Not only is the majority of their material and items affordable, but their shipping is super fast and their customer service is pretty friendly. And their store is constantly adding new and high-quality items! So you'll never come across old items that you've seen before, but the latest and most updated pieces in the market. If you're looking for a specific piece of military equipment, camping gear, or anything else, you can simply ask for their help and they'll provide you with the answers that you need.
1st Army Supply
Started in 1982, 1st Army Supply is among the coolest military surplus online stores there is. Michael Bafundo decided to start up a small business in order to satisfy his entrepreneurial spirit when he wasn't performing his firefighting duties. The 1st Army Supply was born, where they sell Army and Navy items right in Northlake, Illinois. And within two years, the surplus store became so successful, that he enlisted a partner, Andrew "Doc" Miller to assist in managing the business.
The company now sells both retail and wholesale accounts across the world with customers ranging from the general public to even the SWAT, DWAT, and EMT groups. From clothing to top-quality tactical gear, equipment, hunter supplies, and even outdoor material, you'll always find what you're looking for in 1st Army Supply.
Harry's Army Surplus
Harry's Army Surplus online store not only sells genuine military gear, but slightly used gear. While searching for top-quality equipment and merchandise can be a challenge, you can find authentic and all-real military gear at their online store. Their amazing selection ranges from tents, ammo cans, military clothing, sleeping bags, and so much more.
Located in Dearborn, Michigan, Harry's surplus store has a plethora of real military clothing, gear, equipment, and items you can buy for yourself or as a gift. From clothing like pants, coats, hats, shorts, tank tops, and women's clothing, you're guaranteed only genuine material and nothing fake. Plus, they offer novelty items such as blankets, lighters, stickers, rings, challenge coins, and a lot more.
Billings Army Navy Surplus
Among the best military surplus online stores, Billings Army Navy Surplus has been in business since 1980 with a long established record of excellent customer service. In fact, they're known to be one of the largest Army Navy Surplus stores in the northwest. They carry and sell genuine military surplus, nothing fake or aftermarket products. The surplus online store is constantly updating all of their military clothing sizes since they don't carry random sizes for every piece of clothing they have.
They mention that for each item of clothing, customers will find a full range of waist or length sizes. And when you place an order before 1 PM eastern time, they'll ship your order that same day! With a ton of military collectibles, clothing, footwear, outdoor gear, police gear, kids' military clothing, helmets and goggles, and so much more, you'll find what you need from Billings Army Navy Surplus.
Military 1st
Established in 2008, Military 1st is seen as one of the awesome military surplus online stores right now. They're an online retailer specializing in first-rate outdoor and combat clothing as well as tactical footwear. The surplus store also provides camping and bushcraft equipment and accessories. While they're proud of always growing range of top-quality products and items from the world's most well-known brands, their prices are something that will surely please you.
Military 1st also has really fast shipping and ideal level customer service to get to any of your needs. All of their orders are always handled with care and 100 percent attention. But aside from that, the company is dedicated to helping customers with all of their orders from start to finish. They're always eager to answer any of your questions regarding what they have in stock as well as their order.
Omaha's Surplus
Omaha's Surplus was founded in 1963 in Fort Worth, Texas. Founded by "the old man," his family had been in the business since 1945 while they were selling various and diverse types of tools and military industrial surplus. As their business started to grow slowly, they began to expand more and offer a wide range of authentic products like military clothing, outdoor field gear, and even adventure equipment.
With their amazing selection, customers continue to buy from their online surplus store. As the company continued to expand, they started to have the ability to sell and ship items and material to clients and customers from across the globe. While providing both Army and Navy goods, Omaha's is an amazing store that you should seriously check out.
Bradley's Military Surplus
Finally, from the greatest military surplus online stores is Bradley's Military Surplus. Established in 1992 in Watertown, New York, Bradley's main goal was to become a "One Stop Soldier Shop." The surplus store specializes in a ton of military uniforms and equipment for all customers to get their hands on.
Bradley's has a wide selection of amazing material and items like military clothing and footwear, dog tags, patches, awards, and gifts for veterans! Their gear ranges from tactical gear, camping gear, survival, and even military bags that are ideal for storing your belongings for hiking and hunting. They also have a great selection of knives that are really

Greg Bond
Will always catch him wearing a tux on the daily. Goes by Bond, hates his name Greg. You'll find him in high-end New York City bars making conversation with strangers.
See all posts by Greg Bond →