9/11 Memories... Never Forget
16 years later...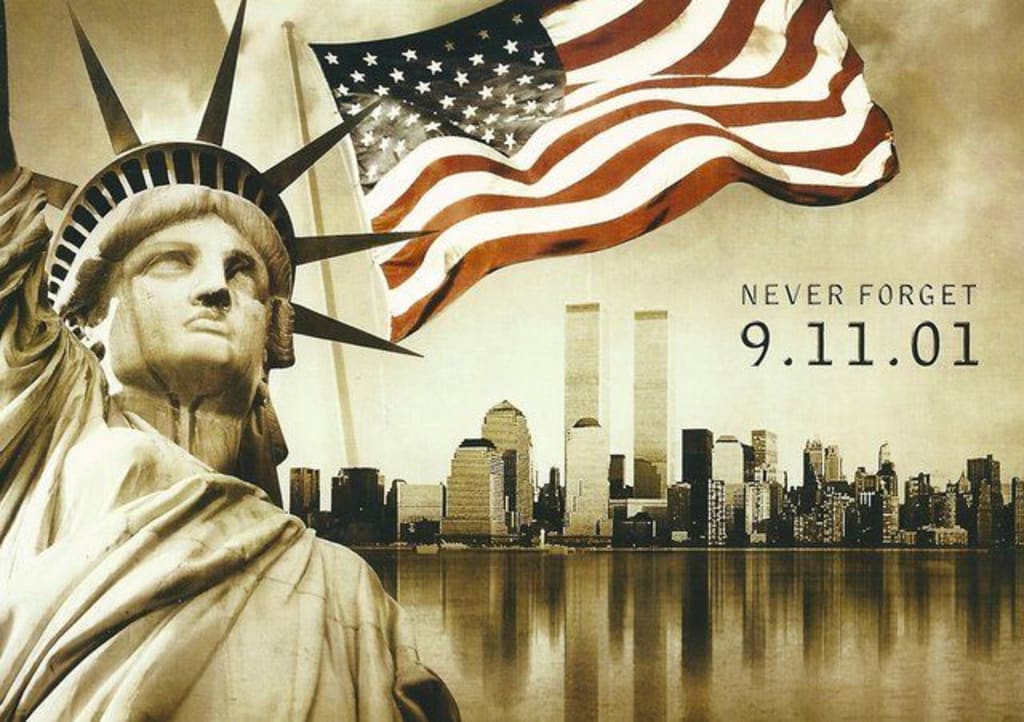 It was one of those moments that make you want to scream. I didn't know what was going on, or why things were happening. I was too young to truly understand, yet, somehow, I was completely aware of the possibilities. Just moving from Ohio, we were in Las Vegas, Nevada. At the time, my dad was an Air Force Captain at Nellis, Air Force Base. I was seven years old, a mere third grader.
Waking up and getting ready had become routine. I would get up, get dressed, make my bed, put my school stuff together, and then walk down the hall into the living room. There, the TV would be off and mom and dad would be sitting at the dining room table with my breakfast. I'd eat, my brother would get up, we'd pray as a family, and then my dad would go to work. After my dad left we'd spend some time going over our bible verses, then walk to school. That was a normal day.
But it wasn't a normal day.
I got up, got dressed, made my bed, and walked down the hall into chaos. The TV was on, mom was on the phone, dad was walking out the door, and everything was a mess. Utterly confused I sat down on the couch. I watched the screen as a plane hit a building. Not knowing what was going on I waited for my mom to get off the phone. She hung up, and then we prayed. I didn't know why we were praying or why I didn't get to say goodbye to daddy, but I was quiet and listened.
The next thing I know I'm sitting in a dark room. There's a few kid's crying in the back. Today not many kids came to school. But what was on the screen was the most horrifying of all. That same plane hitting that same building over and over again. I didn't think it would end until the bell rang to go home.
That night I wanted to wait up for daddy; he was at work much longer than he normally was. I knew that his job was important. He had to make sure his unit was okay and doing their best to fix the country. After all, someone had broken our country. That's what everyone was so upset about, right?
I was ten years old, only in sixth grade, in a foreign country. Taken away from my friends and everything I had grown to love. Now I was stuck at Ramstein Air Force Base, Germany. Thank you, active duty Air Force.
I heard the news on the radio about a war. What war? The war was over. I was wrong. That day, my lesson was that there were people fighting in the war only a few countries away. And one of my friend's dads was killed yesterday.
My dad retired and we moved to Centennial, Colorado. I am 15 years old. I am a junior in high school. And today is the anniversary of 9/11. I get up and get dressed. Red, white and blue, nothing less. I hear an announcement on the radio for a moment of silence, grateful, I text message the radio station saying thank you for remembering. Then I remember, we have a pep assembly at school today.
During first period, I ask my teacher why they would do such a thing as to have a PEP assembly on September 11, it's more than just any other day. She continues to tell me it's just how the dates fell this year and that most of us don't remember. But I remember, and isn't one student remembering enough?
The pep assembly comes around. I'm pissed. How could they hold a pep assembly on today of all days? I wait and wait for something to be said, the anthem to be sung, something, anything. But when they said the assembly was over, there was nothing. No announcement, no moment of silence. The anthem wasn't even sung. I was infuriated.
Due to having crutches that day, I waited a moment, then I saw the principal just standing there. She seemed totally calm, relaxed.
"I'm going to go talk to her. She's right there. That's disrespectful and I'm not just going to sit here and ignore that." I tell my friend. She agrees and comes with me.
Walking up to the principal I was shaking, from anger and frustration. I asked her one simple question.
"Why wasn't anything said about 9/11?!" I practically yell at her. It's so loud, and I'm definitely not happy about this.
At first, she told me the dumbest thing in the world.
"We don't want to encourage people to remember and make a big deal about it—"
I had enough. I cut her off practically ready to punch her.
"No, I'm a military kid, it is disrespectful to have a pep assembly and for NOTHING to be said. There wasn't even an anthem! I'm not saying to make a big deal about it. Just a simple announcement, a moment of silence, something! It's disrespectful not to!"
Finally, I got what I wanted.
"You know what, you're right. I apologize. I will talk to my staff, something should have been mentioned." She finally says, a look of "oh crap" written all over her face.
"Thank you!" I yell and crutch away with my friend.
I was so proud. I stood up for what I believe in: my country. And even if she had told me to stop, I wouldn't have backed down. My country is worth standing up for.
I'm 18 now, a freshman in college; it's been ten years since that fateful day. Some people around me wonder why I care so much, others that seem just as passionate, and some seem to have simply forgotten. I'm quiet most of the day, many people unaware of my connection or of even what the day symbolizes. I remember in solitary, the moment we were attacked and how the country came together to heal what had been broken.
I tried to join the military, I wanted to fight back and follow in my dad's footsteps. But I was told I was not allowed to, why? Because I get migraines and therefore cannot join the military. I wanted to join the Navy or maybe the Air Force but that wasn't in my cards. So, I supported from the sidelines.
I'm 21, and I've heard all the conspiracy theories. My life is completely different than how it used to be. I look back and realize, there are so many things we don't know about that day. I have so many questions that may never be answered. We've overcome so much as a country and yet we are divided by everything. There is so much hate in our hearts for no good reason. We seem to have forgotten what it's like to be attacked in our home, what it's like to come together and be Americans. We have all these labels for who we are instead of just being an American, there's always something more to it. And yet, every year on this day, I remember how all that mattered was that we were Americans standing together. We've clearly forgotten this. I'm disappointed and saddened by the world I see around me. I hope one day, I can help make it a better place.
I'm 23, born and raised in the Air Force, found my own path and followed it. I still like to take a moment of silence and solitude to remember all those we lost on and since 9/11. No matter how far away the day gets, it is still a moment of history that changed life as we knew it. Not just Americans but simply humans, young and old, black, white, brown, gay, straight, trans, all came together screaming, "WE ARE HUMANS AND YOU CANNOT TAKE US DOWN, YOU CANNOT TREAT US THIS WAY."
Maybe it's been so long since we remembered that we have forgotten. Maybe we've gotten so jaded by the judgment and hatred that we can no longer have that open heart to accept others. It's sad to see how the world has changed since that day. How life and how society has changed. Maybe, even if it's only once a year, we can come together and try to remember that we shouldn't care about sexual orientation, race, gender, political preference. At the end of the day, life is short and precious. There were people in those towers, in the Pentagon, that had plans for September 12. There are birthdays they didn't get to celebrate and loved ones they never got to say goodbye to. Everything can change in the blink of an eye.
When we walk into chaos, our whole world changes, so let's stop being blinded by hatred over things that don't even matter. It's time to open our hearts and minds again and be accepting and loving and make the world a little brighter once again.
history
Life Coach, Counselor, Numerologist, Naturopath, Herbalist, Student, Writer, Blogger, Poet, Musician, Dreamer
Receive stories by Blooming Lotus Innovations Inc. in

your feed