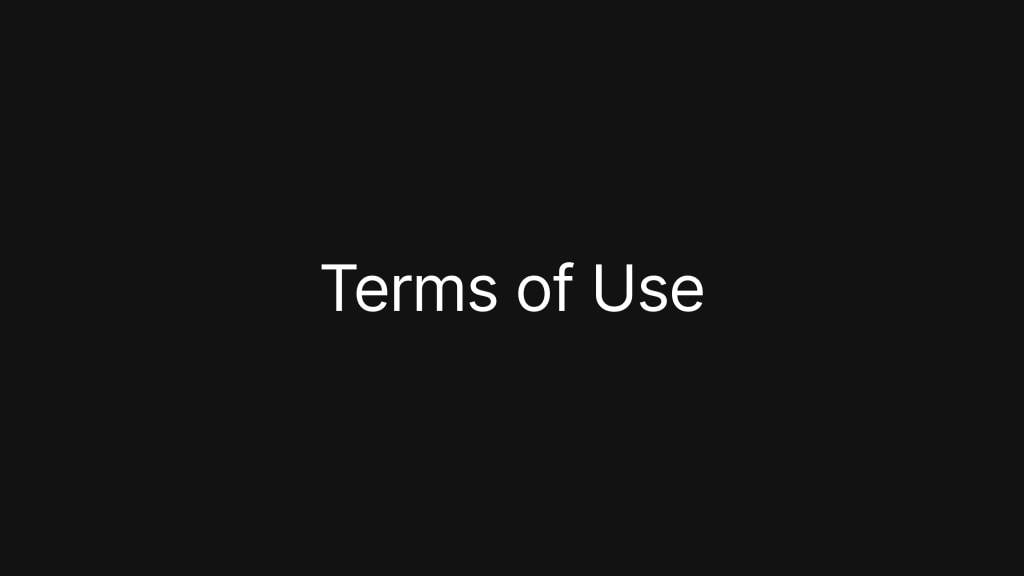 Welcome to Vocal!
By creating an account on Vocal, you agree to these terms.
Vocal is a platform that provides storytelling tools and engaged communities for creators to get discovered and fund their creativity. These are Vocal's Terms of Use—please read them carefully, because by accessing or using Vocal, you acknowledge that you agree to these terms, in addition to our other policies. If you don't agree to them, you shouldn't access or use Vocal.
For purposes of these Terms, "Site" means Vocal's website, which can be accessed at https://vocal.media. "Services" refers to Vocal's services, in which Creators can share what they create ("Content"), and end users or readers ("Visitors," and together with Creators, "Users") can explore and enjoy the Content. The terms "we," "us," and "our" refer to Vocal. "You" means you, as a User of Vocal's Site or Services.
Privacy
Vocal respects your privacy.
You can refer to our Privacy Policy, which explains how we collect, use, and share information about you when you access or use Vocal. When you access or use the Services, you signify your agreement to the Privacy Policy.
Using Vocal
You can use Vocal as a Visitor, a Vocal Free creator ("freemium"), or a Vocal+ creator.
Visiting: Visitors are encouraged to browse the Content uploaded by our Creators, provided that this use of the Services is always in compliance with these Terms.
Like what you see? Subject to the Processing Fees described in the "Fees and Payments" section, Visitors may leave a tip for a Creator in the amount of $1, $2, $5, $10, or $20.
Vocal Free and Vocal+: Vocal Free, and Vocal's optional paid membership (referred to as "Vocal+"), each allow Creators to earn money through Visitor engagement and tips (each as described in more detail in the "Fees and Payments" section). A Vocal+ membership gives Creators access to additional perks, including monetization benefits, which allow them to earn even more from the stories they publish. Creators may sign up for a Vocal+ membership when they create an account, or may upgrade an existing Vocal Free account to a Vocal+ account at any time.
Fees and Payments
Vocal pays Creators based on the engagement their stories receive. Creators can also receive tips from their fans—but these tips may be subject to the fees set forth below.
Membership Fee: If you sign up for a Vocal+ Account, you agree to pay a monthly, non-refundable membership fee of $9.99 ("Monthly Membership Fee") or an annual, non-refundable membership fee of $99 ("Annual Membership Fee")—in either case exclusive of any applicable taxes. Whether you decide to pay a Monthly Membership Fee or an Annual Membership Fee is up to you, but you must decide when you create, or upgrade to, your Vocal+ Account.
Your Vocal+ membership will continue and automatically renew until it's cancelled. You may cancel your Vocal+ membership at any time and you will continue to have access to Vocal+ Services through the end of your billing period, unless otherwise communicated to you by us. In the event that you cancel your Vocal+ membership, you'll still be a User of the site and will be able to access all Vocal Free Services. We reserve the right to change our membership plans or adjust pricing for our Services or any components thereof in any manner and at any time as we may determine in our sole and absolute discretion, but we'll never increase your fees without providing notice via email prior to your payment.
Tips: Users are able to leave tips for Creators, but the tips you receive are subject to some fees. Stripe, our third-party payment processor, charges a processing fee (the "Stripe Fee") in accordance with Stripe's Service Agreement and Stripe's Pricing and Fees Policies. Vocal charges a transfer fee (the "Transfer Fee" and together with the Stripe Fee, the "Processing Fees") on any tips you receive, whether you have a free Vocal account or you are a Vocal+ member, as follows:
Membership Transfer Fee
Vocal Free 7%
Vocal+ 2.9%
It may take Stripe up to 5 business days to process their Fees, and Vocal isn't responsible for any delay in the processing of Stripe's Fees. Following the processing of the applicable Fees, Vocal will deposit the remainder of tips you've received directly into your Stripe account (which can be set up here).
You acknowledge and agree that Vocal is not liable for any breach of the data you submit to Stripe, delay in Stripe's service or other issue with the Stripe platform.
You further acknowledge that Stripe and Vocal reserve the right to change the Processing Fees from time to time (and will provide you notice).
Reader Engagement: Provided that you're agreeing with and adhering to these Terms, you as a creator are entitled to "Earnings." Earnings are calculated on a CPM basis in accordance with our engagement algorithm. This algorithm calculates "Reads" based on a combination of the User's time spent on page as well as scroll depth on the story. Earnings are calculated as follows, and are prorated per individual Read:
Membership Earnings per Thousand
Vocal Free $3.80
Vocal+ $6.00
Earnings are calculated and tracked in your Wallet, which you're able to check at any time. Once your earnings have reached your withdrawal minimum ($35 for Vocal Free members or $20 for Vocal+ members), you'll be able to request a Withdrawal from your Wallet. When the Withdrawal Request is made, it's sent to Vocal and will be either approved or declined. An approved withdrawal will be sent to Stripe and will be reflected in your Stripe account within 5 business days.
Declined Withdrawal Requests: Vocal reserves the right to reject any Withdrawal Request if we determine that your Earnings violate these Terms or our Community Guidelines, either because your engagement was artificially generated, or for violating any of our other terms.
Taxes: You're responsible for paying applicable taxes on any Withdrawals and tips you receive through your use of the Services.
Access to Vocal
Anyone age 13 or over can create a Vocal account, as long as you have any required consent.
Children under the age of 13 are not allowed to create a Vocal account (an "Account") or otherwise use the Services. Additionally, if you're in the European Economic Area, you must be over the age required by the laws of your country to use the Services, or we need to have received verifiable consent from your parent or legal guardian. If we learn that a User on Vocal is under the age of 13, we'll terminate the account and notify the Creator via email.
If you're accepting these Terms on behalf of another entity, including a business or a government, you represent that you have full legal authority to do so.
Your Vocal Account
By creating a Vocal account, you'll provide us with certain information. You're responsible for doing what you can to be sure your account stays secure.
To use certain features of our Services, you may be required to create an Account and provide us with a username, password, and certain other information about yourself as set forth in the Privacy Policy.
You may only have one (1) Vocal account. If it is reasonably determined that Vocal's monetization systems are being exploited via the use of multiple accounts tied to one user, we can suspend and/or close an account at any time in keeping with these rules herein, but we will never close or suspend an account without providing notice to the account owner.
You are solely responsible for the information associated with your Account and anything that happens related to your Account. You must maintain the security of your Account and notify us if you suspect that someone has accessed your Account without your permission. We recommend that you use a strong password that is used only in connection with your use of Vocal.
You may not license, sell, or transfer your Account without our prior written approval.
Your Content
You keep complete ownership of your content, but give Vocal the right to use it on Vocal or to promote Vocal. Don't submit content that belongs to someone else unless you have the right permission to do so.
You own the rights to the Content you create and post on Vocal. By posting any Content on Vocal, you grant, and you represent that you have a right to grant, to us a non-exclusive, sublicensable, royalty-free, worldwide license to use, reproduce, and publish all such Content, including anything reasonably related to publishing it (like storing, displaying, reformatting, and distributing it). We may also use your Content to promote Vocal. We will never sell your Content to third parties without your explicit permission.
You also agree that the Content you create and submit via the Services will not contain third party copyrighted material, or material that is subject to other third party proprietary rights, unless you have permission from the rightful owner of the material, or you're otherwise legally entitled to post the material and to grant Vocal all of the license rights granted in these Terms. You may not post creations that infringe on others' intellectual property or proprietary rights.
You agree that Vocal may enable advertising on the Services, including in connection with the display of your Content or other information.
You are responsible for the Content you post. This means you assume all risks related to it, including someone else's reliance on its accuracy, or claims made by a third party relating to their intellectual property or other legal rights. We can remove any Content you post for any reason at any time, but will never do so without notice to you.
You are welcome to post Content on Vocal that you have published elsewhere, as long as you have the rights you need to do so. By posting Content on Vocal, you acknowledge that doing so doesn't conflict with any other agreement you've made.
By posting Content you did not create on Vocal, you represent that you have the right to do so (for example, that you're posting a work that's in the public domain, used under license [including a free license, such as Creative Commons], or a fair use). You further agree that you will take whatever steps are necessary to maintain the right to do so while the Content is posted.
You can delete any of your Content or terminate your Account at any time. Processing the deletion may take a little time, but we'll do it as quickly as possible. We may remove content entirely or we may make it invisible to all Users, as outlined in our Privacy Policy.
Vocal's Content
We own Vocal's copyrights and trademarks, so please don't use them without our permission.
You acknowledge and agree that we and our licensors retain ownership of all intellectual property rights related to the Services, including applicable copyrights, trademarks and other proprietary rights. Other product and company names that are mentioned on the Services may be trademarks of their respective owners.
License and Restrictions
You have full rights to access and use Vocal, as long as you're using it in the way it's intended to be used.
Vocal grants you a personal, non-transferable, non-exclusive, revocable, limited license to use and access the Services. We reserve all rights not expressly granted to you by these Terms.
Unless otherwise permitted by us in writing, your license does not include the right to:
Access the Services for any reason other than your personal, non-commercial use
Collect or harvest any personal data of any User of the Site or the Services
Distribute any part or parts of the Site or the Services without our explicit written permission (we grant the operators of public search engines permission to use spiders to copy materials from the Site for the sole purpose of creating publicly-available searchable indices, but can revoke this permission at any time and for any reason)
Use the Services for any unlawful purpose or for the promotion of illegal activities
Harass, abuse, or harm another person or group, or attempt to do any of these things
Use another Creator's Account without permission
Intentionally allow another User to access your Account
Provide false or inaccurate information when registering an Account (besides using an intentional pseudonym, as described in our Community Guidelines)
Interfere or attempt to interfere with the proper functioning of the Services
Make any automated use of the Site, the Services or the related systems, or take any action that imposes an unreasonable or disproportionately large load on our servers or infrastructure
Bypass any robot exclusion headers or other measures we take to restrict access to the Services, or use any software, technology, or device to scrape, spider, or crawl the Services or harvest or manipulate data
Circumvent, disable, or interfere with any security-related features of Vocal, or features that prevent or restrict use or copying of Content, or enforce limitations on use of the Services or the Content
Publish or link to malicious Content of any sort, including content intended to damage or disrupt another User's browser or computer
Online Content Disclaimer
We do our best to make sure Vocal stays a safe and truthful place, but we're not responsible for anything that any creator or third party posts.
Opinions, advice, statements, offers, or other information made available through Vocal, but not directly by Vocal, are those of the respective Creators, and should not necessarily be relied upon. Creators are solely responsible for the opinions, advice, statements, offers, or other information they express.
We don't guarantee the accuracy, completeness, or usefulness of any information available through use of the Services; we don't endorse and are not responsible for the accuracy or reliability of any opinion, advice, or statement made by other parties. We take no responsibility and assume no liability for any Content that you or any other User or third party posts or sends via the Services. You understand that we're not responsible for any loss or damage resulting from anyone's reliance on information or Content posted on the Services, or transmitted to Users.
We may review content to determine whether it is illegal or violates our Community Guidelines or other Policies, and we may remove or refuse to display content that we reasonably believe violates our policies or the law. But that doesn't necessarily mean that we review all Content on the Site, so please don't assume that we do. If you become aware of a misuse of our Services or violation of these Terms, please contact us at [email protected].
Third Party Content
We're not responsible for other sites, including sites that are linked out to from Vocal.
As part of the Services, we may provide you with convenient links to third party websites ("Third Party Sites") as well as Content or items belonging to or originating from third parties (the "Third Party Materials"). These links are provided as a courtesy to our creators. We have no control over Third Party Sites and Materials, or the promotions, materials, information, goods or services available on these Third Party Sites and Materials. Such Third Party Sites and Materials are not always investigated, monitored or checked for accuracy, appropriateness, or completeness, and we are not responsible for any Third Party Sites and Materials accessed through or made available on the Site. Inclusion of, linking to, or permitting the use or installation of any Third Party Sites and Materials does not imply our approval or endorsement. If you decide to leave the Site and access any Third Party Sites and Materials, you do so at your own risk and you should be aware that these Terms no longer govern. In order to know what you can and cannot do through your use of the Third Party Sites and Materials, you must read the third party's applicable terms.
Electronic Communications
We'll communicate with you via email. You can choose not to receive these emails, but you may miss out on certain information if you do.
You consent to receive communications from us in an electronic form via the email address you have submitted through your Account. You also agree that these Terms, and all additional agreements, notices, disclosures, and other communications that we provide to you electronically, satisfy any legal requirement that such communications would satisfy if it were in writing. The foregoing does not affect your non-waivable rights.
We may also use your email address to send you other messages, including information about the Site or the Services and special offers. You may opt out of receiving such emails by using the "Unsubscribe" link in the message, or by sending an email to [email protected], or mail to the following postal address:
ATTN: Customer Support
℅ Creatd
2050 Center Avenue
Suite 640
Fort Lee, NJ 07024
Opting out of communications may prevent you from receiving messages regarding the Site, the Services, or special offers.
Communications made through the Services' email and messaging system will not constitute legal notice to Vocal or any of its officers, employees, agents or representatives in any situation where legal notice is required by contract or any law or regulation.
Digital Millennium Copyright Act
If you think someone's using Vocal to infringe upon your copyright, send us a DMCA notification and we'll address it as quickly as we're able to.
If you are a copyright owner or an agent thereof, and you believe that any Content on Vocal infringes upon your copyrights, you may submit a notification pursuant to the Digital Millennium Copyright Act by following the instructions found here.
Indemnity
If we're sued as a result of your use of Vocal, you're responsible for helping pay for it.
You agree to indemnify Vocal and its parent company from all losses and liabilities including legal fees that arise from these Terms, your breach of these Terms, or relate to your use of the Services or your Content. We reserve the right to exclusive control over the defense of a claim covered by this clause. If we use this right, then you agree to help us in our defense.
Your obligation to indemnify also applies to our subsidiaries, affiliates, officers, directors, employees, agents and third party service providers.
Warranty Disclaimer and Limit of Liability
If you lose money through your use of Vocal, our compensation to you will be limited to the amount that Vocal has gained from your use of it. We'll always do our best to be sure that Vocal is working properly, but in the case that it's not, we're not responsible for any associated loss.
Vocal is made available to use on an "as-is" and "as-available" basis, without any representation or warranty of any kind. We disclaim any warranty of merchantability, fitness for a particular purpose, availability, security, title or non-infringement. Your use of Vocal and anything resulting from such use is at your sole risk.
Vocal disclaims all liability to you for any damages (direct, indirect, incidental, consequential, punitive or special damages) arising out of or relating to your access to or use of Vocal, technical failures of any kind (including but not limited to the malfunction of any computer, cable, network, hardware, or software, or other mechanical equipment), or the unavailability or inaccessibility of any transmissions or Internet service.
You further understand and acknowledge that the capacity of the Services, and the Vocal team, is limited, both in aggregate and for you as a User. As a result, some messages, content and transmissions, including Withdrawal Requests, may not be processed immediately or at all. You acknowledge and agree that Vocal is not liable for any loss associated with such delay. Our aggregate liability to you for all damages, losses and causes of action shall not exceed $100.00 USD.
Some of the limits listed above may not apply to you because they are not permitted by the laws that apply to you. In such cases, our liability will be limited to the fullest extent permitted by those laws.
Miscellaneous
Some more legalese that we have to provide, including dispute resolution, governing law, and other disclaimers.
We can change these Terms at any time. If a change is material, we'll always let you know before it takes effect. By using the Services on or after the date the amended Terms take effect, you agree to the new terms therein. If you don't agree to them, you should delete your Account (as defined below) before they take effect; otherwise your use of the Services will be subject to the new Terms.
We reserve the right to terminate or deny privileges at our discretion, but we won't terminate an active account without notice via email. You acknowledge, consent, and agree that Vocal may access and disclose your Account and registration information if required to do so by law, or if based on a good faith belief that such access or disclosure is necessary to comply with the legal process, enforce these Terms, respond to claims that any content or information violates the rights to any third party, or otherwise protect the rights, property or safety of Vocal, its Users, or third parties.
Any disputes that you may have with Vocal must be resolved in New Jersey (where we are based) and are governed by the laws of the state of New Jersey excluding conflicts of law provisions.
We encourage you to contact us if you have an issue, but if a dispute does arise out of these Terms or related to your use of Vocal, and it cannot be resolved after you talk with us, then it must be resolved by arbitration. This arbitration must be administered by the American Arbitration Association ("AAA") under the Consumer Arbitration Rules then in effect for the AAA (the "AAA Rules"). Arbitration must take place in Bergen County, New Jersey (unless you and we decide in writing on another location), and may only take place on an individual basis. Any claim must be filed within one year after the claim or action arose. Each party will be responsible for paying any AAA filing, administrative and arbitrator fees in accordance with the AAA Rules. You and we can agree to adjust the application of those rules as to the type of meeting (e.g., in-person, telephonic) for claims less than $10,000. No class arbitrations or other grouping of parties is allowed. By agreeing to this provision you are waiving your right to a jury trial or to participate in a class action or representative proceeding. We are also waiving the aforementioned rights. This clause does not limit either party's ability to seek injunctive or other equitable relief for disputes relating to intellectual property or proprietary data.
If Vocal doesn't exercise a particular right under these Terms, that doesn't waive it.
If any provision of these Terms is found invalid by a court of competent jurisdiction, you agree that the court should try to give effect to the parties' intentions as reflected in the provision, and that other provisions of these Terms will remain in full effect as drafted.
These Terms (including any policy incorporated by reference into them, such as, for example, the Privacy Policy and Copyright and DMCA Policy) constitute the whole agreement between Vocal and you.
Effective Date: May 18, 2022
These updated terms will go into effect on 12AM May 18, 2022 Eastern Time, and apply to all users on Vocal on or after that date. To see the previous version of these terms, which governs all of Vocal launched before that date, click here.
Reader insights
Nice work
Very well written. Keep up the good work!
Top insights
Heartfelt and relatable

The story invoked strong personal emotions

Easy to read and follow

Well-structured & engaging content

Expert insights and opinions

Arguments were carefully researched and presented
Masterful proofreading

Zero grammar & spelling mistakes

On-point and relevant

Writing reflected the title & theme

Excellent storytelling

Original narrative & well developed characters

Eye opening

Niche topic & fresh perspectives

Compelling and original writing

Creative use of language & vocab
Add your insights