Introducing Sonix for Vocal Video Creators and Podcasters
Sonix lets you easily transcribe your videos and podcasts for your Vocal stories.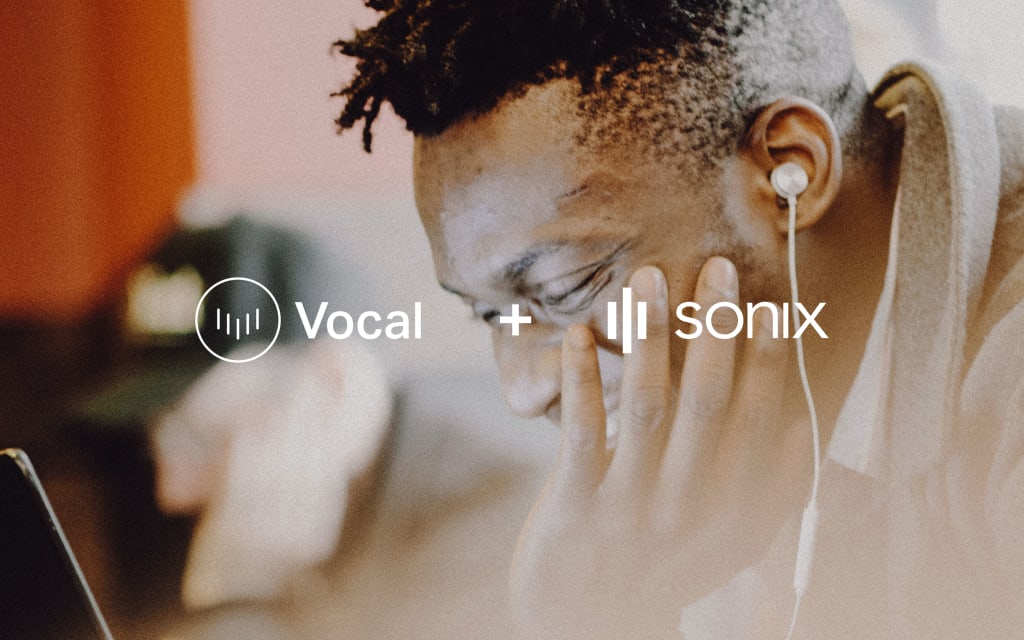 Any experienced podcast or video creator knows that transcription is a part of telling your story. It gives readers another way to engage with your work, and gives you an often-necessary SEO boost. While it's recognized as a necessity, transcribing your latest video or podcast is an often time-consuming and monotonous process.
In an effort to provide creators with a simpler way to get transcriptions for their stories, we are excited to announce that Vocal has partnered with Sonix. Sonix is the best automated transcription software available today for audio and video files. It offers a simple user experience, and can transcribe an hour-long audio or video file in 5 minutes at a fraction of the cost of other services.
Vocal and Sonix believe we both have something in common: we aim to help creators, podcasters and video creators grow their audience.
For podcasters, Vocal provides the opportunity to boost their brand and grow their audience, while creating an engaging storytelling experience.
For video creators, Vocal and its communities can make it possible to expand your channel's visibility and increase your earnings.
While Sonix provides a way to easily transcribe your work, Vocal gives you the tools you need to tell your story. Vocal allows you to create the story beyond your video or podcast by including images, products, music, and more to make your story visually attractive and engaging. Additionally, Vocal's offer a variety of communities where your readers are sure to share your interests and so that new audiences can easily find your work.
We're excited to bring Sonix together with our creators through this partnership, with a free trial and at a discounted price.
Here's how it works:

1. Sign up for your free Sonix trial with 30 minutes of free transcription here:
2. Upload your audio or video file to Sonix, to have it automatically transcribed and timestamped.3. Once your file is transcribed, copy your text into a Vocal draft.
4. Create a Vocal story using your transcription and embed your audio or video. Break up your text with subtitles, add photos, additional videos or audio, and related products to make your story engaging to your audience.
Try using Sonix today to get fast, high-quality transcriptions. We can't wait to see what you create.
Reader insights
Be the first to share your insights about this piece.
Add your insights