How to Motivate Your Readers to Support You
Inspire your readers to support you with these strategies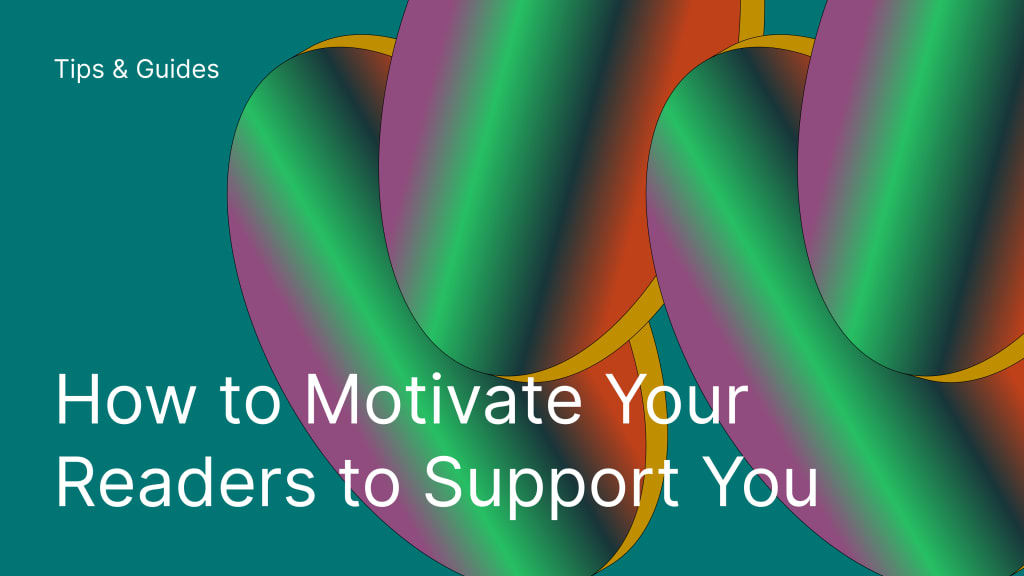 When it comes to showing their support, readers have the option to subscribe, tip, or pledge to your profile. Each of these features works differently, so let's sort out the differences between them before we go any further.
The difference between tips and pledges
First off: tips versus pledges. Tips are one-time payments of as little as $1 or as much as $50, whereas pledges are monthly payments of $2.99/month. Anyone can tip, whether they have a Vocal account or not, but only Vocal creators can pledge.
All Vocal creators can receive tips as long as they have a linked Stripe account. By contrast, only Vocal+ members can receive pledges.
Second: pledging versus subscribing. Subscribing to a creator adds their stories to your feed, so you can easily see when a new story is published. Pledging to a profile automatically subscribes you to it, but regular subscriptions are 100% free and won't earn you any money.
To motivate your readers to tip or pledge to your profile, we recommend using these four key strategies:
Create high-quality work
Quality speaks for itself, so crafting a good hook, selecting an eye-catching cover image, and writing an engaging story will always be the best ways to inspire loyalty and support from your readers.
Develop reader and creator relationships
People are more likely to pledge to a creator they feel a personal connection with, so responding to comments goes a long way toward making a tip or pledge feel worthwhile. Forming relationships with other creators by commenting on their stories may earn you a new subscriber and open the door for future collaboration and cross-promotion.
Solicit tips/pledges on social media
As part of your regular self-promotion, mention that readers can tip or pledge on Vocal. Be specific about how tips and pledges help you—e.g., they take some of the strain of bills off your shoulders or pay for all the lattes you drink during your coffee shop writing sessions—to show readers that their support matters. [Link: Engaging Your Readers and Subscribers]
Solicit tips/pledges at the end of your story
Obviously, you don't want to be too bold. Just a short sentence encouraging readers to support your work is enough. For example, "Enjoy this story? Consider tipping me or pledging to my profile!"
For a more in-depth guide to reader engagement, take a look at our suggestions for building connections with your audience.
Reader insights
Nice work
Very well written. Keep up the good work!
Top insight
Heartfelt and relatable

The story invoked strong personal emotions
Add your insights