How to Find Inspiration for Your Vocal Stories on Reddit
Learn how to find inspiration for your next story from Reddit.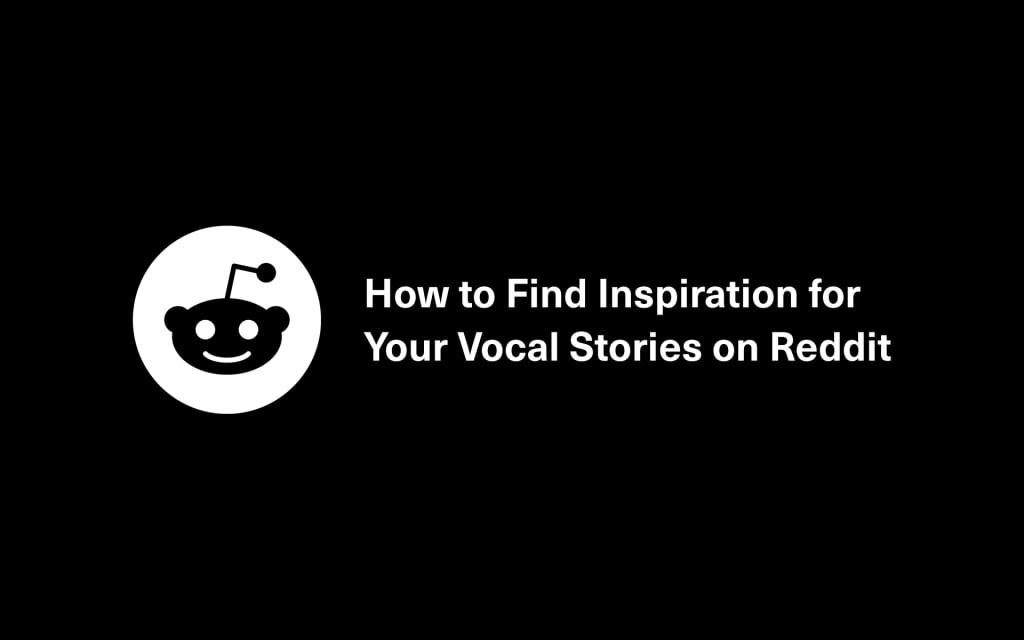 As a creator, it's important for you to be consistent, but it can be particularly hard to create on-demand. We all know that inspiration doesn't strike on a schedule, and creativity can wither away just when you need it the most. Still, you need captivating stories that are fresh and engaging so you can attract—and keep—readers.
So where do you turn when inspiration is nowhere to be found? While the internet is full of tips and tricks for brainstorming, there's one rich source of ideas that's often overlooked: Reddit.
Reddit puts your finger on the pulse of compelling story ideas.
To put it simply, Reddit can tell you what people are really talking about. It can help spark your thoughts from other peoples' questions and interests, and it can also help you determine what information will actually prove valuable and engaging for specific audiences.
In learning how to create engaging stories using Reddit, you'll need to understand some basics:
As of 2018, Reddit surpassed Facebook as the third most popular website on the internet for users in the United States, and it is sixth in popularity worldwide.
This means creators have access to the place where their audience is already congregating, conversing, and sharing ideas with one another. You don't have to take your best guess at what your audience will want to read—you have an invaluable opportunity to see what they're talking about for yourself.
A new survey by Pew Research Center shows that Reddit has the most news-focused followers of all social media platforms—more even than Twitter and Facebook, with 73% of Reddit users turning to it for news.
Reddit also appears to have a highly-educated audience, second only to LinkedIn in education level.
3. Reddit gets users deeply engaged.
If you're looking for hot button topics to draw your audience into your next story, Reddit's the place to be.
According to its own data, Reddit's monthly active users (MAUs) have jumped almost 100 million from November 2017 to April 2018—more than 30 percent in just half a year.
And Alexa, the global ranking site, shows that Reddit users look at 7.46 pages per day, spending over 11 minutes there daily. For reference, Facebook users check out only 4.04 pages per day and spend just 9.44 minutes on the site.
Reddit also rolled out a redesign in early 2018 that has increased user engagement. With a new navigation system and custom view options for better flow, creators can delve more deeply into audience passions and interests when creating new stories.
4. Dive Deep with Subreddits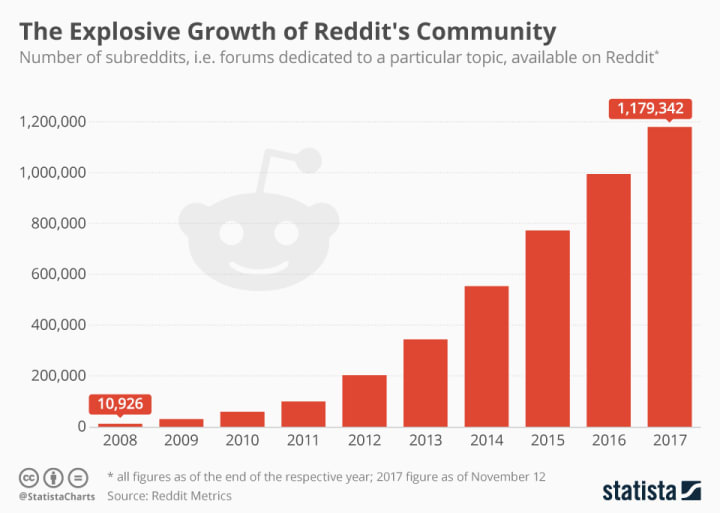 Subreddits are forums that are topic-specific, so you can discover topics that are getting people motivated to share, discuss, and act to boost idea generation.
Data from Statista shows that there are currently 1,179,342 subreddit topics on Reddit, so you've got a lot of material to work with and you're bound to find a topic that you know and love. Vocal's niche communities make it particularly easy to find story ideas on Reddit; simply look for subreddits that have topics similar to those of the community you're creating for.
How Creators Can Get the Most Out of Reddit
Mining Reddit for ideas can be fun or frustrating, depending on how you go about it.
At Vocal, we're here to make sure your creative process is fun and fruitful, so we've lined up a plan of action that will teach you how to get optimal results from your brainstorming session.
1. Go for relevancy.
Start with something you're passionate about and search for it on Reddit. Then, search for subreddits where people are discussing your topic.
For example, say you want to create a story about yoga for Vocal's Longevity community. Type "yoga" into the search bar on Reddit.
You'll see communities for this topic at the head of your list, and below that will be a list of all the subreddits dealing with different details relating to the topic.
The number of comments in each subreddit are listed to the left, and you're able to sort your results by number of comments so you can easily find which are hosting the most active discussions.
Additionally, try using 3rd party tools like RedditList to help discover popular subreddits and discussions.
2. Find the pain points.
The best way to find engaging story ideas is to touch upon something your readers are struggling with.
Once you've found some subreddits to examine, look for language such as the following to find what is motivating people to reach out:
How can I
Can someone help
Tips
Suggest
Biggest challenge
Hardest part
Help me
Figure out
How do you
Struggle with
Can you help
Trying to
Be sure when you're searching that you include quotation marks around the phrase to get an exact match.
If you sort these search results by comments, you can get the most active discussions.
Just looking at the titles on these subreddits can give you a quick overview of what's getting people talking—and what questions they want answered. This should help you identify the overall theme of your next story.
3. Go deep.
Once you have decided on a topic to create a story about, look for clues that will help you develop that topic as fully as possible for the most targeted story ideas.
Some examples include looking for what solutions have worked—or failed—for other Redditors and what other problems Redditors have that might be related to the item you searched for. Are there any questions that were left unanswered? Which details were Redditors most interested in? Were there any questions that were frequently answered incorrectly? Pay close attention to these details and be sure to address them in your story.
4. Create and share.
Now, you have inspiration and you're ready to create an exciting, compelling story that positions you as an authority. Best of all, you know how to create quality stories that engage your audience.
Now develop your story further using the nuances and touchpoints you discovered on Reddit. Include images, videos, audio, and other media to make your story engaging and comprehensive.
Once your story is published on Vocal, share it with your readers on social media. Be sure you share your story with the original poster as well, and post it to any other relevant subreddits, making sure you return to your thread share your stories with the community. Take advantage of Reddit and Vocal's niche communities to get inspired and add your own voice to the conversation.
Reader insights
Be the first to share your insights about this piece.
Add your insights