A Creator's Guide to Coronavirus Relief Funds, Grants, and Resources
How to find financial assistance and COVID-19 resources for artists.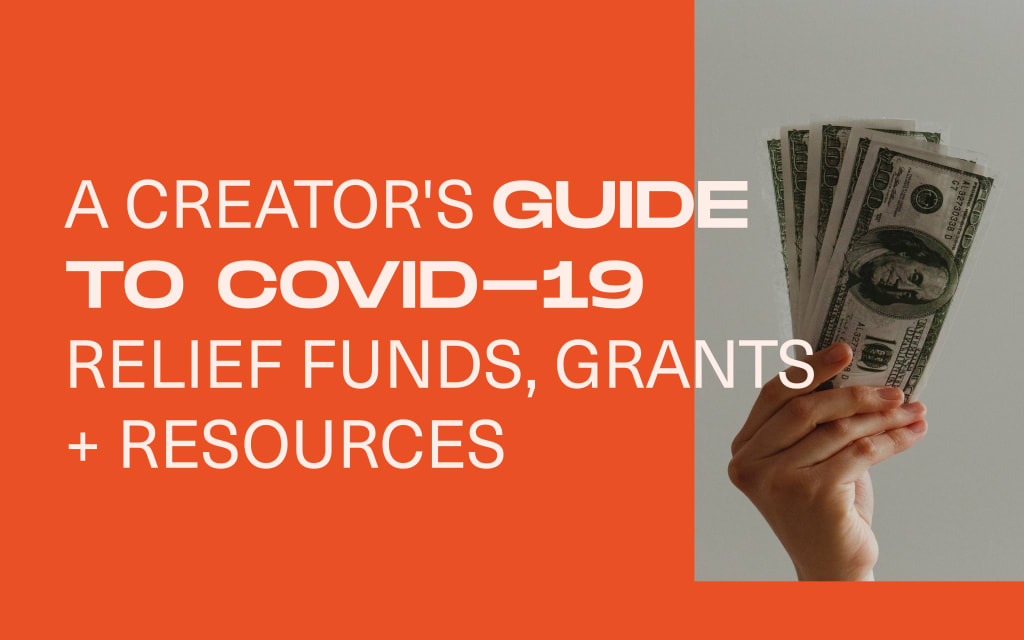 If you find yourself struggling during these uncertain times, you are not alone. Millions of people are finding themselves in need of assistance, many for the first time. While there are ways to earn extra income online - even during a pandemic - these are not always enough to cover a household's worth of expenses. Even a household of one.
In this post, you'll find a list of coronavirus relief funds, loans, and resources available to creators. It's important to note that:
You may be eligible for assistance from one or more sources.
You may have to meet specific criteria to qualify for assistance.
You may have to complete a lot of paperwork and phone interviews.
You may have to wait longer than expected for assistance to arrive.
The following tips will ensure you get the most assistance possible.
Bookmark coronavirus relief funds, loans, and resources that are applicable to you as you find them on your browser.
Research each source of assistance to ensure it is legitimate before submitting personal and confidential information.
Apply as soon as possible. Even if funds are not available now, they will be dispersed to applicants in order of submission.
If applications are paused until new assistance is available, join the waitlist/email list or set a reminder to check back.
Create a log of actions you take towards applying for assistance as you take them. Include dates, times, numbers you call, names of people you talk to, confirmation numbers, and other relevant information. Be detailed.
Create reminders/alerts for action steps you need to take to follow up on receiving assistance or maintaining assistance.
Most importantly, don't be discouraged if you do not qualify for one source of assistance. Many sources are available and many more become available each day.
Coronavirus Relief for Creators Outside of the United States
Most of the resources in this post are for people in the United States. If you are outside the U.S., start by seeking assistance from your national, state, county, and city government websites.
Creators in the United Kingdom can visit the Gov.uk website for coronavirus resources. They have help for those who are employed and cannot work, unemployed, self-employed and receiving less work, or you have a small business that is struggling. They also have a guide to help you with your mental health and well-being.
Creators in Canada can visit the COVID-19 Economic Response Plan page. They have help for individuals, businesses, Indigenous peoples, seniors, small businesses, those who are self-employed, and businesses in specific sectors. If you need mental health and substance abuse support, you can visit their Wellness Together website.
Creators in Australia can visit the Services Australia page. They have information for those that qualify for the Coronavirus Supplement and Economic Supplement payments. Businesses can get assistance at the Business.gov.au website. You can find mental health and well-being support services on the Beyond Blue website.
Coronavirus Relief for Creators in the United States
The following are coronavirus relief funds, loans, and resources for creators in the United States.
Tax Relief
The IRS is offering Coronavirus Tax Relief and Economic Impact Payments for eligible individuals and businesses. See if you are eligible and how to apply.
Expanded Unemployment Benefits
Unemployment benefits have been expanded with the Coronavirus Aid, Relief, and Economic Security (CARES) Act. Benefits now include self-employed workers, an additional $600 a week, and an extra 13 weeks of benefits.
According to CNBC, over 26 million Americans have filed for unemployment benefits in the past five weeks. Another reminder that you are not alone. Find out how to apply for benefits in your state at CareerOneStop.
Small Business Loans
If you are a small business owner, the CARES act also provides coronavirus relief options through the SBA. One option is the Economic Injury Disaster Loan Emergency Advance, a loan of up to $10,000 for businesses under 500 employees. This loan is available to self-employed individuals, independent contractors, sole proprietorship, private non-profit organization or 501(c)(19) veterans organizations that have lost income due to COVID-19. It does not have to be repaid.
At the time of this writing, applications are suspended pending additional funding from a new stimulus package. Be sure to check back regularly or watch the news for applications to open again.
Groceries & Meals
The USDA has also expanded the Supplemental Nutrition Assistance Program and other meal programs during COVID-19. News outlets in multiple states are reporting surging numbers of applicants during this time.
If you need assistance buying groceries and meals, find out if you are eligible and how to apply in your state.
Student Loan Payments Suspended
Federally-held student loan payments are suspended until September 30, 2020. This does not apply to privately-held student loans. This post explains what to do for other student loan issues during the pandemic.
State Resources
Each state has its own list of coronavirus relief funds, loans, and resources. Many are forming sites like ALtogether Alabama and Arizona Together to make it easier to find local COVID-19 assistance. You can also go to your state's main .gov or visit the website for your state's governor, senators, and representatives to find the most comprehensive list of resources specific to your area.
These resources include health & safety news, health resources, mental health resources, immediate job openings, rent & house payment relief, utility payment relief, and other emergency services.
Additional Relief Funds and Grants
The following are additional resources for relief funds, grants, and resources available to individuals affected by coronavirus.
The New York Foundation for the Arts offers an emergency resources directory. It lists current disaster resources, emergency grants, financial resources, health and insurance resources, housing resources, legal resources, and public assistance for artists throughout the United States.
The Actor's Fund offers multiple funds for workers in entertainment and performing arts affected by coronavirus.
Artist Relief, designed by Americans for the Arts, offers $5,000 grants to practicing artists who can demonstrate a financial emergency due to the pandemic.
Artist Relief Tree offers relief for performance artists affected by cancellations due to the pandemic.
The Boston Artist Relief Fund awards grants to individual artists whose practices are impacted by COVID-19.
CERF+ offers emergency relief grants related to those infected with the virus and in need of medical treatment.
Foundation for Contemporary Arts offers emergency grants to artists making work of a contemporary, experimental nature affected by COVID-19.
Freelancers Union offers $1,000 per household based on economic hardship as a result of the pandemic.
MusiCares offers relief to music professionals whose income is impacted by canceled gigs and performances.
The National Endowment for the Arts links to state and regional art organizations that have relief funds and guides for artists in their local communities.
One Fair Wage Emergency Fund offers cash assistance to tipped workers in the service industry including restaurant workers, car service drivers, delivery workers, personal service workers, and others with jobs outside of the arts.
PEN America offers a Writers' Emergency Fund of $500 to $1,000 to professional fiction and non-fiction writers in varying disciplines.
I hope this list helps you find some relief in difficult times! Stay safe and healthy!