Wine Review: OP Sweet Red Wine
Inexpensive red wine with a great taste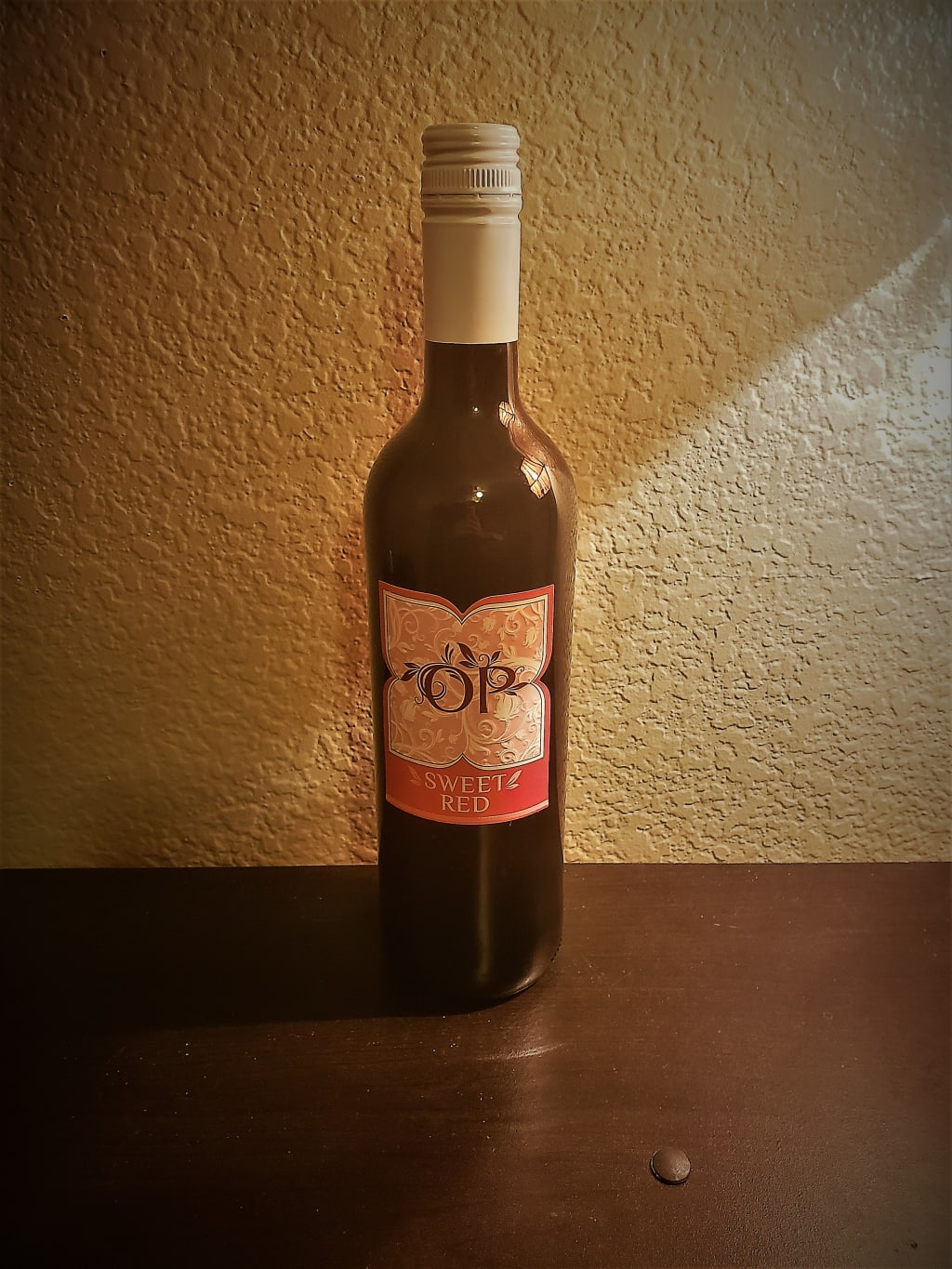 Image by Shasta Scott
I would like to start off by saying that I am, by no means, a wine connoisseur. However, I can appreciate a good bottle of wine or a mixed drink every now and again. Due to the roaring 20s reemerging due to COVID-19, bars shut down for a time, taking stay at home orders seriously. I don't usually consume wine at bars so this new order gave me the opportunity to try new wines at home. Other than the occasional sip of champagne during the New Years or Christmas Eve celebrations, alcohol in any form wasn't a big part of my life. We had bottles of wine at home but it had to be an occasion for my mother to open them. In the state of Texas TABC allows underage drinking so long as the child's guardian or parent is present and approves. I just wanted to clarify that; my mother and father were not big drinkers but if there was a cause to celebrate and we were old enough, they allowed us to have a glass with them. The summer of 2012 was the first time I got to try wine outside of my parents home. I was 18, spending 10 days touring France, traveling from Nice to Paris.
On the trip we stopped at a winery in Beaujolais, France. We got to try so many different options of their Whites, Rosés and Reds. (I apologize for not remembering exactly where we went, it's almost been 10 years and I didn't document my experience very well.) Up till this point I hadn't known that wine could be made using different vessels. The most common wine or what most people likely think of when they think of Red Wine is red grapes fermenting in wooden barrels. The different types of wood the barrels are made of, like birch or oak, it's usually oak, give each wine their unique flavors. Wines are not just all grape either, a lot of them add other berries like blackberry and pomegranate and some vineyards have even managed to make wine using peaches and pears and other fruits.
Although I am no longer a college student anymore, I still don't have an excess amount of money to buy expensive bottles of wine, so I keep my eyes open for inexpensive, cheap options to choose from when I am out shopping. On a normal day I try to stay under $10 when purchasing wine, some of the best wine I've tried were marked at or under $3, but I will splurge on my birthday as a treat to myself, if I can afford it that year. Up till a few years ago I mostly drank Rosés like White Zinfandel or Pink Moscato when it came to wine. Even though I still like sweet wines, I prefer the flavors to be more robust and smooth rather than sour and tart, more often found in Rosés. White wines are fun too because they can be fruity yet dry like in Moscato.
My search for a new bottle of wine to try led me to OP's Sweet Red Wine. I found this bottle while perusing a convenience store close to my home. I have to say I am pleasantly surprised by this wine. It only cost about $5 per bottle and the taste was not too sweet or too bitter. It's a standard 750mL bottle of wine so I am getting the same amount as I normally do. I like the flavors of Sweet Reds' because they have less of the smoky, woody, deep flavors from being fermented in the barrel and more of the smooth, robust flavors of the different fruits. I've tried some reds that have almost a fizzy, bubbly quality to them, which I find perfect in Champagne or Sparkling Hard Ciders, but not as good in a Red Wine. Having had wines like that before has made me skeptical and cautious when choosing something new to try. Every bottle of wine out there lists a description of the wine on the back label. It tells you what other fruits have been fermented with the grapes and what flavors and notes to expect. The labels also give you great pairing ideas, like Spicy Thai Cuisine, chicken or fish. When I first started drinking on my own I did not know this. Now that I do, I read the description before I purchase any bottle in stores.
The store where I found this, didn't have all the options that are listed on their website. From what I can tell, they offer everything from Merlots', Sauvignons', Chardonnay and more. As far as inexpensive wines I would recommend this to anyone on a budget or just wanting to try something new.
*Not a sponsor or paid review. These are my genuine thoughts on this wine.*