Top 15 Wine Books for Beginners
Looking for a wine book to turn you from a beginner into an expert? Check out any of these informational wine books for beginners to get started.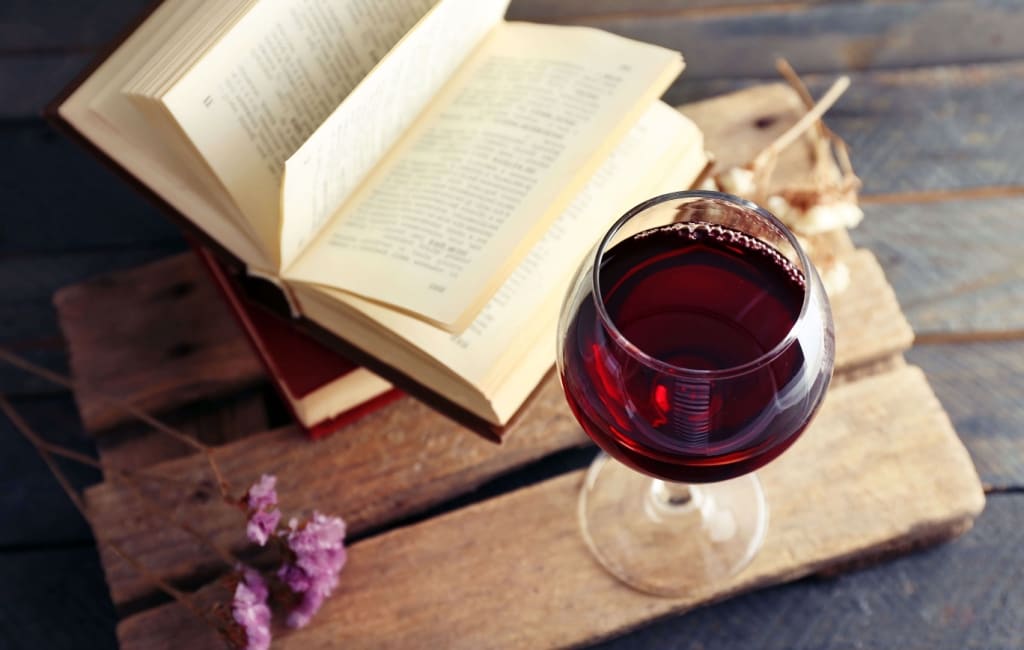 Wine is a complex field and it takes a lot of studying to understand every type of wine that's out there. Everyone starts off as a beginner, and in the case of wine, it can take us a while to master the study. Even I'm still considered a beginner despite my love for wine. In fact, I've only tasted a few types of wine and there are still so many out there for me to try.
Since I love wine, I wanted to become an expert in the field. I wanted to know all of the different types of wine that I haven't tasted yet. Every time I headed to the liquor store, I continued to buy the same bottles that I love the most. This was completely defeating the purpose of me becoming a wine expert and I needed to get out of my comfort zone. I wanted to look up and find specific wines that I know I would enjoy. Then I started getting a couple of books about wine to check out and read all about the topic more in-depth. Ever since I got ahold of those books, I know more about wine than I ever did before and can even distinguish the differences! I've learned about the origins of many wines, how certain wines are created, and the grapes that create my favorite wines.
If you're new to wine or have been drinking the same bottles and want to get more into the field, check out any of these awesome, informational wine books for beginners to get started.
Karen MacNeil's The Wine Bible is literally considered the Bible… of wine. It's a bestselling book that's praised by experts like Bobby Flay, Danny Meyer, Kevin Zraly, and others. This book is like taking a course on wine by an expert teacher. It digs deep into the fundamentals of wine and layering information from tips, definitions, glossaries, photos, maps, recommended bottles, and much more.
The author uses all of her information directly from primary research. However, for this second edition, Karen tasted more than 10,000 wines and visited multiple wine regions across the globe. She shares her very own insights on the wines she tastes from China, Japan, Mexico, and Slovenia.
Want to really understand the differences between red and white wine? Wine Folly is one of the best wine books for beginners to get right into and understand wine inside out. Even though drinking wine isn't difficult at all, understanding great types of wine requires studying the fundamentals.
This guide by Madeline Puckette helps you learn the unique types of wine, their origins, what grapes they're created from, and more. As a beginner, you'll also get to read what wines pair well with certain dishes! This book combines the sleek and modern information with visualization and answers to all of your wine questions.
Kevin Zraly is America's most famous and entertaining wine teacher who came out with his own book based on the field—Windows on the World Complete Wine Course. In this book, Kevin travels to 80 different wine regions in 20 countries where he tastes more than 4,000 wines and meets up with 500 winemaking professionals. He visits vineyards in Hungary, Greece, Austria, New Zealand, Chile, South Africa, and Argentina.
This book includes topics like Wine Basics, Tasting Wine, Matching Wine and Food, and more. You'll go through region by region with Kevin and explore the differences between wines from across the globe. All of the wines are organized from simple to complex, and this is something that a beginner should certainly look forward to, starting off light before getting into the more intense wines.
The seventh edition of The World Atlas of Wine is considered to be one of the greatest wine books for beginners to read through. It's seen as the most essential and authoritative wine reference work on the market. This book nails details of nature changing the wine scene through climate, process, and style. There are also new wine regulations included in the book that were made over the last six years.
The World Atlas of Wine features a new Australian map that highlights the importance of cool-climate regions while global warming takes effect. Some of those who have an increasing appetite for wine thirst for knowledge in the field, and this book will certainly satisfy them!
As a beginner myself who knows a few things about wine, I still hesitate to order a glass of wine whenever I'm at a restaurant. I know the type of wines I love, but looking at the restaurant's menu makes me think, "Do I even know wine?" This book, How to Fake Your Way through a Wine List, gives us simple strategies for navigating the world of wine. Author Katherine Cole offers us information on how to pick the perfect bottle that's right for us.
The book consists of memory tactics in order to help us remember the details of wines. The chapters break wine down for even beginner enthusiasts to understand. After reading through this book, choosing a wine to drink or navigating wine tastings for beginners can be far easier!
There's always a book out there for dummies and in this case, it's on wine. Wine For Dummies is actually one of the most useful wine books for beginners to read. It takes readers on a tour of emerging and old world wine regions where they showcase the varieties and styles that you need to understand in order to stay up to date in the world of wine!
This great resource provides readers with insights into wine shops, supermarket wine selections, wine and food pairings for beginners, and much more. It also offers expert advice on buying, collecting, and rating wine. After reading this, you'll understand the different grape varieties, wine styles, reading wine lists and labels, which food pairs well with wine, and more than you didn't even intend on learning!
Bestselling authors Kevin, Mike, and Jeff have written one of the greatest wine books for beginners on the market. Red Wine: The Comprehensive Guide to the 50 Essential Varieties & Styles is a book that tells the story of red wine, grape by grape, exposing the vast world of the 50 essential varieties and styles from Agiorgitiko to Zinfandel, the best red wines to pair with food, and everything else you should know about red wine. You'll also fully understand your favorites, too, such as Merlot, Pinot Noir, Cabernet Sauvignon, and much more.
The introduction of the book shows readers how red wine grapes have evolved and spread, how the wine is made, and how the winemaking process influences the taste of the finished drink. The book also features comprehensive information such as color and tasting notes, what's expected in the glass, ideal pairings, and more you can thoroughly understand on your own time.
Rocket science is definitely complicated, but wine doesn't have to be! Study the world of wine with Wine Isn't Rocket Science as your best wine source to read up on. This book offers a very easy, illustrated style that's filled with fool-proof and reliable information that you'll take with you whenever heading out to a restaurant or a liquor store to order the best wine to suit your taste.
You'll understand how grapes are grown, harvested, and fermented into wine. You'll also know how to judge wine by its color, aroma, and taste of the most popular wines out there. The book explains it all in the simplest terms, and every page is illustrated and informative through four-color drawings that explain all of the concepts.
I know many of us wine drinkers are just dying to know what we're missing out on. In her new book, The 24-Hour Wine Expert, Jancis Robinson is a leading international authority on wine and answers all of our desperate wine questions. This book can actually show us all that's important about wine in just one day.
In this guide, Jancis shares with us her expertise through authority, wit, and approachability where she tackles questions on picking out the right bottle in stores, understanding wine labels, and the properties of color and aroma. She also gives us her personal suggestions on food and wine pairings to try out, which makes this one of the best wine books for beginners.
While so many of us find wine to be the best alcohol on earth, we're on the hunt to find the best bottle for us without stressing out and ruining our love for wine. Now you don't have to stress out anyone when you have this book by your side! The New Wine Rules by Jon Bonne shows everyone who's not very experienced in wine the ropes on the field.
Author Jon Bonné shows literally everything you need to understand about wine through simple and stunning illustrated descriptions. It's not an overwhelming book that throws a ton of information at you —just the knowledge that you need to distinguish the differences in wines.
Wine: A Tasting Course is among the informational wine books for beginners anyone can read. This book offers a visual tour of wine styles, showing concepts, and even encouraging the reader to make connections between wines! Renowned American sommelier Marnie Old teaches us the best way to learn wine through tasting.
She gives us a fresh look in the world of wine and showing us exactly what we need to know. This book is basically the ultimate visual wine course for beginners in wine and wine lovers in general who are searching for nothing complicated but something easy to understand.
What to Drink with What You Eat is definitely one of the best wine books for beginners because it thoroughly shows all of the great wines that pair perfectly with certain foods. If you're familiar with wine and hosting a dinner party soon, but don't have a single clue what foods pair with what wine, I highly suggest checking out this book. This book will tell you exactly which food will go with the wine you'll be picking out for the dinner party.
The book provides a comprehensive guide to matching food and wine as well as pairing foods with other beverages like beer, coffee, tea, and even water! All of your dinner parties will be properly curated when you have this book on you.
Even though many of us love wine, it can be difficult to find the right wine that everyone will love when heading out to dinner. When you do pick a bottle, no one agrees with your taste. Find the perfect wine bottle that everyone will love by reading Wine. All the Time. by Marissa A. Ross that's seen as of the best wine books for beginners!
This book is the ultimate guide to wine and author Marissa Ross walks you through the wine culture precisely. Through her signature comedic voice, you'll easily understand the differences in wine through the in-depth lessons. This book is both informational and comedic to read during your free time!
Winemaking goes way, way back and there's so much we can learn from the history of wine. In fact, wine has always been more than just a drink, and you'll see how after reading The History of Wine in 100 Bottles by Oz Clarke. This book goes back thousands of years from its beginning in ancient Mesopotamia to its current days.
This fascinating book gives readers a closer look at 100 bottles that have been tremendously changed over the past years. The book shows the evolution of wine, winemaking, and captures the innovations and discoveries that have made the biggest impact in wine history. This book is ideal for both beginners and experts who want to learn the backstory of wine!
Lastly, Wine: A No-Snob Guide: Drink Outside the Box by Lori Stevens is definitely one of the greatest wine books for beginners to read right now. This book is the ideal guide to teach readers easy-to-understand vocabulary on all things wine to become the wine enthusiast you always dreamed of becoming.
You'll learn everything about vineyard production, glassware selections, preparing the wine, and much more through interesting illustrations, maps, and photos. Readers will also understand food pairings, buying wine from stores, and the history and origin of wine.
Reader insights
Be the first to share your insights about this piece.
Add your insights