Top 10 Alcohol Delivery Apps That You Can't Miss Trying in 2022
Alcohol Delivery Apps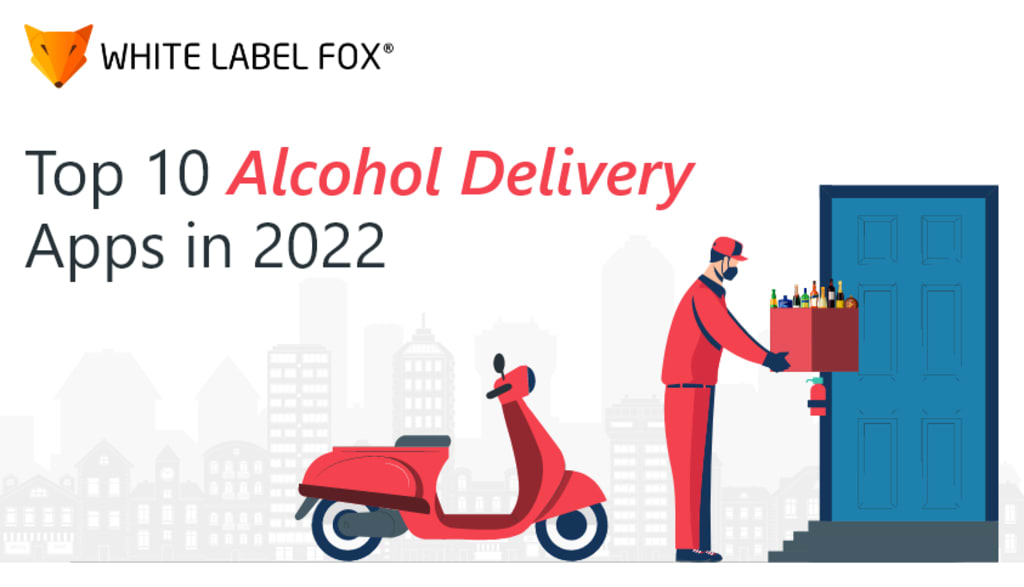 Delivery apps are convenient. Anything can easily be delivered with just a few taps from any of the smart devices. There is an app to order different things from fresh food to groceries to clothes. Just like we order groceries to get them delivered at home, we can order booze too. We discover it problematic if we need to go to the store every time we want a drink. But the most valuable thing is that there are the best alcohol delivery apps that enable you to get everything delivered right at your doorsteps.
These apps are amazing and handy! They save energy and time; all you have to do is download the best app for alcohol delivery and order the booze, and now sit back, wait and relax for your bottles of spirits.
To assist you, we have assembled a few of the best alcohol delivery apps you can consider using on your smart device. Whether you seek vodka, wines, beers, whiskey, and more, the delivery apps are a better option to choose. Let's look over the alcohol delivery market right here to understand why the booze delivery solution is the perfect one to invest in.
Liquor Delivery Market Overview: Have a Quick Look Over it!
E-commerce is a growing channel for alcoholic drink sales; however, the pandemic has accelerated its importance globally. The indisputable value evolution will be rendered in more than 10 counties. With brand owners and retailers investing heavily in the channel, the U.S. is on track to overtake China. It has returned it as the ultimate market for online alcohol sales.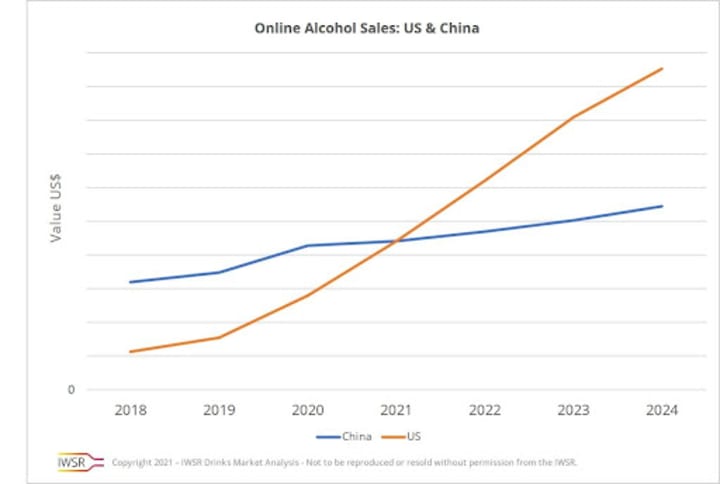 Image: (Source)
The global alcoholic beverages market was measured to reach around $1,439 billion in 2017. The market is forecasted to increase and reach nearly $1,684 billion by 2025, registering a 2.0% of CAGR growth between 2018 and 2025. Most cultures have traditionally opted for different types of alcoholic beverages. The local alcoholic beverages account for the majority share; a small number have transformed into commodities that produce commercial to a great extent.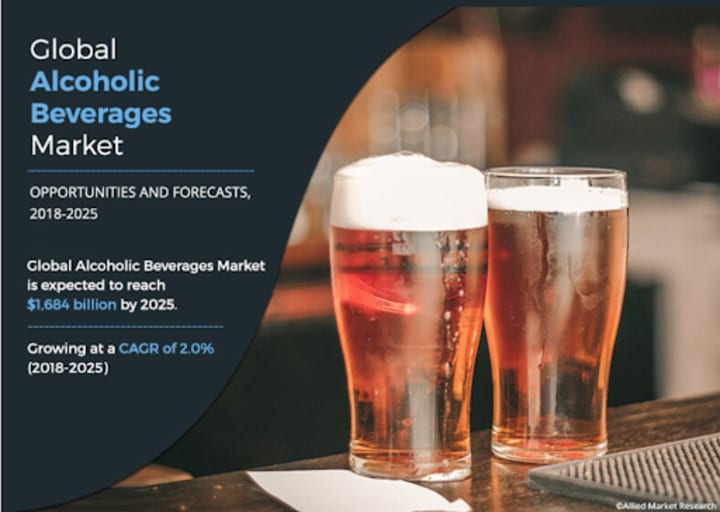 Image: (Source)
Looking at the growing alcohol delivery market, many business owners are choosing to develop the best alcohol delivery app that helps them automate business operations and efficiently satisfy all the growing requirements. If you own a beer, wine, or alcohol delivery business, then you can even choose to invest in ready-to-use booze delivery software that helps you automate your business operations.
Best Alcohol Delivery Applications: Check the Complete List Here to Find the Perfect One in 2022
Liquor delivery services are one of the best ways to keep your collection well-stocked without the requirement of a trip to a physical store. Today, more and more alcohol or booze delivery applications are available in the market. Are you in search of the best app for alcohol delivery to quench your thirst? Here is a list of the top and best alcoholic delivery apps around the world. This handful of reliable booze delivery services makes the ordering and delivery process easier and faster.
1. Drizly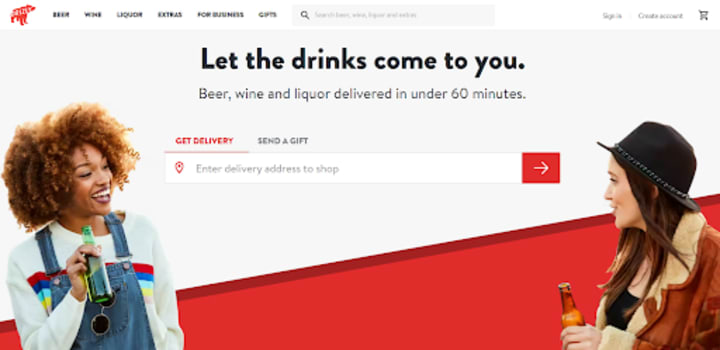 Drizzly is a most known app that helps you select from a variety of drinks such as wine, liquor, and beer. Best app for alcohol delivery experienced a 62% revenue in 2017, compared to that wine experienced an increase in online sales for beer and liquor by 21.2%.
Drizly has partnered with almost 2,600 retailers across North America to deliver wine, beer, and spirits right to consumers' doors. The image right below shows average order sizes on Drizly, sales, and customer purchasing behavior on the Drizly platform.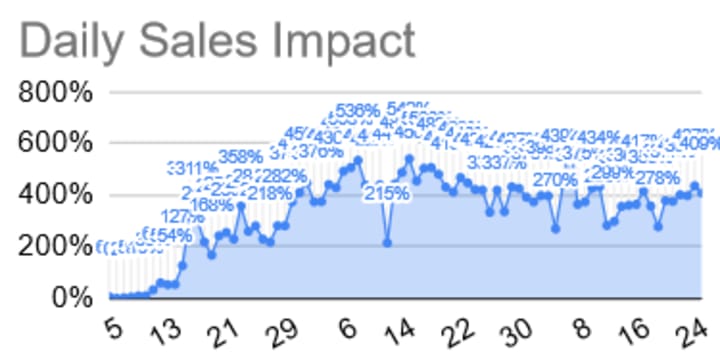 Image: (Source)
Sales growth baseline hover above 400% in May. During the 5/17 week, sales were measured around 391% over baseline or what we would have predicted to look at during the time. It is an outstanding app to get liquor at markup prices. The application delivers its service in provincial areas and operates in a majority of cities of Boston, New York, and more.
Pros
Wide options available
Reasonable prices
Same-day deliveries
Cons
Same-day or delivery in one hour is now possible for the same day
The shipping cost differs depending on the vendor
Price
Prices for booze your purchase
Additional $1.99 service fee
A $5 delivery fee is applied to every box
2. Minibar Delivery
It's perfect for a last-minute party and also for those who want to drink before going out as they deliver in less than an hour. The site is discovered in cities such as Palm Beach, Chicago, Miami, and more.
Minibar Delivery offers a different gift set during holidays. Based in New York, Minibar provides its service in 50 American cities and shipping in more than 40 states. It connects customers with local stores and vineyards and helps them order the booze to get it delivered to their doors.
Pros
Partners with local liquor stores
It delivers your booze in less than 30 minutes
Providers valuable suggestions
Cons
Offers service in limited places
Minimum order requirement
Price
You ought to pay what you order
Delivery fees vary depending on store partners
3. Saucey

You can choose to party at any time you like with the help of the best app for alcohol delivery like Saucey. This booze delivery app allows you to get your liquor delivered with a few clicks of a button. You get the opportunity to choose from seasonal drinks, fan favorites, local picks, and more from the convenience of your home in just 30 minutes. With huge options like liquors such as Tequila, Vodka, wine, whiskey, and beers, it will help you find your taste with ease.
Pros
Delivery within 30 minutes
Reasonable pricing
Delivery at anyplace
Cons
Offers services in limited states such as Chicago, Los Angeles, and New York
The delivery cost might vary from one vendor to another one
Pricing
You need to pay around $4.99 delivery fee for every order
4. GoPuff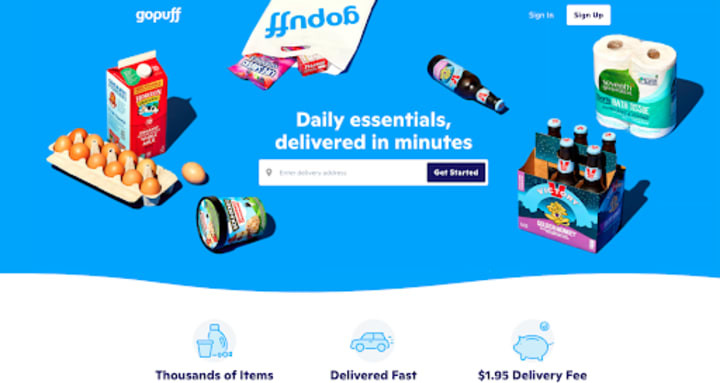 GoPuff is a meal and beverages delivery application that helps you get everything delivered right to your preferred location within 30 minutes. The easy-to-use platform also helps you get your favorite liquor delivered; the best part is that it provides late-night deliveries as well.
Pros
Individuals can get everything delivered till late at night
Minimum delivery fees
Provides delivery in around 1000 cities
Cons
Offers services in a few state
Pricing
Delivery fees of around $1.95 every time
5. Boxed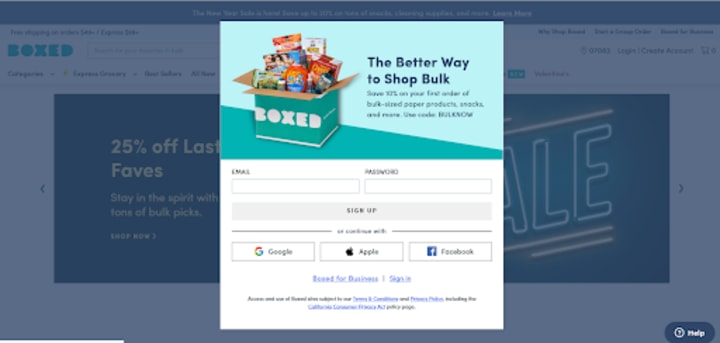 It is the best alcohol delivery app that delivers a wide range of products, including fresh groceries, snacks, and much more. Boxed is one of the best options to get a bunch of goods for different parties or occasions. You can expect delivery in 2 or fewer days; its delivery services are available in New York, California, and Massachusetts.
Pros
Bulk items cost less than smaller packages
Provides home delivery without a membership
Boxed up provides free shipping
Boxed Express offers same-day delivery for grocery
Cons
Standard orders can take around 4 business days to arrive
Boxed Up is $49 per year
Boxed Express is available in select cities
The delivery time slots are limited
Shipping fees for orders under $75
Pricing
Cost is around $49 per year
Provides free shipping on orders around $19.98
6. Craft Beer Club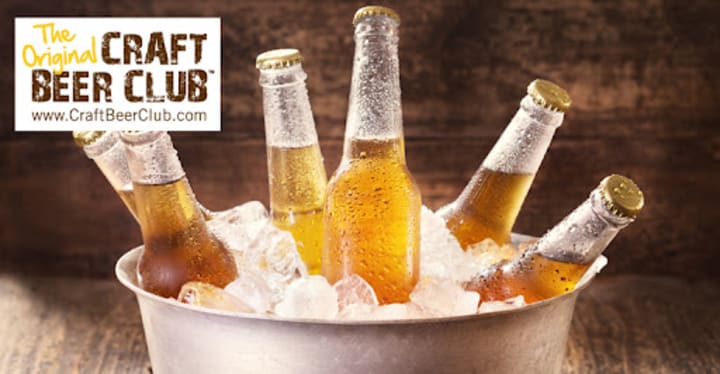 The best alcohol delivery solution that delivers craft beers to your doors. Craft Beer Club delivers the most delinquent beers to the door each month. Craft Beer Club has flexibility in the style and amount of beer shipped and how often you receive it.
Pros
Good variety of domestic microbrews;
100% satisfaction guarantee;
Flexible membership.
Cons
No control over what you receive;
Does not provide gift notification by traditional mail;
Gift shipments aren't sent out immediately.
Pricing
Affordable at just $45 a month
Free shipping within the continental U.S.
7. Total Wine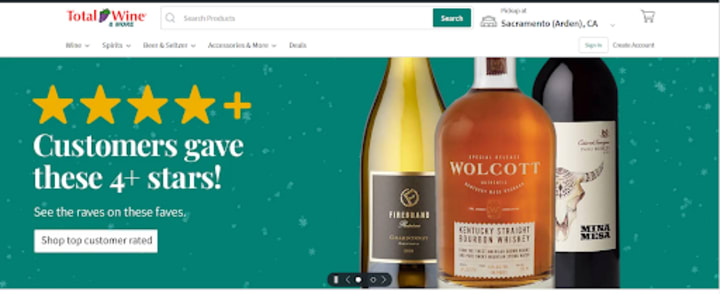 Total wine is the best place to find liquor, beer, and more. The perfect app for alcohol delivery provides a same-day delivery facility in more than 24 states. There is a wide or huge range of options available on the app, ensuring to provide a personal experience to every user.
Pros
Provide a superior shopping experience
Huge range of wine and beer to choose from
Cons
Offers delivery service in limited areas
Pricing
Low price on an identical in-stock item
8. Firstleaf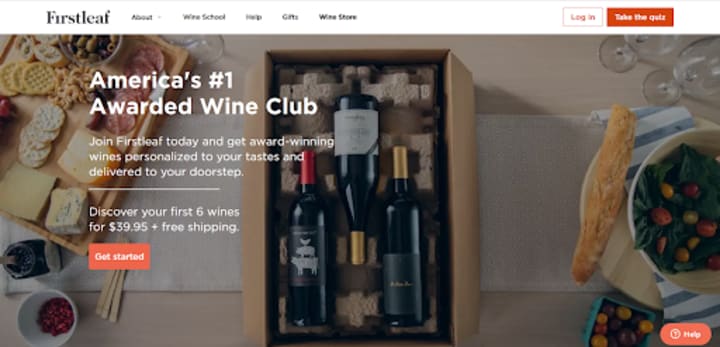 It provides domestic and international beer and alcohol delivery services to customers. You can select instant delivery or schedule it at your convenience. The company has partnered with wine producers and helped you save around 60% off retail prices. The alcohol delivery platform provides service in more than 47 states, including Washington D.C.
Pros
Award-winning Wines
Personalized Selections
Cons
The platform doesn't allow you to provide detailed feedback
Pricing
Firstleaf charges $79.98 and $9.95 shipping as well as appropriate sales taxes.
Elevate to a 12-bottle membership after the willing shipment for $159.95 with free shipping
9. Wine Park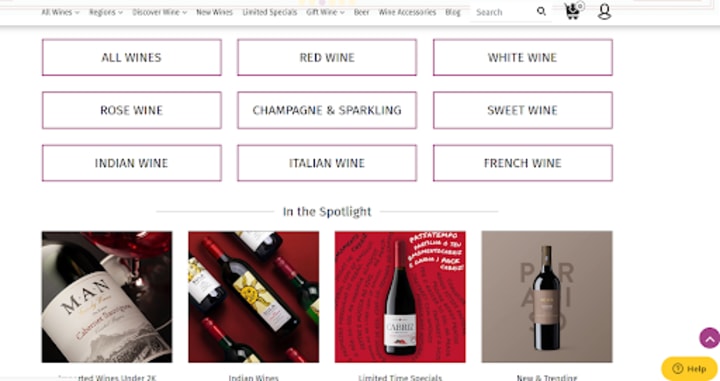 The eCommerce website is great. Wine Park is the best option if you are looking to identify wines; it brings around 200 wines, local and imported, to the doorstep with a click of a button. The liquor site is amazingly arranged by features, styles, types, producers, regions, and countries.
Pros
Wine Park provides in-depth tasting notes for each order
The notes such as tannin profiles and acidity as included
Referring the site to a friend gives you $40 off your next box of wines
Cons
No option to choose the shipper
Cancellation is only allowed within 1 hour after ordering
Takes fewer days for booze delivery during holidays as well as festivals
Pricing
Depending on the wines and other liquor you choose
10. Caskers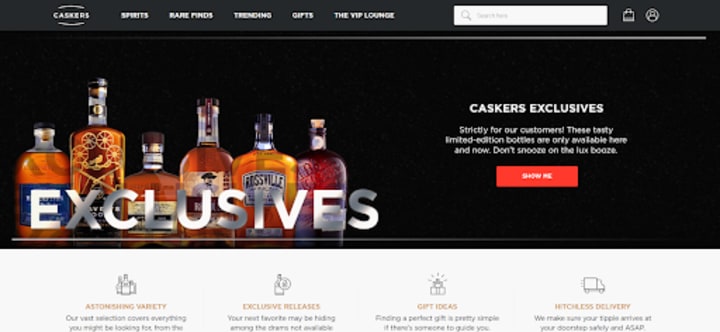 The easy-to-use and feature-rich app for alcohol delivery helps people to search for craft sprites. Additionally, you don't have to expend the membership fees; you can simply select and get your liquor delivered at home.
Pros
Great service and choice
Fast and easy to use
Cons
Lack of interaction
Pricing
Prices might vary depending on what customers select and the same for the delivery.
Ending Note:
On-demand liquor is a rewarding and promising business sector that continues to flourish even after the pandemic spread. Hence it's the best and most effective time to invest in the alcohol delivery app solution. Whether it's new year's eve, Christmas party, or another occasion, an on-demand liquor delivery app makes it easier for you to get your favorite drink delivered to your doorstep.
If you have a wine, beer, or liquor business and are looking to automate the same, then White Label Fox is here to help you right away. Get in touch with a dedicated and experienced team to get development costs and have further details right away at [email protected].
About the Creator
I am a writer and avid reader who is passionate about writing about new things. I love to read novels, research and explore the web world. Being a part of digital marketing, I have a vast knowledge of SEO, technology.
Reader insights
Be the first to share your insights about this piece.
Add your insights