The Ginger Tea Reviews: Boozy Chai Matcha Latte
Perfect for a chilly evening!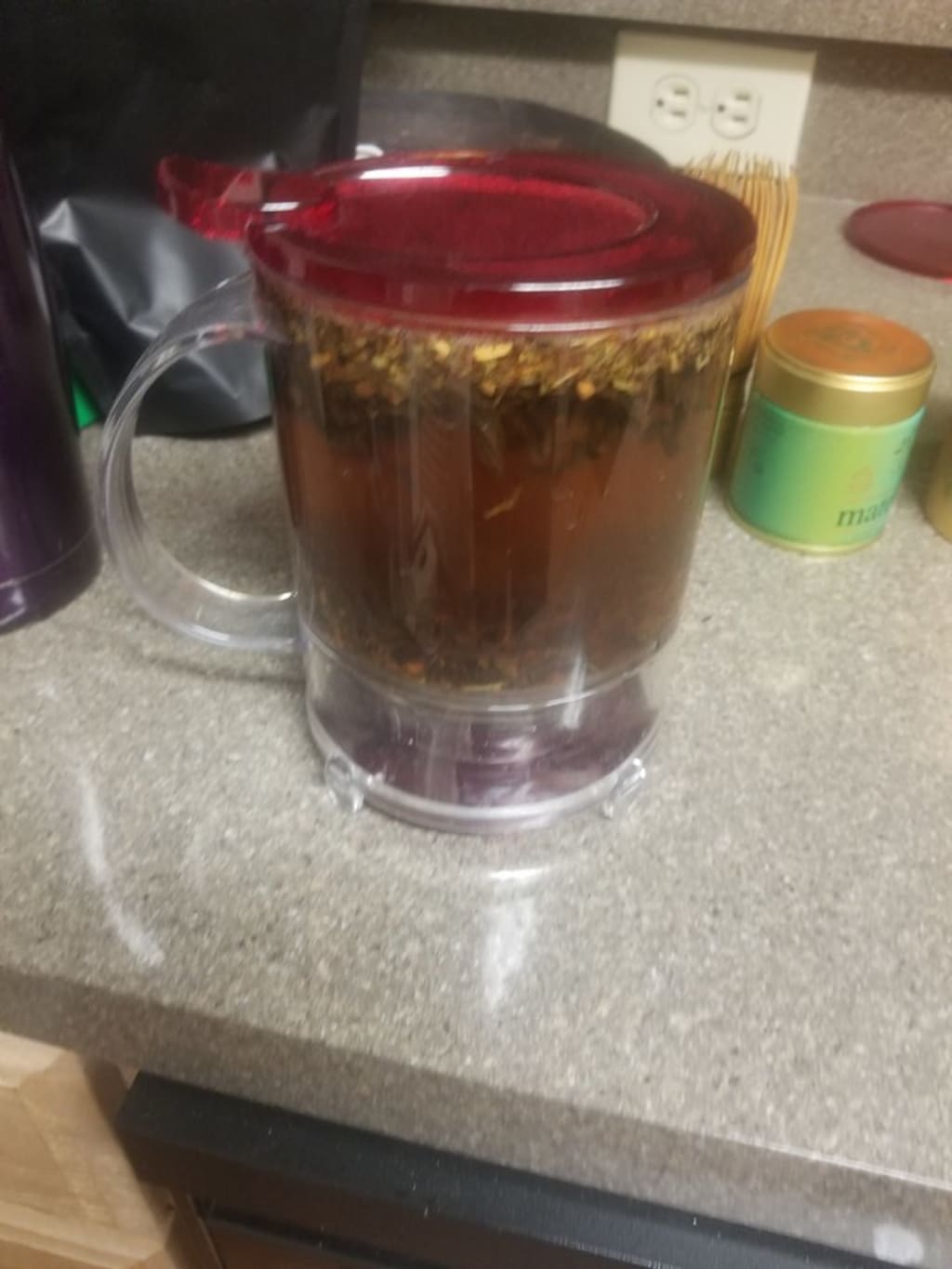 Welcome back to another chapter in the Ginger Tea Reviews! Tea is my passion, and I am making it my goal to share my passion with the world.
Today, I am reviewing a Boozy Chai Matcha Latte recipe! Now, I honestly winged the whole recipe, and it turned out better than I imagined. But before we get down into this, I must remind you that, if you want to try this boozy concoction, you must DRINK RESPONSIBLY. Thank you.
Here is the official recipe!
Boozy Chai Matcha Latte
3-5 Scoops of chai tea
1/2 Scoop of Imperial Grade Matcha
2 Shots of spiced rum (add more or less, depending on your preference)
Splash or two of milk
(Optional) Whipped cream or steamed milk
Brew chai tea according to instructions.
In a separate measuring glass, pour in the shots of rum.
Add freshly brewed tea.
Put 1/2 scoop of Matcha into a mug, and add a small ice cube depending on the temperature of brewed tea.
Matcha must be brewed at 175° Fahrenheit.
Pour a small amount of boozy tea blend into the mug, and whisk until a paste forms.
Add more of the blend and whisk until you have a full cup.
Add splash or two of milk, according to taste. Serve hot.
First, the teas...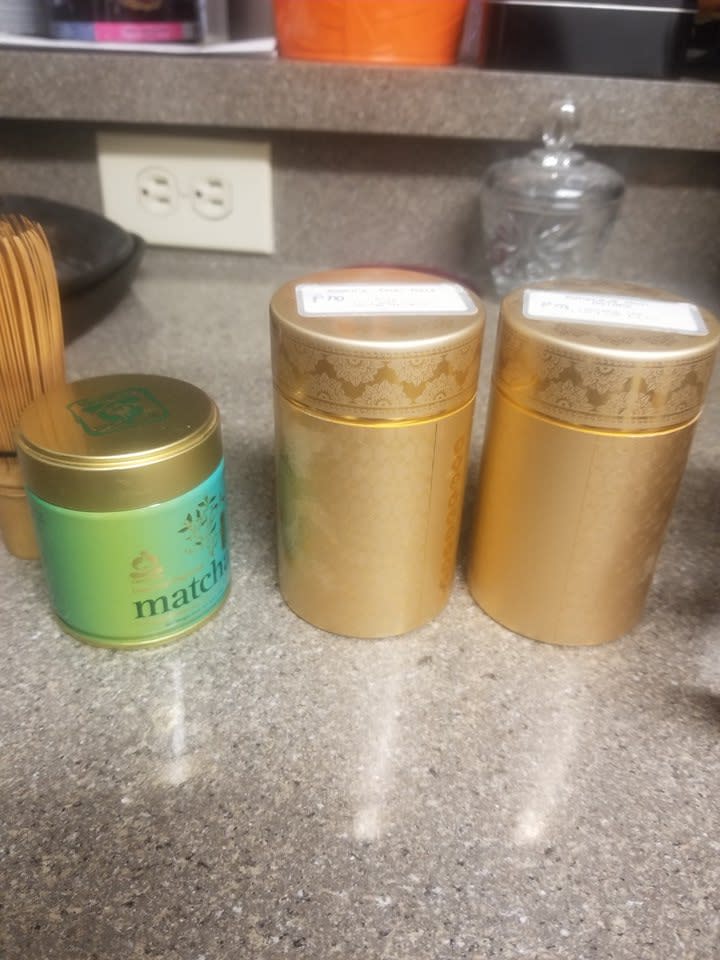 So, first let's talk about the tea I used and how you should prepare it, if you want to do this for yourself. For this concoction, I used Imperial Grade Matcha powder (one of my personal favorites), and I used a Maharaja Chai Oolong, blended with a Samurai Chai.
(Disclaimer: Due to Teavana's closures, if you find you have trouble locating these teas, any loose leaf chai will do. If you can, find one with a lot of spice!)
First, I heated up my water to around 195° Fahrenheit. As the water was heating, I mixed the Maharaja and Samurai into my tea maker. Now, because I enjoy a spicier flavor, I used two scoops more of Maharaja. Once the water was ready, I brewed the tea for 3 minutes, while I prepared the Matcha and the booze.
A Giant Cup of...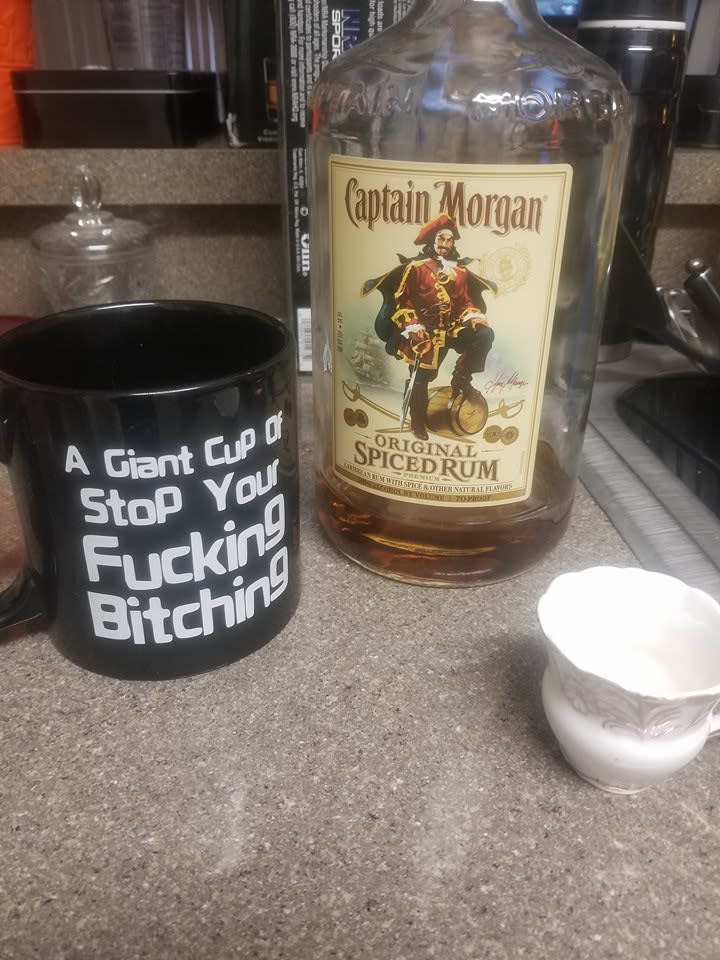 So, matcha is a green tea. As we reviewed in my last post, green tea is sensitive. The water used must be at 175° Fahrenheit. So with the tea brewing at 195°, I had to bring that temperature down just a bit, otherwise, I would be drinking a burnt Chai Matcha Latte. (Ew...)
So with the chai tea brewing, I put a half scoop of matcha into my giant cup, and poured two shots of Captain Morgan Spiced Rum into a big measuring cup.
(The amount of rum you use is optional; depends entirely on how strong you like your boozy drinks.)
Once the chai was ready, I drained the tea directly into the measuring cup with the rum. I dropped a small ice cube into it, to bring down the temperature just enough for the matcha.
Matcha is life; Matcha is love...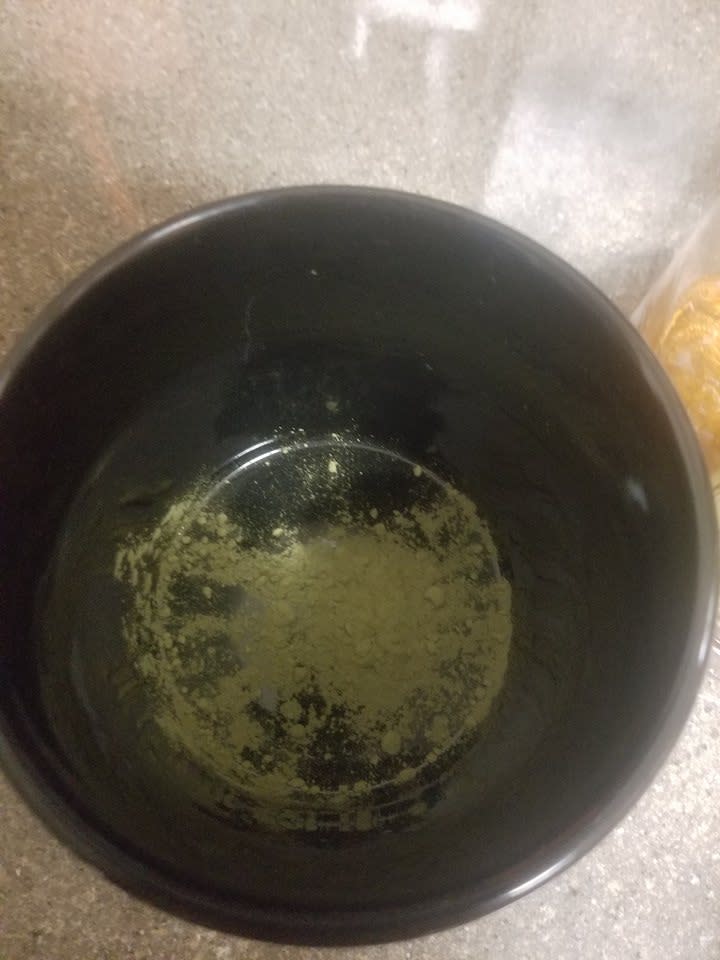 Now, matcha comes as a powder. It is typically used in tea ceremonies, so the trick with matcha is in the bamboo whisk. I poured a small amount of the boozy tea mix into the powder and whisked it up really well, until the matcha formed a paste at the bottom. Then I added a bit more, and mixed it up. I kept adding the boozy tea in increments until I had a full cup of boozy, chai matcha tea.
Finish it off with some milk, to balance out the spicy with a creamy finish, and there you go! If you want to get fancy, you could add some whipped cream on top, or froth up some milk, so you feel like you're in a cafe!
The Finished Product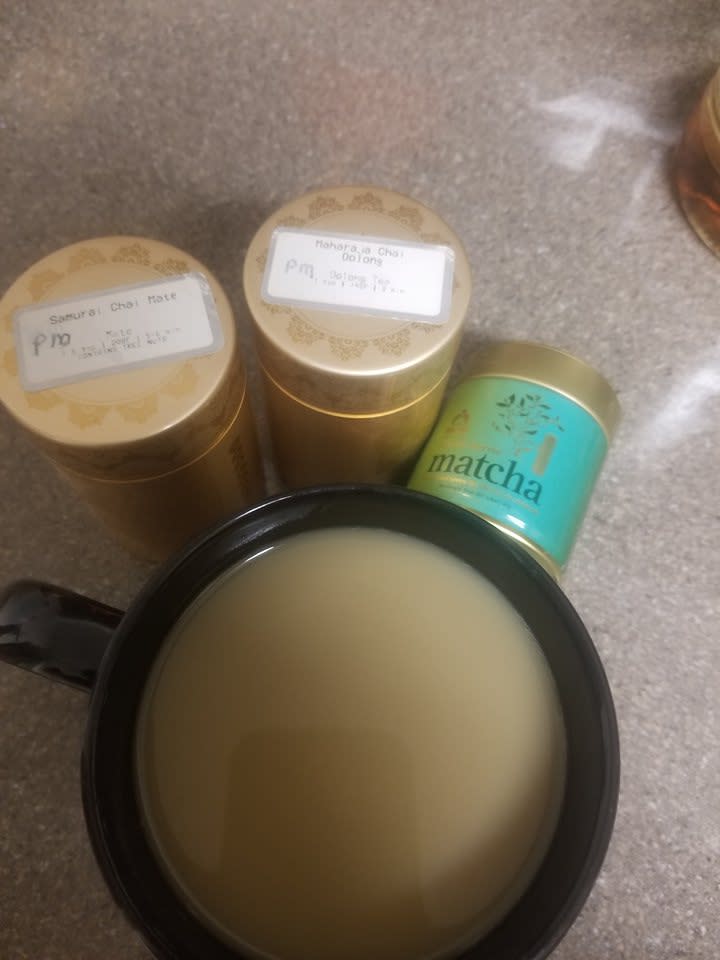 Flavor-wise, the tea is spicy and creamy, with a nice kick from the rum. Maharaja Chai has a lot of cardamom and cloves in it, so the Maharaja adds a robustness to the tea. The Samurai has more cinnamon and nutmeg, adding a twinge of sweet to the mix. Meanwhile, the spiced rum is sweet and spicy, and it brings the drink together, while adding a nice kick!
The matcha only adds health benefits to the concoction. matcha is a miracle tea. I call it a miracle tea because of the health benefits, but also because matcha blends with anything.
With matcha being so rich in Vitamin C and antioxidants, the combination adds a little extra boost to the drink!
Finished with some milk, we get a nice, creamy and smooth note that balances out the spices just right.
For a chilly winter evening, or morning if you are being responsible, a nice, hot cup of this beverage is sure to warm you right up! Remember to drink responsibly, and thank you for reading! You can follow me on Facebook at: https://www.facebook.com/The-Ginger-Tea-Reviews-173409853385064/
Or on Instagram at: https://www.instagram.com/gingerteareviews/
Remember: There is a great big world of tea out there, and together we can explore every last inch of it!
Stay tuned for the next exciting installment of the Ginger Tea Reviews!