The Expansion of Wilmington Craft Brew
Local Brewery Expansion in Wilmington, NC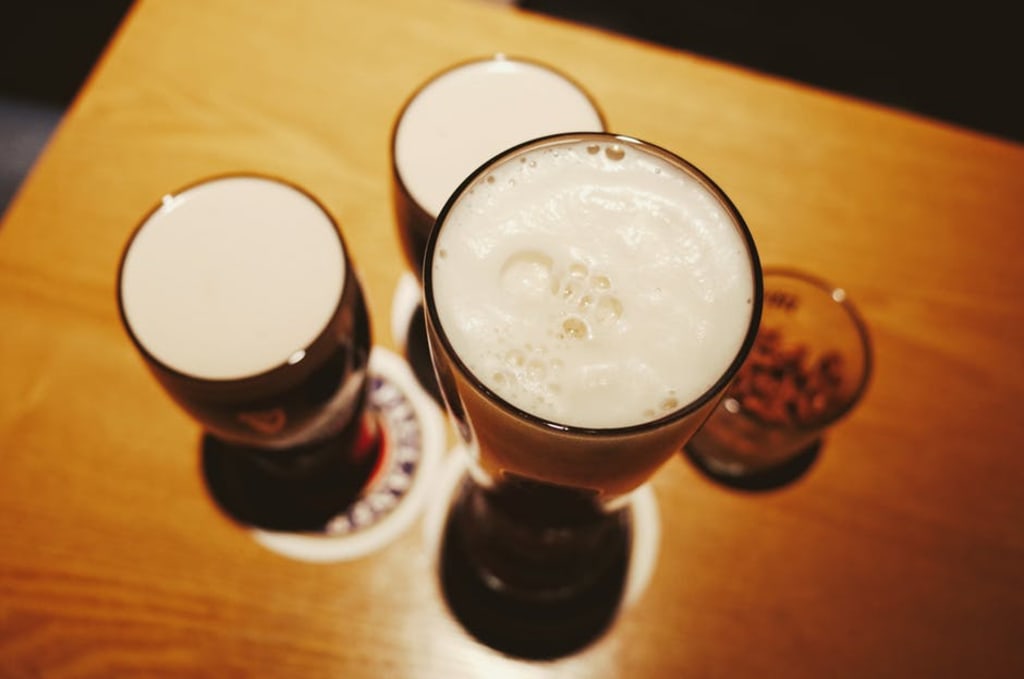 October 8, Wilmington, NC—I am a wine lover. Time living in Italy and touring the Appalachian vineyards made me a proud, self-taught wine connoisseur. My counters are filled with bottles and my drawers are filled with old, wine-stained corks. In my love for the wine craft, my husband recognized my negligence and decided it was vital to teach me something new, the art of beer. Hence began our craft beer tour of Wilmington.
Wilmington, NC is a flourishing world for the home-brewer. The Wilmington Brewery scene is following in close footsteps behind the state's largest local craft beer producer, Asheville, a city where beer flows like mountain water. As of 2016, Wilmington is home to seven craft breweries, some even with multiple locations in the area, according to the NC Craft Brewers Guild.
Good Hops Brewery, with their first location in Asheville, expanded to Wilmington in 2014. "We were the first business to be recognized as a brewery in the Wilmington area," said Patricia Jones, secretary of Good Hops. "We continued to work with the Wilmington City Council to have brewery as a defined business in the area."
Front Street Brewery was the first official craft brewery combined restaurant to open in Wilmington in 1995.
The waitress at the brewery's restaurant pours a flight of six, four-ounce samples of the brewery's in-house specialties. The drafts are arranged in a grid from lightest to heaviest and they have a guide sheet for you to follow to know what you're drinking. I left with a growler of their caramel and chocolate-y Dram-Tree Scottish Ale and cheese-covered pub fries for the road. It's a combination a woman, or anyone for that matter, can't turn down.
Shortly following the opening of Front Street Brewery, Broomtail Brewery opened in Wilmington, with their taproom opening later in 2004. "We have been home brewing since the early 90s," said Broomtail's co-founder Lisa Owings. Broomtail prides themselves on the "cheers-like feel at our tap room," said Owings. "Regulars meet to socialize over a beer, walk or ride their bicycles, and bring their dogs. We have food trucks on a regular schedule and occasional live music performances."
As time passed since the opening of Broomtail and Front Street Breweries, many other niche craft breweries have opened in the area, including Wilmington Brewing Company in 2012, Ironclad Brewery in 2013, and Flytrap in 2014. "The more breweries in an area, the better they all do," said Michelle Savard, co-owner of Wilmington Brewing Company, which she opened with her husband, John Savard.
Each owner expressed the same sense of camaraderie amongst all the local craft breweries. "The growing local brewery scene offers friendly competition," said Mike Barlas, the owner and brew master at Flytrap. "We all want to do the best we can and support each other in the process."
"We [all] have pitched in and helped each other out in a time of need, offered support, and even helped give each other some friendly advice," said Jones with Good Hops. "We try to get together as a group once a month or so and include each other in events whenever possible."
Many of the brewers gather annually for the Cape Fear Beer Festival to show off their best crafts and support the local beer scene. "The craft beer community has been incredibly supportive," Savard said, who featured three of their drafts in the 2016 Cape Fear Beer Festival. "Craft breweries and the craft beer community truly define the sense of the word 'community'."
John Savard, co-owner of Wilmington Brewing Company, worked behind the counter as the bartender when my husband and I stopped by for our tour and tasting.
It's a simple shop. You walk in to a very casual family-oriented bar and taproom. They offer tastings, 10-ounce pours, growlers, and more. The back of the facility is an open-air warehouse, great for events, with picnic tables, corn hole, and Ping-Pong. It's a wonderful event space. Wilmington Brewing Company even has a massive store, Home Brew Supply, connected to the taproom where customers can pick up any supplies they could need to brew on their own at home.
On tap they have a Baby Goose IPA, Breakfast Stout, and about ten other beers. New to beer, I'm lucky to drink a lighter lager or IPA, but when Savard suggested the heavy porter, I was reluctant to even taste it. "It's our Coffee Porter. Nothing here is like it," Savard said. "How about try a four-ounce sample?"
The coffee taste won me over to yet another craft brewery.
Amongst the rapid and successful start-up of these local breweries, many, being the pioneers of this Wilmington industry, have faced difficult challenges in opening their doors.
Wilmington hadn't seen any new breweries since the mid-90s. "That was a challenge explaining to the county and city exactly what our business model was and trying to figure out what we needed to do to open our doors," said Savard.
Broomtail and Flytrap both struggled with permitting their operatives. "We were a day away from getting our permit when the federal government shut down," said Owings with Broomtail. "Other than some of the typical challenges that I'm sure all of the breweries have faced, it has been a fun adventure," Barlas with Flytrap said. "We were pretty unfamiliar with local rules and regulations with regard to remodeling a building from one designated use to another. The process also turned out to be a lot more capital intensive than we thought."
As much as the craft brewery scene has grown in Wilmington over the past ten years, there's still significant room for growth. "The craft beer scene is still in its infancy stages in ILM, so being a part of it is exciting," said Ted Coughlin, CEO of Ironclad. "There will be significant growth in the craft brew scene for years to come. By 2020 the local breweries will brew more than five times the amount brewed currently. This will still only account for 25 percent of locally consumed beer, so ILM is many years away from being an exporter of beer."
According to the Brewer's Association, North Carolina currently pumps out 372,473 barrels of craft beer per year, and over the next four years that number is expected to quintuple.
Broomtail is hoping to expand to a second location this summer, which will be called "The Sour Barn" on Market Street in Ogden near the Middle Sound Loop intersection. Owings said, "We will age our sour beers there along with a tap room with a full lineup of our current beers."
According to the Brewers Association, as of 2016 North Carolina is home to 101 craft breweries and ranks 12th nationwide for the number of craft breweries.
Before locals know it, the craft beer industry will be dethroning the battleship and deflowering the azaleas as the new leader in Wilmington tourism.
"It is a positive attraction for our area," said Owings. "Craft beer enthusiasts travel to experience the different breweries."
It's all I can do to keep my enthusiasm for the taps from overcoming my love for the vineyards.
After a few more stops along the beer trail, including Iron Clad, Good Hops, and Broomtail, we found ourselves at the little niche of Flytrap Brewery. It's a modern rustic taproom, with wooden plank walls, concrete floors, and metal bar stools in the arts district of downtown Wilmington. I grabbed hot tacos from Pepe's food truck and sat at the bar to try their Belgian Ale on tap.
My Shiraz Layer Cake and Ghirardelli dark chocolate squares waiting for me at home would be so disappointed in me for entering the world of beer.
Wine connoisseur or beer lover, I have found that there is art and passion pouring from the bottle and the tap.