The Best Bars in NYC for Summer
Aside from a few scattered thunderstorms, Summer is well and truly here. What better way to welcome the warmer weather than enjoying a few specialty cocktails in your favorite bars in the Big Apple.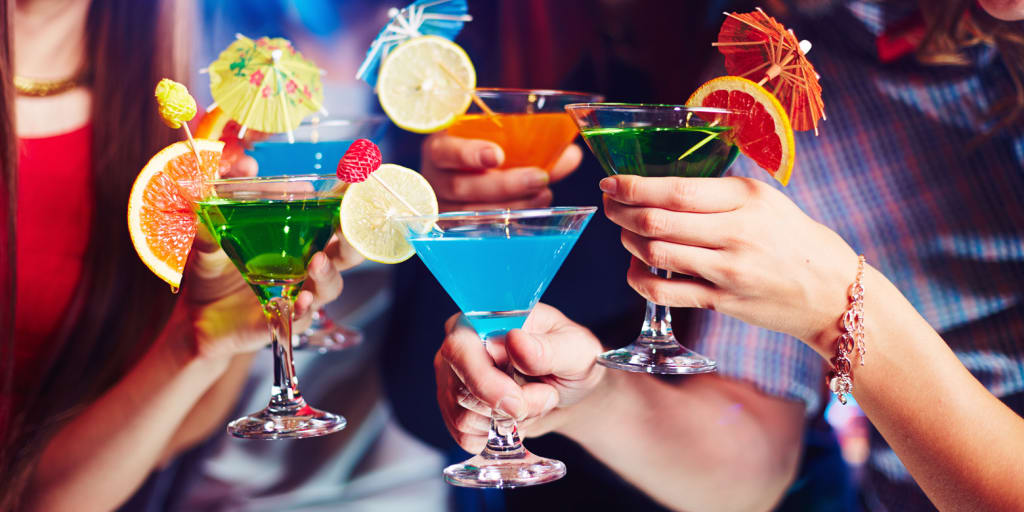 A quick glance at the clock tells you it's 5:45 pm. No one is responding to email requests or phone calls now, let's face facts, the rest of New York has probably already gone home. To hell with it, you're switching off your monitor. There's no issue or inquiry that might arise between now and the time it takes you to get to the elevator that can't possibly wait until tomorrow. Stepping outside you see the sun hangs low in the sky, that's nice – but more importantly, you need a drink. It's the only way the problems and predicaments of the last eight hours can be safely dealt with. Right, where to go...
The Bennett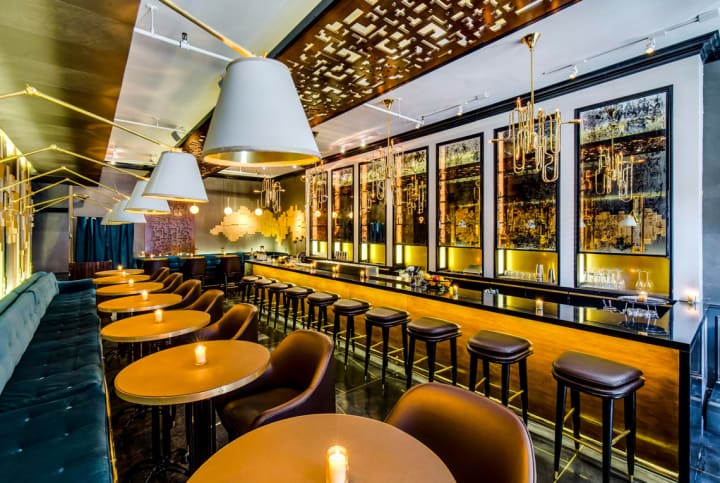 A stylish watering hole with an unassuming exterior set in the heart of Lower Manhattan. You can either prop up the bar or sit at the tables that feature call buttons to ensure you're not disturbed unless you need a refill or fancy a light snack of sorts. Bar director Meaghan Dorman's cocktails ($15) are, in essence, a staple of greatest hits from the bar's sister venues Dear Irving and Raines Law Room and original creations including, the spicy Frank of America and her signature Wildest Redhead. Perfect for a quiet conversation or even a first date in the trendy Tribeca area, a district where quality venues certainly exist, but these days it's something of a challenge to actually find them.
134 W Broadway, New York, NY
Porchlight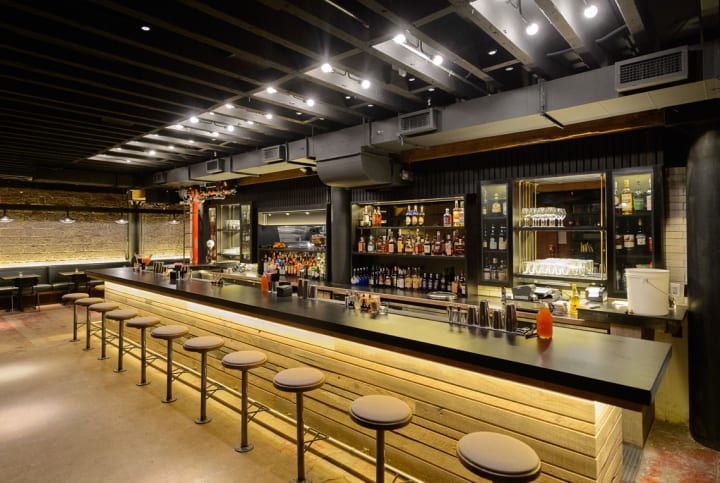 Hudson Yards will soon be a thriving epicenter of new residential towers, shops, restaurants and bars and Porchlight is beautifully positioned to take full advantage of that. Under the watchful eye of gastro guru Danny Meyer, the two talents behind Tribeca's successful Blue Smoke, Mark Maynard-Parisi, and Jean-Paul Bourgeois, have put together a Southern-styled cocktail bar decked in rustic, reclaimed wood, bare brick, and original load-bearing ironwork. Despite the surrounding area still being a construction site, word has clearly spread about all the drinks – and food – on offer. Most of the drinks on the menu ($15) have a familiar look and feel, but with just a tweak, giving them a south of the Mason-Nixon line feel, from the Harvey Headbanger (Tito's vodka, Galliano, orange juice, vanilla and spiced cranberry) to the Storm's Brewin' (Hamilton Jamaican gold rum, Appleton rum, lemon, grenadine and passion fruit).
271 Eleventh Ave, New York, NY
porchlightbar.com
BlackTail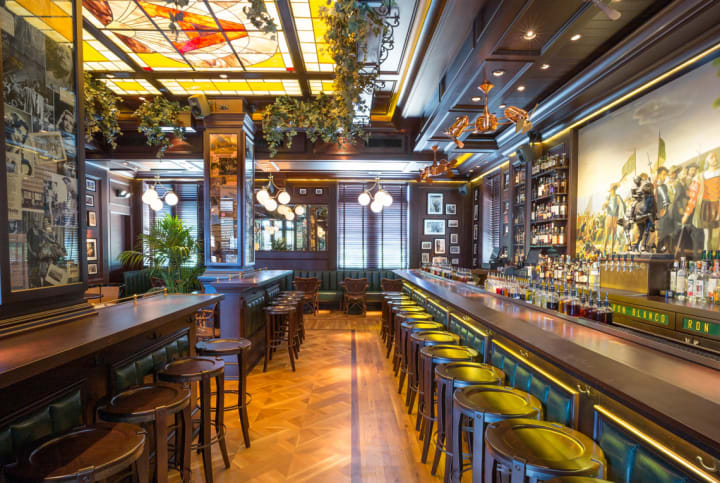 Just a stone's throw from the venue that firmly established them in the annals of cocktail history, Sean Muldoon, and Jack McGarry's latest foray into the New York City cocktail scene is the BlackTail. While their extremely popular whiskey bar the Dead Rabbit (listed below) was themed around the old Irish gangs of New York, this one centers around Prohibition-era Cuba. A statue of Latin literature legend José Martí stands at the bar and even the stools are styled after those in Ernest Hemingway-era frequented joints in the Cuban capital and the menu is loaded with more than 50 cocktails from the 1920s. A BlackTail was a slang term for a biplane flying boat built by the New Jersey-based aircraft manufacturer Aeromarine between 1914 and 1930. Inside, the walls are covered with framed photographs of Cuban life by Vern Evans and the dark-wood bar, studded with brass plaques bearing the autographs of notable Havana aficionados like Frank Sinatra and Ava Gardner. The menu maintains Cuban classics like daiquiris and mojitos, which are made with the bar's proprietary "Cuban Rum Blend" (Bacardi Heritage, Barbancourt White Rhum, Caña Brava and Banks 5 Island) and even the simple rum and Coke is lifted by a splash of champagne, the Amaro flavor of Fernet-Branca and a blend of house-made Orinoco bitters.
2nd floor, Pier A Harbor House, 22 Battery Place, New York, NY
blacktailnyc.com
The Suffolk Arms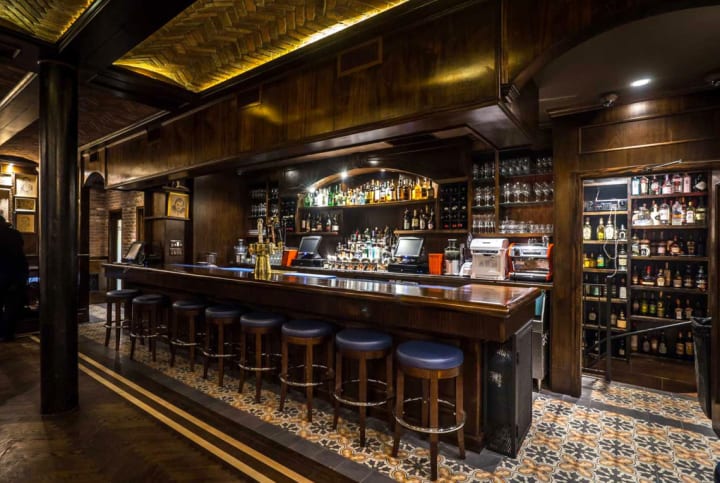 East Houston Street and the surrounding area is a really good place to start a bar crawl. The Back Room is just a short walk away and on the corner of Suffolk and E Houston is the appropriately named Suffolk Arms, the first venue (no doubt there will be many) from bartender extraordinaire Giuseppe Gonalez. The menu is an ode to the New York of old: a culinary combo of Latin dishes like a Chino-Latino platter and salchipapas, plus reimagined classic pub food including, Thai chili wings and tater tots, and in reference to the bar's location, Streit's matzo-ball soup and a Russ & Daughters smoked fish platter. The interior is styled on a pseudo-English pub and there's a low numbers policy on the door, which means it never gets so crowded you can't move, which it undoubtedly would. Drinks are divided into three sections, which include house originals, modern classics and – refreshingly for a New York City cocktail bar – a whole set of vodka cocktails.
269 E Houston St, New York, NY
suffolkarms.com
Fort Defiance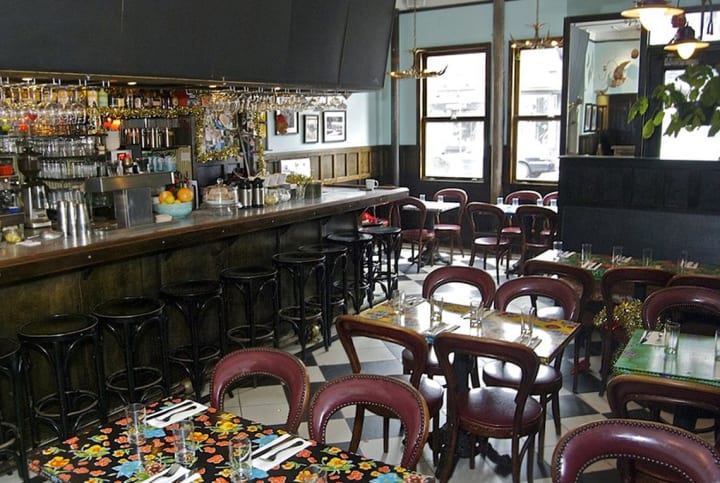 The sound of a room packed full of punters is probably what will eventually enable you to find this bar, found inside an assuming exterior. Located in the Red Hook neighborhood of Brooklyn, this little number oozes quirkiness. It's not a particularly lavish or upmarket decor, but the attention instead has been paid to the simple things. The menu is uncomplicated and is, in essence, made up of American cookbook classics sprinkled with a European flare – deviled eggs are topped with fried capers and roasted chicken is served with braised Tuscan kale and creamy polenta. The drinks menu is equally simple – just ask the barman for whatever you want. Regular specials like burger nights, oyster happy hours, and the weekly Sunken Harbor Club, a celebration of Tiki food and drink, always prove popular and keep this neighborhood spot lively. Look out for the Charles H Baker shrine just to the right of the bar.
365 Van Brunt St, Brooklyn, NY
fortdefiancebrooklyn.com
The Ship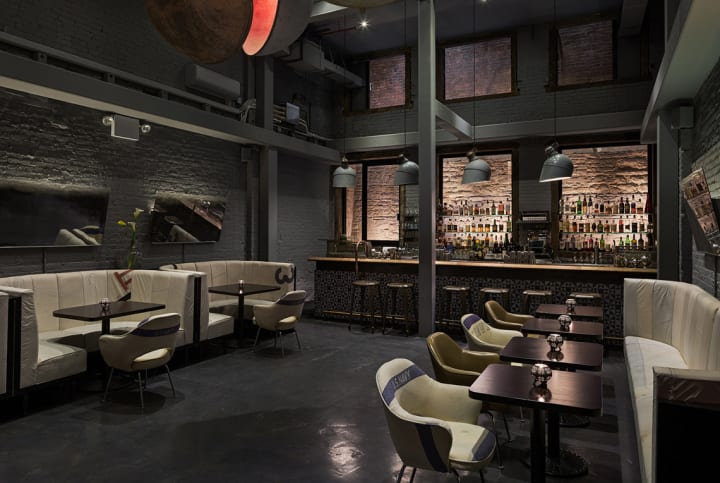 Without detailed directions, you will almost certainly miss this bar. It wasn't designed as a speakeasy, but it might as well have been. The hidden-in-plain-sight strategy not only magnifies the lounge's mystique, but it also keeps the heaving masses to a minimum. The only indication of its existence is a plain-looking sign on the street that blends seamlessly with its surrounding urban environment, but once you walk through the door and down the steps a whole new world awaits. The decor is elegant and uncomplicated and there are booths-of-sorts or you can prop the bar up – a very popular place on a Friday or Saturday night. Everything here is good. The menu offers a range of small meals and snacks from Korean-style Kalbi sliders to slow-cooked octopus and the drinks are straightforward and simple, try the American Trilogy – rye whiskey, Applejack, brown sugar, orange bitters, stirred and served on a rock.
158 Lafayette St, New York, NY
theshipnyc.com
The Dead Rabbit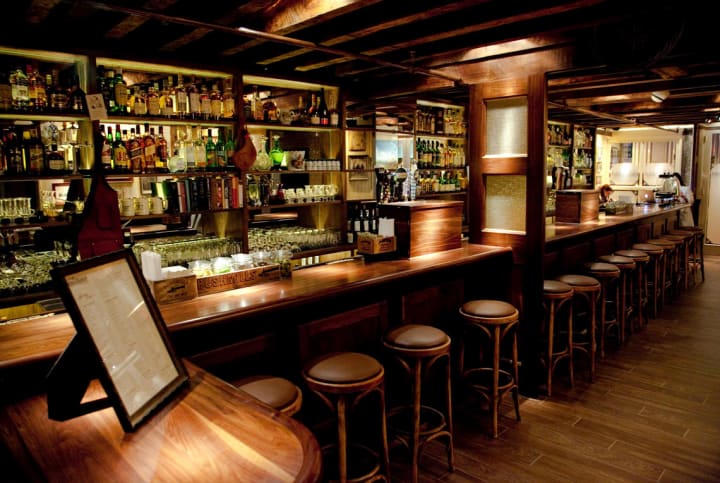 The Dead Rabbit Grocery and Grog, to give the bar its full name, is – as mentioned above – the first foray into the New York City cocktail scene for the NY cocktail scene's current golden boys, Sean Muldoon and Jack McGarry. Being Irish themselves, this is themed around the old Irish gangs of Five Points, New York – where the New York County Supreme Court now stands. Divided into three floors, the first being a proper spit and sawdust Guinness-serving bar, that also does phenomenal snacks, then the second and third floors are dedicated to cocktails, which generally focus around whiskey as a primary ingredient. Since it first opened in 2013, the bar has rarely been out of the spotlight of the spirit world, having been named the Best Bar in the World Best at the 2015 Spirited Awards, Best American Cocktail Bar and World's Best Drink Selection in 2014 and World's Best New Cocktail Bar and World's Best Cocktail Menu the year before. Painstaking attention to detail has been throughout and even the menus have been specially designed, one even resembles a graphic novel. This is not a big bar, and you can expect it to get mega-busy after about 4 pm from Wednesday onwards, as a surge of suits from the Financial District replaces the blue-collar workers of the 18th Century.
30 Water St, New York, NY
deadrabbitnyc.com
Holiday Cocktail Lounge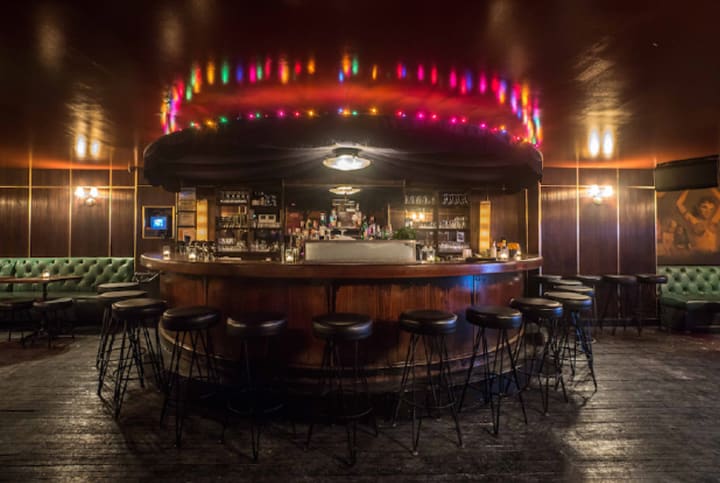 Back in the day, the Ramones and Frank Sinatra used to kick it at Holiday Cocktail Lounge, but it closed in 2012 following the sale of the building and cocktail aficionados feared it was lost forever. It was bought, cleaned up a bit and reopened just three years later. Now it joins other distinguished drinkerys around St Marks Place in Manhattan's trendy East Village. A self-described hybrid between a cocktail lounge and a dive bar, thankfully it has not lost any of its original charms. Craft cocktails range in price from $13 to $15 and include things like egg whites, raw honey syrup, "cobbled ice" and other curiosities from Michael and Danny Neff. There's also a section on the menu called "Research & Development" where you can sample whatever cocktails the bartenders are brewing for future menu inclusion. You can either sit at the horseshoe bar or in the booths dotted around the wall. This place seldom gets so busy that you can't move and it's a great to spot to start the night and impress friends from out of town with this underground, insiders-only, cool, kitsch cocktail bar.
75 Saint Marks Pl, New York, NY
holidaycocktaillounge.nyc
The Happiest Hour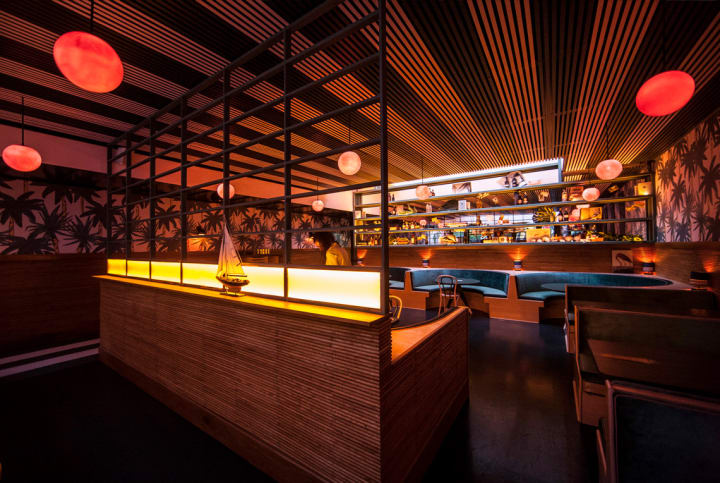 Located in the heart of the West Village, this 60s-styled retro cocktail bar is positively jam-packed during the hot, summer New York nights. The decor on the main floor of this two-tier tiki bar is based on the mid-century beach resorts of California and Florida and it works to great effect; it feels like summer every day here even if it's sometimes more Spring break than easy-going ambiance. However, if elbowing your way through the after-work crowds that flock here for the tropical vibe and accessible cocktail list isn't your thing, you could disappear downstairs for a more traditional whiskey bar atmosphere. An added bonus is that should you visit during daytime hours, the In-n-Out-style Happiest Hour burger is the stuff of legends. The lightly-fried salt and pepper broccoli with ranch dipping sauce also come highly recommended. Food is available in the evenings, but you'd be hard-pushed to find somewhere conducive to enjoying the very impressive menu this bar offers. The bar and restaurant is a project from Jon Neidich and Jim Kearns, formerly of theNoMad Hotel and Pegu Club, and all of the reasonably-priced drinks come with a few spirit suggestions so punters can pick their favorite.
121 W 10th St, New York, NY 10011
happiesthournyc.com
Reader insights
Be the first to share your insights about this piece.
Add your insights