TAKE FIVE Hard Seltzer Review
Don't be afraid to try something new!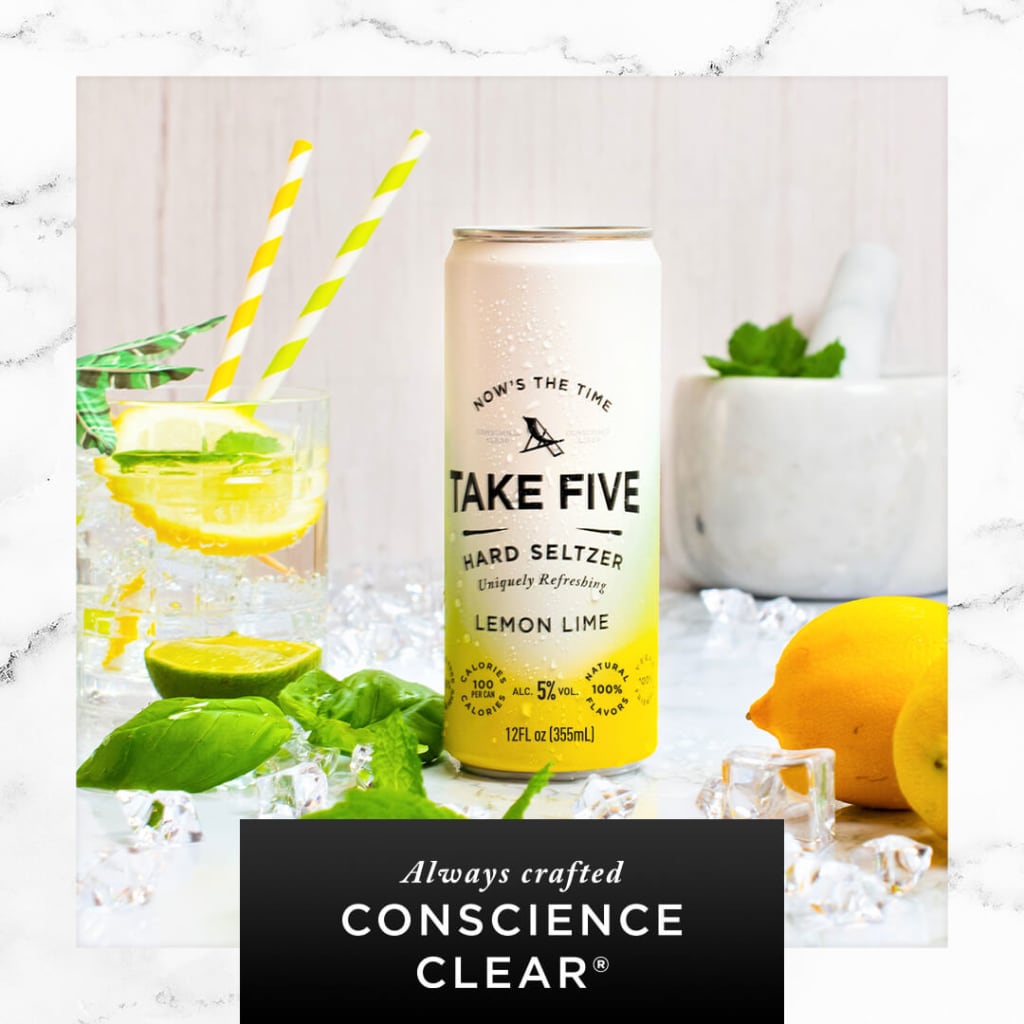 Isn't this something we always tell our kids? Especially when encouraging them to mop up the green section of their dinner plate, in our endlessly optimistic, parental belief that one day our children will shower us in love for adorning their plate with the last Brussel Sprout? So, why is it then, as adults, we don't always practice what we preach? It's a common yet unexplained sight in a grocery store when you see a sampling table offering a free bite or sip of something to passing shoppers as they go about their day yet so many of those shoppers won't stop and try what's being offered to them for free! Why not? My unsubstantiated conclusion is that too many of us get stuck in our ways and stick to what we know and what we know we like but following that path forever means we're likely to miss out on something new, something exciting and something, potentially, outer worldly delicious! Take the time to try folks! You just never know…….having said that, with so many of us opting to buy online these days, 'try before you buy' isn't really a viable option so how can we experiment and not worry about it being a complete waste of our hard earned cash?
Read Reviews!
Take seltzers as the example. If you're a lifelong beer lover or couldn't imagine your Friday night without your trusty glass of Sauvignon Blanc but you've read somewhere that you probably need to cut down and look for another tipple that's less calorific, then seltzers could be the answer for you but there are literally hundreds out there, possibly even thousands. Where do you start? You've browsed multiple websites, all offering the best tasting seltzers, but who do you trust when you can't sample it first? Expert reviews are what you should be searching for in your browser. Go to them and read what the experts say. Seltzer reviews on www.seltzernation.com are conducted independently and their panel of tasters are some of the most experienced and knowledgeable in their field. Their top 10 seltzers of 2021 have just been published The Top 10 Hard Seltzers Of 2021 | Traditional Style (seltzernation.com) and it's a worthy read for anyone looking to buy hard seltzers online. Summing up seltzers, the team commented;
"2021 was an incredibly hard year for hard seltzers. New brands, new flavors and new innovations in the space made this year a seltzer lover's dream! It was especially difficult to choose the Top 10 winners this year. So many new, smaller brands competing with the big brands made our jobs tougher than ever before. Friendships on our review team were pushed to the brink but in the end, our love for seltzer prevailed, friendships survived and we are happy with our final list".
One of the new brands that has made their coveted top 10 list was TAKE FIVE Lemon Lime Hard Seltzer. Reviewed by the team earlier in the year, this seltzer scored a whooping 92 / 100 points. This Lemon Lime seltzer is just one of four delicious flavors available in the TAKE FIVE range which are all zero sugar, zero carbs, gluten free, vegan friendly and just 100 calories a can. If you're looking to buy hard seltzer online, we recommend trying TAKE FIVE and you can buy their seltzers from a number of online sites; www.takefivedrinks.com, www.taprm.com is a great option for those on the east coast and CWS is ideal for those living on the west Take Five Hard Seltzer - Brands (cwspirits.com).
product review
About the author
Ready to experience Take Five's, a hard seltzer. Buy online refresh, ready-to-drink sparkling water with Gluten-Free and no carb. Buy Online Today!
Reader insights
Be the first to share your insights about this piece.
Add your insights