Shaken, stirred and seasoned: A Home Bar tune up, made easy.
Let's be honest, you owe yourself a good cocktail.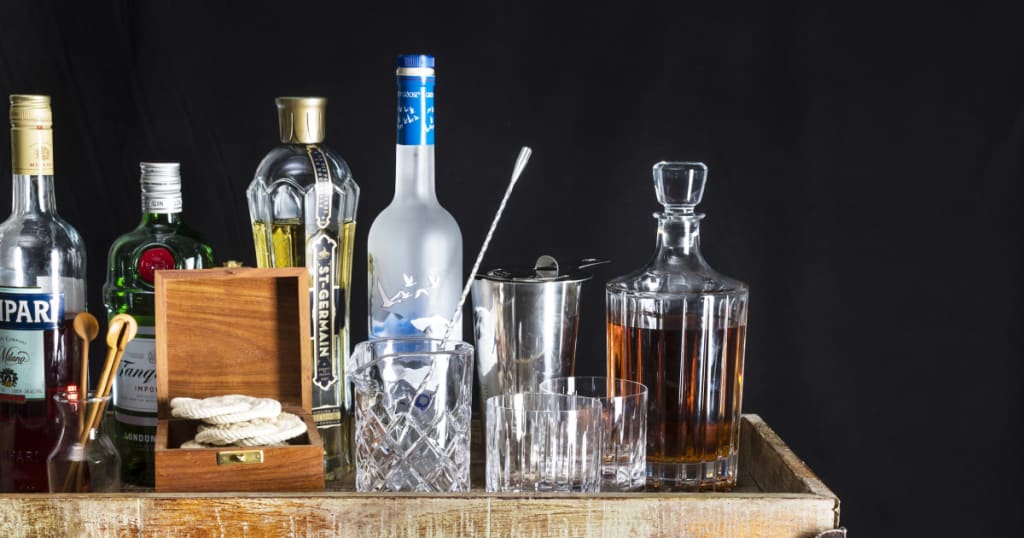 Doesn't even have to be as fancy as this, don't sweat.
Now, I'm guessing you've reached that pivotal point in lock down that you've started to pick up some new hobbies. Everything from sculpting and having a full on Ghost moment, to making entirely too much banana bread, and then teaching your cat how to play fetch and finally show some affection? No?....just me then. Well, I bet you've also gotten all too tired of a that (seemingly at this point) age-old "Quarantini", huh? I'd say it's time to pull out that inner mixologist and get yourself a decent cocktail! Crafted by, nobody else, but you.
And, don't worry, no handlebar mustache or tattoos required.
Bar carts and home base.
First thing's first. Where are we gonna put all that booze? A place to store equipment, glasses, maybe some fun pictures and decals, and of course, all those wonderful ingredients. This can be anything from a designated spot on your kitchen counter, to the most wild and extravagant bar cart/showpiece extravaganza you've ever imagined. Usually, people who like a good drink probably like entertaining as well! Someone who has a bar set up is sure to impress friends and guests with this little showstopper. Anything from a local, charming thrift store find, to Crate & Barrel and beyond. Whatever suits your fancy, even if it's not.
It's a conversation starter! Find something that perfectly represents your style, or maybe you made yourself AND you're comfortable working with. You'll will surely win friends and guests over in some way. Guaranteed.
Right tools for a tipsy job.
This part is easier than you might think. You'll need a few things before we get to the fun part:
Cocktail shaker: Generally, for any drinks that have citrus (Margaritas, Gimlets, Daiquiris, etc.) And, who doesn't like a little bar flair! Well, don't get too crazy.
Mixing Glasses: One should be just fine for home bartending. For all those Martinis (Looking at you, Mr. Bond), Old Fashioned's, Negronis and beyond!
Stirring Spoon: The long one with the fancy decal on top. Well, not always a decal, those are purely a style choice. And, no, a regular spoon just won't do it in this case. Unless you have unusually long fingers. Spooky.
Measuring Glass/Jigger: You've seen bartenders flipping these things around to measure booze for ages. Jiggers come in two sizes, 2oz/1oz and .5oz and 1oz. Reading the little etched lines inside the jiggers makes creating cocktails precisely and quickly, simple. At home, you'll definitely need some of these or a small measuring cup that goes up to at 4 or 5 fluid ounces. Again, whichever you're comfortable with.
Ice and Glasses: Go crazy. There are so many different obscure ice molds and funky glasses out there at this point. Over time, I've mostly stopped into vintage and thrift stores and picked up a glass or two. I've definitely come across some weird ones, cue the fully porcelain Weiner dog with little Oktoberfest shot glasses on its sides. Woof, literally. Find ice molds that work and glasses that sing, and you'll be ready to start mixing in no time.
The Booze is the word.
Now, let's get one thing straight: you definitely know what you like. And even if you say you don't, I'm positive you have a pretty decent idea. Weather it's a really herbaceous gin for a martini or the strangest and most obscure Fernets and Amaro, or even just a vodka or tequila soda (if you say Titos one more time, Karen, I swear).
Easiest way to broaden spirits horizons is asking the bartender for something like what you usually drink. Or, if it's the right time and they don't look too busy, ask about what they like drinking and just try it. What've you got to lose? Don't even think about the answer, it's nothing.
Find a liquor/wine store near you that has a pretty good, and probably a little daunting selection, and just chat with someone who works there. Or, if you're stricken with alcohol and decision-making anxiety, look it up!
Some personal inside scoop favorites from an actual bartender, just as a start:
Vodka- Kettle or Helix work fine, but if you can get Leopold Bros. Silver Tree, its bomb.com.
Tequila- Siete Leguas and Fortaleza are both excellent starters, La Gritona is a current favorite though.
Rum/Rhum- Flor de Cana 4 year and Doctor Bird are delicious for all needs, Neisson Blanc (not the car) for something clean and funky.
Bourbon- Blantons for sippers, Bulleit and Four Roses will do the trick for stirred drinks.
Rye- Rittenhouse is great for mixing, Willett Family if you feelin' fancy with some rocks.
Amaro- Category is! Bitter for your nerves! Montenegro, Cynar, Ramazotti, Amaro Meletti, Fernet Branca, the list goes on. These always have a wide range of flavors, from soft and citrus forward, to robust and intensely minty. A sense of adventure is definitely necessary, but there's something for everyone.
These are just some suggestions to get started and to even branch out a bit. Try not to get overwhelmed or stuck in that same routine. You know what they say about variety, right?
Wait, what's in that drink?
A good recipe is key for making any drink really work. Even the best bartenders have once used recipes when asked to make the most basic cocktails. So, guess what? Just do that! If there's a drink you love to have at bars, like a Vesper Martini or a Sidecar, just look for a recipe you like online and give it a shot! Remember it's not rocket science, it's just cold cooking.
Find the recipe online, see what ingredients you need and wing it. It's also much easier to make a lot of syrups than you'd probably think. Simple syrup and other added ingredients also have recipes and can be modified with your own personal flair accordingly.
Even though you can absolutely find the basics online, cocktails for specific bars probably won't be there. Those are the coveted secrets of hard-working bartenders, who will protect them tooth and nail. But that doesn't mean you can't enjoy them accordingly and try to recreate them on your own. Asking a bartender "I had this one drink at another bar, I can't remember what it's called but it's on the menu. Can you make it?" is a sure-fire way for the bartender to get pissed off at you. (Luckily, the world is closed, and you've got time to practice). Just be kind and curious, figuring out their tasty secrets is on you, baby.
Dream big, drink well.
Experiment and just go for it. Making great, memorable cocktails takes time and lots of love. Be curious, be kind and get you a proper buzz from the comfort of you sleek new bar set up.

Nick Monteleone
Hello! Just a goofy bartender/voice actor who's hitting the keys! Looking to make all those weirdly named bottles that nobody knows how to pronounce, seem approachable. Fixing up the home bar one article, and bottle, at a time.
See all posts by Nick Monteleone →