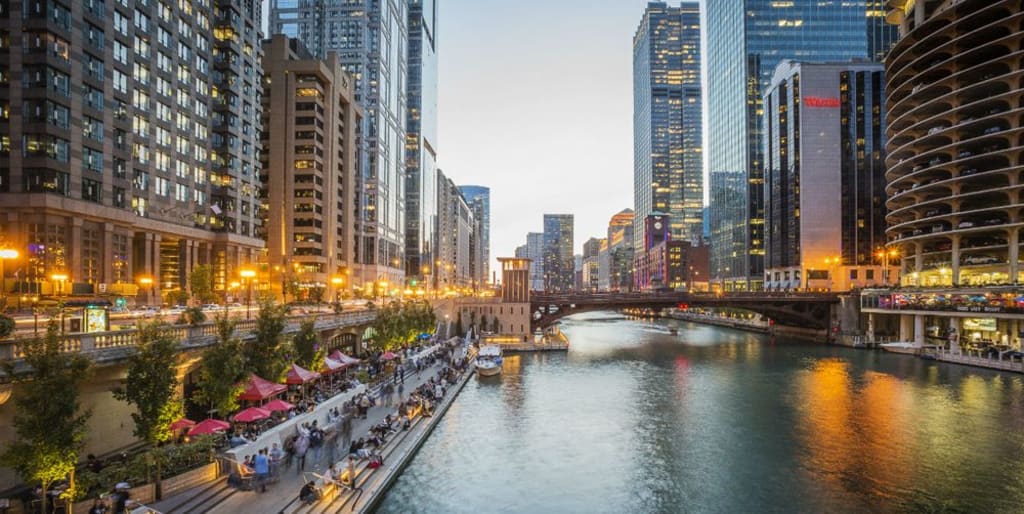 One of my main goals coming to Chicago was to find the best of the best when it came to restaurants and bars. Unfortunately the Coronavirus made it required to have a reservation to go anywhere. This made it difficult for me to find places as I was walking in an area I liked, or have any spontaneous meals at new places. I have gone to quite a few well known places and decided to give my honest opinion of them. This can be anything from food to the view to the pricing on the menu. So here we go...
LONDON HOUSE ROOFTOP BAR 7/10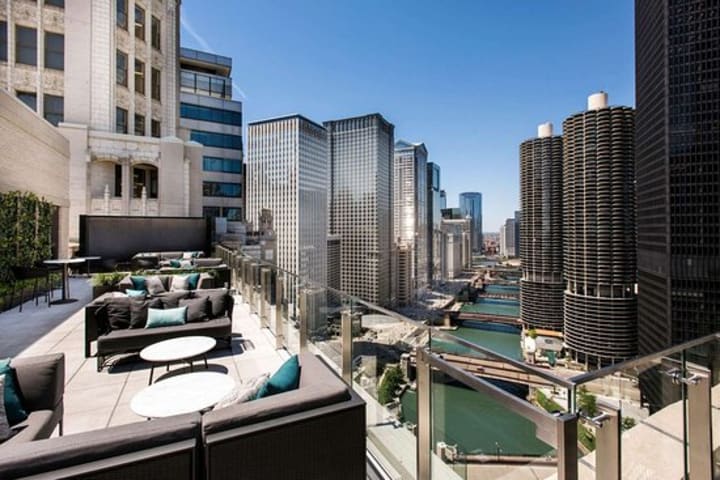 After many "rooftop bar in Chicago" google searches, I came across this picture. Immediately I knew I wanted to go and see if the view was as beautiful as this picture. I made a reservation for four people at 3pm on a Friday, which also happened to be my birthday. We get to the London House Hotel and are guided to the elevator where it brings us up to the rooftop, or so we thought. Once we got inside we were sat at our table (inside) and were told that we were not allowed to eat on the actual patio roof. We had to eat and get drinks inside (and pay) then we were allowed to bring our drinks outside if we found a table. Although this was a bummer, we decided to order food and drinks anyway. I ordered the truffle fries (DELICIOUS) and the Lobster Biscuits and Gravy. My dish was LOADED with lobster, but the actual flavor was very average, not something I would get again. This seemed to be the common consensus around the table as well. For my drink, I ordered the SUMMER MANHATTAN which had: Suntory Toki, Aperitivo Nonino, and Grapefruit. I was very happy with this choice because cocktails are $16...I wanted it to be strong for that price. After eating and hanging inside for a bit, we paid the bill and outside we went. The view was breathtaking! There were river and skyline views from almost every seat, it was beautiful to say the least. BUT there was no bar outside nor waiting staff, so you were required to go inside and purchase a drink then come back out (not a huge deal just inconvenient). Overall I really enjoyed the atmosphere, but it is not somewhere I am dying to go again.
CERISE 9/10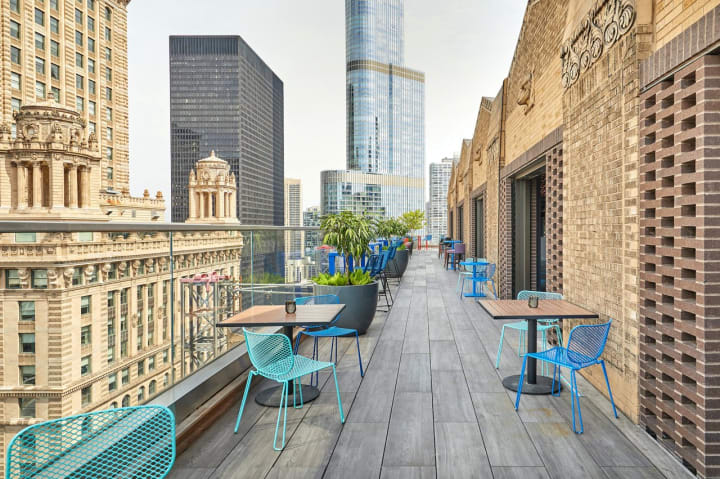 Cerise was the first rooftop bar I went to downtown and it did not disappoint. Cerise is located at the top of the Virgin Hotels on the 26th floor. Reservations are required, but they seem to have a decent bit of availability during the week. This was also the most affordable rooftop bar/restaurant I have ever been to. Typically when I am out, I order a beer instead of a cocktail because they are cheaper and I prefer the taste. Unfortunately their rooftop is now closed due to the weather, but I had a fantastic IPA beer and it was only $6!!! The cocktails ranged from $10-12, which I thought was reasonable. They do not have a full menu for food, it is more sharables BUT they are so good. We ordered the trash fries, or something like that and they were to die for and once again only $6. I truly have no complaints about this restaurant and think it is a must for everyone, it is also very close to the river (down the street from London House). The only "downfall" to this restaurant is that they really emphasis the two hour limit on each table (which I understand), but they did abruptly try and get us out without even noticing we had not paid yet. Great place altogether!
THE J. PARKER 8/10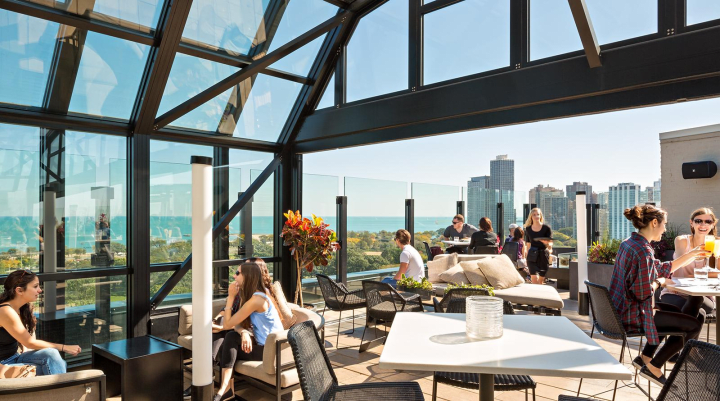 The J. Parker was one of the first rooftops I wanted to go to, mostly because it was the closest to me but also because it had beautiful views of the city and the park. It took me almost three months of living here to finally get the chance to go. The main reason being that they do not take reservations, so it is first come first serve for all seats. I never felt it was worth the risk to go all the way over there to be told there would be a two hour wait. So my sister and I decided to go at around 6pm on a Thursday night. Since there were only two of us, we got to go up immediately to be seated. We sat near the glass facing the park at a small table/bench. It was very cold on the roof once the sun went own, especially since we weren't by any heaters. I ordered an Anti-Hero and my sister ordered a cocktail. Both were reasonably priced and very good. They also came around and gave us a pitcher of water. We also ordered two appetizers to share between the two of us, the hush puppies and french fries. They were good appetizers but nothing I would probably get again. Overall it was a beautiful view and good food for a fair price. I would recommend everyone trying this!
UTOPIAN TAILGSTE 6/10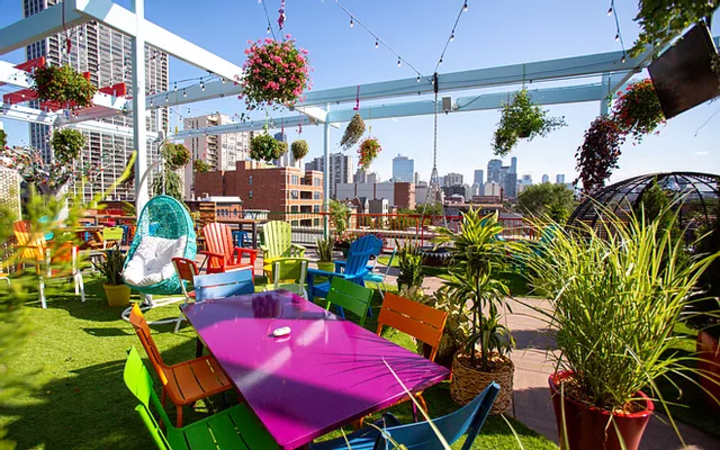 I had extremely high hopes for this place after seeing all the pictures they posted of their decorations. Like most places we had to make a reservation ahead of time which is normal for todays world. The atmosphere was quirky and energetic with a lot going on. It is located in the Old Town area and had a great view of the downtown skyline. There were 6 of us total and we all decided to get different drinks. Cocktails were $12 and beer was $5-7, typical pricing. We all enjoyed our drinks and thought they were worth the money. Everything was great until we all got our food. Now I am not going to sit here and act like a food critic and pick apart every tiny thing about the food, but I was disappointed. That is the main reason I gave this place a 6, the food was below average by a lot. (I will literally eat melted shredded cheese on top of chips and say they are delicious). Every single one of us could not even finish our meals (except my one friend who got the salad LOL). So overall I think the place is great for grabbing a drink and hanging out, but not to sit down and eat a meal. The view was pretty and I do think this place has a lot going for it, just not my favorite place to go.