Polar, the Underdog of Seltzer
If you think seltzer doesn't get any better than La Croix, take another look. Polar Seltzer's been at it since 1882.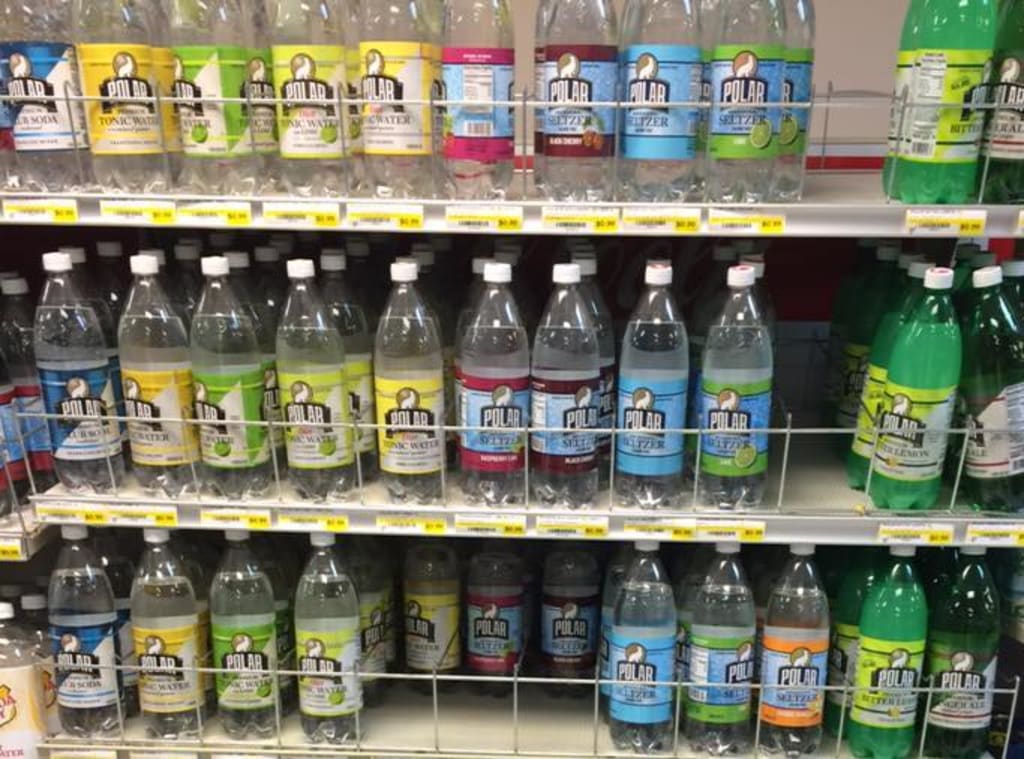 I went to Kentucky on vacation. While shopping for bourbon, I found the mother lode of Polar (including Bitter Lemon, bottom, second from right).
Regional drinks are an interesting cultural phenomenon across the United States. The South has its bizarre Cheerwine, and my friends in Michigan will defend Faygo to the death. And we're just talking about non-alcoholic drinks — for the purposes of this conversation, we're not even touching on the craziness of limited edition, regional exclusive craft beers.
I grew up in Massachusetts, where Worcester-based Polar Seltzer reigns supreme, yet it wasn't until La Croix became trendy that I wondered why Polar doesn't enjoy the same widespread success. It's a little hard to find outside of New England, but I suspect that it's by design. (And if I'm wrong, I'm telling myself that, anyway.) In Chicago, I can find basic Polar flavors at Target and Pete's Fresh Market when I'm in a bind — Lemon, Lime, Black Cherry, Cranberry, and maybe a few others if I'm lucky.
But I want the best of Massachusetts while living halfway across the country, so I have my Polar shipped by the case. I typically wait until mix packs of limited edition seasonal flavors are available. Right now, I'm sipping on crisp and refreshing Raspberry Rosé, which came in a mix pack that also included Mango Berry, Watermelon Margarita, and Strawberry Sunset. Toasted Coconut came in a case of its own (and blows La Croix Coconut out of the water, with or without booze).
If you're lucky enough to get Polar where you live, put down that can of La Croix and try something new. I have 10 reasons why Polar is the underdog of the seltzer industry.
It's an awesome mixer. This is an alcohol site, so I'm starting here. Polar is delicious whether you're drinking it straight, or (as I prefer) mixing in a little of your favorite booze. Gin and vodka are my favorite types of alcohol to blend with Polar; rum also has potential, depending on the flavor you've chosen. If you feel like getting fancy, squeeze some fresh lime in there. And if you make a cocktail that turns out way too heavy, a splash of your favorite Polar will add some bubbles.
It's got more experience. Polar Beverages was established in 1882. La Croix rolled out in 1981. La Croix is barely older than I am.
It's from Massachusetts. The Commonwealth. The land of basketball, Dr. Seuss, Aerosmith, the Mighty Mighty Bosstones, and glorious Polar Seltzer.
It's family owned. Polar is a small company, yet it's the largest independent soft drink bottler in the United States. You keep doing you, Crowler family.
Seasonal flavors. Polar rolls out limited seasonal flavors every summer and winter. Summer flavors tend to be bright and fruity, and the winter variety can get a little weird (on Christmas, I tend to find myself sipping on flavors such as Mint Chocolate Chip and Eggnog). If the flavors do well, Polar sometimes brings them back. And unlike La Croix, which charges more for "special" flavors such as Cucumber Blackberry (ew), seasonal Polar flavors don't cost more than the regular lineup.
There's a feeling of exclusivity without snobbery. Unless you live in or around Massachusetts, Polar can be pretty hard to obtain. It's like our little secret. Yet, there's nothing snooty at all about it. I wish the same could be said for certain craft breweries.
Birch Beer. In addition to its awesome seltzer lineup, Polar also makes some sodas and mixers. Polar makes birch beer, and it's amazing. Though I try not to drink sugary sodas, I'll make an exception for a bottle of Polar Birch beer when I visit home. It's clear, the way birch beer should be. (I don't understand why most other soda makers think birch beer should be dyed red or green. Gross.)
Bitter Lemon (and your favorite gin). Do you enjoy a good gin and tonic? Then you owe it to yourself to track down Polar Bitter Lemon. It's the best tonic I've ever had, and sadly, I have not figured out a way to get it in Chicago besides packing it in my suitcase when I visit my parents. (The checked bag fee is well worth it.) It's like a regular gin and tonic with lemon, but way fresher and fruitier.
Unicorn Kisses. In early 2016, Polar released a special, super limited flavor called Unicorn Kisses. I felt a little left out of my friends' Facebook chatter as they shared resources attempting to find it — no way I would find it in the Midwest — but my brother's girlfriend saved the day by tracking down two bottles and bringing them on the plane as part of my wedding present. Yes, seltzer as a wedding present. Polar recently announced they're bringing it back this year, along with Dragon Whispers, Yeti Mischief, and Mermaid Songs. I might need to renew my vows.
Seltzerbrate. Unicorn Kisses wasn't my favorite — a little too sweet — but Seltzerbrate really hit the mark. Seltzerbrate landed in stores in early December 2016 with no warning, no social media campaign, nothing. The bottle was clear with gold sparkles, and the limited run sold out quickly. And, because my friends know me so well, I received a few bottles as Christmas presents. It tasted a little bit like fresh pears and a little bit like champagne. It was a great way to lighten up my family's booze-heavy holiday celebrations.