Macerated Strawberries
a summer seasonal staple with grown up twist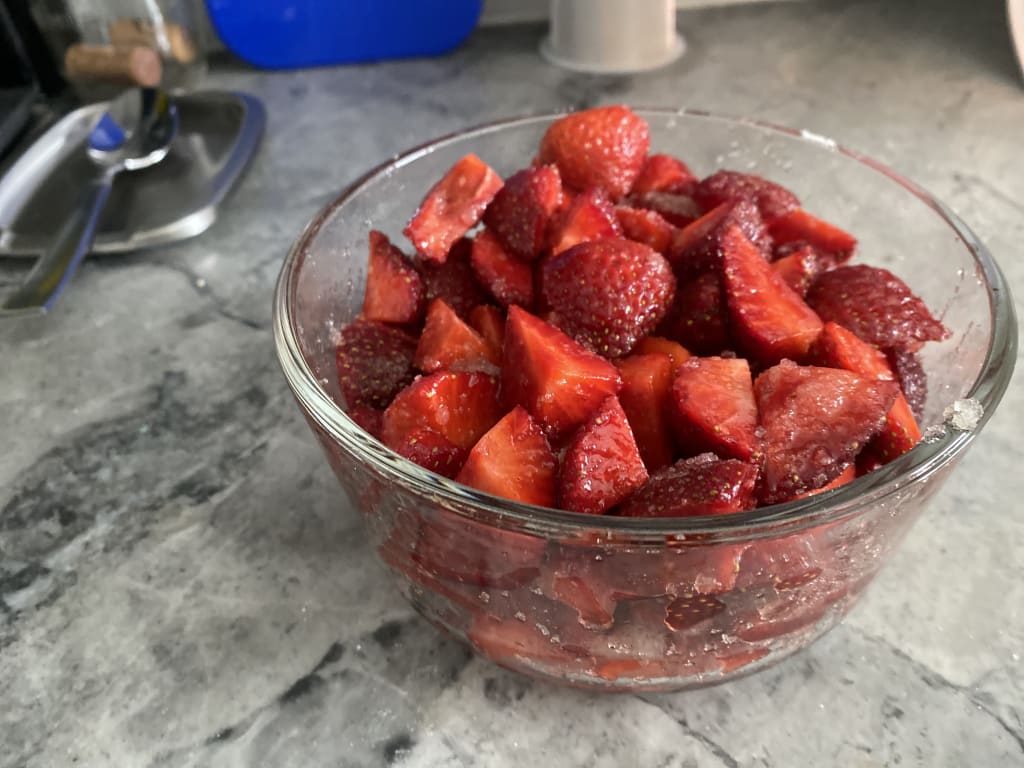 A simple question of ratios makes up this recipe, can be done at any time of year you can get strawberries but is definitely best while they're in season.
1 quart basket of strawberries
3 tablespoons of sugar
Optional: 3 tablespoons orange liquor
1. Cut strawberries into evenly sized pieces removing stems and put into medium bowl. Do not worry if you drop some on the floor, dogs CAN have strawberries (thank you google for the quick answer to the panic) and he loves them.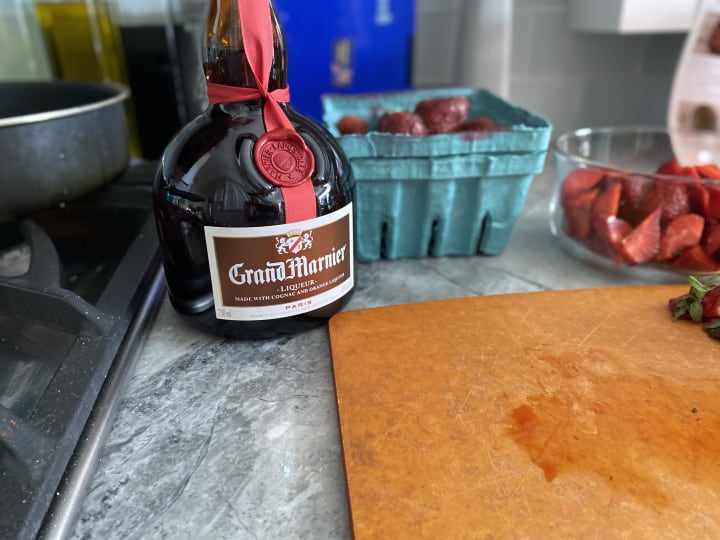 2. Add sugar. Add orange liquor. Mix gently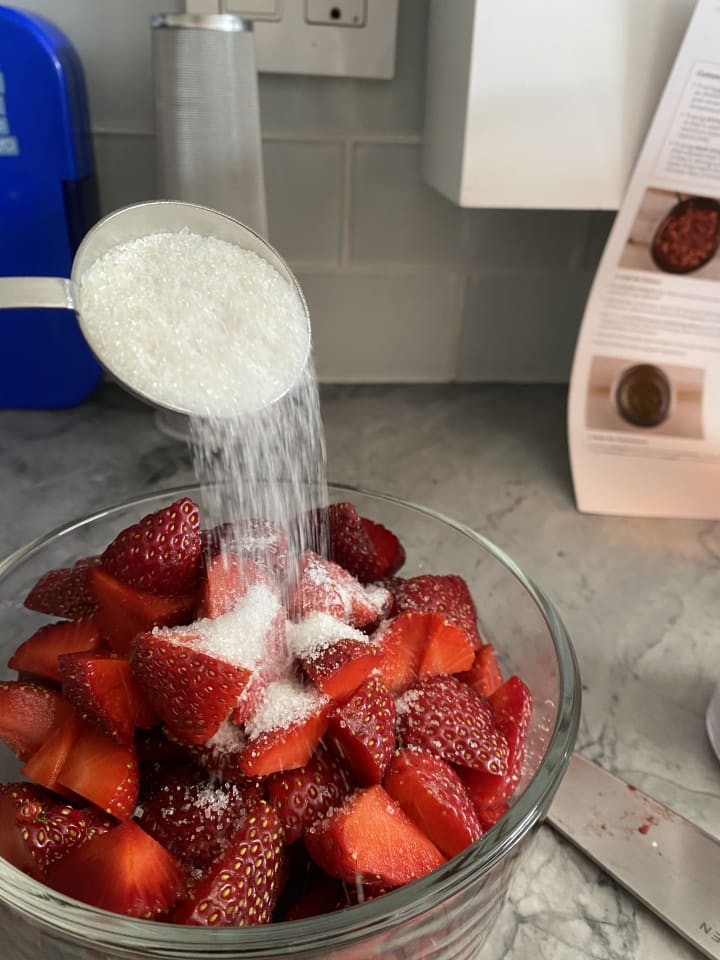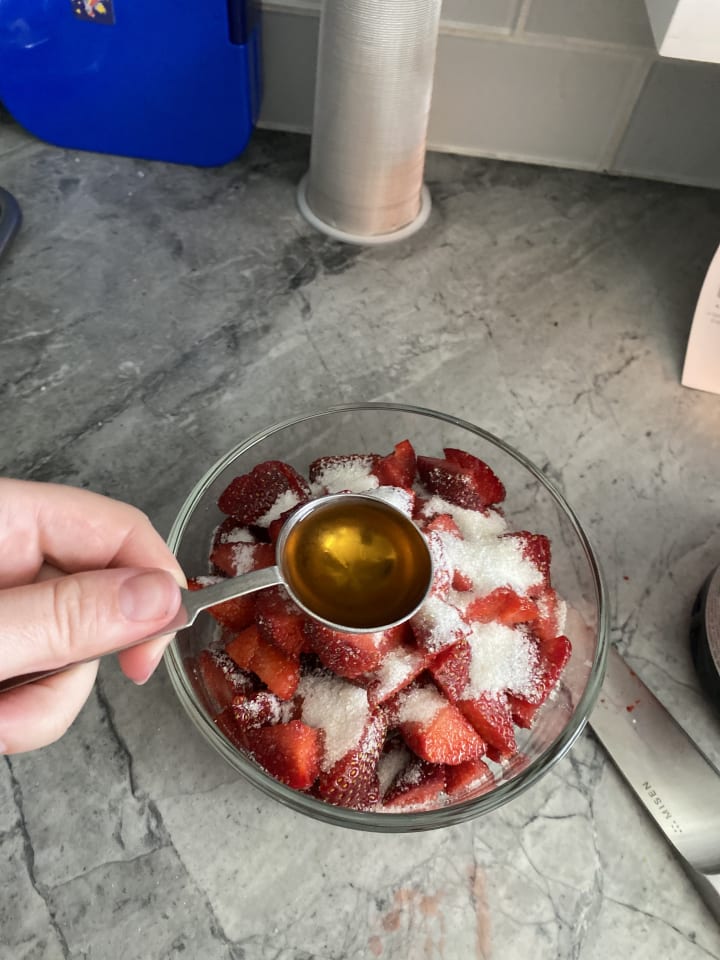 3. Cover and refrigerate for at least 30 minutes.
4. Remove and enjoy.
Strawberry season typically lasts from late May until the 2nd week of July in New York State. We are currently in the peak of it and I'm hoping to take the little man and the old man strawberry picking this weekend, as neither of them have done it before. There is something about the way the sun warms a strawberry when it is slightly over ripe that feels as if you can taste sunshine in those two tiny bites. The smell wafts off of stands at the farmer's market, increasing in intensity week after week. It reminds me to get in the seasonal eating while we can.
There are currently wild strawberries to be found in New York City parks, occasionally nibbled on by our dog as a surprise mid-walk treat. I wouldn't recommend eating them yourself, but seeing them is heartening that not all nature is lost in the increasingly hot concrete oven of the city. June 14th was the strawberry super moon, one of the times the moon is closest to this part of the Earth and named because of the peak of strawberry season.
Recommendations:
1. Add the orange liquor. It's not enough that anyone will notice and it's not enough to get anyone even slightly. Plus the citrus hint adds a complexity that you won't get with just sugar.
2. Eat with shortcakes and whipped cream, or just whipped cream, or add to bottom of a cocktail and muddle with mint or basil.
3. Do not tell your boyfriend that you've added the orange liquor when you've served him the strawberries with his breakfast. He has a thing about not having morning-booze because he has a real job and all that, even if he can't taste it or feel the effects.
4. Keep the syrupy run off for flavoring yogurt or drinks. I mixed it with some sparkling lemonade and gin to a delightful effect this afternoon. I can also see this being delicious as a mix in for frozen rosé, though I do not have the patience or freezer space to make that at home.
5. I don't know how long to store these for, they never last in our house.
Old Man Review:
These are nice. Doesn't like the more mushy ones for eating (this seems to be the over all opinion) but all in all a good way for the market strawberries not to go to waste. (was not told about the minor amount of alcohol, will never know)
4 year old Review:
Mostly a yes. Doesn't like the ones that have gotten a bit mushy at the bottom of the bowl, but otherwise enjoyed them and was willing to eat them for dessert despite chocolate ice cream being an option.
Strawberries do much better with 4 when cut, as they won't eat anywhere near the green stem and several bits of viable deliciousness was lost before anyone was able to stop them from throwing the half eaten strawberry into the garbage.
alcohol
About the author
I've never actually read The Old Man and the Sea, but I do love salt.
@theoldmanandtheseasalt
Reader insights
Be the first to share your insights about this piece.
Add your insights