Inside the World's Best Speakeasy Bars
These low-key hideaways make you work a bit to get in, but the effort is worth it.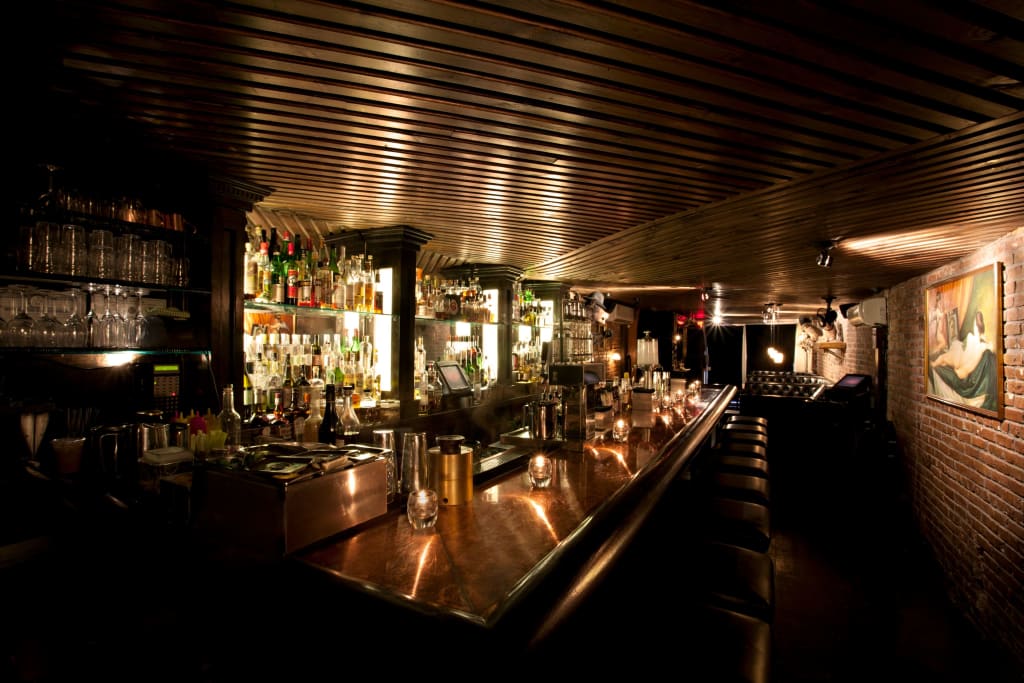 PDT in New York stands for "Please Don't Tell." 
If you head to a little joint called Crif Dogs in the East Village to fill up on hot dogs and cheese fries, try walking into the wooden phone booth in the back and picking up the red phone to dial "1."
That will call the hostess behind the hidden wall.
She's in PDT, the speakeasy founded by Jim Meehan, a guy so versed in mixology, he literally wrote a book on it.
Jim's bar features exotic seasonal drinks in a chic underground setting.
Hard to believe that while you were scarfing down a chili cheese dog and getting mustard on your shirt, a bunch of in-the-know New Yorkers were sipping orange-marmalade flavored rum and absinthe on the other side of the wall just a few feet away.
Midnight in Paris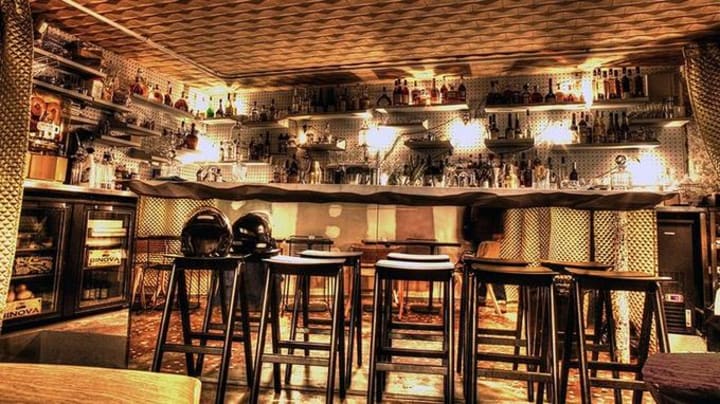 Locate the most grossly graffitied and poster-covered wall on Strasbourg-Saint-Denis and open the only door. If Le Syndicat is serving, a bouncer will greet you on the other side.
Everything about this speakeasy feels like you are in on a hip joke. The pun-heavy menu goes well with the eclectic American and French hip-hop soundtrack.
The decor is made up of rows of fancy glassware and gaudy yellow curtains. The back wall of the bar looks like that utility board your grandfather tacked up to hold the hammers in his toolshed.
But the drinks... the drinks are a wild mix of the roaring past and playful present. Its old school style meets new attitude in a way that only Paris can provide.
Rumor is Wes Anderson even drops by whenever he's in town. Go with a group of friends and order the tea punch that's made to share, or try the raspberry negroni—a drink that comes garnished with an alcoholic lollipop.
Liquor in the Loo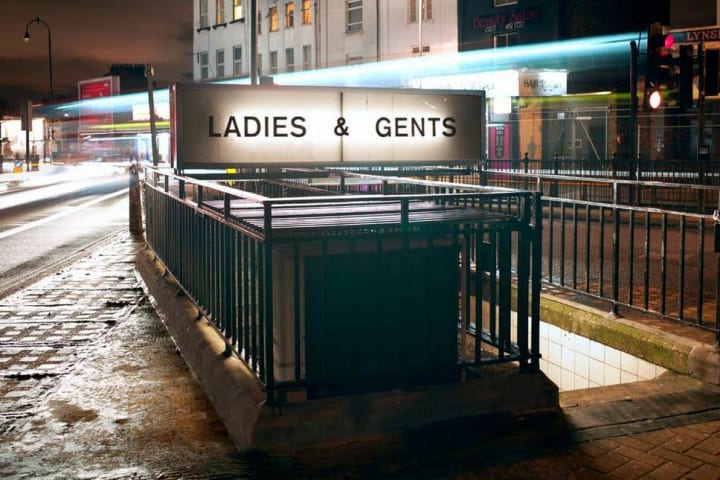 If you're strolling down Highgate Road in London and you get the urge to use the bathroom, you might just accidentally find yourself in Ladies & Gents bar.
In Queen Victoria's time, it was a restroom. Now, it's the playground of one of the world's greatest spirit makers, William Borrell.
The interior is subdued, but that's intentional. It doesn't want to distract from the real star of the show, the handcrafted cocktails.
A crowd favorite here is the highwayman gin, one of many bespoke spirits made on-site from the bar's copper still—only 12 bottles are prepared daily, so if they run out, you'll have to wait till the next night.
Open a Bottle and a Book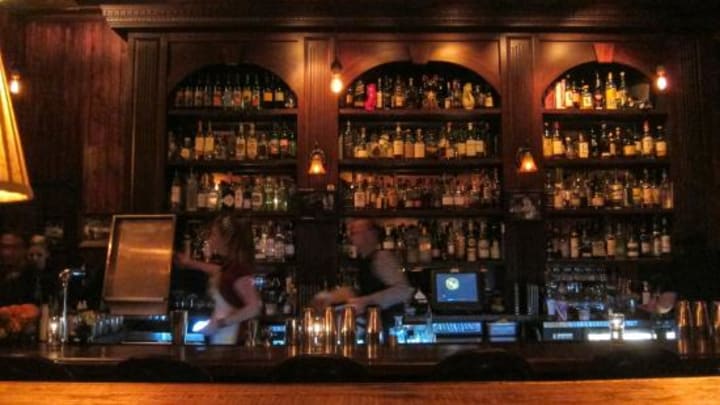 In Denver's LoHi neighborhood, Williams & Graham bookstore has a different kind of mystery section. Head to the shelf with books about cocktail culture, and press gently next to a picture of Tom Moore. The bookshelf will rotate magically opening into a hallway that leads to the winner of the "Best American Cocktail Bar" in 2015.
Owner/bartender Sean Kenyon has made a career out of mixing exotic cocktails, so all of the bartenders that work here have to be attentive, professional, and knowledgeable in just about a million ingredients.
For a truly unique libation, try the "Caught In The Rain," an artful mix of Coconut Infused Bols Genever, Pineapple Juice, Lime Juice, Demerara, Orange Flower Water, and Egg White.
Understandably, this place can get crowded. If there's a wait, you'll have to give your name to the friendly hostess who will file it in a drawer like an old card catalog. If you're lucky, you'll eventually get in to take some sips.
Something's Brewing Behind that South Beach Alley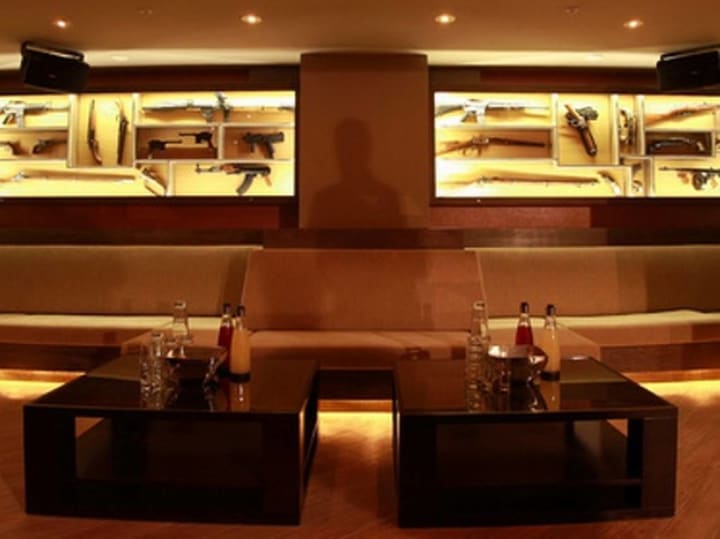 If drinking alcohol while surrounded by automatic weapons in glass cases is your jam, then Miami's Foxhole is for you.
South Beach's first speakeasy, located in an unmarked alley and attached to a Dominoes Pizza, this place is not short on personality.
Patrons can spend some time in the arcade playing classic games like Pac-man and Galaga, or spread out on the second-floor lounge.
There's even a "reverse happy hour" Sunday through Thursday from 3-5 AM.
Nightspots that play the Speakeasy game are fun
They make you look a little longer for the entrance and usually meet you inside with just a touch of whimsy or hint of danger.
If underground "blind tigers" and hard-to-find-gin joints are your thing, try one of these inspired speakeasy's, but keep it on the down-low, alright?
And don't forget to tip your bartenders and your writers.