In Defense of Tasting Notes
This post is a big apology to Jon Bonné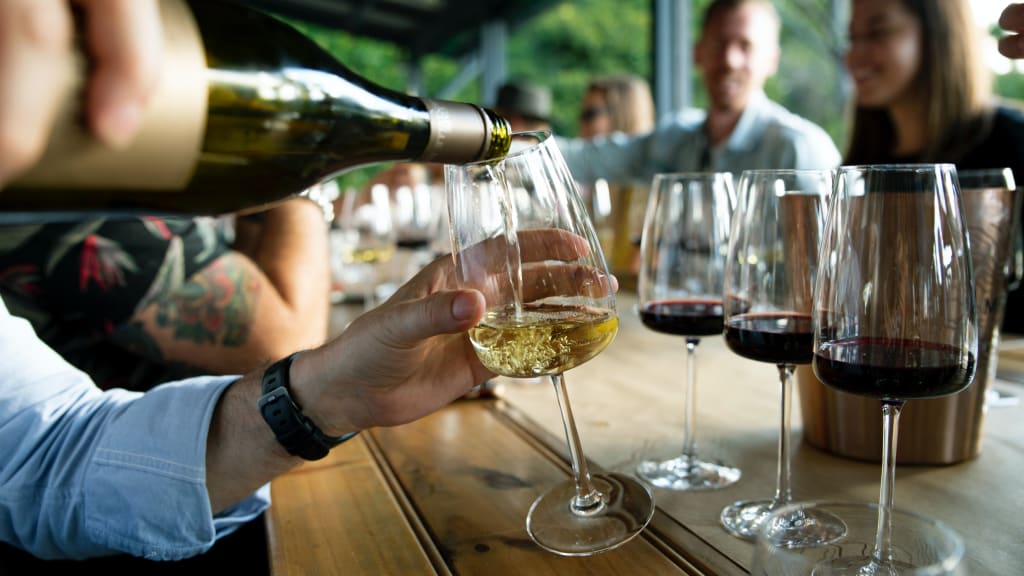 The reactionary strength of my position began as a joke when formidable wine critic Jon Bonné proposed the swift end to tasting notes. As a wine copywriter (a reader, researcher, and sometimes writer of tasting notes), I agreed that the industry had a problem—critics and tasting note authors bringing Neruda along to their tastings and composing verses with the kind of lexical curiosity and laissez-faire attitude for accuracy as a new MFA candidate with a bird or mountain tattoo (e.g. in my mouth/a plum/my mother plucked/like rain).
But, in my duties as a copywriter, I also must perform that act of translation (shameless plug) between palate and page. I know the lengths one must traverse to write something that is 1) accurate, 2) alluring, 3) captures the reader's attention, 4) doesn't sound like every tasting note out there for a California Cabernet, or Argentine Malbec, etc.
And most of all, I think it's a worthy task so long as the writer earnestly communicates an idea of the wine to the customer. So much to say, I believed Bonné's bid to be a bit impractical for the countless customers who do not want the full story of a wine, but rather some semi-objective explanation of the flavors to be found in the glass. Because sometimes, the story of a wine is the spin, the smoke and mirrors, the emperor's new clothes obfuscating, not elucidating its quality and attributes. Not to mention, a wine can be magnificent, but completely lost on the drinker if it doesn't match his or her flavor preferences.
I did what any professional who wants to have a long, respectable career in the industry would. I made a fake Instagram account titled The New Tasting Note Rules (a play on Bonné influential book), complete with my favorite picture of the inimitable Italian wine critic Luca Maroni, an outlandish first post reviewing a Keurig pod, and this light-hearted yet provocative bio:
"This account is a big 🖕🏼to Jon Bonné. #LongLiveTheTastingNote. We only review restaurants with 3 Michelin stars and/or a punchcard."
I can't remember if I @ him in some way (the evidence is gone now), but there it was. Mere hours after my first post, an alert from @JBonne in my notification box, telling me off. Forcefully. Instead of righting my wrong, clarifying my tone, communicating the tasting note of my heart, if you will, I wrote a teasing tasting note of his comment. Then he blocked me.
Since then, I've only made a few sporadic posts. Somehow, it's attracted 92 followers (I follow back :p), an amalgam of random wine shops, aspiring critics, and random bots.
Recently, I've been thinking about what I would have to offer the real, good people of Vocal's 'Proof' community. Why not share my thoughts on what I've been enjoying, and not enjoying, over the last few weeks? Especially when the tasting note deserves to live on (no one asked me, not now or before).
2016 Paul Jaboulet Ainé Crozes-Hermitage "Domaine de Thalabert": All the dense, dark fruit (plum and blackberry) flavor that fans of Syrah fans want from an offering from the Northern Rhône. A bit closed off at first when I had it, the wine opened up to notes of subtle spice, pepper, and smoke, oh my. Bold, yet restrained, classic, earthy. 93 points. $39.99.
Gulp/Hablo: I moved to Brooklyn in April and immediately started seeing this bottle and its beautiful orange color in the window of every trendy wine shop. A friend finally gifted it to me a month later (a Williamsburg rite of passage, I assume) and thank God. It's a crushable little number with juicy apricot and orange blossom flavor underpinned by a tasty bready note. 90 points. $19.99.
Big Salt: My girlfriend has been on the hunt for a super-salty white. Whenever she explains this leprechaun-wine, the smart alec in the audience (usually me) says, "You're describing beer." I've also told her a Greco di Tufo may do the trick with its seaside proximity and volcanic soils often producing a saline quality to the wine. Unfortunately, we haven't found a bottle that fits the bill available for purchase in the U.S. for me to prove my sommelier skills. But we were intrigued when we saw 'Big Salt' on a beautiful label, with text on the back promising a salty experience. The Oregon white is a cofermentation of Riesling, Gewürztraminer, Pinot Blanc and Early Muscat. It has a lovely floral, herbal, white peachy, and citrusy perfume that carries onto the palate along with a musty, saline flavor that's surprising and pleasing. It's more like a fresh, yet standing pool of ocean water than a bracingly salty wave. Which is what my girlfriend wants. The search goes on. She will continue to ask local wine shop employees if they've ever had a salty white, while I, holding all the wine knowledge she'll ever need, stare indignantly, silently on. 90 points. $19.
My Ego: Just an overly ripe, watermelon-sized id still developing in my tiny brain. If it were a wine, it would be a flabby, mass-produced, overly extracted California Cabernet from a hot vintage and aged with oak staves. 75 points (98 from Luca Maroni). Enjoy by never. Tip me $55. (That's not a link, just emphasis).
Ice Cream Man: Within hours of moving to NYC (I don't have the will to write that tasting note), my girlfriend and I crashed on the mattress and tried to decompress. Within minutes, a tune struck up. A silly song of electric piano, bells, whistles, a variation of the classic ice cream truck song. When it ended, a mechanical voice said 'Hello' and the song struck up again. It's there every day, 'Hello' after 'Hello' after 'Hello' at 2:00— after lunch hour and before kids at the nearby school can drag their parents over for a sweet treat. Which has led me to the only possible conclusion: this man, my new nemesis, is trying to break me. And he is succeeding. I have to give him a hand for consistency. 90 points. $4.
Mosquito Bites: As if my mental health were not already hanging in the balance, the mosquitos have set up shop in my apartment. It's only really an issue when my daughter comes and, in the middle of the night, screams 'the bees' like Nicholas Cage and won't go to bed until I'm laying on the floor next to her. She insists a bee crawled into my belly button. She said "I will be so sad without a Daddy." Kids are a trip, man. 40 points for adrenaline alone. (However much insect spray costs).
Our Apartment Building: It's still the 1980's here, meaning the whole building smokes indoors. The first-floor neighbor rips cigarettes from morning until night, then leans his head out his window for fresh air (an interesting strategy, to be sure). The second-floor neighbors left five bags of trash (I know because I helped them carry them downstairs eventually) outside their door for 8 hours while temperatures climbed to the 90's. The usual aromas of piss and shit and smoke were intensified, their density wafting upwards. A thoroughly impressive, long finish (I can still taste it now). 33 points. $2,100 a month plus utilities.
Train Dreams: The late, award-winning Denis Johnson really snapped on this one. He weaves an incredible amount of detail of late 1800s/early 1900s California and Canada into an immersive, fast-flowing novella. I haven't gone back to put all the interlocking pieces together, but the vignettes of Robert Grainier's life seem to root out the animal nature of man and his reflexive attempts to cover up, justify and/or live with them. I finished this on the beach at Dumbo after my daughter rode Jane's Carousel and tried to skip rocks on the water. An idyllic experience. 100 points. $9.99.
Jail-Broken Fire Hydrants: The heat spiked yesterday and fire hydrants all over Brooklyn were spraying water into the streets. Kids aged 2 to 52 jumped around in it. Cars lingered to wash the hazy, yellow pollen off their windows. On my street, a strong man affixed some cup-like piece to the nozzle and sprayed it up into the air. A horrible waste of water, but beautiful. 85 points. Free to all Brooklyn residents.
Forgiveness: Mark Twain once said, "forgiveness is the fragrance that the violet sheds on the heel that has crushed it." 100 points. Jon, how about it?
(To see how I award points, watch this video.)
Dear Jon, if nothing else, this further defense protects me from the feelings of guilt I have over our online interaction. Though, in doing so, I've done what you said in your comment and stepped out from behind "my anonymous hiding place." Maybe one day, I'll visit some San Francisco eatery you've championed. You'll be there. I'll order a bottle of some natural wine with a great story and ask you to enjoy a glass together. We'll sit there in silence, enjoying each other's company and the sensory solace of our own subjective experience.
Dear everyone else, give me your tasting note on social media (Twitter as@paulkendrickfey or @thenewtastingnoterules on Instagram), a follow, a share, a tip (money talks, baby) and any salty white recommendations.