How to Mix Your Own Bachelorette Party Cocktails
What's a bachelorette party without tasty snacks and delicious beverages, right?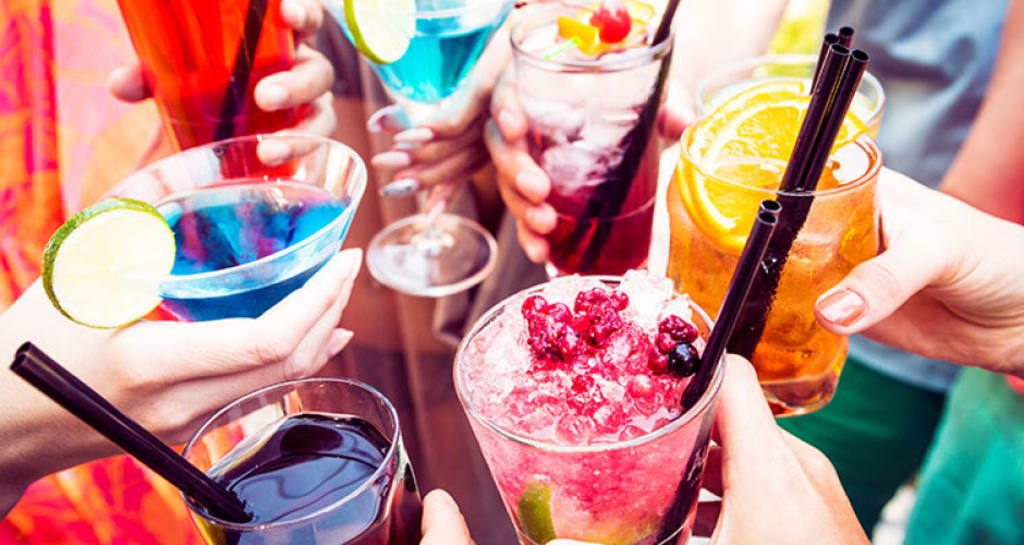 Well, if you're planning an unforgettable hen's night, you'll need to include a few different types of cocktails. Not only will you make sure that everybody's taste buds are satisfied, but it'll also make good practice for the future. With summer lurking upon us, you'll need a few cocktail recipes up your sleeve for the upcoming weekend BBQs or afternoons by the pool. Get ready, and let's start mixing!
Pina Colada
When you want something sweet and creamy, go for Pina Colada. You'll need 1½ oz. of coconut cream, 1½ oz. of tequila, 5 oz. of pineapple juice, crushed ice, and pineapple chunks to garnish. Pina Colada is really easy to make because it does not require too much preparation. All you need to do is add all the ingredients, except pineapple, into a blender and start mixing. After coconut cream, tequila, pineapple juice are all well mixed, pour the cocktail mix into a highball glass and add a little bit of crushed ice. Put a slice of pineapple onto the edge of the glass to garnish.
Dirty Banana
For this enticing cocktail, you'll need 75 ml of white rum, 1 oz of Kahlua, half a banana, sugar syrup, and crushed ice. Grab a blender and mix in all the ingredients. Add a large scoop of ice and mix everything until everything is well blended and crushed. Pour the mixture through a strainer and into a highball glass, add a straw and a little umbrella and your bachelorette cocktail is ready.
The Smash
To offer your girls a little bit of a kick, while still keeping them refreshed, let's mix one cocktail with whiskey. Prepare 7 mint leaves, ½ lemon, 1 teaspoon of syrup, a ¼ cup of finest Japanese whiskey and crushed ice. Mash all the mint leaves, half a lemon, and 1 teaspoon of syrup in a 16 oz. glass. You can use a cocktail mixer if you have one. Before you add a ¼ cup of fine Nikka whiskey, make sure all the ingredients are mixed well. Pour the cocktail in a glass and add crushed ice. Stir before adding some more crushed ice and mint sprigs for the final touch.
Bachelorette Mimosas
We all know about the delicious mimosas, but why not give it a little bit of a twist and make it both delicious and Instagram ready? Instead of the original mimosa, consider mixing Birthday Cake Mimosas. For this refreshing cocktail, you'll need vodka, birthday cake ice cream, sparkling rosé, sprinkles and icing. Grab a champagne flute and dip it into the icing. Rim glasses with sprinkles, before adding ½ an ounce of vodka and one scoop of birthday cake ice cream. Top it all off with sparkling rosé and you've got a gorgeous and tasty Birthday Cake Mimosa. To add a bit more colour to the cocktail, mix Unicorn Mimosas. Rim a champagne flute with edible glitter after dipping the glass into water. Aside from the regular vodka, you'll need to add three scoops of sherbet and 1½ ounces of champagne. Use rock candy to garnish the cocktail and enjoy your bachelorette party.
Nutella shots
Did somebody forget to bring shots to the party? Not to worry, because you can quickly make some yummy Nutella shots. Take a shot glass, rim it with Nutella and sprinkles. Fill a shaker with ice, add 1 ounce of vodka, 1 ounce of Bailey's, and 1 tablespoon of Nutella. Shake it well and pour into a shot glass.
Unicorn Cosmo
Unicorns are the main talk of the town, so why not make some more unicorn cocktails and make it a colourful shindig? You'll need a martini glass, which you'll dip into water and rim with edible glitter. Fill it with one handful of cotton candy before you start mixing the ingredients. Fill a cocktail shaker with ice and pour equal parts of vodka and grape juice. Shake the mix well and pour it into a glass. Use rainbow candy cane to garnish the cocktail.
Final thoughts
In the sea of refreshing beverages, your bachelorette party deserves only the best, so don't hesitate to experiment and decorate the cocktails as you please. You can use the original recipes or even give them an extra kick with stronger liquor and make exceptional blends. If you're fresh out of ideas, use some of the previously mentioned cocktails and you'll enjoy the party without a doubt.