How to make money in easy way to vocal media??
Money making tips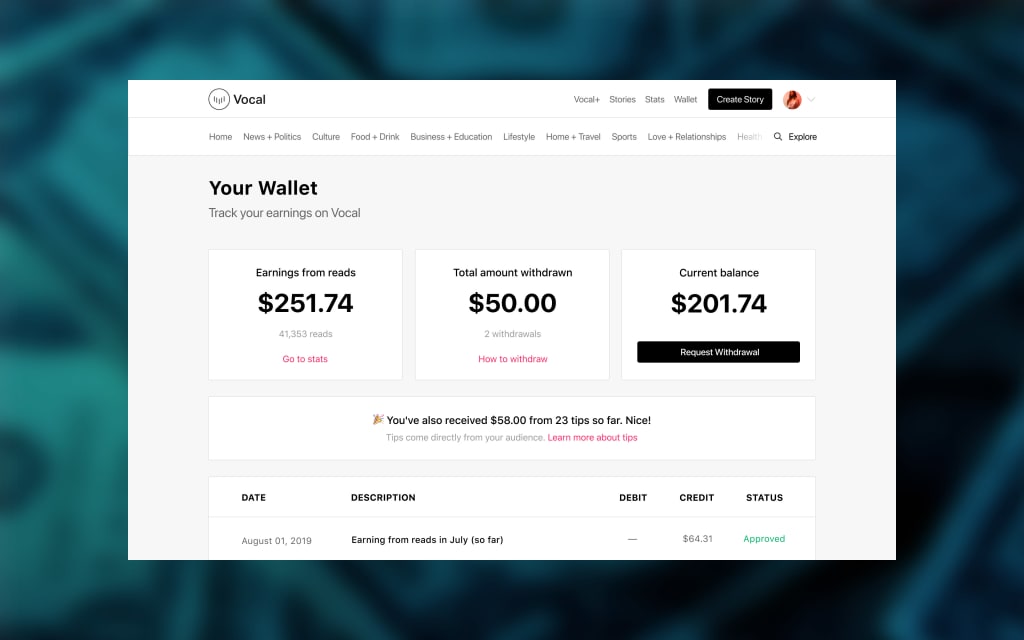 As a beginner, you can earn money on Vocal Media simply by publishing articles and generating traffic from various sources, regardless of the demographic. Having published over 50 articles myself, I am determined to increase my output to 1000 by the end of 2021. Writing for Vocal Media is, in my opinion, one of the most lucrative ways to earn money through writing. While I also write for Medium, my views there range from 90,000 to 100,000, but payment is based on member read time, not the number of views.
What is vocal media??
Vocal Media is a platform that allows anyone to create an account, connect their Stripe account, and begin publishing stories to earn money through readership. It's a simple concept: the more articles you write, the greater your chances of having your content shared on social media or appearing at the top of search engine results. Ultimately, what you need is more readers for the articles you publish on Vocal in order to make more money.
Vocal compensates creators based on the number of reads their content receives. The more reads you get, the more money you earn. In fact, you can make $500 per month on Vocal by simply amassing a total of 90,000 views, which translates to an average of 3,000 views per day. With consistent effort and writing, reaching this goal is attainable for attainable for everyone.
Who owns Vocal Media?
Jerrick Media, a public limited company, is the proud owner of Vocal Media, having invested a significant amount of capital into the publishing industry.
We are excited to be conducting an interview with Jonathan Sims, one of Vocal Media's top earners who makes over $2,000 per month through writing on the platform. Our interview will delve into his experience with Vocal Media, as well as ask intriguing questions that shed light on how he has found success with the platform.
How can you make money on Vocal Media
If you're looking to make money on Vocal Media, the process is relatively simple. After creating your account, connect your Stripe and begin publishing articles on the platform.
There are five primary ways to earn money on Vocal Media:
1. Get more reads: The more reads your articles get, the more money you'll make on Vocal. Keep in mind that a "view" isn't the same as a "read," as only completed reads count toward your earnings. Vocal pays $3.8 for every 1,000 reads to regular creators, while Vocal+ subscribers earn $6 for the same amount.
2. Receive tips: Vocal allows readers to tip writers for their content. By producing compelling stories, you can earn over $100 from tips alone. If you find this article helpful, feel free to check out my work on Vocal at Aamir Kamal and leave a tip if you enjoy it.
3. Participate in challenges: According to a top-earning Vocal writer, Vocal Challenges are an excellent way to make money on the platform. Challenges require you to write about specific topics, and if your entry is well-researched and well-written, you could be one of the top three winners and receive a cash prize. In a recent interview, Kathryn Milewskwi discussed how she made over $4,000 through Vocal Challenges.
4. Include links to your blog or YouTube videos: If you have monetized a blog or YouTube channel, including links to your work in your Vocal articles can help you make additional money
5. Add affiliate links: Vocal also allows writers to include affiliate links in their articles. If someone clicks on your link and purchases something, you'll earn a commission. This method can be highly lucrative, especially if you have a connection with someone who offers a course or product and will pay you a commission for any leads you generate. Some writers have made over $2,000 using this strategy.
How Much Money I have made on Vocal?
My earnings on Vocal Media have been quite impressive. As of now, I have made a total of $154, which includes $132 from reads and $22 from tips. However, my earnings have been steadily increasing, and I am currently making over $200 a month through my writing on Vocal Media. With this rate of growth, I expect to make $200 in the upcoming month of December as well. Overall, I am quite satisfied with the amount of money I have been able to earn through my work on Vocal Media.
Reader insights
Be the first to share your insights about this piece.
Add your insights