How to Make a Boozy & Bougie Aperol Spritz.
A reimagined, enhanced Aperol spritz.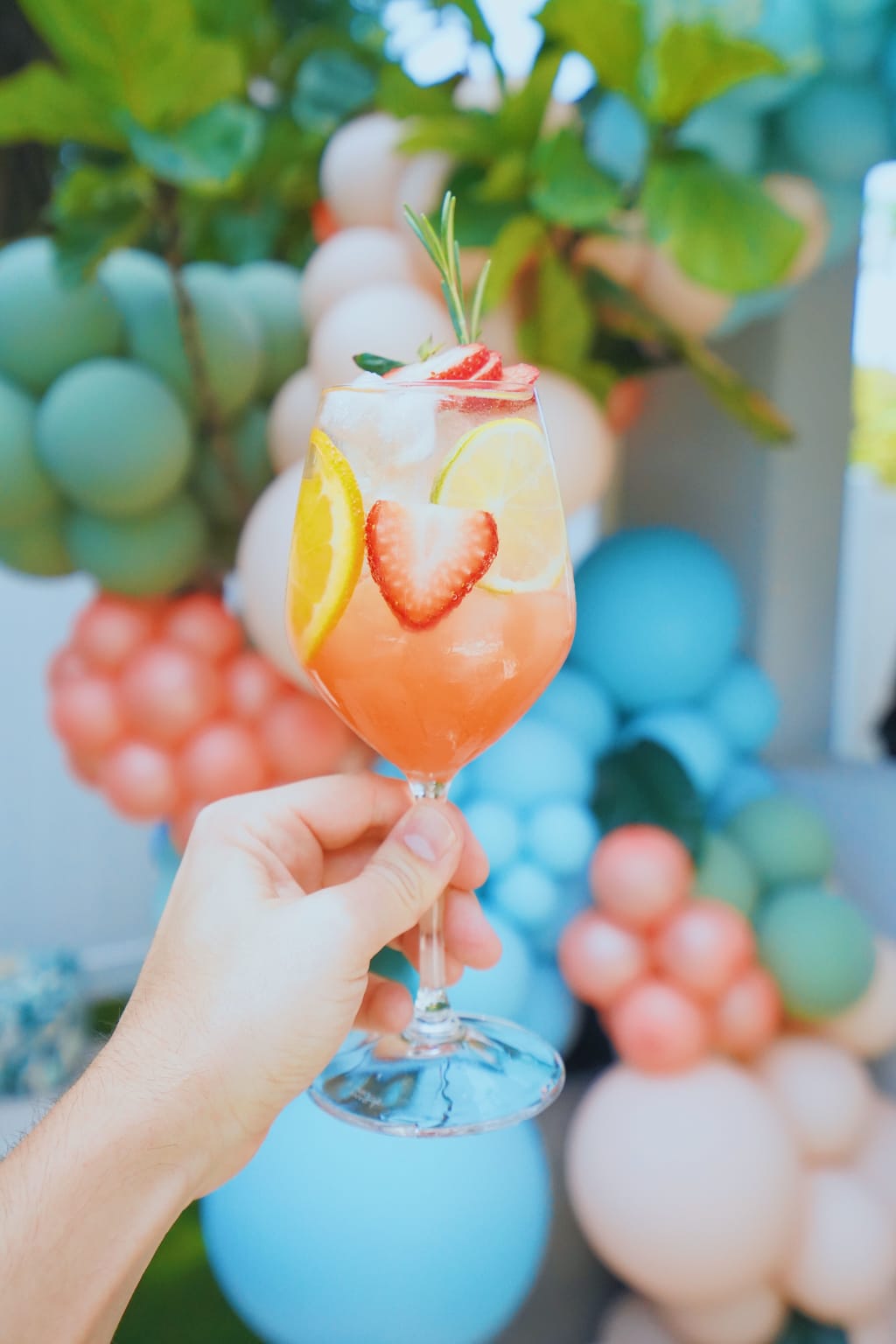 Craft Cocktail by @nativecocktailevents / Photo credit @nhieguys
We all know the classic Aperol Spritz. The traditional bitter red drink served in a wine glass and garnished with a lime.
This is a guide to making a reimagined and enhanced boozier version that is just as refreshing if not more than it's traditional counter part.
"Berries & Champs" by Native Cocktail Events (IG: @nativecocktailevent)
A refreshing take on an Aperol spritz perfect for a pool party or summer day. This is a complex yet very light drink with enough strawberry flavor to complement the dry notes of Veuve. This is a layered beauty with a flair sure to impress in taste and appearance.
Experience/difficulty: intermediate 3
The Ingredients
1/2oz Aperol
1/2oz Cointreau
1/2oz lime
3 Strawberries
2 thyme sprigs
1/2oz raspberry/strawberry/roseberry simple
2-3oz Veuve Clicquot (middle)
1oz Topo Chico (top)
1 Rosemary Sprig
1 Lime
1 Orange
Ice
Mixing equipment
Boston shaker (2 piece tins) & hawthorne strainer
Cobbler shaker (3 piece)
Fine mesh strainer
Paring knife
Cutting board
Measuring jigger
Muddler
Wine glass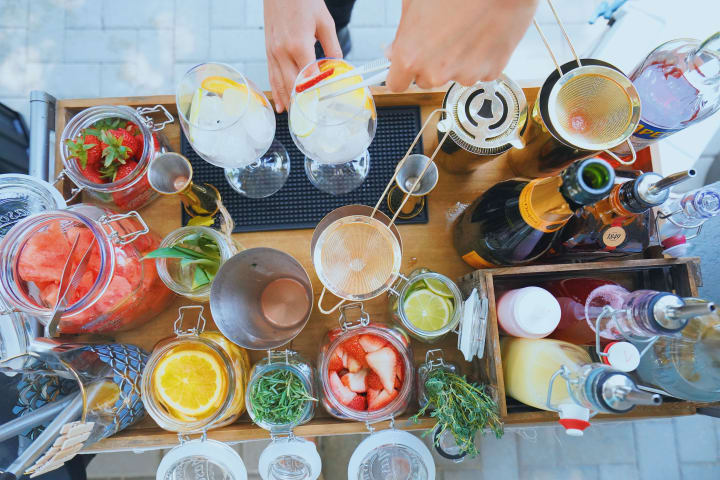 Preparation
Slice orange and lime
Slice one strawberry into about 5 slices
Quarter two other strawberries
Strip two thyme sprigs (take leaves off of stems)
Mixing Methods
Tri-method: muddled, shaken, layered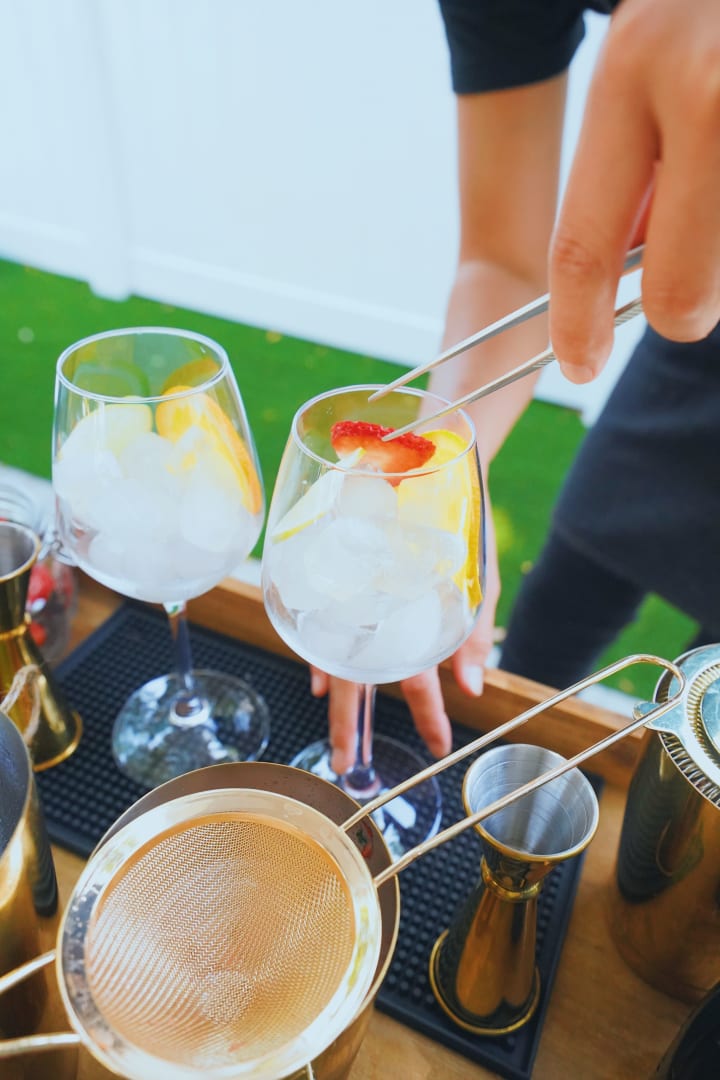 Assembly
Add 8 Strawberries quarters, thyme leaves, aperol, cointreau, lime, and simple to shaker and muddle.
Add ice and shake for about 20 seconds or until chilled.
Fill wine glass with ice halfway and place orange slice pressed against the front of glass so that ice is behind it. Then repeat and do it on the other side with the lime slice. Place one strawberry slice between those two pressed against glass.
Fill remaining glass with ice.
Strain cocktail into wine glass
For boston use with a hawthorne strainer or for cobbler take off small cap and hold with one hand the shaker while holding the fine mesh strainer below it. The fine mesh strainer should be in the midddle of pouring from the shaker to the wine glass. This is called a double strain.
Double straining: Using a hawthorne strain and a fine strainer to catch any ice chips, seeds, herbs, or other small particles that aren't captured by the first strainer.
Next, layer the veuve in. Pour until the glass is about 3/4 of the way full.
Top with topo chico.

Presentation

: Break the rosemary sprig so that it is small and tuck into the side of the glass. Take the remaining sliced strawberry pieces and lay them on top of ice in front of rosemary as a splayed out three strawberry garnish.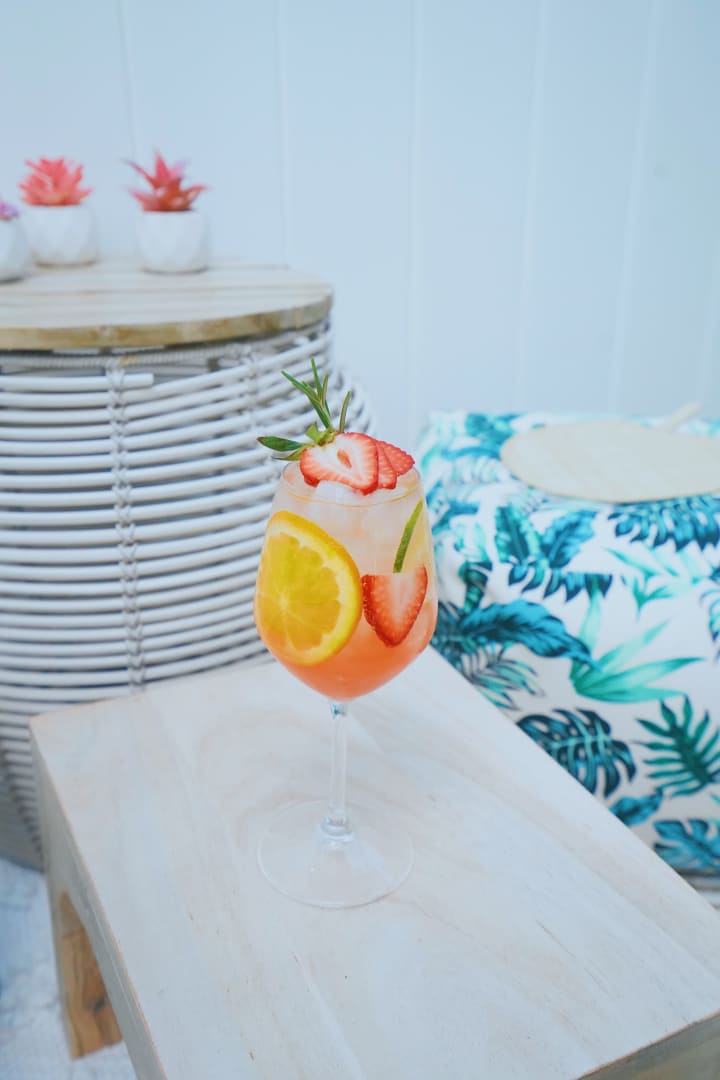 Sip & Enjoy!
For more unique craft cocktail creations, innovations, and recipes, follow @nativecocktailevents on Instagram. Tag us with your creations!