While some of us may not be with the ones you love in-person this season, you might as well spoil yourself in the meantime. You can still party with your friends and family online and make the most of your indoor activities.
My time in the restaurant industry gave range to my taste buds and my knowledge of ingredients, in order to guide you to some new cocktails. It's easy to stick with the normal traditions of treats to cuddle up to, but since there is nothing traditional about this year, you might as well have fun with this list.
So here are some easy holiday cocktails and even types of beer or wine to keep you warm.
Christmas Beers
Many look to stouts and porters as a change of pace this season, both with its rich and bold flavors. Porters are the fruitier and sweeter of the two with a dark malty finish. Stouts like Guiness give out aromas of ground coffee and dark fruit, displaying drier and hoppy taste with some acidity.
While a great option, there are other types of beer that go unnoticed.
If you're looking for a lighter body, stick to a double IPA. A roller coaster of flavors due to its double amount of hops in the process, with hoppy highs and deeper malty lows. A whooping 8% abv double IPA from 21st Amendment should help what ales you (yes pun intended).
My favorite from this long list would have to be the Belgian Dubbel (even Tripel). A darker type with malty sweetness written all over, showcasing notes of cocoa, caramel, and dried fruit. Haze lovers can confide to this, as hoppiness and fruity yeast esters build character. For the uninitiated, you can sink your taste buds in The Lost Abbey: Lost and Found.
Glühwein/Mulled Wine
For more traditional holiday drinks, mulled wine is a well-celebrated favorite. Many of you may remember this recipe referenced from the famous story "A Christmas Carol" from Charles Dickens. For me it will have a warm, special remembrance as Glühwein.
'Glow Wine' as it is translated in english, is the German interpretation of this classic, where townsfolk would enjoy their red wine combined with the favored spices of the season. Notes of citrus, cinnamon, star anise, cloves, ginger, and vanilla are heated and infused for an enjoyable winter experience.
Rye over Bourbon Whiskey
What better way to enjoy the holidays with a whiskey cocktail.
While the go-to would be bourbon based, this is surprisingly not the best choice when it comes to the holidays. Instead, switch to Rye during these colder times. Rye displays a spicy tone & dry taste opposite of bourbon, which has a sweeter taste and fuller body.
Some great recipes I would suggest would be the Brooklyn Manhattan, Toronto, or for a touch of Absinthe, the classic Vieux Carré.
Let's not forget those Bourbon-heads looking for christmas hot drinks with their favorite spirit to compliment the season. Instead of the usual Hot Toddy, opt for 'A Long Winter's Nap' (sounds more fun to do indoors anyways). Ingredients like maple syrup, cardamon, anise, and even Douglas Fir will fuel your REM sleep cycle and heart-warming dreams for the soul.
Better than Eggnog
There are more egg-worthy drinks that can deliver big on warming spices, and even includes spirits more to your liking than eggnog.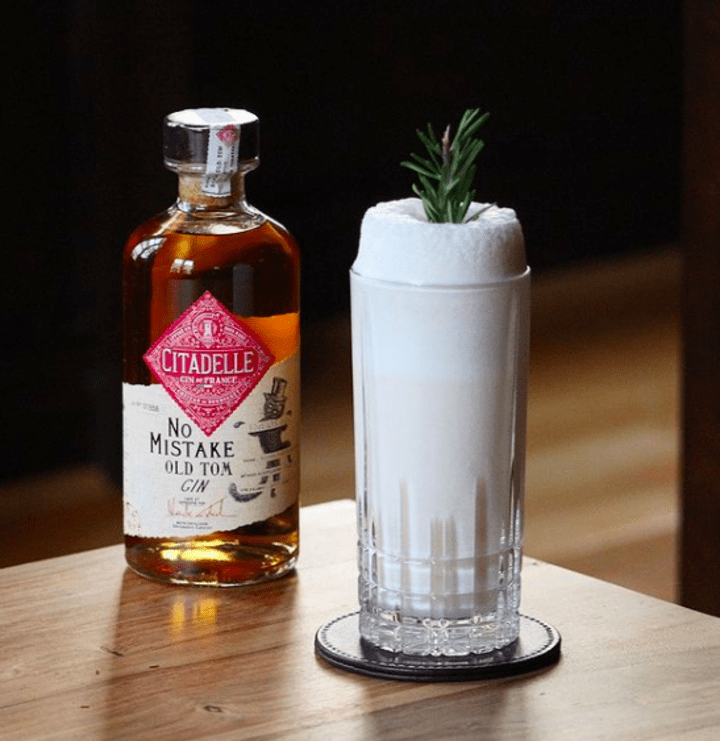 Pictured here is a lesser known during the holidays, but perfect sub in the Gingerbread Ramos Gin Fizz. Gin delivers an herbaceous experience with spices of juniper, anise, licorice root, and cinnamon.
This particular style (Old Tom Gin) gets it's brown character from barrel-aging much like whiskey. This helps to mellow out the bitterness, while including hints of vanilla to the equation.
El Cafecita
Who can forget about the coffee lover in everyone around this time of year. It's easy to think of an irish coffee to keep the blood flowing. Luckily there's a less guilty cocktail that includes another holiday spirit in rum. Skip the hot buttered rum recipe as well this year and get well acquainted with El Cafecita.
This Cuban-inspired drink delivers deeper notes brought on by dark rum, accompanied by notes of vanilla, cocoa, and (let's not forget) dark roast coffee. Steve the Bartender delivers a library of cocktails to learn and enjoy, and there's a lovely video on this Cuban classic.
Enjoy your own drinks and party on! (Online that is)
I know that your holidays may be more distant and very different to what we're all used to. But that doesn't spoil plans at all, and it just makes for a more intimate Christmas this year. To take your upcoming parties to the next level, you can find some great bars that are offering a take out service for cocktails this holiday season.
Pacific Cocktail Haven has quite the reputation in San Francisco with it's Miracle at PCH pop-up with some of the best holiday cocktails, now offered online. Kits and even bites from the popular Pinoy Heritage are available for pick-up and delivery.
If you look up your local favorite bar, some of them are offering to-go kits as well.
The bar and restaurant industry has taken an even harder blow by getting shut down during its most profitable time of the year, so show some love and support.
Stay Safe & Happy Holidays!