Greene King IPA Review
A Take On The Best Selling Cask Beer In The UK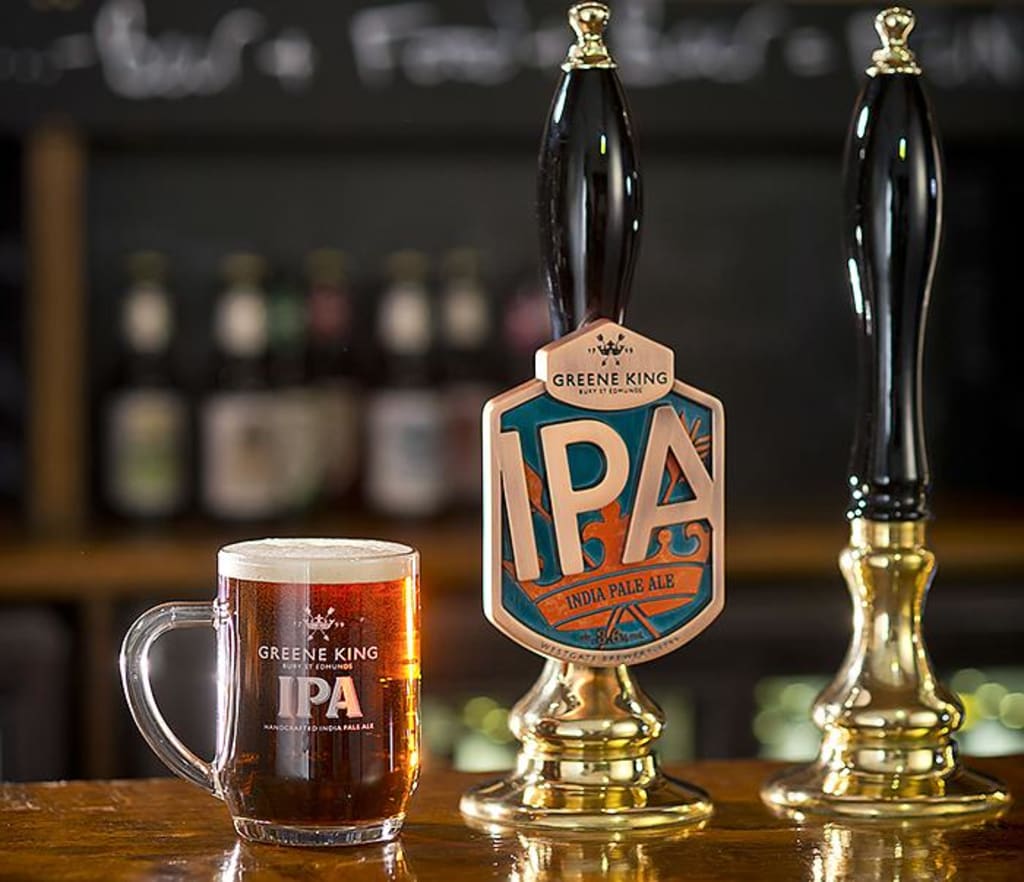 IPA, Greene King, Bury St Edmunds:
When Greene King IPA won Champion Beer at the Great British Beer Festival, the crowd booed louder than they cheered for any other prize winner*. Evidently this 3.6 percent bitter is not particularly favourable with the so-called professionals. The drinkers, alternatively, love it: this IPA is the fastest selling cask beer in the UK; being the official beer of England Rugby, the recent Six Nations tournament has only served to push its sales further still*2.
Characterised by its distinctive, refreshingly hoppy taste, this beer is always guaranteed to be a solid choice of pint. Brewed with a combination of Challenger, and First Gold hops–added to the malt whirlpool at a slightly later point than usual–Greene King Master Brewer Ross O'Hara describes this as providing the IPA with the "most robust" flavour possible. The sweet malty aroma is beautifully complimented by the soft amber colouring to produce what many would describe as the most standard looking pint of ale imaginable–but that is by no means a negative.
Although the beer snobs would describe this as not a true IPA (in that it is more of a bitter than a pale ale, and is much too low in ABV to be representative of the original Burton brew that was shipped over to India when under British colonial rule), if just as a branding point this beer is up there. As a style, India Pale Ale has made a comeback in the American craft and micro brewing scene; with the majority of contenders for serious awards all having at least one quality IPA under their belt. Notable examples that can be found in the UK market include Goose Island, Chicago, and Shipyard, Maine–both are more representative of the true style in that they are paler, fizzier, and have higher ABVs (5.9 percent and 5 percent respectively).
Overall, Greene King IPA often gets a bad deal in the beer world, it is overlooked and under-appreciated, it is left short and held idle–but I tell you this, there's a reason it's Greene King's flagship beer… deep down, everyone knows that, actually, it's possibly the best pint you can have. It ticks all the boxes: it tastes subtly sweet, and with a bitter finish, the aromas are consistent, and pleasant notes of toffee, almond, and floral undertones, the low carbonation leaves it to satisfyingly explore the palette before making its way south. Although many say it's dull, it is–after all–the fastest selling beer in the country; to that, I'll raise another glass.
But after all of this we must ask why do we even drink real beer? Is it to get absolutely plastered, and sing Karaoke at the top of our lungs? Of course not, we have lager for that. We drink beer to celebrate the centuries of craft; to savour the intricate taste sensations concocted by masters of their art; to explore the variety of flavours on offer in our local pub. That is what beer is all about, and that is what we must celebrate when we take a sip out of even the most 'basic' of beers: the Greene King India Pale Ale.
Cheers.
Greene King IPA: 8.5/10
*According to Pete Brown in his wonderful book 'Hops and Glory' in which he recounts the tale of the original brewing journey of IPA in Burton all the way to the maharaja in India. Definitely worth a read if you haven't already.
*2 I tell you what, I was in the pub for most of the six nations, and I saw more Guinness (title sponsor of the tournament) being sold than ever before, but perhaps I was looking the other way when the thousands of IPA drinkers turned up...