German Mulled Wine and Christmas Holidays
The perfect pairing to celebrate the end of this crazy year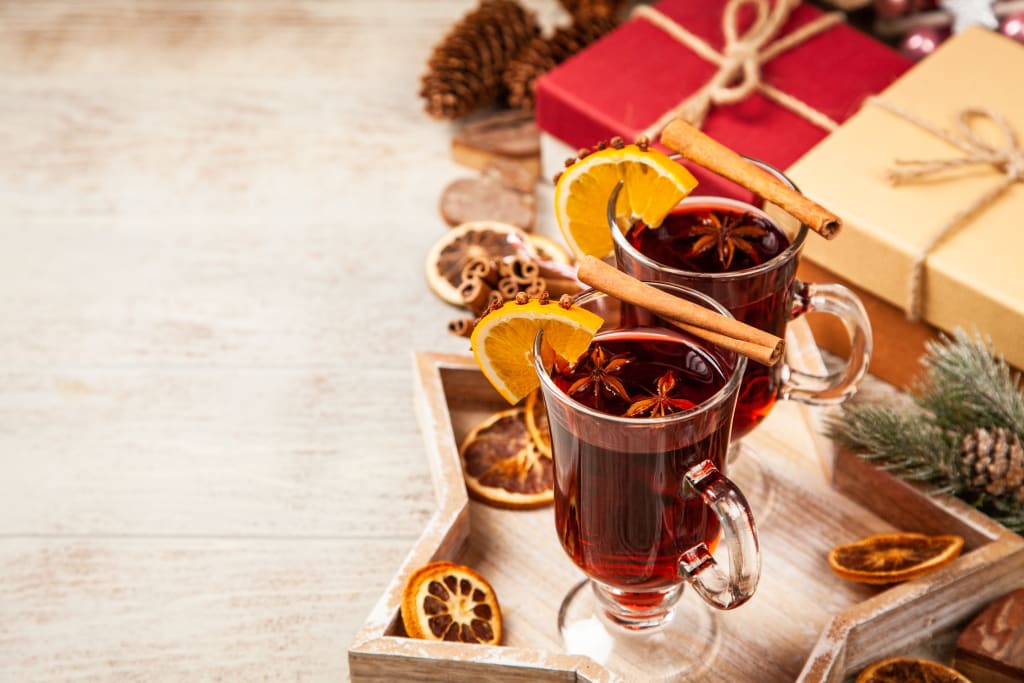 Picture by Giftpundits.com on Pexels
Let me tell you about this combination of red wine and spices, an absolute classic during the german Christmas season. We do call it Glühwein, and it is an absolute must on every Christmas market. Directly translated, it would be named glowing wine, and this describes the exact feeling while drinking. It gives you a warm and fuzzy feeling of wellness. Added to being around your family and friends, it is a perfect place for recreation and relaxation.
These Christmas markets usually are built at the end of November and stay in the cities until Christmas eve. You can buy all kinds of goods for the holiday season and treat yourself with some caramelized almonds and the obligatory Glühwein to get in the mood for celebration.
Unfortunately, all Christmas markets in Germany are canceled due to the pandemic. So we have to do our best to maintain this tradition in our homes. Get yourself cozy on your couch with a hot Glühwein in your hands and feel the spirit of Christmas. It is more than ever needed during these challenging times.
You will need the following ingredients:
a bottle (750ml) of red wine
5 fl. oz of cassis juice
3 oranges
3 teaspoons of brown sugar
2 or 3 cinnamon sticks
5 cloves
3 pieces of star anise
As red wine is the main ingredient of Glühwein, we have to be a little picky when choosing one. The wine should be of a rich body with an alcohol content of less than 13%. You'll know what I mean after having your second cup.
As it has to compete with the fruit juices, it should have some fruitiness in itself. In this combination, you also want to pick a wine low on acidity. There are already acid notes from the oranges and the cassis. Too much acid doesn't go well in the taste when heated. To fit with the sweetness and spices, I recommend using a wine relatively low on tannins, as they would add some unwanted bitterness to our precious Glühwein.
You have to find what fits your specific taste, but I suppose a Merlot, a Pinot Noir, or a young Tempranillo would be a great starting point.
Even more important than the sort of wine is its quality. It doesn't have to be overly expensive, but the wine should be of a certain rate. Some vendors on Christmas markets use to put cheap tetra paks worth a dollar or less in their wine heaters. The hotness will make the fusel notes more present, making the wine burn in your throat and resulting in a hefty headache the next day.
So, when you have found your fitting bottle of red wine, it is time to start the crafting.
Squeeze the oranges and put the juice along with the other ingredients in a pot.
Put it on the stove and heat up.
Don't let the mulled wine cook.
High temperatures destroy the spices' aroma, and at temperatures above 78°C (~170°F), the alcohol vanishes. Ideally, you would heat it to roughly 55°C (~130°F).
Here comes another pro-tip when it comes to crafting your mulled wine: Take your time. If you want to enjoy a drink in the evening at your fireplace, you can set it up after lunch and let it steep for a couple of hours. Just reheat it right before drinking it. By this, the flavors have enough time to unfold fully.
When it comes to the spices, don't be overly exact with the amount of each one. Feel free to experiment a bit to find your favorite taste. Speaking of experiments, some people add vanilla pods into their Glühwein for that fancy note. You may even add some honey if you like a sweeter and more gentle taste.
There you go with the perfect pairing for the end of this crazy year. Enjoy a cup of traditional Glühwein with your loved ones to summon the spirit of Christmas.
Have a good time.
About the Creator
Full-Time Engineer | Started Writing as a Side Hustle | Owner of The Shortform
Join my email list and I'll keep you posted: http://bit.ly/33M3rlO
Reader insights
Be the first to share your insights about this piece.
Add your insights