Edible Cocktails?
A molecular twist on a modern classic...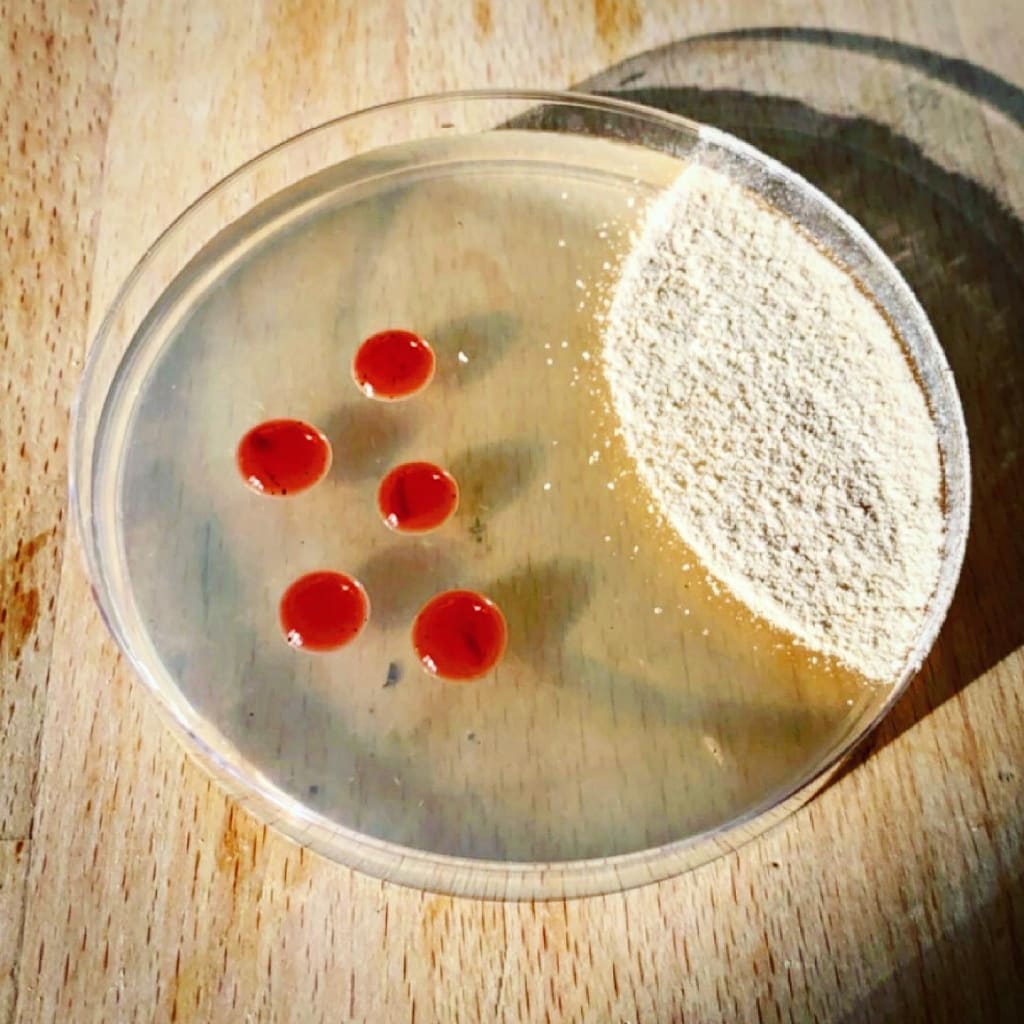 Possibly the most riffed on classic - The Penicillin cocktail - is without a doubt in need of a modernist revival!
A simple blend of scotch whisky, lemon juice, honey, and ginger syrup, once used for its perceived medicinal properties, has been twisted, turned, shaken, and stirred, to create a plethora of variations.
Cocktails such as Margaritas, Bees Knees, White Lady, Whisky Sour, and Picante de la Casa, have all been routed back to such a classic!
The standard 4:2:1 ratio of spirit:citrus:sugar is a highly conserved safety net for bartenders and mixologists alike; however, with the tools and knowledge of molecular gastronomy, we can transform this simple beverage into a refreshing, edible dessert that stays true to its origins.
Penicillin, as most people know it, is an antibiotic that targets bacteria, and is commonly prescribed for severe respiratory infections, including pneumonia.
Whilst the development of the drug form of penicillin was an important invention in science, helping to cure thousands of respiratory worldwide, people often overlook the source of how this drug was discovered.
Penicillin, is an anti-bacterial compound that is produced by the mould, Penicillium. This magnificent discovery happened purely by accident - when a petri dish culturing bacteria was unintentionally contaminated with mould spores.
Now contamination is often the last thing a microbiologist would want in their lab, interfering with their samples and experiments. However, in this case, the scientists noticed that there was a clear margin around the mould growth, in which the bacteria were unable to grow. This zone of clearing, or zone of inhibition, is the key observation to understanding the potential in discovering an antibiotic. Even in modern days, we utilise these observations when testing new antibiotics, or antimicrobial alternatives, to measure how effective we can stop bacteria growing. If we can stop bacteria growing in a laboratory at body temperature, there's a good chance we can transform this into a drug with the potential of saving lives!
Science aside, the rich history of Penicillin is heavily expressed in mixology for the aforementioned reasons, and more... So please enjoy my reincarnation of this classic cocktail in a way that is low in alcohol, refreshing, and edible!
 Penicillin
Recipe:
100 ml Ginger and lemon syrup*
200 ml Water
3.5 g Agar-agar powder**
50 ml Tamnavulin Speyside Single Malt, Double Cask Scotch Whisky
45 ml Freshly squeezed lemon juice
~10 ml Laphroaig 10 Year Old Islay Single Malt Scotch Whisky
*120g water, 120g granulated sugar, 1-inch piece of grated ginger, and the zest of 1 lemon.
**For those who don't know, agar-agar is a gelling agent isolated from seaweed/algae. It works as a substitute for gelatine and collagen; however, use it carefully, as using too much can create a metallic taste in the mouth! If in doubt, research some recipes - as you add more ingredients, such as fruit juice and alcohol, you will need to increase the amount of agar used.
 Method:
Ginger and lemon syrup
Add water, sugar, ginger, and lemon zest to a saucepan. Bring to a simmer over medium heat, until all the sugar has dissolved. Leave to cool completely and strain through a coffee filter.
Penicillin jelly
Add ginger and lemon syrup, water, and agar-agar powder to a saucepan. Bring to a boil over low heat, stirring constantly. Once boiling, simmer for 2 minutes.
Remove from heat and pour the lemon juice and Tamnavulin whisky into the pan, stirring to combine.
Pour into your chosen serving dishes (I used a sterile petri dish, as a nod to the discovery of penicillin) and allow to cool. Refrigerate for 2 hours before serving.
I served mine with a spray of Laphroaig Islay scotch whisky for a smoky aroma, and garnished with scottish raspberry coulis and powdered meringue (aquafaba and cream of tartare as the egg substitute), to enhance the microbiological aesthetic!
Enjoy treating your friends (and yourselves) to this deliciously boozy jelly without any compromise for selecting against animal products!