CeraVe Renewing SA Cleanser
CeraVe SA Cleanser | Salicylic Acid Cleanser with Hyaluronic Acid, Niacinamide & Ceramides| BHA Exfoliant for Face | Fragrance Free Non-Comedogenic | 8 Ounce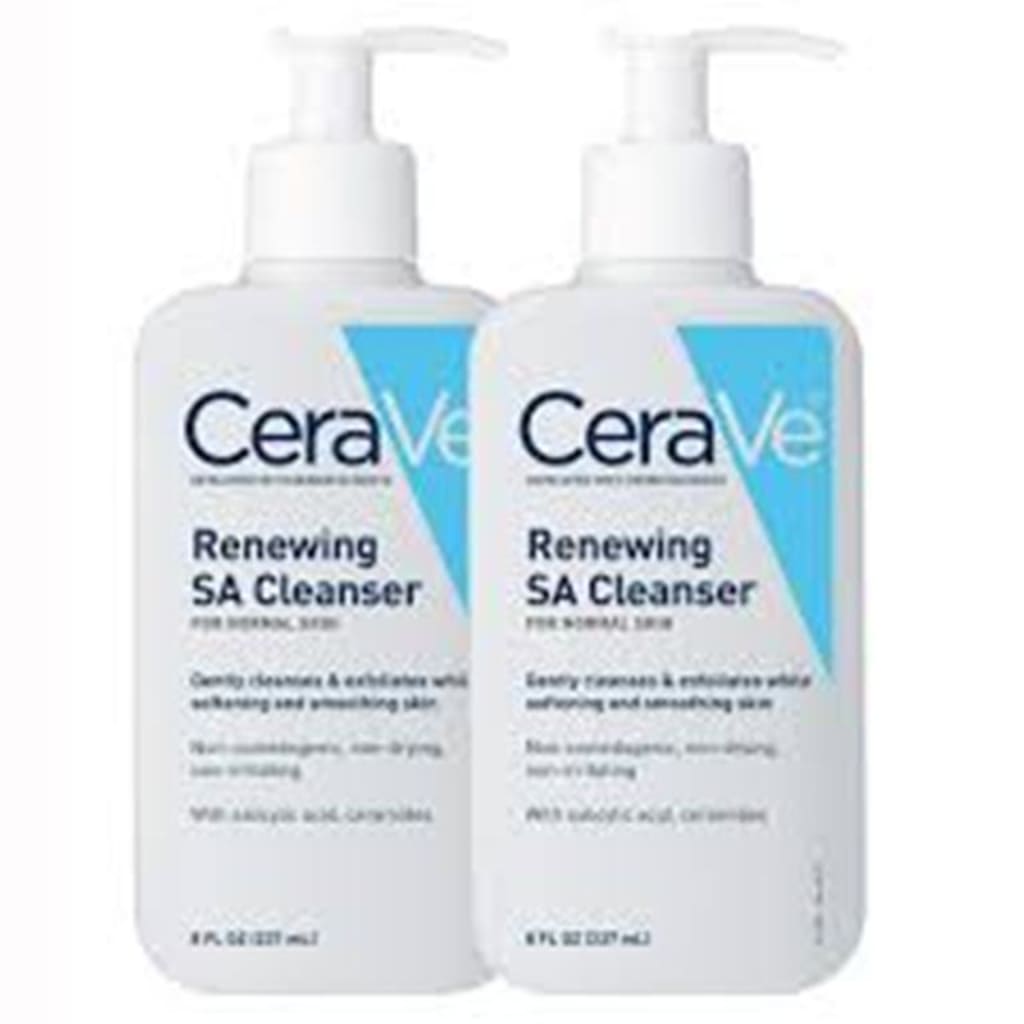 About CeraVe SA Smoothing Cleanser:
A salicylic acid-based wash that smoothes skin. Cleanser for the body and face made by CeraVe SA. This cleanser aids in reducing the rough and bumpy structure of the skin, making it feel smoother afterwards. The formula's salicylic acid softly exfoliates the skin without harming its protective natural barrier. This daily foaming cleanser was created in collaboration with dermatologists to help protect the skin's natural barrier. It contains three important ceramides and hydrates the skin with hyaluronic acid.
Suitable for skin that is tough and bumpy. Also appropriate for skin that is prone to keratosis pilaris.
Removes makeup, dirt, and grease gently.
Salicylic acid and hyaluronic acid are the main components.
Without any external exfoliants.
Non-irritating, non-comedogenic, and devoid of fragrance.
With 3 crucial ceramides to safeguard the skin's protective natural layer.
Combination with CeraVe SA Smoothing Cream is advised.
My personal experience using the CeraVe SA Smoothing Cleanser :
Let's start by discussing the packing. This is not the facewash for you if you like yours to appear pretty. The facewash is packaged in a white, retangular-shaped container that is semi-transparent and has a pump dispenser. Although I like the lock feature on the pump dispenser, the packaging is still not suitable for travel. I accept it.
A transparent gel cleanser called CeraVe SA Smoothing Cleanser exists. It foams beautifully and is quite runny. Depending on how congested my face feels, I massage it for 30 seconds to a minute before washing it off. I use it in the morning for 30 seconds and for about a minute when I use it as a second wash after oil cleansing. Since it includes salicylic acid and I don't want to overexfoliate my sensitive skin, I use it once every day in the summer and once every other day in the winter.
Without irritating or drying out my delicate skin, it effectively reduces skin congestion. After washing, my epidermis feels soft and clean. I've observed that it removes small bumps on the skin caused by congestion. My partner absolutely adores this because it effectively treats and eliminates his sporadic breakouts. I discovered that it neither promises to nor is able to reduce black or white heads. And during the winter, especially if used daily, it does make my face feel a little dry.
The Value: Affordable
This face wash is reasonably priced at $10 to $15 for 8 ounces, particularly considering how little is required to thoroughly cleanse, so I won't be out of it anytime soon. I can't help but feel that the CeraVe Renewing SA Cleanser is a bargain when compared to the sulfur-based cleanser I used, which I believe cost $50 after insurance reimbursement.
Final Verdict:
If you have dry, mixed, clogged, or bumpy skin, you must try CeraVe SA Smoothing Cleanser. This salicylic acid helps exfoliate skin softly. Ceramides and hyaluronic acid aid in preserving the skin's moisture layer. It is suitable for delicate skin and is fragrance-free. To prevent over-drying your skin in the winter, use it 2-3 times a day if you have extremely dry skin. This lessens skin congestion, which in turn lessens congestion-related acne. A little bit is often enough. If you have bodily acne, you can also use it on your body. I've finished it in full and will most certainly buy it again in the future.
https://a.co/d/43IJAlm
PRODUCT NAME : Renewing SA Cleanser
PRODUCT BRAND : CeraVe
PRICE : $10.00
WEIGHT : 8 oz.
INGREDIENTS :
Aqua/water/eau, Cocamidopropyl Hydroxysultaine, Glycerin, Sodium Lauroyl Sarcosinate, Niacinamide, Gluconolactone, Peg-150 Pentaerythrityl Tetrastearate, Sodium Methyl Cocoyl Taurate, Zea Mays Oil/corn Oil, Ceramide Np, Ceramide Ap, Ceramide Eop, Carbomer, Calcium Gluconate, Sodium Chloride, Salicylic Acid, Sodium Benzoate, Sodium Lauroyl Lactylate, Cholecalciferol, Cholesterol, Phenoxyethanol, Disodium Edta, Tetrasodium Edta, Hydrolyzed Hyaluronic Acid, Phytosphingosine, Xanthan Gum, Ethylhexylglycerin
Reader insights
Be the first to share your insights about this piece.
Add your insights