Brighton's Greatest Cocktail Bars
Brighton's Top Three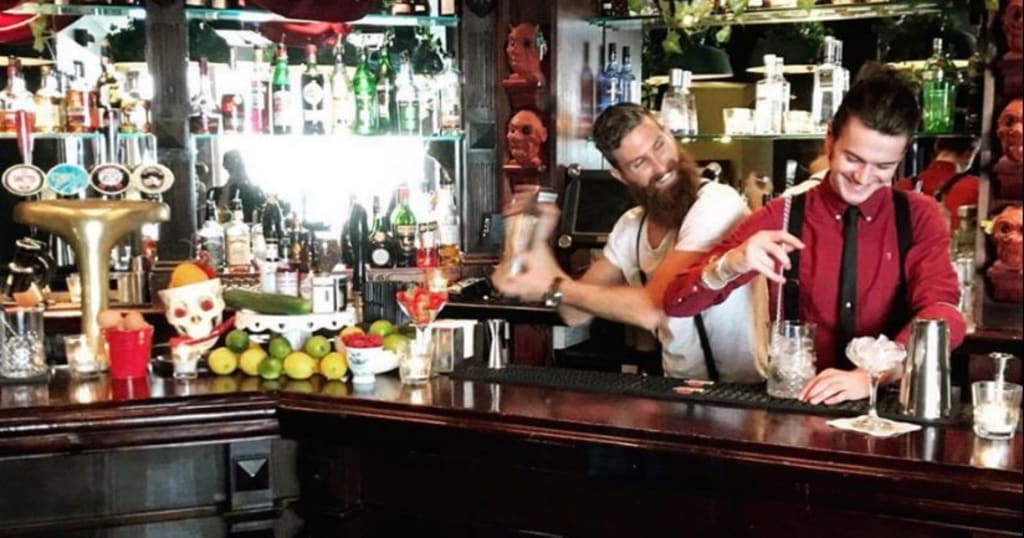 Brighton is a great city - "The LGBT+ Capital of the UK" and one of the most lively places in England.
No matter who you are or what you enjoy doing, Brighton has something perfect for you.
Whether you enjoy the normal, fashion hot shops of Churchill Square, the more obscure shops in the lanes or the brilliant LGBT+ community of Kemptown, it is a place everyone will love.
However, one thing Brighton is best known for is its night life. One of the best parts of the Night life? The Cocktail bars...
And there are many.
On a good night out in Brighton, I am TERRIBLE for jumping from bar to bar. However, a night out is never complete until you hit all of these top bars.
Now, anyone who knows how to drink knows this simple rule: Chase the Happy Hour. And that, is why any good night starts at Be at One.
Be at One
Be at One will always be one of my favourite Brighton Bars.
Located along North street, its in the perfect place to start. They have a huge selection of cocktails and the second the sun goes down, the place comes to life.
This is such a laid back friendly place. I have literally walked through the door when it was quiet and watched as a bartender jumped (genuinely jumped) over the bar to give me a hug. You get your menu and its 2-4-1 on any of the same cocktail. So where do we start? Neon Pink Gin of course. Beautiful. The Pina colada is heavenly. A Daquiri like no other.
I absolutely love this place. Get in there at the right time and the lights swing to the music, the cocktail shakers shake to the beat and the bartenders are climbing over the bar! Its so lively and fun, you can't beat it on a Cocktail run.
After Be at One though?
You have to go to the Twisted Lemon.
Twisted Lemon
The Happy Hour here lasts one hour longer than at Be at One. So, going here second gets you maximum Happy Hour.
Now, whilst they don't do 2-4-1 on any, they do have a nice selection of 5.95 cocktails until 9 O'clock.
This place is once again, amazing. Setting drinks on fire and making several cocktails at the same time - its amazing to watch. Get there before they get busy - once again, the bartenders are great conversation, never met a bad bartender there. It's all fun and laid back. (Plus they make a mean Long Island Iced Tea.)
Are you a vegan who has always wanted to try a White Lady or Clover Club Cocktail? Well they have a vegan foam which my friend absolutely loved. Not a vegan? They will crack that egg right in front of you.
Its a hidden Gem of Brighton, hidden down a tiny ally so that when I dragged my friend to it, he turned to me and said 'Libby... I think we might get stabbed down here'. No, you wont get stabbed. There isn't enough room for you to walk through any more than single file!
No, unlike Be at One you won't just see it. I spent about a month trying to find this place before I finally realised that there was a small yellow sign indicating the entrance. Not an easy find but 10/10 a hidden gem of Brighton.
Next? The classiest on the list.
Bohemia
Oh my God.
This place is amazing but no. There is no Happy hour. And ok, you can only afford maybe two or three drinks in here but... Wow.
Now sure, 10.95 is a lot for the pathetically small Pornstar Martini but not only is it the best pornstar martini I have ever tried, but it is served over dry ice.
When this is served to you, you are hit with a blast of orange smelling smoke which honestly is amazing. Sit at the bar for the evening and you'll find yourself carefully trying to lean into the smoke of everyone else's drink.
Once again, the bar staff are incredible.
And yes, they make the effort to know you by name when you come in. They may not jump over the bar but... this place is classy so...
They also have a cocktail game. Roll the dice and trust your bartender. You WILL be pleasantly surprised. I have played this game and got some combinations I was dreading, yet the bartender always manages to make an amazing drink. Never have I been disappointed in Bohemia.
Oh, and did I mention you get free popcorn?