BLODY MARY "The sauce of mine"
The story of the cocktail that builds up part of my identity.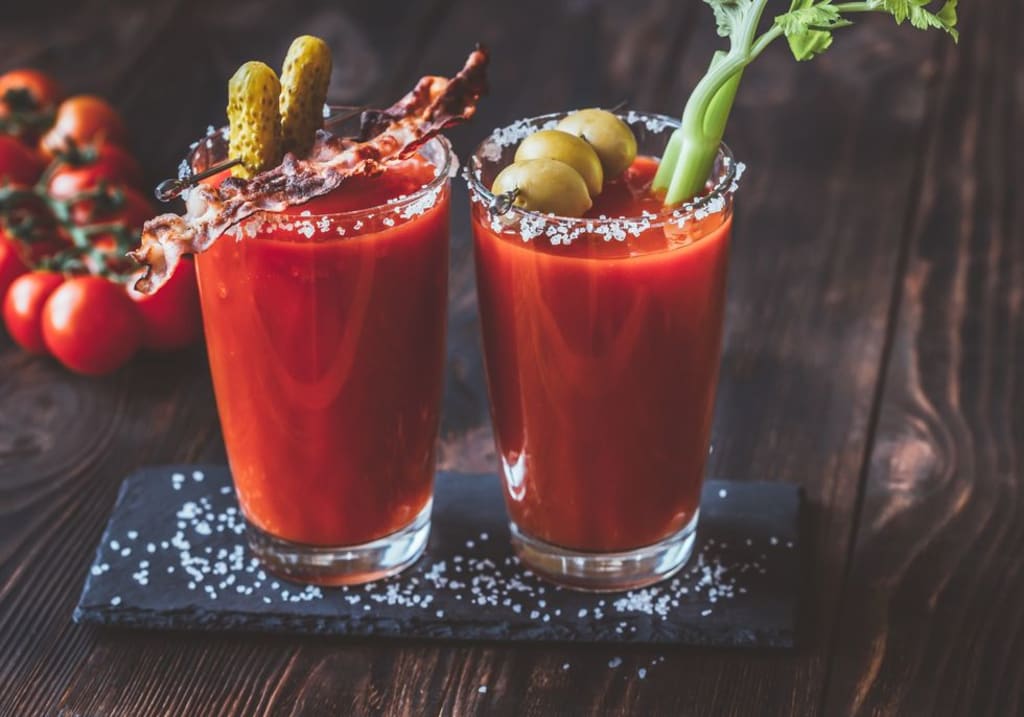 I like red. Bloody red, bold red, thick red. If that has anything to do with me being a woman, owning an uterus and being affected by the moon's whereabouts, I suspect. But I like red, chunky, sticky red.
And I always did, but didn't completely realise it. One of my favourite foods ever is Spaghetti Bolognese, with those meaty chunks floating in the red sauce, leaving unwashable marks on your clothes and on your lips. As a girl, I always picked red as the answer of that overrated question: What is your favourite colour? I knew I had to say pink to be acceptable as a boring but admissible unicorn-lover girl that could hang out with the crew. But I kept choosing and saying red. I wasn't part of the crew, and a big part of me didn't want it either.
Then I became a teenager, and the color red was still an important part of my life. A scary part, I must admit. When I saw that mark on my underwear, early in the morning, I freaked out. I cried, my mother comforted me, my dad went to the shops to get pads. And I felt the poetry of the mark, the inspiration, like if something was rising deeply in me; since that day my emotions drive me powerfully and I am able to appreciate and create art.
Adulthood. Me being aware of my sick passion for red goes back ten years ago, when I anxiously felt that sauce of mine coming out, staining the bedsheets, the white underwear, then the floor of my grandma's bathroom. It was THE sauce of mine, my soul, my heart, love in the form of thick-glueyish zombielike waterfall.
It hurted, like when a doctor removes a mole from your body, like when a part of you suddenly misses, but you don't want that in your body and at the same time you do, and it hurts. The pain, unbearable; the image, deeply rotten, perhaps gross, beautiful. That is why, I guess, I love The Shining so much. Danny could see it, the image of the blood flooding the hall of The Overlook, it scared him to death, but it also reaffirmed he was special, that he was the shining. Well, that sauce of mine flooding the toilet and splashing the crackled tiles reminded me that despite the circumstances, I was also special.
A few months later I acknowledged it, I tasted it, heart-broken but relieved, the perfect match, made me dizzy, felt hot on my tongue, gave me joy: the bloody mary. How can a beverage cater for your most hidden pains, ease and aggravate the sickness?
And yes, it burned my throat , but my soul was already burnt, so I didn't care too much. Vodka; one shot -If too heartbroken, make it two-, Worcestershire sauce; a bit, tabasco; more than a bit -if your heart needs it-, the juice of one lemon; bitter, some ice; refreshing, fill the glass with tomato juice; the color. Some salt and pepper, a stick of celery and drank. Munch. Drank. Tears dropping in the cup, refill, more tears, more red juice. Afterwards, I discovered Michelada, a Mexican beverage that reminded me of the Bloody Mary. In fact, it is like a Bloody Mary, just replace the Vodka for beer. A great option if Vodka is not in your pantry.
After ten years, Bloody Marys -alternatively Micheladas- are still that combination of comfort and deep sadness, that sequel of the sauce of mine coming out, that I am still trying to replace with the red, thick, bold cocktail. And I love it, Bloody Marys are always my first choice, because it fulfills me, because it cheers me up but it doesn't erase the memories that I never ever want gone.
Is this void ever going to fade? I hope it doesn't, as is the perfect excuse to keep ordering Bloody Marys, and keep my past present, because my circumstances, that sauce of mine gone through the toilet, is me.