Armageddon's Angel: School teacher must steal her Russian lover's launch keys to prevent World War III
Armageddon's Angel treatise might be a project worthy of Ana De Armas talent says government whistleblower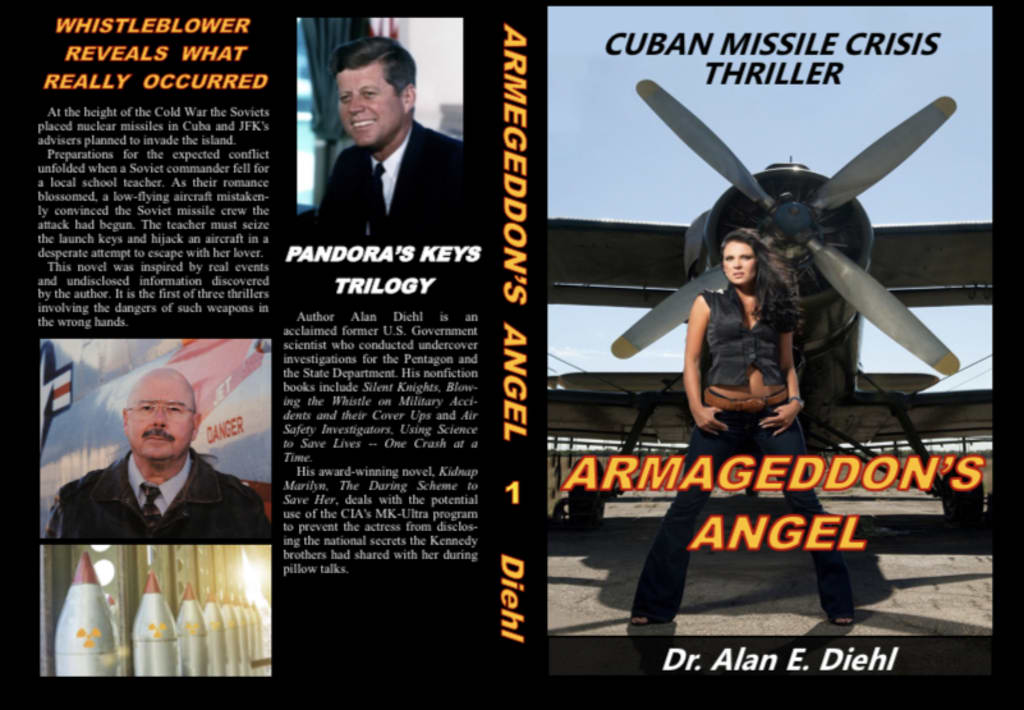 Dr Alan E. Diehl
Ana de Armas has been mesmerising viewers with her impeccable performances and enigmatic characters since she debuted in Hollywood. And this Cuban-born star garnered critical acclaim for her demanding portrayal of Marilyn Monroe in Blonde while simultaneously making history as the first Cuban actress to receive such an Oscar nomination.
Although many critics felt this Netflix dystopian docudrama was depressing because of its obsession with Marilyn's victimisation, nobody quibbled with Ana's striking portrayal of the icon. And, while a few suggested that Ana's Cuban accent bled into Monroe's voice, most fans and critics alike opined Ana's stunning talent and vibrant charisma were more than deserving of the Academy Award nomination.
Her earlier performance in No Time to Die as a dynamic "Bond Girl" also received high kudos.
Interestingly, while the Academy rightly recognised Ana's work in Blonde, Marilyn was always overlooked for an Oscar nomination. Although Monroe did receive the 1959 best actress Golden Globe for Some Like It Hot, she was denied an Oscar nomination for her powerful portrayal of a troubled woman in The Misfits. The truth behind why she wasn't given this recognition is muddled, but several theories have emerged.
Some say her behaviour during the production caused her co-star, Clark Gable, to suffer a heart attack. This story, although unlikely, spread throughout tabloids. That myth ignored Gable's significant health problems and his demand to perform his own stunts personally.
In addition to this unfounded tale, it is known that Monroe was the victim of extreme mistreatment while making The Misfits. The director, John Huston, was a heavy drinker and gambler, and Monroe's husband, Arthur Miller, continually changed the script throughout the production. This issue plagued the entire shoot.
To rectify this situation, Dr Alan Diehl, in his award-winning novel Kidnap Marilyn, suggested that the Academy give Monroe a lifetime achievement Oscar, particularly after they nominated Ana for her vibrant role in Blonde.
Interestingly, in numerous interviews, Ms de Armas described the difficulty in getting into Marilyn's makeup and wig, as well as the challenges of mastering the nuances of her speaking style. That was not surprising, given Ana's Cuban heritage. Perhaps it's time for de Armas to examine a role in her native environment.
Dr Diehl's second novel, Armageddon's Angel, might be a project worthy of Ana's talent. The inspired-by-real-events treatise involves the actions of a rural schoolteacher during the Cuban Missile Crisis. In this captivating story, the former debutante must steal her Russian lover's launch keys to prevent World War III.
This deeply romantic portrayal during humanity's most dangerous moment would complement de Armas' innate dramatic talent, as well as the action-figure persona she established in movies like No Time to Die. In recent interviews, de Armas suggested that she would prefer to focus on dramatic rather than dynamic characters, but this project would allow Ana to do both in her familiar island environment.
The well-written and captivating historical fiction tale is still relevant today, given the contemporary threats of nuclear war. Like Diehl's earlier book about Marilyn, this novel is available on Amazon. Interestingly, the author said he had de Armas in mind while writing it, partly because she resembles the book's protagonist, Maria.
And in a February 15 interview, Ms Sarah Sotoodeh of the Daily Express reported, "Ana said she wants to continue doing what she is doing, but produce as well: 'Maybe finding a small story and actually doing a full production of that film'."
This book has great potential and could put Monroe's lost nomination to rest if De Armas does pursue the project.
Source: Dr Alan Diehl
Dr Alan E. Diehl is an established figure in both the public and official eye who studied history at the USAF Academy. He later earned engineering and psychology degrees after experiencing a near-fatal plane crash. His credentials include several FAA pilot ratings and working as a designer for two aircraft manufacturers. He has also consulted with various educational, public interest, congressional, and legal organizations.
Having worked in highly regarded government operations for the National Transportation Safety Board, Federal Aviation Administration, the Pentagon, and State Department, his influence has reached much farther than many could ever imagine. On occasion, his forensic skills were even utilized to address White House requests for information. Such efforts were described in his book, Silent Knights: Blowing the Whistle on Military Accidents and Their Coverups, which was nominated for the Pulitzer Prize.
After becoming a prominent whistleblower, he has been featured in hundreds of interviews with media outlets worldwide on topics such as government coverups, mysterious disappearances, psychology, and aviation safety. He has appeared on FOX, CNN, BBC, CBS, NBC, and ABC networks as well as Sirius XM, Yahoo, Vice News, and other platforms. His views have also been featured in major publications, including the Associated Press, Reuters, Time, New York Times, Washington Post, USA Today, Wall Street Journal, and Military Times.
What do you think?
Do you believe the novel should be adapted into a film, and if so, would Ana De Armas be a perfect choice to play the protagonist Maria? Let us know your opinion in the comments!
Reader insights
Be the first to share your insights about this piece.
Add your insights