Pairings
8 Excellent Wine and Candy Pairings
Ditch the cheese and crackers, learn how to pair your favorite wine with these delicious candies.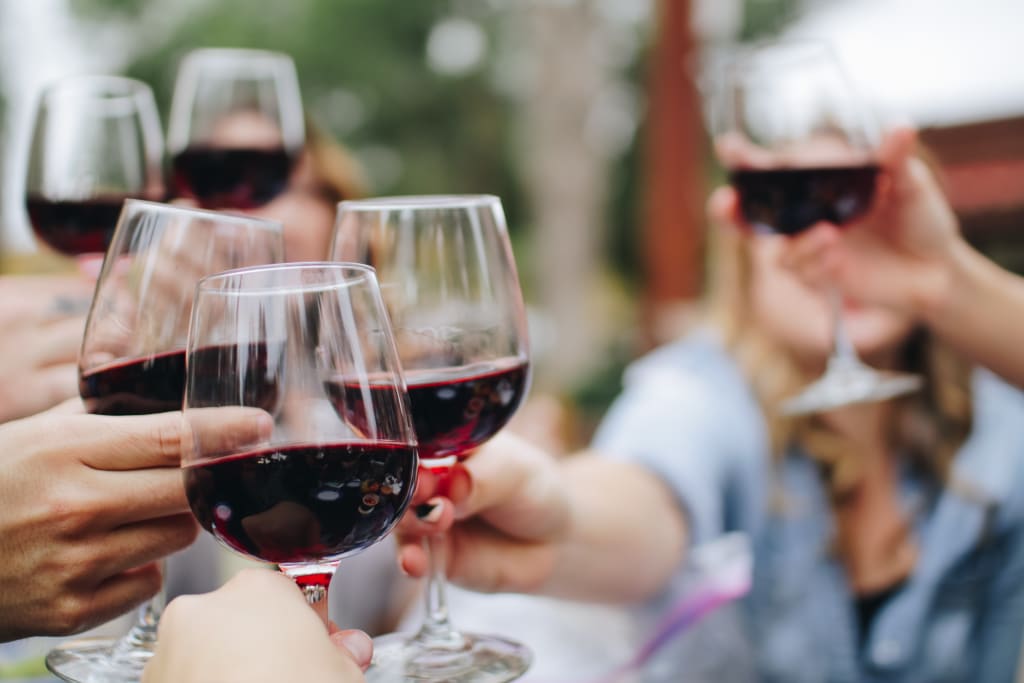 Wine is supposed to be fun but it's so often wrapped up in pomp and circumstance that it can be a little hard to remember that. A great way to reintroduce fun with wine is pairing it with candy. Whether you're a glass at the end of a long workday type or a social type hosting a dinner party, you can combine your favorite sweet treats, like milk chocolate to sour candies, with a wine pairing for an elevated and delicious adult dessert. You don't have to be a sommelier to find the perfect pairing, we've provided a number of combinations and why they work together.
We've divided up the perfect wine and candy flavor pairing by wine type. So, find your favorite and see what it matches with.
Red Wine
Cabernet Sauvignon - Whoppers/Peanut Butter Cups
Cabernet Sauvignon has been called the king of red wine, it requires bold characters to pair with its jammy fruit flavor. A Whopper with its chocolate-coated malt pairs wonderfully with the ripe and bold taste of a cab because the Cabernet Sauvignon cuts through the strong flavors. If you're not a fan of malted chocolate look for peanut butter cups for classic peanut butter and jelly taste profiles.
Merlot - Milk or Dark Chocolate
When it comes to chocolate and wine flavor pairings, you want to try to match the style and weight of both the wine and the chocolate. When you're looking for the perfect wine to pair with a bar of creamy milk chocolate, go for something a little bit lighter bodied. A fruit-forward Pinot Noir goes well with simple and rich foods like milk chocolate.
Pinot Noir - Kit-Kat Bars
Fruit and chocolate is a classic combination of opposites attract. Even better a Pinot Noir is one of those wines you tend to always find on your pantry shelf. All varieties of Pinot Noir carry a red fruit profile, whether it's at the tip of the tongue or a deeper note. A kit-kat bar's lovely milk chocolate and wafer combo pair with the fruitiness of the Pinot for a flavor like chocolate-dipped red berries.
Lambrusco - Swedish Fish
While you may be worried about the compounding flavors of this combination becoming too much, each offers its own subtleties and depth. Swedish Fish can be a little hit or miss with people who prefer their gummy candy to be sweeter. The Lambrusco's berry flavors elevate the Swedish Fishes' softer taste, while the wine's earthy and floral notes give complexity.
Port - Caramel Candies
Port is traditionally consumed as a dessert wine because it is richer and sweeter than a drier wine. Caramel candies are buttery and rich, offering a great counterpoint to the dark, sweet, black fig and dried fruit character of Port. Pour yourself a glass of port the next time you're looking to elevate your favorite caramel candy with the right flavor pairing.
White Wine
Chardonnay - Candy Corn
Chances are you have some leftover candy corn from Halloween. Or you know it's going to be in season soon. It has a strong buttery, vanilla taste and a creamy texture that just melts in your mouth. Chardonnay pairs well with vanilla flavors due to its own vanilla undertones when aged in oak barrels and its crisp fruit flavors. Break off a piece of candy corn, let it melt on your tongue and sip the Chardonnay to produce a delectable pairing.
Riesling - Sour Patch Kids
If sour candies often leave you puckering, this combination will work perfectly for you. Sour Patch Kids are "first sour, then sweet," but Riesling is just the opposite! The sweetness of the Riesling will balance the tartness of the candy and finishes with a cleansing kick of acidity that's countered by the after taste of the Sour Patch Kids. Be careful not to eat too many packets in one sitting!
Sauvignon Blanc - Pixie Sticks - Skittles
A Sauvignon Blanc offers a juicy grapefruit profile with a kick of refreshing acidity. Combined with the fruity sugar powder of a pixie stick offers levity to the acidic notes while downplaying the overwhelming rush of sugar. When paired with Skittles, the fruit flavor swirl in the best way possible, highlighted by the cut of crisp acidity.
A Final Word
Hopefully, this has inspired you to make your own candy and wine pairings. Maybe its given new life to wines you were never particularly fond of, or perhaps you found one more reason to enjoy your favorite selections. Halloween might be the perfect opportunity to sample with fun-size candy bars and your favorite Halloween wines. But, now that the door's been opened, get adventurous and have fun with it.