7 SEO tools to achieve your desired blog traffic
Getting noticed digitally is not an easy task, but if you apply the right strategies and use the right tools, you can achieve your desired results.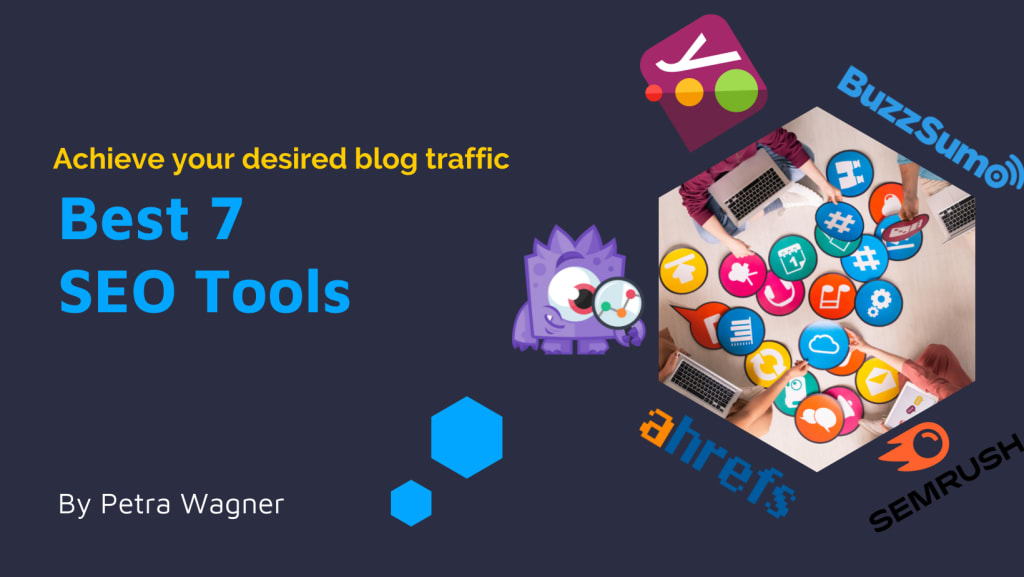 As a digital marketer, you might be familiar with the term SEO. Search Engine Optimization is an imperative tool to better your blog and website rankings, if not implied properly your website might get lost in the pool of millions of websites. In the layman's language SEO makes your blog more noticeable to both search engines and the audience. The easier it is to find your blog, the higher traffic it will generate. By optimizing your website well you will be able to convert your potential customers into the actual ones. Getting noticed digitally is not an easy task, but if you apply the right strategies and use the right tools, you can achieve your desired results. There is end number of SEO tools available on the internet, but only some of them are trustworthy, make your work easier, and give effective results. To find such SEO tools look no further, the list below will inform you about the SEO tools worth using for your website.
Yoast SEO
Yoast SEO is the most convenient WordPress searchable database plugin that lets you enjoy a ton of features. These include adding meta descriptions, keywords with sufficient density and improving content readability. You can also give access to your team members. This plugin offers a separate checklist for each blog you write and is much more convenient to use.
Google Search Console
Google Search Console is a highly reliable tool as it informs whether your website or the individual page can be crawled or indexed or not. Apart from this, it also offers various incredible features
This tool confirms whether Googlebot is able to crawl your website or not. If your site isn't ranking well which means Google bot can't crawl it.
This tool allows you to fix index problems for your content if there are any. Through this, you can update your content and submit it for reindexing.
This feature helps you discover which keywords and web pages are getting a good number of clicks and which other sources of Google are generating traffic.
Through this, you can discover top sites and internal & external pages linking to your site.
MonsterInsight
MonsterInsights is a Google Analytics plugin that helps you track SEO campaign performance easily. MonsterInsights offers multiple features like:-
Monitor organic traffic changes
Track SEO performance of a particular page
Track search queries of keywords on particular pages
Measure engagement of different pages
Measure mobile-friendliness and site speed
Alongside, this tool provides perks which include tracking features of Google Analytics like eCommerce marketing, forms tracking, and ads tracking.
Buzzsumo
Buzzsumo helps you identify which topic and content resonate best with your audience. These can be measured with the help of website metrics and keywords. This way you can also keep an eye on your competitors and figure out a strategy to outrank them. It also takes social media shares into your account.
Ahrefs
Ahrefs offers incredible features like content explorer, site explorer, blog auditor, SEO toolbar, and many more that can ease your SEO process. This tool will help you find the right sources of traffic so that you can apply your strategies, keep track of your competitors and survive the digital competition.
SemRush
SemRush helps you boost your online visibility, lets you find the perfect keywords, and grow your blog traffic. This is an SEO-auditing tool that allows you to audit your SEO performance and gather insights from competitors to grow your site traffic. With this tool, you can easily find the organic keywords that rank well, websites where you can build backlinks from, and collect brand mentions for seizing promotional opportunities.
Google Trends
Google trends allow you to view the popularity of the keyword or a topic for a given period of time. The interest of the audience changes timely and so do the searches. This way you can figure out the consistent and diminishing trends. Apart from this, it offers other features as well
Interest over time- You can view the popularity of a particular search term in a particular year and identify when it was searched the most and least.
Interest by region- You can also identify in which region a particular term most searched.
Comparisons- You can compare multiple keywords against one another
Related terms- When you search for a particular term the page also shows the terms relevant to your search
These are some of the SEO tools that will help you achieve your goals, boost traffic, and establish your digital presence. In this era of cut-throat competition, it is crucial to outrank others and stand apart digitally. This one area of focus can do wonders for you if you use it the right way.
how to
Petra Wagner is a writer by passion and profession. Her love for writing isn't restricted to any specific niche. She loves pouring out her thoughts on any given topic. Be it beauty, real estate, law or digital marketing- she can ace it all.