6 websites that pay you for little tasks.
For anyone looking to generate money online today, the internet is a gold mine. There are so many websites that pay you for quick chores. The majority of these websites offer a variety of brief and simple microtasks that users can complete to work and get money.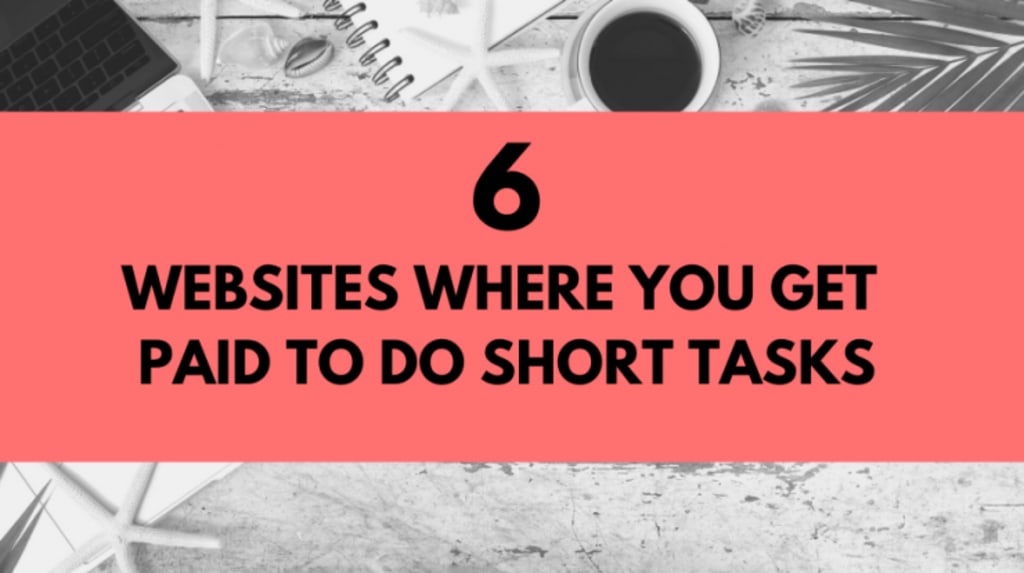 1.MTurk
In essence, Mechanical Turk is an online marketplace that pays participants to accomplish modest jobs. HITs are the tasks that users complete (Human Intelligence Tasks). Mturk operates by matching up the requester with employees who carry out the desired tasks in exchange for a payment that the requester specifies next to each HIT. Your worker ratings will rise as a result of your accurate work on HITs, which will eventually boost your chances of receiving more assignments.
Paying Information:Users of Remotasks are paid using PayPal. The amount paid for each activity varies depending on how difficult it is. The minimum payout is $5, and the hourly payment rate can range from $1 to $3. Weekly payments are made
2.RemoTasks
Remotasks.com is a platform for crowdsourcing where people may get paid for carrying out and finishing easy tasks. These little jobs involve data collection, audio transcription, data tagging, and image tagging. The only prerequisite for working on Remotasks is to speak English fluently. By taking short tests or exams, users can access more tasks. The opportunity for microtasking will increase as you take more exams. Visit Remotasks' FAQ page to learn more about the company.
Paying Information:The two payment options for Mechanical Turk are an Amazon Payments account or an Amazon gift card. The smallest sum that can be taken out of your account is $3. If you reside in the United States, you can then transfer your profits from your Amazon Payments account to your bank account. For international workers, it's also vital to know that you can receive your pay in the form of Amazon gift cards.
3.ClickWorker
Users of the website Clickworker.com can make money online by completing jobs that are listed on the site. Simple online surveys, essay writing, categorization and tagging, among other things, are among the assignments. Users can choose tasks using a web browser and can base their decisions on the prices being offered. Visit the FAQ page of Clickworker to learn more about it.
Paying Information:From Wednesday to Friday each week, Clickworker pays through Paypal. There is a $1 minimum payment requirement. The amount users can make ranges from a few pennies to two digit amounts.
4.Rewardy
Rewardy is a rewarding chatbot that rewards you with gift cards for carrying out easy tasks directly from your preferred messenger program. The duties include watching videos and downloading apps. The app's goal is to serve as your all-in-one assistant while letting you discover amazing new games and apps and earn points for playing them.
Paying Information:Gift cards are used by Rewardy to pay its users. Users have the option of exchanging their points for gift cards to popular stores like Amazon, Starbucks, PayPal cash, and other retailers.
5.SmartCrowd
An online network for independent contractors called The Smart Crowd offers its users a selection of quick jobs. These jobs include typing in data, doing research, translating, etc. Smaller chores are generally straightforward and not too difficult to do. The platform's ability to let you work whenever and wherever you want while allowing you to set your own flexible hours is its strongest feature.
Paying Information:Your bank account will receive direct deposit payments from the company for the services rendered. You are compensated after the completion of the work at the established rates for the various assignments. Typically, you receive 20–60 cents for every 1000 keystrokes. An average user can make $50 or more per month working here.
6.FigureEight
The data gathering and mining business FigureEight provides a platform for data enrichment to its international clients. The company gives consumers from all around the world a fantastic opportunity to contribute to their system. By performing microtasks and completing easy data-oriented tasks, you can earn money online.
Payment information:FigureEight uses Paypal to pay its employees. Users can apply to become contributors online and find jobs from any location. The amount paid for each activity varies depending on how difficult it is.
list
About the author
Reader insights
Be the first to share your insights about this piece.
Add your insights