5 Bars You Have to Visit in Marbella
The Costa Del Sol doesn't disappoint when it comes to partying.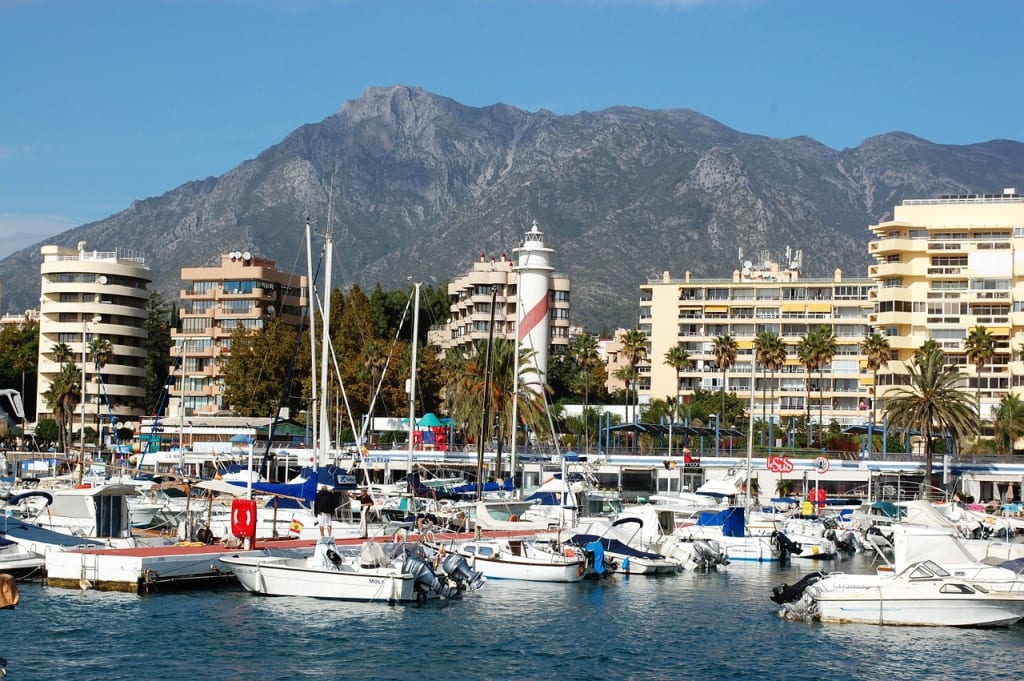 The Costa del Sol is known for its white sand, turquoise waters, and high-end lifestyle. In fact, just a simple search for a villa in Marbella can present an overwhelming list of lavish hotels, resorts, and rentals. And when you're looking for a place to party, that list gets even longer.
Spain's "Sun Coast" is famous for offering some of the best party spots in the country, if not all of Europe. At times, it can give travelers (like myself) a bit of a "tourist trap" feeling, which can make choosing the best places to enjoy a couple of drinks after a long day on the beach feel impossible.
Thankfully, this area is loaded with great bars that don't smother you with a touristy feel. Whether you are after an all-night dancing spell or you're hunting for a pleasant local tapas joint, you will without a doubt find what you are searching for in this city by the sea.
These are the five bars you must visit when you venture to the Costa del Sol, and specifically the iconic party town of Marbella.
1. La Sala
La Sala is worth visiting for the grandeur and postcard-worthy views alone. It's situated in the voguish boatyard of Puerto Banus, offering nine different areas to drink, dine, and snap photos of the view. It's a higher-end establishment—definitely not a dive bar—but that also means the drinks, hailing from around the world, aren't lacking flavor, creativity, or booze.
Just a couple of the exceptional spaces include the Live Lounge where concerts are regularly performed as well as the photogenic rear terrace facing La Concha Mountain. When you visit La Sala, you're stepping into nine bars at once, so be sure to pace yourself, so you can see and taste the unique flavors of them all.
2. La Taberna Del Pintxo
La Taberna Del Pintxo is an authentically Spanish bar, focusing on the the Basque style of tapas and cocktails from Spain's northern region. Visiting this classic Marbella bar in the city's charming Old Town area will give you the opportunity to taste and enjoy the famous Pintxos—slices of crispy bread that are often topped with a range of things including sausage, peppers, and anchovies—among other distinctly Basque treats.
Even better, La Taberna Del Pintxo is a popular destination for Spanish locals, so it has a much more authentic feel than the bars dotting the shorelines. According to those who call the city home, these mouthwatering small plates should be paired with some of the bar's famous selection of Spanish wines. It's hands down one of the best places to start an evening in Marbella with a bit of authentic Spanish flair.
3. El Gran Gatsby
Also located in the upper-end Puerto Banus, El Gran Gatsby is as luxurious as the name suggests. There's no better place in town to live the high life, which is something you have to do at least once when visiting Marbella. Sunset views, sofas for enjoying fine cocktails (the gin and tonic was mixed to perfection), an unbeatable wine list, and fresh Mediterranean cuisine make this the perfect place for early evening drinks or a dinner to remember. Stay a while, and El Gran Gatsby morphs into a lounge dance bar with stunning night time views of the port and an elegant (and sometimes over-the-top) Great-Gatsby-style atmosphere.
4. Buddha Bar
If you like live music on a night out in a new location as much as I do, the Buddha Bar should be on your Marbella bucket list. Located in the center of town and known for a variety of shows, ranging from live Latin music to cabaret shows, the Buddha Bar is a place you'll hear pop up often in conversations of late nights (and often mornings) and loads of fun.
The Buddha Bar also doesn't let you go hungry. While this hotspot is often praised for its club scene, those who are in the know head there early for some of the best Japanese food in town. The freshest sashimi, sushi, and hot Japanese entrees often steal the show. The Buddha Bar is a place you'll find yourself visiting more than once, whether for the food or for the fun.
5. Bar Guerola
Checking out the local dive bars is something I like to do on every holiday, but in Marbella, finding a dive bar can seem impossible. Insert Bar Guerola—the dive bar I'd been seeking for days. This customary Spanish joint is packed with locals for breakfast, lunch, and dinner. Grab a cold beer and take in the old-timey decor, which is difficult to find in Marbella these days. The homemade tapas are what most of the locals eat, and you'll be pleasantly surprised by the affordable prices (another thing that can be difficult to find in Marbella).
Like most dive bars, Bar Guerola is also the perfect place to catch a sports game with the locals. A huge screen on one wall, cold beers, strong cocktails, and friendly patrons make this a definite must-stop on your escape to the Costa del Sol.
Upon arrival, you'll quickly notice that Marbella has no shortage of watering holes, from the most lavish seaside establishments to local holes-in-the-wall like Bar Guerola. Drinking is part of the culture in this city by the sea, and these five bars are just the start to an epic Marbella getaway, including plenty of sun, sand, the sea, and of course—cocktails.