10 Portable Bar Kits You Need to Have for Your Next Vacation
There's only one thing better than a perfectly mixed cocktail on vacation, and that's one of the many portable bar kits you need to have to make it just how you like it!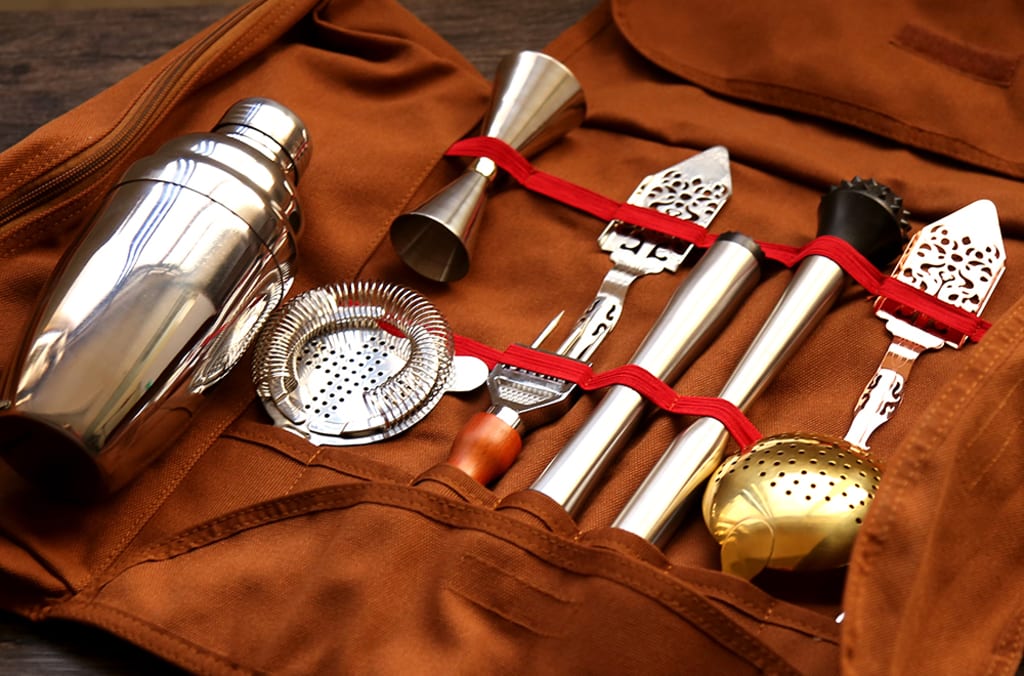 Who says you can't enjoy a handmade cocktail on the go? Who says you have to pay $15 for a watered down adult beverage on vacation? No one, that's who! Thanks to these hella cool portable bar kits, there is no need to sacrifice taste, quality, and money just because you are traveling. Now you can take everything you need to make a custom drink right alongside the rest of your luggage.
I narrowed it down to the best of the best by what's most important when it comes to a portable bar set, which include cost, size, convenience, and quality. This collection leaves no man behind. Whether you're a mixologist or a wine and beer drinker, the best portable bar kits you need to have give everyone something they'll love.
The VINOBRAVO Cocktail Shaker Set has everything you need to enjoy a well-made and tasty cocktail. At under $40, this set checks all the boxes for what you could be looking for in a portable bar kit, regardless of whether you are newbie or a professional bartender (making one hell of a gift as well!). It is bartender tested and approved, and comes with a lifetime guarantee. In this box set, you will receive 11 pieces of equipment, the most notable among them being two premium, weighted shaker tins that were designed to be completely leak free and easy to take apart to pour and clean. Also included are three types of mesh strainers, a bar spoon, two liquid pourers, an ice muddler, and tongs. On top of all of that, you'll find a recipe guide for 30 classic cocktails neatly packaged inside the kit to assist with all the cocktails you've been making wrong your whole life.
This Martini Travel Bar Set is the James Bond of portable bar kits, and leaves no bartending tools behind. The durable, velvet-lined travel case is like bringing a martini minibar to any hotel, party, or adventure. The bar box comes with a lock to keep your belongings safe, as well as two sleek martini glasses, olive spears, a flask, a jigger, a funnel, and a shaker. You know anyone showing up with this piece of luggage is ready for a good time.
The Barmasters Pro Bar Travel Set is compact and classy with its 11 inch, black cylinder leatherette casing and black, velvet interior lining. It comes with seven stainless steel tools, including a cocktail shaker set that can hold 18 ounces of liquid, deluxe ice tongs, a double jigger, a bar spoon, a muddler, a cocktail strainer, and a corkscrew.
Despite the hefty price tag on this portable bar set, which conveniently comes in a backpack, it offers everything a traveling bartender may need. It even has a small cutting board for garnishes or cheese that fits perfectly in a specially designed side pocket. I mean, how cool is that? It also holds three large bottles, a 16 bar tool removable organizer, and a separate compartment to carry your phone, wallet, and any other extra necessities you may need to tote around. This travel bar kit is a must-have for those who are looking to have a great time while enjoying custom drinks on the go. Remember, you get what you pay for.
The Portable Roll Up Tool Bag has a super professional quality while still looking stylish, with its distressed, durable canvas and real leather trimming. Designed for frequent use and organization, it comes with 10 bartender tools necessary to make most cocktails. At just $50, this is a perfect option for a portable bar kit for your next vacation without breaking the bank.
I have to admit, this sleek and sexy gun-metal portable bar kit is pretty darn hot. The Nou Living Cocktail Shaker Set stands apart due to its unique tool design and its small storage box. This bar kit has everything you need to travel, host, and entertain, featuring a Parisian shaker, a Hawthorne strainer, a fine mesh strainer, a measuring jigger, a muddler, a two-sided bar spoon, and a pourer. Plus, it includes a bonus recipe book with original drink cocktails and favorites like martinis, margaritas, and mojitos, which I think is perfect for any traveling bar newbie.
The Picnic Plus Roll Up Kit made its way onto the list because of its size, its style, and how it helps you make the perfect cocktails to drink before noon. Perfect for anyone to carry around without giving up style, this lightweight, vegan leather, portable bar set is padded and comes with six stainless steel bar tools. Can anyone say, "perfect Father's Day gift?"
This vintage, portable bar set is not only perfect for travel due to its size (at only 14 inches tall), but also because it comes with the bare essentials one must have for not only drinking, but entertainment as well. This must-have portable bar set carries a bottle opener, shot glasses, drinking cups, and a deck of cards. Sure, it may not have the extra mixology tools, but not everyone needs something strained in their cocktail (like me). Give me a straight shot of Fireball, a cup of wine or beer, and a deck of cards to kick a friend's butt in a game of Rummy. The end.
While wine may not exactly be a cocktail you have to mix, it certainly is alcohol, possibly the most popular drink out there, and without a doubt often traveled with. So obviously, I had to include a portable wine bar, which is also known as the Sunset Picnic Wine Tote. Ok, maybe I was being a bit selfish and researched this for myself because I LOVE WINE, but that's neither here nor there. This travel wine tote comes with two wine glasses, insulated storage for a wine bottle, napkins, a corkscrew, and a spare cork. I mean seriously, what else does a traveling wine-lover need?
I had to include one big boy, one bag that can carry every possible cocktail-making need, including what's most important, the alcohol. The Professional Bartender Kit truly has it all. The best part is that it folds up into a padded, fully waterproof, 13x16 inch stylish shoulder bag. It comes with 14 stainless steel pieces, and enough extra pockets and zippers to stash garnishes, syrups, and whatever else you may need. For just under $100, this blows other portable bar kits you need to have and the best cocktail shaker sets for the mixologist in you straight out of the water.