10 No-Fuss Cocktails for St. Patrick's Day
Not Your High-End Cocktail Party
Every year for St. Patrick's Day, my husband and I celebrate in a rather heretical fashion: the American way. In Ireland, St. Patrick's Day is not a boozy holiday, but a religious reminder of Saint Patrick and all of his kind deeds. Like most holidays, this Americanized Irish celebration has strayed far from the original intention and meaning, and been replaced with a favored popular pastime; drinking. So, in celebration, I have for you ten of our favorite easy to make cocktails to enjoy at home.
Disclaimer: These drinks aren't intended for pretentious guests, but my guess is you don't want guests like those showing up to your St. Patty's Day celebration anyway.
The following cocktails require no fancy equipment, course in mixology, or top shelf liquors. The only nice glassware I recommend is copper mugs for the Dublin Mule, but that is just because I personally like copper mugs. Otherwise, I use 9 0z clear plastic cups purchased in bulk from Sam's Club or Costco with festive shamrock stickers so guests know whose drink belongs to whom. You can even find foil stickers pretty cheap if you want a nicer aesthetic. The purchase of the stickers and these cups are usually much cheaper than the ones you buy at party stores with St. Patty's day designs already on them, and they hold up much better too. However, this is totally optional. You do you!
Supply list:
Clear disposable plastic cups (optional on clear)
Stickers to use as drink markers (optional-you can just use an actual permanent marker to write your name or initials on your cup)
Disposable shot glasses
Coffee Stirrers or spoons
Moscow mule mugs
Two punch bowls or pitchers if preferred
Drink ladles
Grocery Ingredients List:
Orange juice or fresh oranges to squeeze
Limes or lime juice
Lemon or lemon juice
Lime sherbet
Heavy whipping cream
Half & Half
Ginger ale (you can substitute with lemon lime soda if you dislike ginger, but ginger is preferred)
Lemon lime soda (you can substitute in recipes with ginger ale, if desired).
Ginger beer (alcoholic or non-alcoholic) * You can substitute with ginger ale if desired; ginger beer just has a stronger ginger flavor that I find works slightly better, but that is a matter of preference.*
Booze list (to make all ten cocktails):
Guinness
Irish cream
Irish whiskey
Triple Sec
Crème de Menthe
Orange liqueur (I use Licor 43)
Drambuie or spice liqueur
Lime Vodka
Whipped Cream Vodka
Chambord or Raspberry Liqueur
Kahlua or coffee liqueur
Now without further ado, I present to you cocktail #1.
1. The Irish Kiss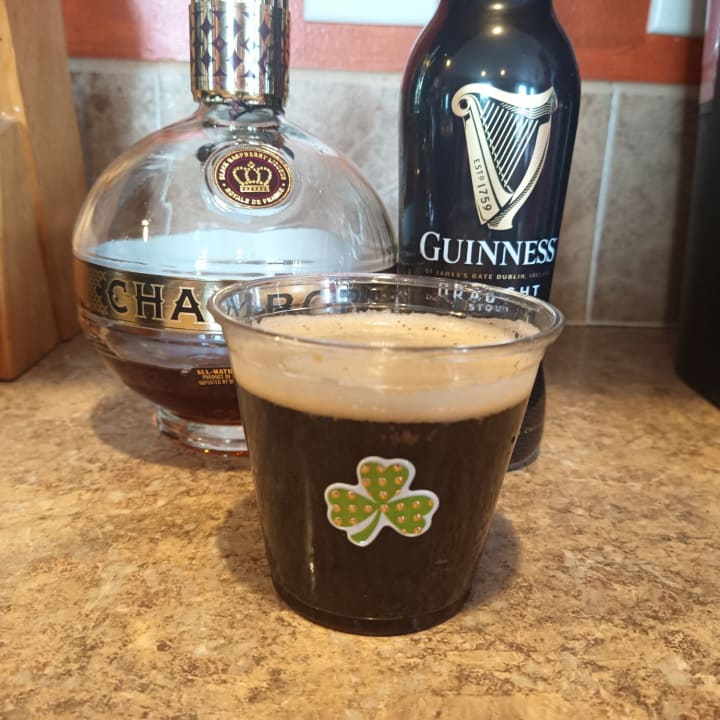 This two-ingredient cocktail is my favorite to make. If you have guests that ordinarily shy away from beer and enjoy drinks that are a little sweet, this cocktail will give them a good introduction to Guinness. Because it is the beloved beer of Ireland, what better time is there to have one than St. Patrick's Day?
Ingredients:
1 oz. Chambord (or other raspberry liqueur of your choice)
6 oz. Guinness
Directions:
Pour one shot of raspberry liqueur (Chambord) into cup and fill will Guinness.
Stir with a coffee "cocktail" stirrer or spoon and you're done!
2. The Dublin Mule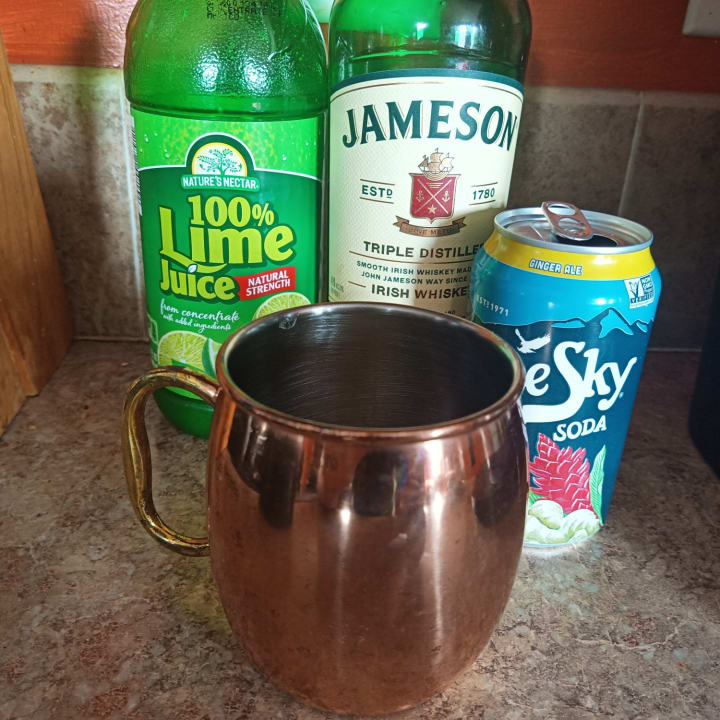 This is a great alternative to the traditional "Moscow Mule." Nowadays, this is one of my preferred mules of choice. The substitution of Irish whiskey adds something rather nice to it, and is an easy sipping choice for anyone who is a fan of ginger. If you have a friend who usually orders a "whiskey sour" as their go-to when you're out and about, this is the drink they will likely enjoy.
Ingredients:
Irish whiskey (Jameson)
6 oz. Ginger beer (or ginger ale soda, if preferable)
1/2 oz. lime juice (fresh squeezed or concentrate)
Directions:
Chill copper mule mug prior to party.
Add one shot of Irish whiskey into a chilled copper mule mug.
Pour in 6 oz. of ginger beer (or ginger ale soda), and squeeze in the juice of a fresh lime slice.
Add another lime slice as a garnish if you so desire.
5. Adjust to taste; some people like more lime juice than others.
3. Irish Eyes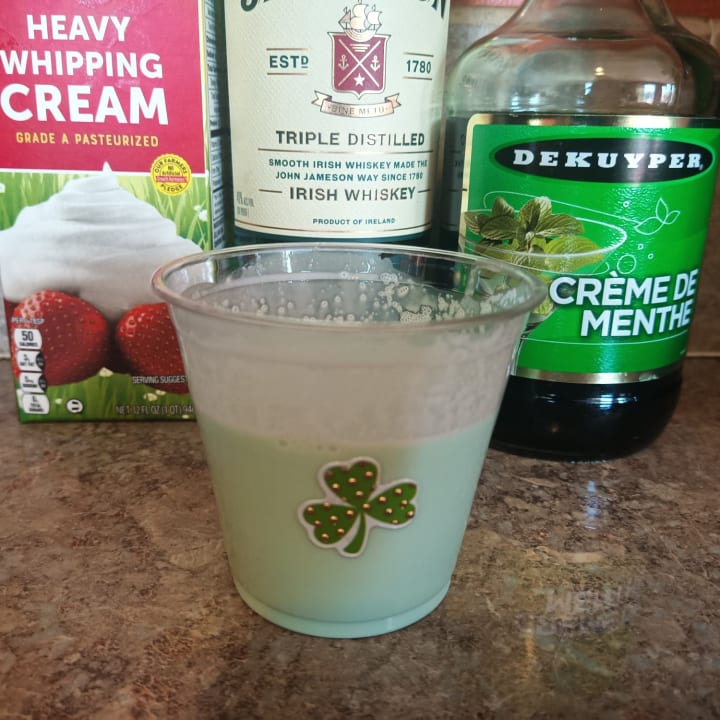 Have a mint or "Shamrock Shake" fan in your group of friends? This drink is for them.
Ingredients:
1 oz. Irish whiskey (like Jameson)
1/2 oz. Crème de menthe
6 oz. heavy cream
1/2 tsp vanilla (optional)
Directions:
Measure out 1 oz. Irish whiskey and 1/2 oz. of crème de menthe using shot glass.
Add to serving cup.
Pour 6 oz. of heavy cream into cup.
Stir with coffee "cocktail" stirrer or spoon until well blended.
If drink is too minty for your liking, add 1/2 tsp vanilla and stir again; this should mellow the mint flavor.
4. Irish Gold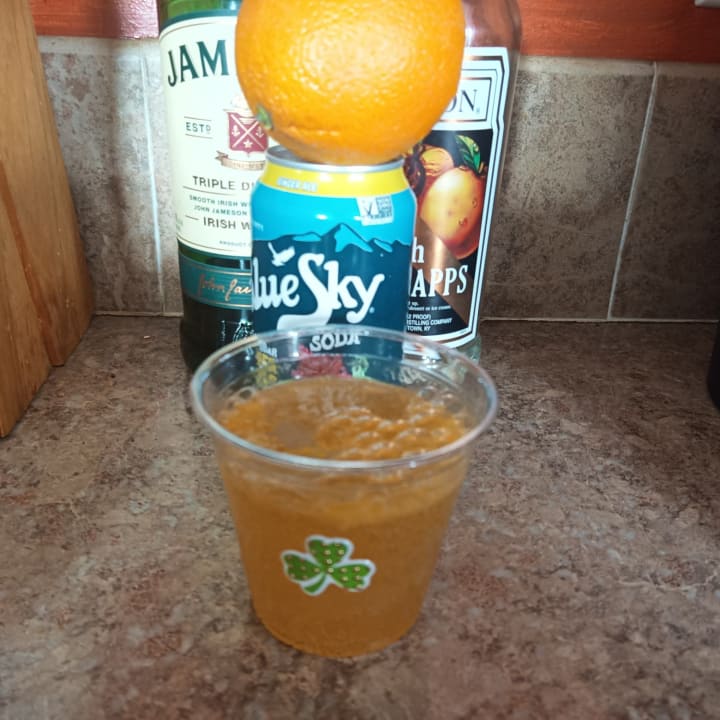 While the Irish Kiss may be my favorite St. Patrick's Day drink to make, the Irish Gold is one of my favorites to drink. This one is a crowd pleaser and popular choice for my female friends (most of which enjoy drinks that are sweet and fruity).
Ingredients:
1 oz. Irish whiskey
1 oz. Peach Schnapps
1 oz. orange juice (fresh squeezed or concentrate)
6 oz. ginger ale
Directions:
Measure 1 oz. of Irish whiskey, Peach Schnapps, and orange juice using a shot glass.
Add to serving cup.
Top with 6 oz. of chilled ginger ale.
Stir (if necessary) and serve.
5. The Zesty Irishman
This cocktail is my next choice after the Irish Gold. The featured and highlighted liqueur of choice in this drink is Drambuie, a spice liqueur that happens to be one of my husband's favorites.
Ingredients:
1 oz. Drambuie (or other spice liqueur)
1 oz. Jameson (or other Irish whiskey)
1 oz. Triple sec
1/2 oz. lemon juice (fresh squeezed or concentrate)
Directions:
After adding one shot of the Drambuie, add another shot of Irish whiskey and one shot of triple sec.
Then, squeeze the juice of one lemon or 1/2 oz. lemon concentrate to make this cocktail complete.
Garnish with slice of lemon, if desired.
6. The Nutty Irishman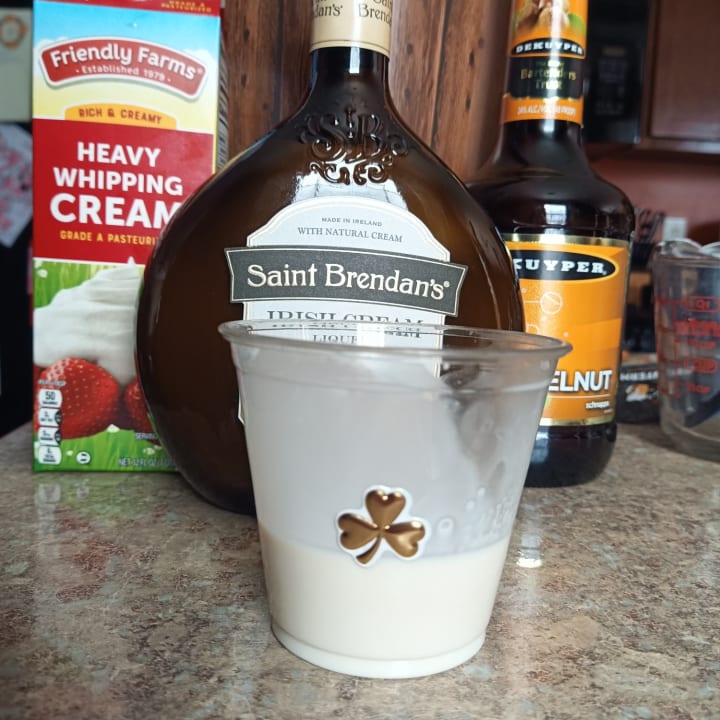 If you have guests who are looking for a sweet cocktail or something that tastes like dessert, the Nutty Irishman is my recommendation. With Irish cream liqueur (like Bailey's or Saint Brendan's), hazelnut liqueur, and heavy whipping cream, this cocktail is sure to satisfy your guests' sweet tooth.
Ingredients:
1 oz. hazelnut liqueur
1 oz. Irish cream liqueur
2 oz. cream
Directions:
Measure and add 1 oz. of hazelnut and Irish cream liqueur to cup.
Top with 2 oz. of cream.
Stir and Serve.
7. The White Leprechaun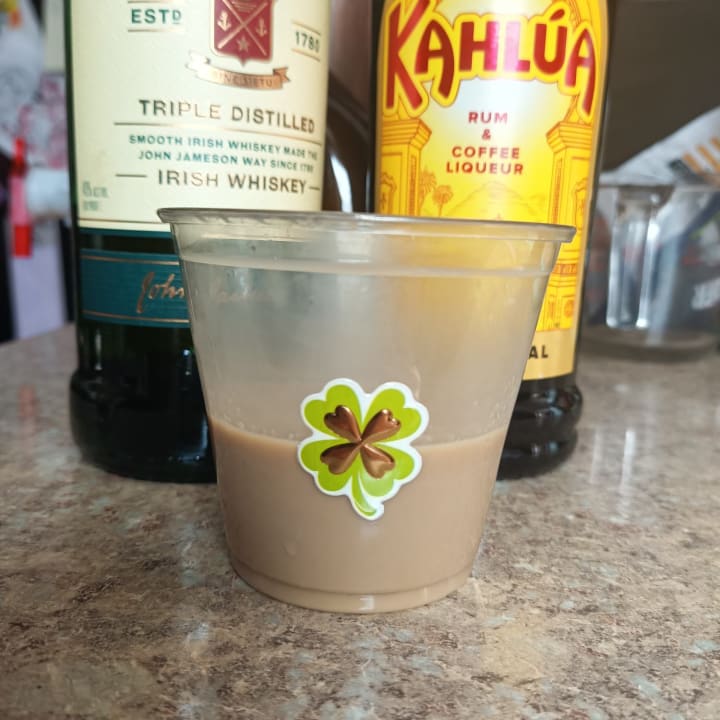 If any of your guests are a fan of coffee, The White Leprechaun is a must. I know, I know: the Nutty Irishman cocktail was much fairer in color than this "White" Leprechaun. It's a bit of a misnomer when you use my updated recipe, but if you add enough half and half it's bound to become the lighter color in the name. I used to serve it with more half and half than is presently listed, but now I prefer a slightly stronger coffee flavor. Therefore, this is the latest version.
Ingredients:
1 oz. Jameson (or other Irish whiskey)
1 oz. Kahlua (or other coffee liqueur; we used to use Café Lolita and can verify it works just as well)
2 oz. of half and half (or up to 6oz. if you prefer less potent coffee flavor. This extra amount will also give you the lighter color in the drink's name.)
Directions:
Add one shot of Kahlua or your choice of other coffee liqueur, one shot of Irish whiskey, and 2 oz.-6 oz. of half and half depending on your personal preference to a cup.
Stir and serve.
Voila; a coffee cocktail without the jitters!
8. Spiked Shamrock Punch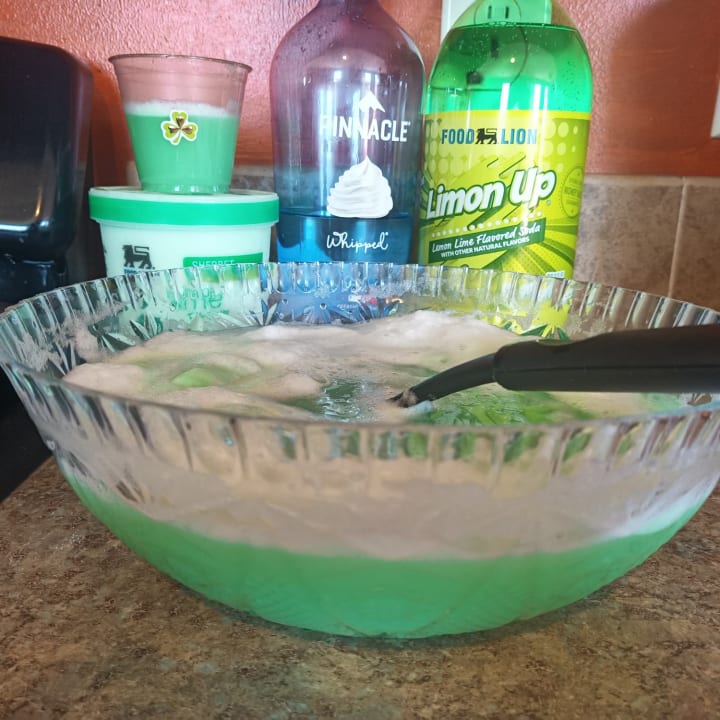 The spiked shamrock punch is a beverage that can be made right before the party, and keep your guests drinking all night long. I like this one because it frees you up from the other made-to-order cocktails and still provides a delicious option for your guests. Some of my friends will choose to simply drink the punch without ever asking for a cocktail, which frees me up to enjoy company for a good while.
Ingredients:
One 2-liter of lemon lime or ginger ale soda
1/2 of a 32 oz. container of lime sherbet (approx. 16 oz.)
3 oz. of whipped vodka
2 oz. lime vodka
Directions:
In a punch bowl, add 16 oz. of lime sherbet.
Pour a 2-liter bottle of lemon lime soda (or ginger ale, if preferred) into the punch bowl.
Add three shots of whipped cream vodka, and two shots of lime vodka.
Combine and serve.
Be sure to add a ladle if serving from a punch bowl. The punch can also be poured into a pitcher and served via pour if preferred.
*Author's notes:
I make a non-alcoholic version of this punch in a separate and labeled punch bowl for guests who do not want to drink alcohol; just simply do not add vodka.
At certain points later in the night, this recipe becomes less of an exact science and more of a free-spirited addition to refilling the punch bowl as portions of each ingredient become subjective and relative. With ingredients like these, it still continues to taste good and please all of the guests. I refill each punch bowl at least a few times in a night without issue.
9. The Irish Flag Shot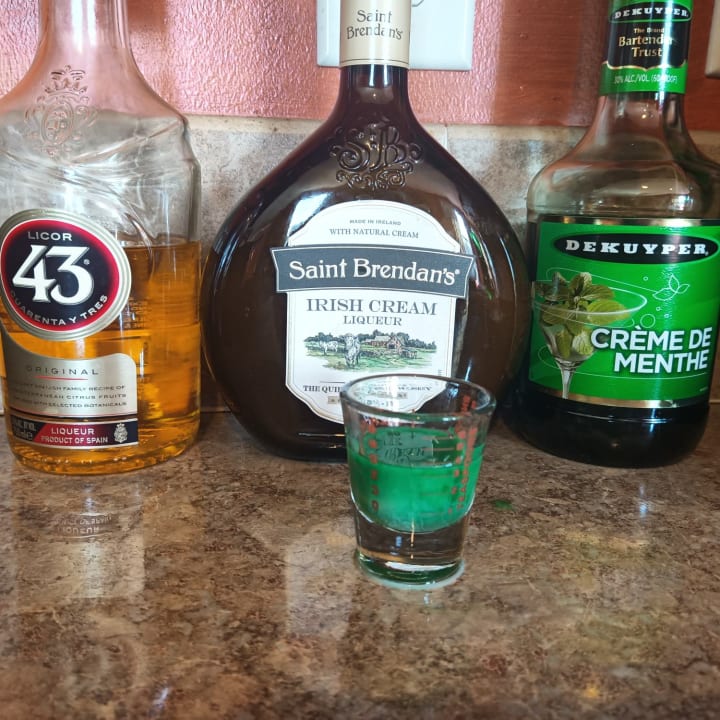 Out of all the beverages on this list, this one is perhaps the one I find trickiest. As you can see by my above photo, I have yet to get mine to resemble an Irish flag. To solve this issue, I usually offer an interactive contest to see who can pour the best Irish flag. Many guests have definitely come out far ahead of me, and I'm perfectly okay with that. Mine still tastes good, and that's what matters right?
Ingredients:
2 tsp. Crème de menthe
2 tsp. Irish cream
2 tsp. Orange liqueur (such as Licor 43 or Grand Marnier)
Directions:
The flag is made by pouring a layer of crème de menthe in a shot glass.
Using the back of a teaspoon to pour the liqueurs over, add the Irish cream next.
Follow the same process with the orange liqueur afterward.
* Author's Notes:
Remember to add one liqueur layer at a time, and go slowly. For a shot glass, two teaspoons of each liqueur will fill the glass completely. If using a shooter glass or double shot glass, the amounts will change. Just make sure you use equal parts for each liqueur and that the parts are divisible by three into whatever vessel you choose.
Also, keep in mind that results may vary.
Below is a photo of what the shot is intended to look like versus the picture I showed you of mine. Can you say, "Nailed it!"?
10. Irish Car Bomb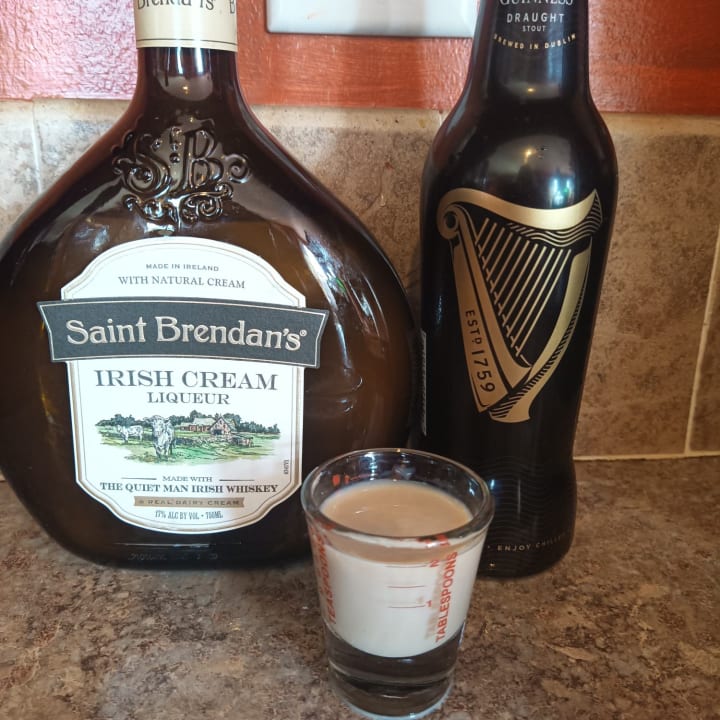 Oh yes, many of us have had at least one drunken night involving the infamous Irish Car Bomb. I know I should be more creative by now, but I had my first Irish Car Bomb on the St. Patrick's Day I was legally allowed to drink, so it is classic and I'm keeping it here. Plus, as far as hassle is concerned, this one is always hassle free to make. Besides, you have all of the ingredients for it already anyway!
Ingredients:
1 oz. Irish cream
6 oz.-12 oz. of Guinness
Directions:
Fill up that shot glass with the Irish cream Liqueur of your choice, and dump the whole thing in a poured cup of Guinness. I usually prefer 6 oz. instead of 12 oz. for this, but it is entirely your personal preference.
Drink swiftly so the cream liqueur doesn't curdle-that was the advice I was given for my first one. I probably downed mine too fast; therefore, I'm just passing that well-intended suggestion along for y'all. Seriously though, you don't have to chug it like I did; you'll be fine.
So there you have it, folks! Ten hassle-free cocktails for a great St. Patrick's Day night of fun.
Aside from these ten, I also still serve some variant of green beer (just green food coloring and your favorite pilsner or lager), bottles of Guinness (Draught or Extra Stout), coffee by request, other sodas or brews we have on hand including Irish cream soda if I can find it, and a lot of water.
The most important thing is to have fun and stay safe. Making your own cocktails from the comfort of your own home guarantees that. Just make sure your guests are willing to sleepover or sober up before heading home! Anyway, I hope you all enjoy these cocktails as much as I do! Happy St. Patrick's Day!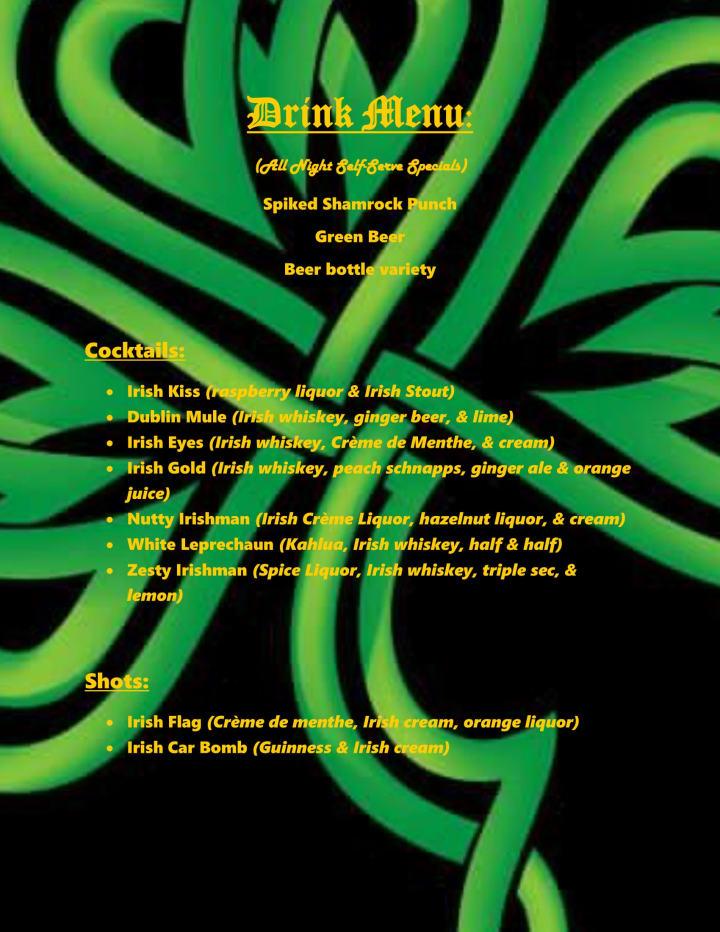 About the Creator
Powered by Nature, Humanity, Humor, Food, Lifestyle, Fiction, and Culture; Oh, and a questionable amount of coffee.
Reader insights
Be the first to share your insights about this piece.
Add your insights